Last Updated on July 9, 2023
Are you browsing around for the best motorcycle handlebar clock out there on the market? Then it's a good thing we decided to create a guide for you!
We dialed down and found the top handlebar clocks that you can get right now. You'll want to keep some important factors in mind as you are trying to find the one that best suits you and your bike which is where we come in.
Hopefully, this guide will shed some light on some of the choices you have on the market today!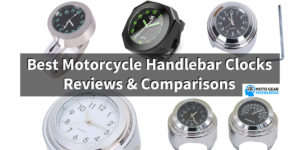 Top Rated Handlebar Clocks For Motorcycling – Our Research & Guide
---
It's nice being able to glance down at a mounted handlebar clock without having to stop or guess at the time while you are riding, but you need to make sure that you get a clock that can stand the wind and ride otherwise there is no point in having one in the first place.
That's why we have created this guide for you. You need to know what to be on the lookout for while you are in the market for handlebar clocks. No need to browse around anymore, we have got you covered!
Based on our research, it seems that the best clock that you should consider getting is the PerfecTech Motorcycle Handlebar Clock. It's water resistant, it glows in the dark, and has different styling options to choose from.
If you'd prefer something that is a little more "classic" in terms of style then you should also consider looking at the one from WINOMO. It keeps a classic motorcycle style, it glows in the dark and a thermometer is also included.
There are good sides and bad sides to all of these different motorbike handlebar clock choices so be sure to read through and get the one that you think would work best for you and your daily rides.
Comparison Table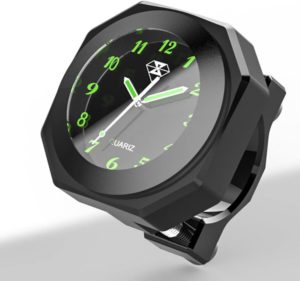 PerfecTech Motorcycle Handlebar Clock

PerfecTech created a handlebar clock with numerous styling options, made sure it was water resistant and it is easy to read in the dark. If you want a modern design and need different color options to choose from then this will be the #1 clock to go with.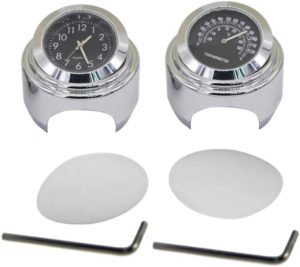 WINOMO Motorcycle Handlebar Clock Pack
WINOMO went ahead and made a clock and thermometer pack that is another glow in the dark choice if that is important to you. The clock would have been enough for this pick, but it also comes with a thermometer which is a welcomed bonus.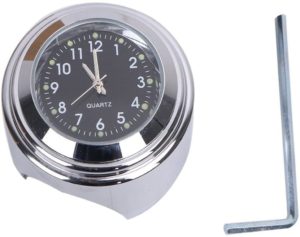 TESWNE Chrome Handlebar Clock

When it comes to having the most budget friendly handlebar clock out there, this one from TESWNE is your best bet. It glows in the dark, is super easy to install and is available for the lowest price point from our picks.

The 5 Best Motorcycle Handlebar Clocks
---
There are many features and other portions of a good handlebar clock that you should contemplate before moving forward completely with any of these clocks.
We went into more detail about that after the showcase of the different handlebar clocks that are out there ready to buy, so be sure to read through that as well!
Are you getting a clock for during your day-to-day commute? Then you should also check out our post on small tail bags if you need help carrying your essentials around as you ride.
Be sure to also look over our cheap motorcycle gloves guide if you happen to be in the market for those, you'd be surprised by the kinds of gloves that are available at lower price points!
With that, let's go ahead and look into our top picks.
Here are the best motorcycle handlebar clocks:
1. PerfecTech Luminous Motorcycle Handlebar Clock
---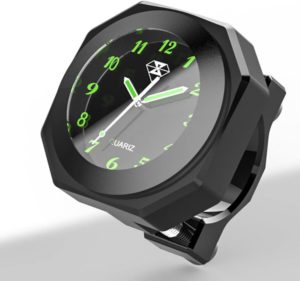 PerfecTech creates all sorts of nice little accessories for motorcycles and their newest clock was hard to ignore. It has different styles such as a burning blue design, red, or silver depending on how you'd like to match it up with your bike and other gear.
It's made out of aluminum alloy for the base of the clock and mineral glass crystals are used for the clock face. Aluminum alloy is a very popular material used for handlebar clocks because it's a decent enough material to handle the elements but it also helps to keep the clocks affordable.
As for the clock face, mineral glass crystals are alright but you need to be careful not to bash it up against something too hard, especially during installation. Otherwise, there's a chance the face could crack open.
If you are out riding during the day with this clock then it will stay luminous during the night ride. You can also flash a flashlight onto it for a short while to get the glowing aspect going for a good amount of time.
This one comes with its own battery and it should be able to last for a couple of years.
Installation is pretty simple, put the double-sided tape into the mount, place the clock onto the mount after lining it up, and then tighten the screws to your handlebar and you'll be good to go.
It would have been nice to see some better materials used for the clock face in case you were to bump it too hard and from rider feedback, it seems that this clock will keep most water out but it's not entirely waterproof like how it's advertised.
If you need style options, are fine with moisture being able to build up into the watch, and want a modern glow-in-the-dark clock face then this is absolutely the handlebar clock to go with.
Pros
Multiple styles to choose from
Modern design
Glows in the dark
Cons
Not entirely waterproof, water-resistant instead
The mineral glass crystals aren't very tough materials
2.
WINOMO Motorcycle Handlebar Clock & Thermometer Combo
---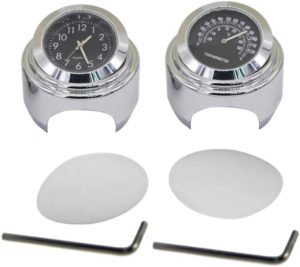 If you want a classic style and wouldn't mind having a thermometer included in the deal then this clock & thermometer combo pack from WINOMO would be a great choice.
These are also both glow in the dark, they are made out of aluminum alloy materials and they are easy to install onto the handlebars.
They only come in one style and you'll have to adjust the time on the clock manually by removing the cover but for this low of a price and for both to come with? It's quite a steal.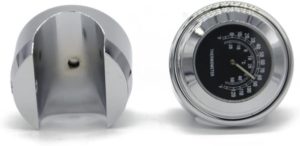 Keep in mind that some riders did report that the thermometer would read a bit off of the actual temperature after a while and if you aren't careful with the mounts then they will come off.
Not necessarily from riding but more so if you accidentally drop them, they aren't going to hold up as well as the day you got them.
Glow-in-the-dark effects work as you'd expect them to – ride out in the sun for a while or use a flashlight for a short while on them and they'll glow just fine.
All in all, if you are looking for a more classic design and wouldn't mind having a thermometer included with it then this pack would be ideal for you! Just have to remember to be careful with them and hopefully, the temperature readings stay accurate for you.
Pros
Comes with a thermometer handlebar mount
Glows in the dark
Easy to install
Cons
Have to be careful with the outer shell, not the most durable if dropped
Thermometer could stop reading accurately after a while
3.
TESWNE Motorcycle Handlebar Clock
---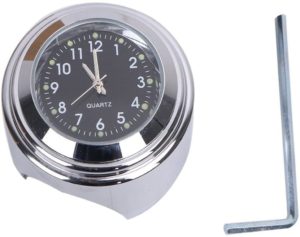 This next clock is the lowest-priced clock that we are showcasing here and is a lot like the clock from WINOMO. This is a basic clock from TESWNE which is a seller that has a main focus on automotive accessories.
It seems that the dial circles are a bit larger than the clock used in the combo pack from WINOMO and the font seems to be slightly more bold… otherwise they are essentially the same clock.
As with any of the other clocks, this is also made out of aluminum materials which means it will be able to handle each ride with ease but you should obviously be careful while handling it and installing it.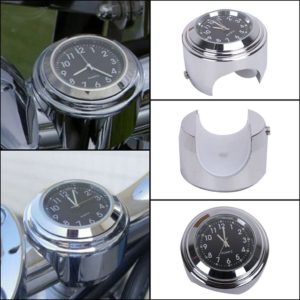 I wouldn't have a full bet on it being completely waterproof as there hasn't been any proof and it's hard telling from the other clock listed here which is super similar…
Though, I'd say that it's going to be more waterproof than the first clock shared here. Simply because it has more of an enclosed design compared to the first clock.
When it comes to a basic clock that doesn't break the bank and is readable even in the dark then there isn't a clock on the market that will beat this one. It's a simplified clock that has the bells and whistles needed for the basics.
Pros
Very simple design
Super affordable price point
Glows in the dark
Cons
Materials aren't going to be super durable if you drop it
4. Whitelotous Classic Motorcycle Handlebar Clock
---
This clock from Whitelotous was one of the few white clock face styles we were able to find while also packing a lot of the same features as the other high-quality clocks that are available to buy.
You know the drill – aluminum alloy, comes with the tool necessary for installing and adds a classic style clock to your bike.
There does not seem to be too much innovation going on in the handlebar clock world as these clocks are the main ones to go for when you are searching for the good ones out there.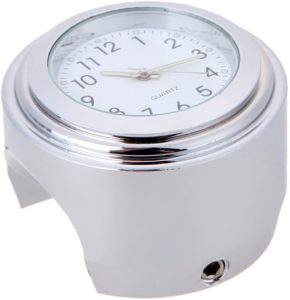 However, there aren't many other white clock faces on the market that are made with an easy-to-read font and a similar styling.
Other than it being of the same build quality as almost everything else listed here, there isn't much else to say about this clock.
If you are 100% keen on getting a clock with a white clock face and don't mind not having glow-in-the-dark effects then this is going to be the clock to go with.
Pros
White clock face
Easy to install
Cons
Does not glow in the dark
5. Keenso Motorcycle Handlebar Clock
---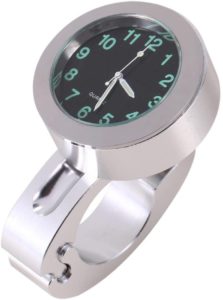 Last but not least we have this handlebar clock from Keenso, another seller of automotive accessories.
To be honest, I felt misled by the first pictures. It looks as if this clock has glow-in-the-dark numbers on it, right? Maybe it's just me, but that green screamed glow in the dark to me.
But they are actually going for a green/black theme with this one and I can see that. It's also easier to install than some of the other clocks with the split-type ring bracket.
There are plenty of green/black scheme bikes out there, especially for Kawasaki bikes, so I can see how some would want it strictly to match up with their bike.
It was hard not to include this one in the showcase because it also comes with a full-on 2-year warranty.
You can't say the same for the other clocks listed here and if they have that long of a warranty then it speaks volumes about how they truly want the clock to work well for you.
With that said, there have been a couple of riders that have reported the clock stopping from working after a while of use.
That sucks to hear, but you'll always have it covered by their warranty so a replacement would be extremely simple to get done.
If you want a clock with the green/black style and would want to be able to have a decent warranty come with your handlebar clock then be on the lookout for this one from Keenso!
Pros
2-year warranty
Fast installation
Cons
Clock could stop working after using it for a while
Doesn't come in other styles
Motorcycle Handlebar Clock Guidelines
---
It's tough to decide on a specific clock which is why we've written up this post to help you find the one that will be able to go best with your motorcycle.
We also wanted to write up about the aspects of clocks to look out for. The following points are what we think you should ponder the most before you decide on any specific clock.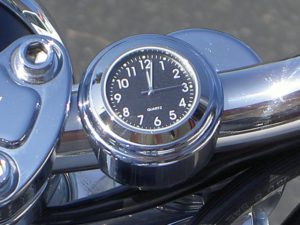 Installation
Almost all of the clocks listed here have the same sort of installation process. You'll tighten the screw up to wherever you see fit on your handlebars.
Some of the best places for installation would be where you can most easily take a glance at with your eyes but it's entirely up to you.
If you want to spend the least amount of time possible mounting your handlebar clock then the PerfecTech clock or the Keenso clock will be the ones to look more into as they are the simplest to install onto your handlebars.
For setting the clock, some will have you take the clock out of the housing and adjust it manually whereas other clocks will be adjusted through a lock on the side of the housing. It will depend on the clock that you end up getting.
Handlebar Compatibility
All of the handlebar clocks listed here are compatible with 7/8″ – 1″ handlebars which is the industry average with most cruisers on the market today.
If you aren't sure about your handlebar size, refer to your motorcycle's manual or look up your motorcycle online to see what the exact handlebar size is.
If you don't ensure that your handlebar is the right size for the clock that you are looking at then it's not going to fit right, be loose, or not fit at all.
Again, all of the clocks listed here are compatible with 7/8″ – 1″ handlebars so as long as you are in that ballpark range and look into the specific clock for compatibility, you'll be good to go.
Materials Used
Aluminum alloy materials are used across the board with all of the picks listed here. Some other clocks, such as stick-on clocks, may use other materials and also some more expensive brands out there but we wanted to focus on value per dollar spent with this post.
These aluminum alloy materials can absolutely withstand the elements while you are riding but I wouldn't be dropping the clocks from a higher distance down to the ground… There is a good chance of the clock breaking apart but this should also be obvious.
Treat your clock carefully as you install it to avoid dropping it and you'll be more than happy with the overall durability of the aluminum alloys used in these clocks.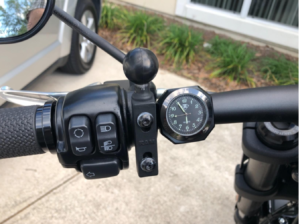 Always Know What Time It Is
---
That's the whole point of having a handlebar clock for your motorcycle!
Using any of these clocks you'll be able to easily glance down and know what time it is without having to stop or take a wild guess at what time it is, you'll have it right in front of you.
Are there any handlebar clocks I may have missed that belong on this list?
Do you plan on getting any of the clocks listed in this guide?
Let me know in the comments below!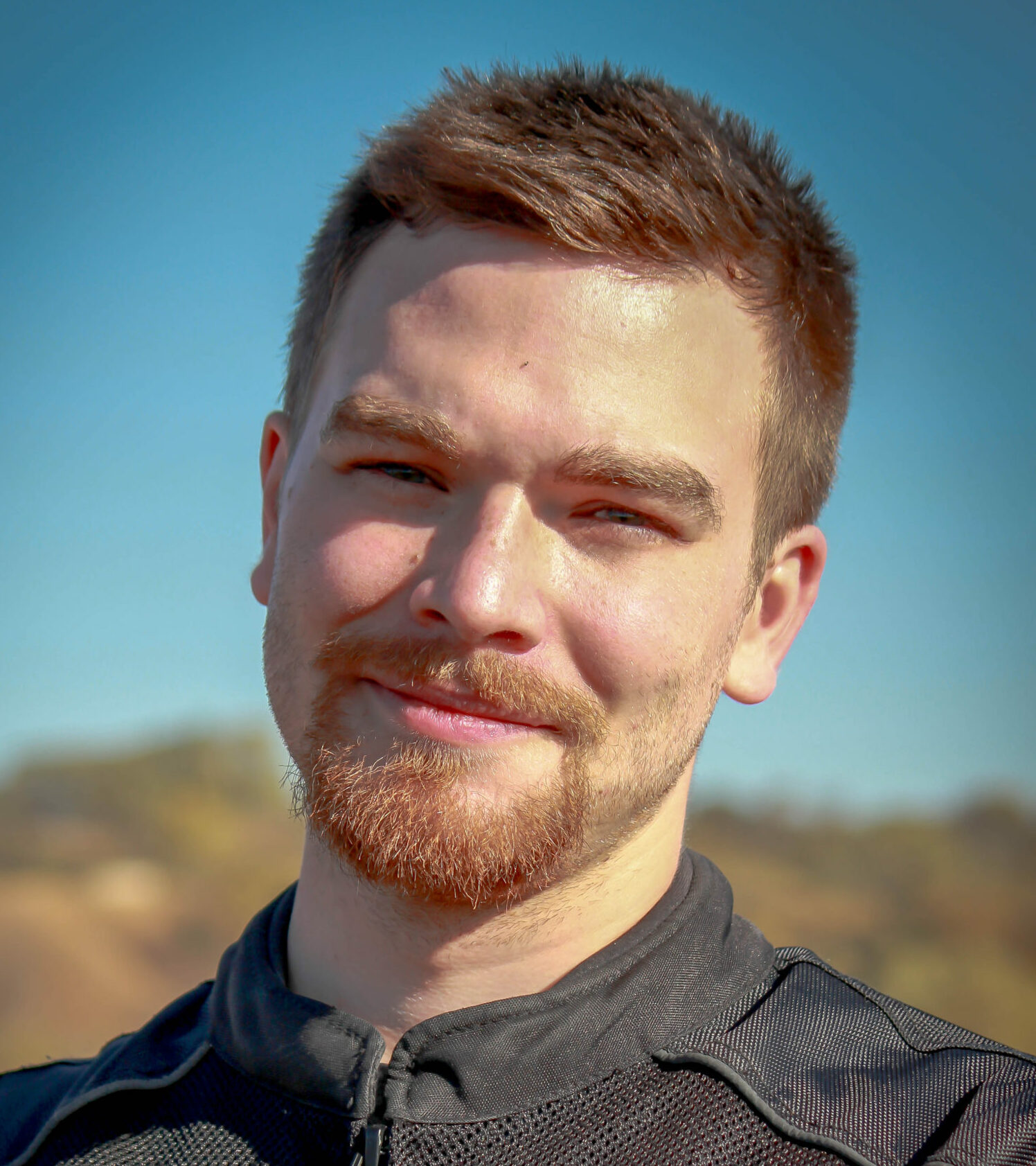 What's up! I'm Colton, the main guy behind Moto Gear Knowledge. Gear has always been my #1 priority when it comes to riding.
I share my experiences regarding gear and anything else moto related with you here. 👍