Last Updated on November 14, 2022
Buying motorcycle exhausts can be a bit of a struggle when you start looking around at all of the different options.
How are you going to be self-assured that the exhaust you're looking at will work out if you don't know how to buy a motorcycle exhaust in the first place?
That's why we decided to write up this post – to go over everything you need to know about not only how to go about buying an exhaust but also where to buy a motorcycle exhaust that is the best fit for your ride and style.
There are some guidelines that you should go over before you move forward with any exhaust that's on the market and that's what we'll be going over in this post.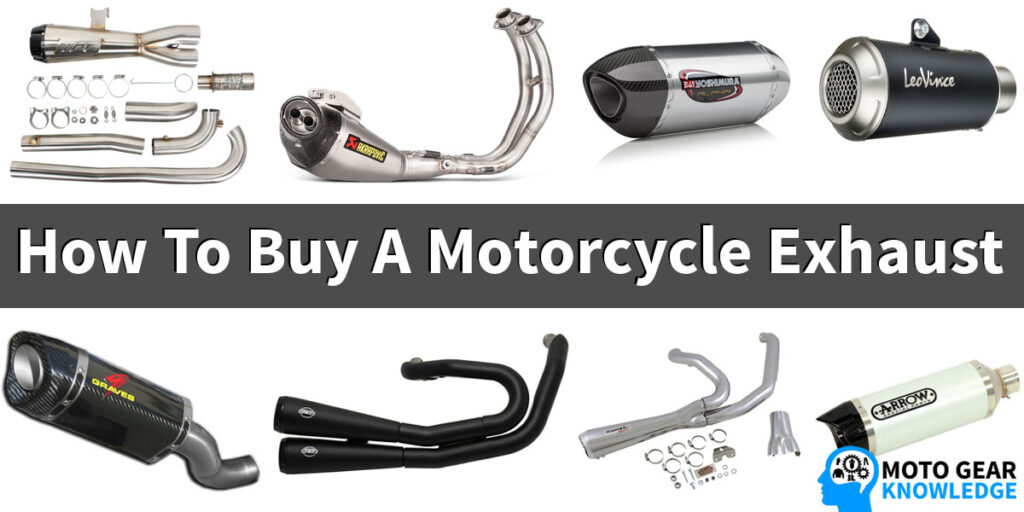 Buying Moto Exhausts – The Guidelines
---
Instead of instantly going for the first exhaust that calls to you or has the most reviews – there are some guidelines that you should keep in mind to ensure that you're getting the exhaust that is the best fit for your style and your motorcycle.
By following these steps, you'll be better equipped to narrow down which type of exhaust to get.
Steps For Buying A Motorcycle Exhaust:
Understand whether you're looking for aesthetics or performance
Look into the brands that are compatible with your motorcycle
Understand how to install the exhaust before you buy
Choose a retailer that you can depend on
Buy your exhaust with confidence
Once you understand the different types of exhausts, the brands that make them, how to ensure compatibility, and how to install them – you'll be well on your way.
And there you have it!
You're ready to buy your exhaust, right?
No worries, we go into the details with each step below.
Keep following along here and you'll be well on your way to snagging the perfect exhaust.
Slip-On VS Full System Exhaust
In a nutshell, slip-on exhausts are what you should be getting into if you are strictly going for aesthetics and enhancing the sound of your motorcycle.
Full system exhausts are for when you want performance gains along with the sound enhancements and overall aesthetic changes that come with the full replacement.
There's a huge difference when it comes to a slip-on vs a full system – not just in the installation process, but also in the price.
You likely know what you're after when it comes to the two types, but if not, we've got a quick rundown of them.
Get A Slip-On For Aesthetics
Slip-on exhausts are pretty simple to install, they're more affordable, and they definitely change how you feel while riding.
However, you aren't going to get any noticeable performance gains with a slip-on. Sure, there are some benefits that come with installing slip exhaust to your bike. For example, some can change how your throttle feels. There are very slight increases on the lower end.
Depending on the material of the slip-on, you might cut a small bit of weight from your bike. But it's not going to be anything noticeable.
Same thing with horsepower. You might gain an additional 2-3 horsepower… But that is essentially no gain at all.
The main benefits of a slip-on exhaust are the look and the sound that come with it. However, if you're an off-road rider, then a slip-on might actually provide extra benefits.
If you're getting a slip-on for your dirt bike, most of the ones that are available also replace a bit of the mid-pipe – so in that case, you might actually get some gains depending on the slip-on that you go with.
Installation is still on the easier side with dirt bikes, but you also need to keep note of possibly needing a fuel controller or jet kit… This comes down to doing proper research on them for your specific dirt bike.
Full System Exhaust = Performance Gains
By going with a full system exhaust, you'll be replacing the whole nine yards of your exhaust system – the header, mid-pipe, and muffler.
When this is done, you'll be getting some nice performance gains with your bike. Power gains can be upwards of 10%-15% more horsepower with the right tuning, and you can significantly cut down on weight with a full system replacement.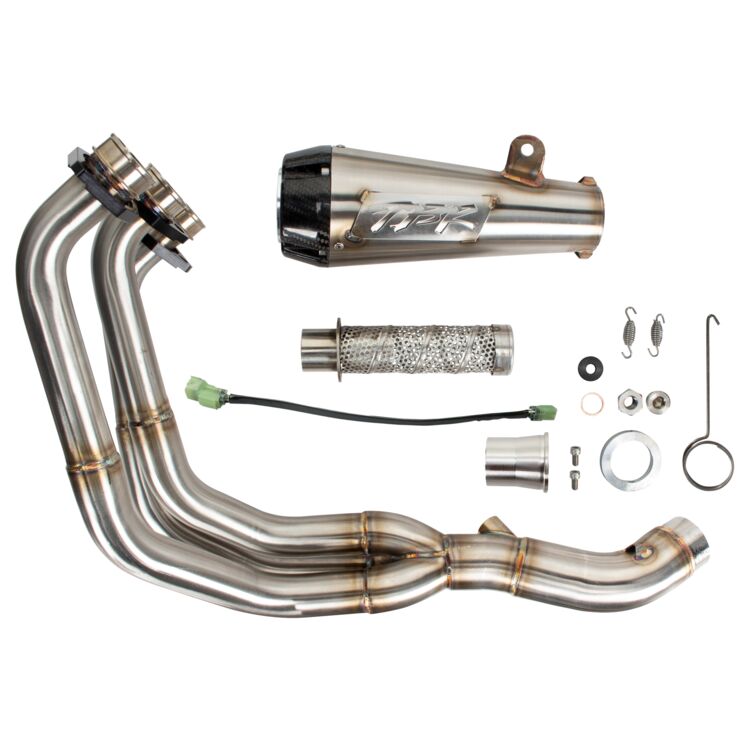 Swapping out the exhaust is one of the most sought-after modifications because of the general increase in power and torque.
It also helps out if you plan on camshaft changes or extra headwork because of how well you'd be able to take the upper hand on other work and aftermarket parts with a full system.
So if your goal is to increase the power of your motorcycle while simultaneously scratching the itch of changing its looks and sound then a full system is the way to go.
Ensuring Compatibility With Your Motorcycle
With most sites today, it's easier than ever to filter out the exhausts that aren't for your bike and to see all of the compatible ones with a few clicks.
We've used RevZilla for this exact reason. Their platform makes it extremely easy to narrow down all of the available exhausts for your bike.
All you have to do is enter in the type, year, make, and model of your motorcycle. Then they'll do all of the sortings for you right on the site. Just be certain that you have entered the exact year!
To make it a lot easier, you can add your specific motorcycle saved on an account there. Then you don't have to sift through each search field to see all of the exhausts that are available.
They also provide brackets, headers, plug kits, inserts, etc. You name it, they most likely have it in stock.
You should also take this a step further by hopping over to YouTube and doing some searches on your bike with whichever exhaust that you're looking into buying. Odds are, someone has made comparison videos for the different exhausts for your bike.
How To Install A Motorcycle Exhaust
Almost every major brand of exhaust manufacturers will include a thorough manual when you unbox the exhaust shipped to you. The same goes for those of you that are able to find the exhaust you want at a local store.
If you somehow lose it or for some reason it didn't come in the box then odds are that there are PDF versions of the manual online. Just search for the exact exhaust manual and you should be able to find one.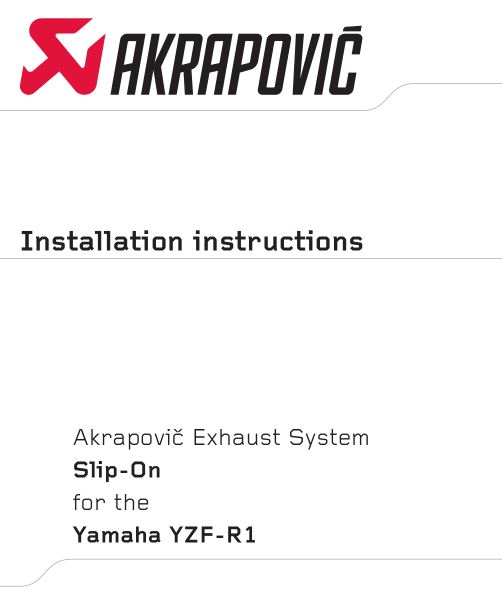 The types of tools you'll need will depend on the exhaust that you're installing. The required tools should be listed in the manual. If you've got a few wrenches and socket sizes laying about, that should be enough for a slip-on.
If you're moving forward with a full system, you'll need some extra tooling to get everything replaced. Do an inventory on your bike beforehand, then you'll know what you'll need.
Installing A Slip-On Exhaust
Most slip-on exhausts have a similar installation process. You'll need the right socket sizes in order to untighten the bolts of the stock muffler clamp. Then you'll be able to remove the stock muffler.
In most cases, you'll use the clamp that comes with the slip-on and hand tighten it. The same goes for the clamp at the link pipe of the exhaust.
Then you'd use whichever type of clamp that comes with it to secure the middle part of the muffler itself, then it's ready to slide onto the stock link pipe and attach the spring. After tightening the bolts up, it's basically ready to go.
After installing, you should try to clean off any grease spots with a soft dry cloth to prevent any spots from burning to the surface area of the exhaust.
You shouldn't use any aggressive chemical cleaners if your slip-on has branding on it because it could be damaged from it.
Installing A Full System Exhaust
By going with a full system exhaust, you'll be replacing the whole nine yards of your exhaust system – the header, mid-pipe, and muffler.
You'll also likely need to make fuel management changes after doing the full system. So you'd need a fuel controller if it's fuel-injected or a jet kit if it's a carbureted motorcycle.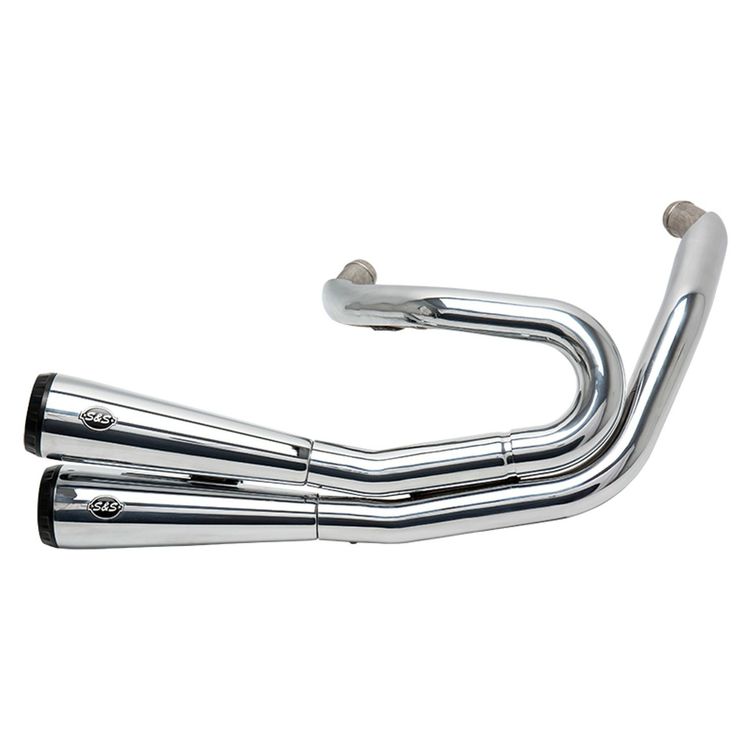 There are a lot more steps involved compared to installing a slip-on. If you have the tools and are familiar with doing work on your motorcycle then you are probably capable of installing a full system yourself. If not, you can always hire a mechanic to ensure it's done right.
There are plenty of resources online that outline how to install a full system – if you go this route then be sure to do your due diligence, follow the manuals, and find resources from other riders via forums/reviews.
Choosing A Dependable Retailer
At this point, you know what type of exhaust you want, how to make sure that it's compatible, and a general sense of how it can be installed.
Now it's time to snag the exhaust from somewhere that is trustworthy, somewhere that has a good rep.
If you have some big local parts stores near you, you likely know whether or not they're reliable and ready to help you out. You could move forward there, and narrow down the specifics of your exhaust.
However, some of us don't have that option… This is why we mentioned using online filtering systems earlier to find some good options for exhausts.
RevZilla and Cycle Gear are partnered together and they have some of the largest stock available when it comes to exhausts.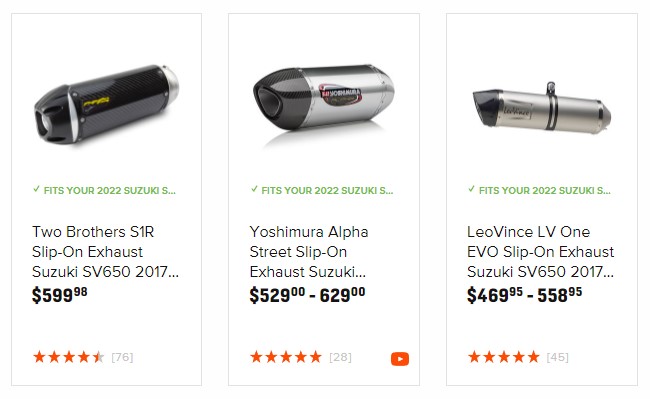 Their platforms are easy to use and they have some of the best reputations when it comes to buying gear for your motorcycle. I've personally gotten my exhausts through RevZilla and it has always been a top-notch experience.
If you don't have the local options or want to see everything that's available, those two places are great if you didn't know where to buy a motorcycle exhaust in the first place.
You could also take a look at the aftermarket exhausts on Amazon – but you should be more careful with what's available there.
Some of the exhausts there are a great deal, but make sure you dig deep into reviews and follow their filtering system precisely before making a decision.
Finalizing The Ideal Exhaust
---
After reading through this post, we hope that you feel more self-assured and know everything you need when it comes to understanding how to buy a motorcycle exhaust.
It becomes a lot easier to narrow down your options when you know what your goal is with an exhaust and how to ensure that it's going to be the right one for you. Exhausts are worth getting as long as you know what you're looking for!
We want to encourage you to do more of your own research and check out other resources, especially when it comes to all of the different types of exhaust sounds that can come from an aftermarket exhaust.
If you don't have any local options or if you'd prefer to browse more exhausts online, then again, our top recommendations are going to be to check out RevZilla and Cycle Gear.
They are both well respected within the riding community and they have a high level of quality when it comes to customer service.
So, which exhaust brand are you thinking of going with?
Are you planning on getting a slip-on exhaust, or are you increasing performance with a full system replacement?
Let us know in the comments below!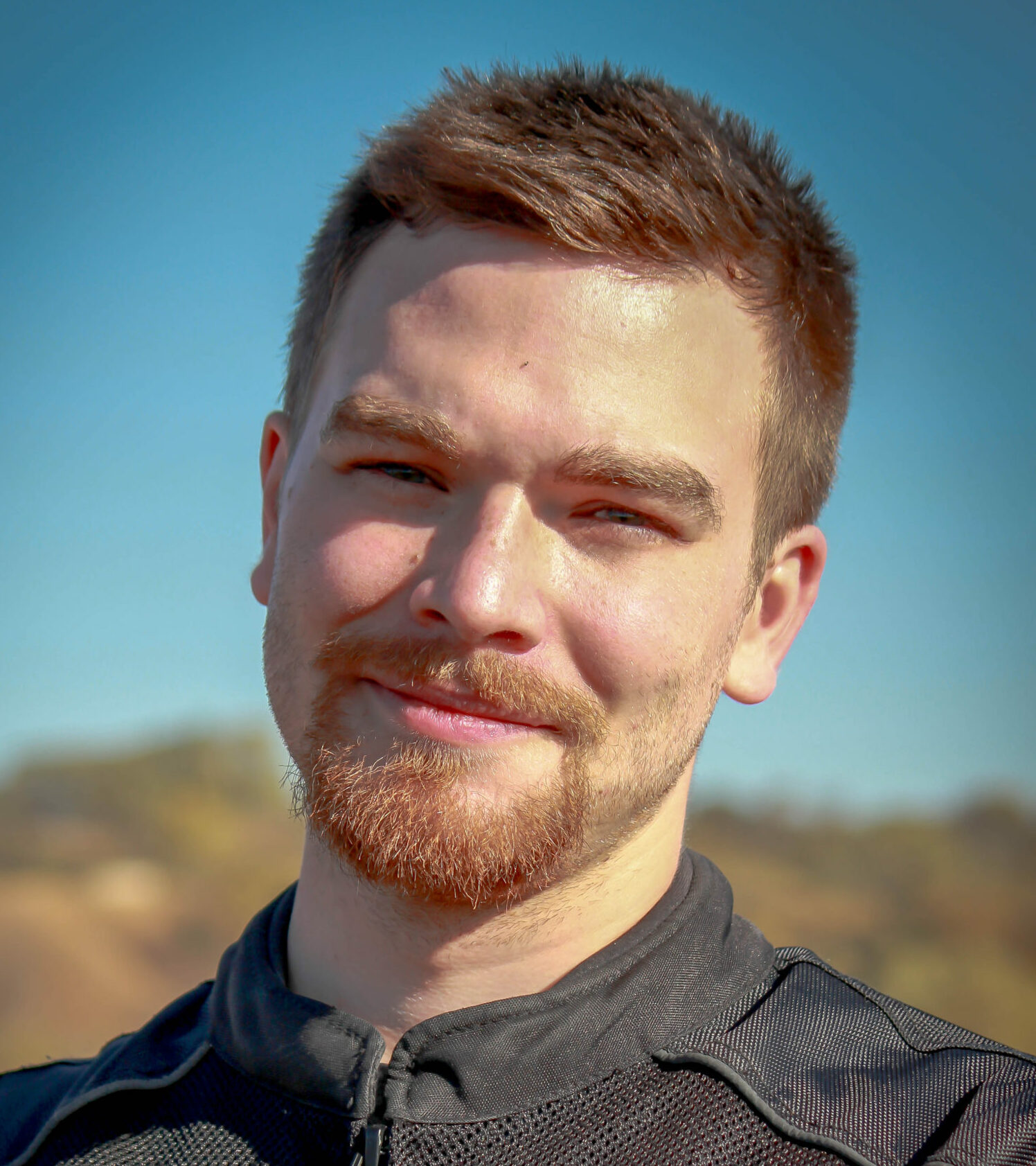 What's up! I'm Colton, the main guy behind Moto Gear Knowledge. Gear has always been my #1 priority when it comes to riding.
I share my experiences regarding gear and anything else moto related with you here. 👍