Last Updated on June 3, 2022
Buying motorcycle helmets online can be a little intimidating at first. How are you going to be confident in your helmet choice if you don't know how to buy a motorcycle helmet online?
That's why we decided to write up this post! It's great ordering helmets online because you can usually find them for the lowest price point and you can read up about real riders that are already using any specific helmet.
But there are some guidelines to go over before you pull the trigger and start browsing around which is what we will be going over in this post.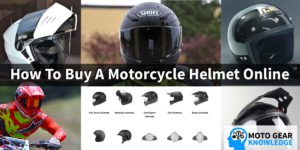 Buying Moto Helmets Online – The Guidelines
---
Besides picking out a helmet that speaks out to you or simply going with a helmet that has the most reviews – there are a few guidelines that you should follow in order to ensure that you're getting a helmet that best suits you.
Follow these steps and you'll be well on your way to finding your ideal riding helmet.
Steps For Buying A Motorcycle Helmet Online:
Measure your head for your helmet size
Choose a reliable retailer (RevZilla and Cycle Gear are great sites to start at)
Choose your helmet
Research the helmet specifics (more on that below)
Order with confidence
And that's it! Measuring your head is the most important part, especially if you have yet to try on a motorcycle helmet either from a local shop or from a friend.
Now let's go over each step in detail – it's important to understand these steps so that you can feel good about the helmet that you are about to order.
Measuring Your Head For Your Helmet Size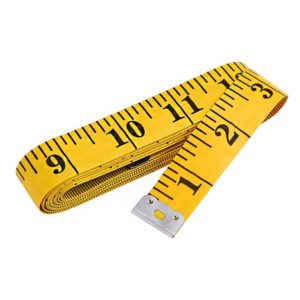 It's relatively easy to measure your head to get your overall helmet size. Simply take a soft tape measure and have a friend or family member wrap the tape around your head to get an accurate measurement of your head.
After you get your head measurements down then you can follow them up with any helmet's sizing chart. You'll want to follow the chart exactly how they have it.
Depending on the retailer, you may have to use a different type of measurement. Usually, there will be a chart that will convert the measurement to inches if it's a helmet that uses a different type of measurement.
Be sure to follow it accurately as most size differences will be off by only an inch or two and you want to be able to have the correct size right out of the gate.

Some brands have different measurements because that's how they began their production in the first place but for the most part, the helmets on the market today share a very similar sizing chart.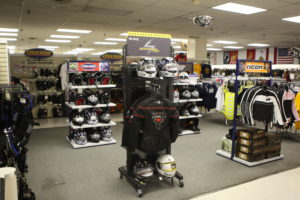 Additionally, if there are any local shops near you that sell helmets then you might be able to try something on there. Who knows, you might leave with a helmet that suits you.
Or if you have any friends or family that rides, you should ask them to see if they will let you try on their helmet.
It will give you a solid idea of if you need to go a size or two up or down depending on how the helmet fits.
If you've got neither of those options then simply measuring out your head and following the steps here will set you up to find a great helmet.
The best way to tell that a helmet fits right is to bite down with your teeth and also move the helmet left and right while it is secured on your head.
If you bite down and are easily able to bite your cheeks and the helmet can't move a smudge to the left or right while it's on then it's too small. If you are able to move the helmet too far left and right and have plenty of room then it's too big.
Your helmet should be a tight, snug fit. You should only be able to move it left and right from where it lines up with your chin a bit. If it can move past it by quite a lot then you know it's too big of a size.
To give an example of my size, I'm about 6 ft. tall and weigh around 190 lbs. I fit nice and snug into most XL helmets.
Granted, that's not going to be the case with everyone else that has a similar height and weight. Not everyone has the same type of head shape.
There are helmets on the market that accommodate different head shapes such as round oval, intermediate oval, and long oval shapes.

On average, you'll be fine looking out for helmets that are good for intermediate oval-shaped heads because it's a good average size. If you want to know your head shape, have someone take a picture above your head and compare it to the different sizes.
If your head size is intermediate oval, which is most likely your head size, then you can basically pick out any helmet that you like as most helmets are made for the average rider.
However, if you have a distinct long oval or round oval head shape then you'll need to look into helmets that are designed specifically for those shapes which brings us to the next point of getting a good helmet online – knowing where to shop.
Choosing A Reliable Online Retailer

You shouldn't simply go to the first online gear shop that comes your way and pick whatever helmet.
Before you buy any helmet online you should look into the retailer's exchange policies, how they handle returns, how their website is structured for choosing your helmet, and the options that they have available.
There are a few options that stand out from the crowd meaning that they are some of the best websites for buying gear out there.
You sure can shop wherever but it's nice to feel confident that your order is going to go smoothly when you order your helmet.
I always use RevZilla for any gear that I buy – especially when it comes to buying helmets online.
Why?
Because they have an incredible amount of features that help you find the exact helmet you need.
On the left side of any of their gear pages you can sort between multiple filters such as sales, specific colors, helmet shape, brand, multiple categories, reviews, and more.
There are other places that do something similar but RevZilla has the most detailed filtering compared to the rest of them.
Cycle Gear is another great website to browse around for helmets as well, they are also directly partnered with RevZilla.
Apart from having a great shopping system, you also need to ensure that whichever retailer you go through has a solid track record of happy customers.
I've used RevZilla for most of my gear purchases and Cycle Gear is widely known as being one of the top retailers for gear in general… You are in good hands with either of those.
But maybe you want to shop somewhere else or choose one of the other websites mentioned in the other post – feel free to explore! You've just got to make sure they're going to be a reliable choice. Feel free to ask me about any other online retailers in the comments below.
Choosing Your Helmet Style
After you've got your measurements down and you are at your preferred retailer's website then it's time to choose your helmet.
Different styles will be best for different riders and it all comes down to your riding style and the type of helmet that you like the most.
There are a few main types you should consider which sort of fall into the baseline of any riding style.
In a nutshell – there are full-face helmets, modular helmets, open-face helmets, adventure helmets, and dirt bike helmets.
Full-Face Helmets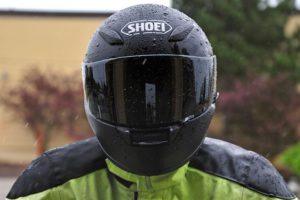 Full face helmets are popular all around for any rider and they provide the most protection. This is due to having a full face shield cover as well as fitting fully all-around your head.
When your head is entirely encompassed by the helmet then you'll have maximum impact, abrasion, and weather protection.
They also reduce the most noise compared to any other type of helmet and are our top recommended type of helmet to go with if you decide to snag a helmet.
All in all, full-face helmets are some of the most popular helmets due to the high level of protection and multiple choices that are available on the market. If you want a helmet that is purely for increasing your safety while riding, get a full-face helmet.
Modular Helmets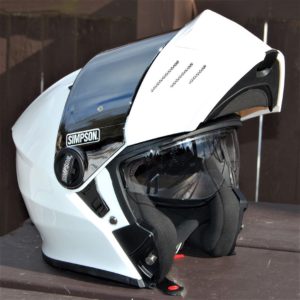 A modular helmet is going to be the next type of helmet that I get. When it comes to going the distance, wanting to be able to communicate clearly, or simply getting some good airflow to you then modular is the way to go.
Modular helmets are a lot like full-face helmets with the only difference being that you can flip the chin bar and shield up to make it open.
This also makes it marginally less safe than a true full-face helmet as the whole front part could pop off, but it's still a lot of protection.
Most of them come with a sun visor that flips down with the click of a button and they're some of the most feature-rich helmets you'll find.
Modular helmets are a "quality of life" helmet which means that sipping coffee, communicating clearly in person, and having fresh air, in general, is easier overall. These types of helmets are only getting better each year as well where the concern of these being "less safe" isn't as much of an issue as it was years ago.
Open-Face Helmets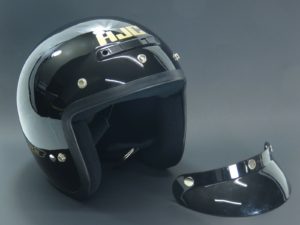 Open-face helmets are for those that want to spend the least amount of money on a helmet, want the best airflow ventilation possible, and/or desire a classic helmet style.
Although I personally wouldn't ever want to wear an open-face helmet due to how much more unsafe they are, they're absolutely better than nothing.
Some open-face helmets will have an optional sun visor that you can take on and off at the top of the helmet and there are a few that have communication devices built-in but due to these helmets having hardly any noise reduction, communication devices aren't going to work very well – especially for you hog riders out there. (Loud pipes save lives. 🤝)
When it comes to airflow being the most important aspect of your helmet and wanting to spend the least amount possible then an open-face is the way to go. Even though they provide minimal protection, it's still protection nonetheless.
ADV Helmets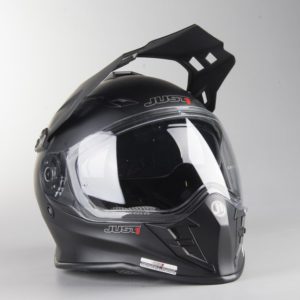 ADV helmets are for adventure riders. If you have a Versys, V-Strom, or the like and are riding on and off the road with your daily rides then ADV helmets are best suited for you.
They provide street-legal protection while still having a visor up top as traditional dirt bike helmets have. These usually have a lot of ventilation going on, have full compatibility for goggles, and are specifically built for off-road.
If you don't see yourself riding off the beaten path wanting to discover new camping sites or simply adventuring onto new areas that are off of the road then you are better off with a modular or full-face helmet simply due to those being a better fit for that style of riding.
Dirt Bike Helmets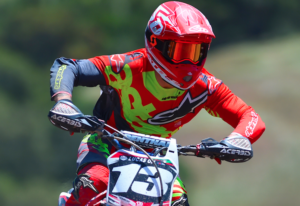 If you're wholly riding dirt bikes and off-road, get a dirt bike helmet.
They are extremely light, built specifically to keep dirt out of your eyes, and have a great deal of airflow going on. Keep note that most dirt bike helmets aren't street legal since they don't require DOT helmet safety ratings so if you aren't riding a dirt bike then it'll be best to go with something else.
If you're a dirt bike rider, grab your favorite pair of goggles and snag a dirt bike helmet online and you'll be good to go.
Researching Into The Helmet's Specifics
Research is extremely important when you're searching for your perfect helmet online.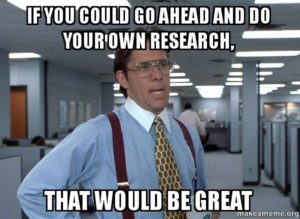 When you do your research, you need to make sure you're covering each portion of the helmet and ensure that it's something that you truly want to use.
Most of us aren't going to upgrade to a new helmet or purposely buy multiple helmets, especially for those of you that are just starting out with riding.
You'll most likely keep and use your helmet for the next few years – that's why your research is important.
So doing your research, the right kind of research, is a key factor in finding a good helmet online.
How do you do thorough helmet research?
When you pop over to an online retailer you should always check into the actual customer reviews because these are real riders providing real feedback.
From there, you can search the web for the pros and cons and go even deeper into what it's like to own any specific helmet.
YouTube is also very helpful when it comes to research. Many riders create awesome videos to showcase their helmet, there is more than likely a video live on YouTube of someone using the exact helmet that you are looking at getting.
In terms of video, I have to bring up RevZilla again because on many of their helmets they have video reviews right on the product page for the given helmet and those guys know what's up when it comes to gear.
If you haven't yet, check out some of the helmets on RevZilla and see if the helmet you're looking at has a video review from them. They go very in-depth with every video.
Finishing Up Your Helmet Order
---
After you've gone through the hoops on learning how to buy your motorcycle helmet online then you simply need to add your helmet to your cart and finish the order up!
Hopefully, following the steps outlined in this post helps you to feel more confident in ordering a helmet online.
It's much easier to pinpoint your helmet after you've tried a few on yourself to get an idea of what you'd want your helmet to feel like. Once you've got your size, you can go crazy and browse at all sorts of different helmets.
Again, our top recommended sites to shop would be RevZilla and Cycle Gear. Both are extremely reputable in the gear industry and the customer service is top-notch.
What type of helmet are you going to be buying online?
Are you going through any other online retailer?
Do you feel ready to get a helmet after reading through this post?
Let me know in the comments below!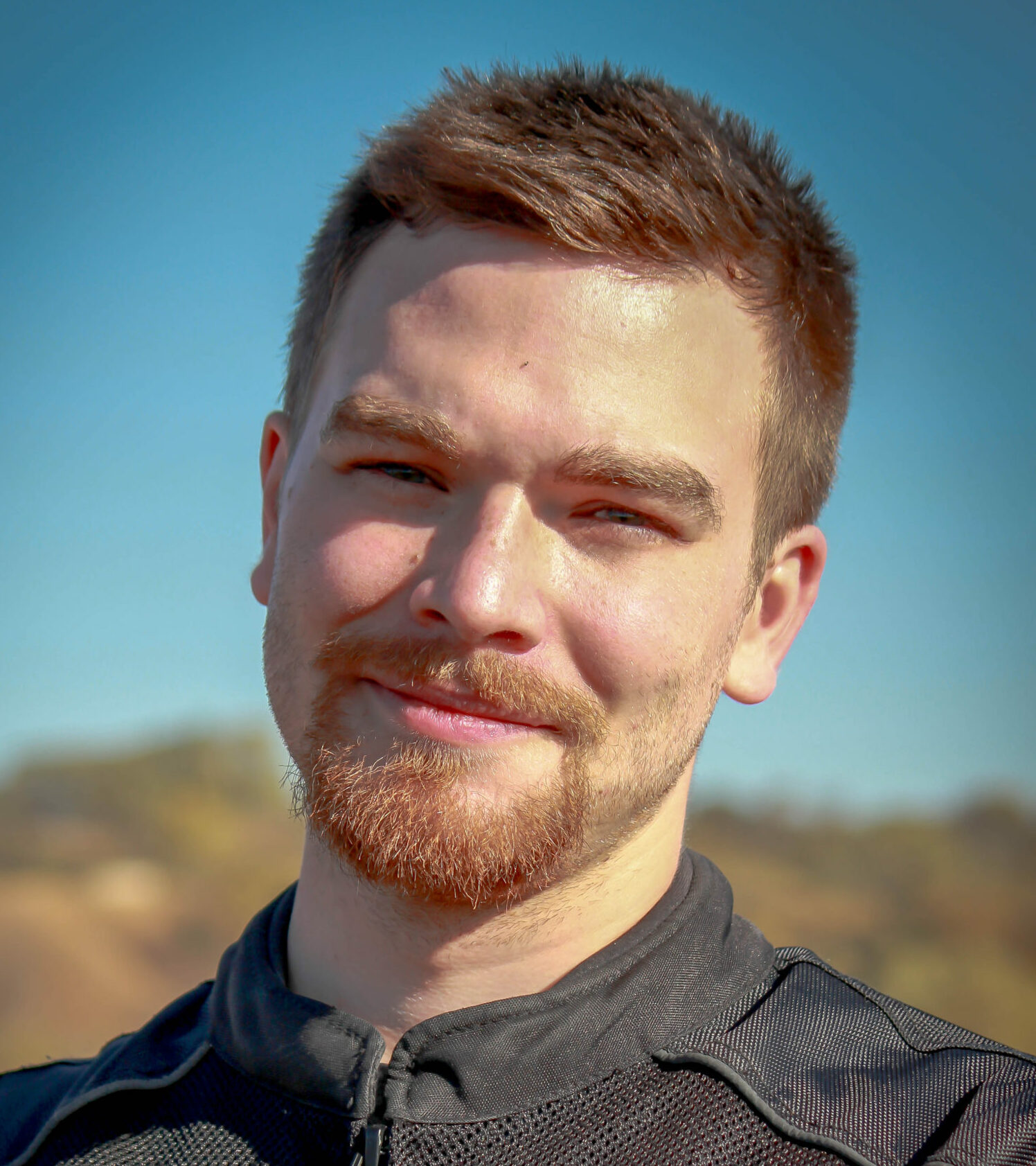 What's up! I'm Colton, the main guy behind Moto Gear Knowledge. Gear has always been my #1 priority when it comes to riding.
I share my experiences regarding gear and anything else moto related with you here. 👍