Last Updated on December 27, 2020
When considering starting out on a sport bike, you'll need to know all of the good beginner sport bikes that exist. A Ninja 250 is a great starting point!
It doesn't make sense to start on a crazy 1000cc motorcycle when you're starting out. Nobody should start out on super powerful bikes when they're new to the world of riding which is why we think a 250cc sport bike like the Ninja 250 is the sweet spot for newcomers.
Why A 250cc Sport Bike?
---
When most new riders think about starting out on a sport bike the most common intention behind it is to be able to go fast.
To race your friend's nice car down the highway and smoke em'.
Hate to break it to you but a 250cc motorcycle isn't meant for racing on the highway and you shouldn't be wanting to do that in the first place. You should leave racing and going fast for the track.
Some of you are still wanting to do it though but I encourage you to start out on a lower power motorcycle. Fast bikes and racing will have to be saved for another post.
For me, having a 250cc sport bike is more about how it handles and how it looks when I'm out there riding. I don't care about the speed and how fast I can get going from a stop on a bike like this.
That's why the Ninja 250 has been and still is a great bike for me. It's my regular commute bike and I love the style of it.
A 250cc sport bike is a great starting point for beginners that know that they're going to want to own powerful sport bikes in the future. New riders should fine tune their skills of riding before thinking about getting a powerful sport bike.
That's where a 250cc sport bike comes in. It's not super powerful to the point where you aren't going to be able to control it but it also has the sport bike seating position and feel.
I've seen some people start out on 600cc sport bikes and do just fine and that's great! However, for the most part and especially for those that have absolutely no riding experience at all, a 250cc is the way to go.
Most Ninja 250s will be able to have a top speed of around 95-110mph. That's plenty fast enough for overall use. Overtaking vehicles on the interstate or highway isn't difficult with this bike either.
I've also ridden on a Kawasaki Z800, a 800cc sport bike that's also from Kawasaki and I personally feel it to be more fun to go fast on a slow bike than it is to go slow on a fast bike.
By this I mean that with a 250cc bike you're able to maneuver very easily and it's very simple to control the throttle of the bike. With more powerful motorcycles, romping on the throttle means that you're going to go flying if you don't know how to control it.
That's why starting out on a 250cc sport bike is perfect for those that one day want to tame the power of a 800 or even a 1000cc sport bike. Although, once you start getting into 1000cc sport bikes then it's not even worth simply riding around town due to how uncomfortable those bikes are.
All in all, if you're a complete newbie and sport bikes are your style then a Kawasaki Ninja 250 is a great 250cc sport bike to start out on.
Why The Ninja 250 Is Awesome
---
So why the Ninja 250 specifically? Why not a Honda CBR 250 or a Yamaha R25?
For the most part I am recommending the Ninja 250 because I own and ride a 2010 Ninja 250 myself as a daily commute bike and it has been a complete blast to have it.
I'm not knocking Honda, Yamaha or any other company that also makes a 250cc sport bike. I'm sure they are all great choices as well. I just never really hear about or see any other 250cc sport bikes other than the Ninja 250.
I get compliments all the time and even with it being a 250cc bike it still keeps up in group rides and on the interstates/highways.
Granted I'm not taking it for extremely long rides all the time but I do plan on going a few hours away from home on it to test out how it is for longer commutes.
I personally don't think it'd be all that bad, it's a comfortable ride. Obviously it's not going to be as comfortable as a cruiser would be but for a sport bike, it's pretty comfy.
I've also got to be real about some of the cons of the bike. When I bought my Ninja 250 is was around a time when the weather was extremely cold and I hauled it a little over a hour from where I lived.
Since the 2010 Ninja 250 is a carbureted bike, starting it in the cold weather was not easy. It actually didn't start at all during the winter months.
When the good weather started coming back around it still wouldn't start. Since I kept trying to start it during the cold winter days I had fried the spark plugs.
I can't lie… Getting the tank off of the bike and reaching in to change the spark plugs was a hassle. Other bikes are easier to do that type of maintenance on for sure.
But once I got the spark plugs replaced it started up right away with no problems! It was my fault for trying over and over again to start a carbureted bike during the cold winter days and fowling the spark plugs.
Other than that, I haven't ran into any other problems with the bike.
My favorite part about the Ninja 250 is how it handles and how easy it is to get around. It's a fun bike because of it!
Personal Experiences With My 2010 Ninja 250
---
I plan on using my 2010 Ninja 250 as a main rider for at least another year or so before I dabble into other bikes for a main commute. It's just too easy to ride around and maneuver to keep away from.
I mainly ride around in the city so I'm constantly needing to adjust to the traffic speeds and I also need to be able to move the bike around in a moment's notice.
Since a Ninja 250 typically weighs about 370 lbs it's super easy to move around and if you're a newer rider and worried about dropping it – it's actually pretty easy to stop and/or pick back up since it's a lighter weighted bike.
For retrospect, I'm about 6ft tall and I weigh about 190 lbs. I'm able to flat foot the bike while standing, the height feels just about right for my type of body style.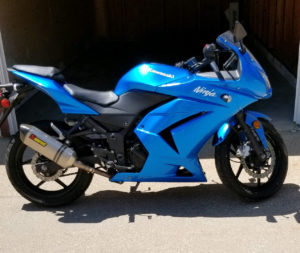 Getting the side fairings off for whatever reason, such as changing out the spark plugs like I mentioned earlier, is simple. It wasn't too hard to line everything back up once I was done tinkering around with the inside.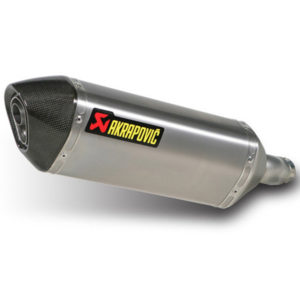 The stock exhaust sounds great but since I snagged a good deal on mine I went ahead and spent an extra ~$500 on an Akrapovič slip-on exhaust.
Putting a slip-on on a Ninja 250 makes it sound a lot deeper. I wanted an exhaust to be louder for the traffic around me and trust me, it got plenty loud when I decided to take the baffle out of the slip-on exhaust.
There are plenty of other cool things you can do to a Ninja 250 but I personally don't believe you should go all out and customize a Ninja 250 to a full extent.
It's a great motorcycle and it's fun to add things to it but if you're just starting out on a Ninja 250 then I promise you that you're going to start getting interested in replacing it with a 600cc sport bike or some other kind of motorcycle.
You'll want to wait until you have your perfect motorcycle to really dive deep into adding accessories and cool stuff to your bike.
Or maybe the Ninja 250 is your perfect bike and if that's the case then go ahead and add on to it! There are plenty of accessories for it.
Gently, Smoothly, Easily
---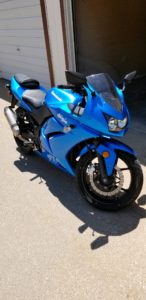 When I finished the Motorcycle Safety Course in my area I got the words
"Gently, smoothly, easily"
embedded in my brain when it comes to riding safely. Our instructors preached having a gentle, smooth and easy ride at all times.
If you're a new rider or if you're looking for a sport bike that rides smoothly, is easy to be gentle on and is simple to keep at a slow and steady speed then the Ninja 250 is right up your alley.
It's not a crazy fast bike that's meant for racing and topping out your speeds.
It's a sport bike that's more about the style and the smooth ride that comes with it.
If you have any questions about my Ninja 250 or questions in general as to why I recommend it then go ahead and comment below!
I'll be happy to answer any and all questions.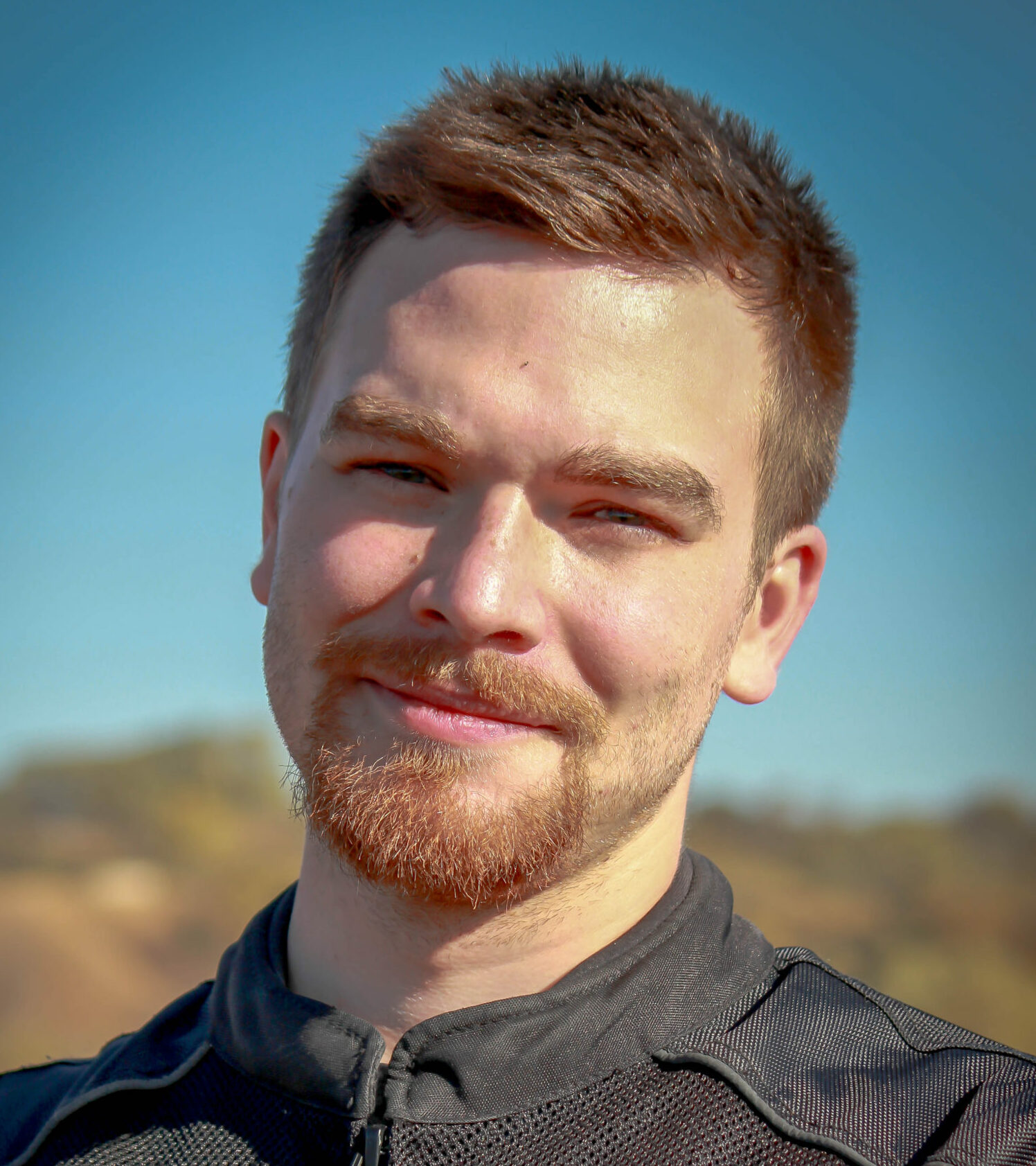 What's up! I'm Colton, the main guy behind Moto Gear Knowledge. Gear has always been my #1 priority when it comes to riding.
I share my experiences regarding gear and anything else moto related with you here. 👍