Last Updated on September 7, 2021
Do Indie Ridge motorcycle gloves stand the test of time? After riding with Indie Ridge's moto gloves for a few months, they are ready for our full review.
In this review, we will go over our experiences with the Indie Ridge motorcycle gloves, what they're good at, what they're not good at, and share our final score at the end.
There were some troubles with the gloves at first… But Indie Ridge came to the swift rescue after they got word about how the gloves were put together.
With that, let's get to the review.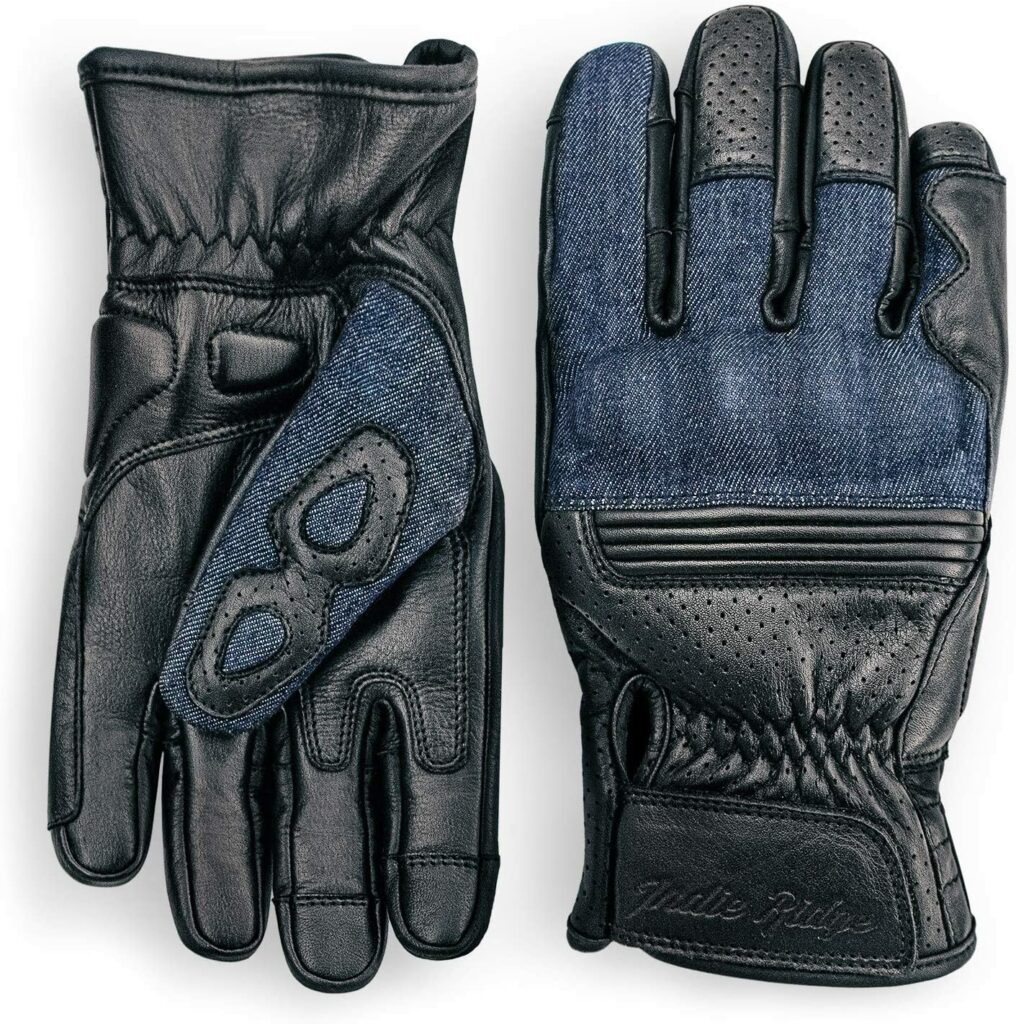 Product: Indie Ridge Motorcycle Gloves
Recommended Price: Around $70
Best Place To Buy: Amazon.com
Warranty: Lifetime warranty through The Live Free Guarantee
Our Rating: See below!
Looking for the other glove styles?
Check out their Store Page for more!
Indie Ridge Motorcycle Gloves – This Is A Great Brand
---
The Indie Ridge company knows exactly who its audience is and they care deeply for them.
They've been around since 2015 and decided to create simple, useful riding gear for all of the true riders that live and ride free.
They treat their customer base with the utmost love and respect. They even have an Indie Ridge Insiders program which is an invite-only group of riders that get to road test and beat up their new products.
This allows the Insider riders to give valuable feedback and insights on their newest gear product lines. In order to get in, they need to have available slots and each rider will typically put 500-1200 miles/month on their bike.
They have them take pictures to prove that they really are out there riding and using their products! How many moto gear companies do you know of that send their gear out for free to their most loyal, riding customers?
Look, this might sound like a totally "paid-for" review post – but it's not.
I have had a pair of Indie Ridge motorcycle gloves on my wishlist for quite some time now and finally decided to pull the trigger on them. Paid for them, in full, myself.
I've been using their leather motorcycle gloves for a few months now and wanted to share my experiences with them.
It's not all sunshine and rainbows – these aren't the absolute divine and perfect pair of riding gloves (those don't exist) but Indie Ridge stands behind their products, tenfold.
An Indie Ridge Customer Support Story
In the first couple of months of riding with these gloves, the stitching started to rip off the thumb areas.
Both of the gloves, in the same exact spot of the glove, started ripping.
Didn't rip them myself, did not run into anything… Treated them very nicely, actually.
Then out of nowhere, my new favorite, sub $70 motorcycle gloves started ripping apart on me.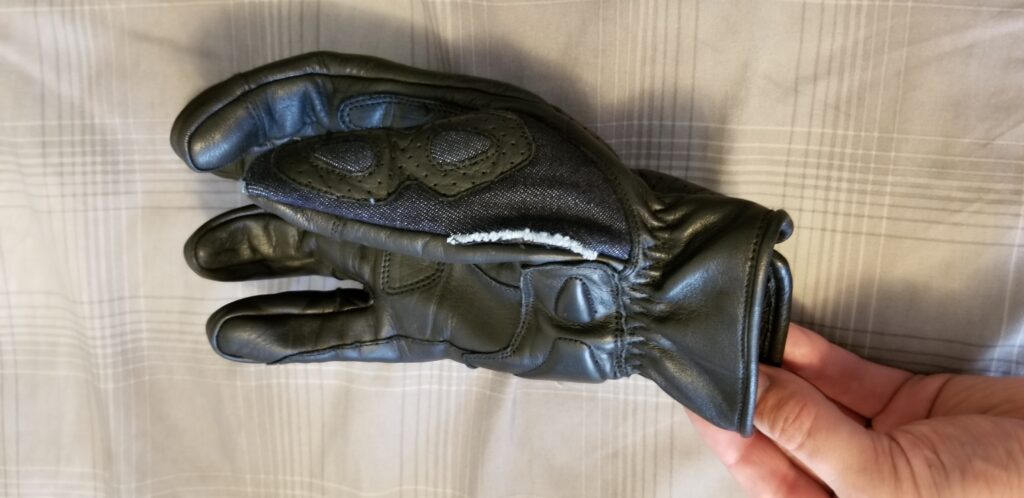 A $70 pair of gloves is not a cheaply priced glove so I think everyone can understand my immediate frustration when they started having defects only a couple of months into riding with them.
I decided to reach out to their customer support e-mail address. There is a card inside of the glove bag that the gloves came in that talks about their "Live Free Guarantee".
After emailing their support team the confirmation code on the card I took a couple of pictures of the gloves, called their support phone number, and explained my situation.
It only took a couple of minutes and the support representative got my information to send out a new pair of the same exact gloves, completely free of charge.

I decided to send a couple of photos of the defects to their e-mail in case they wanted to see them for helping to mitigate any future manufacturing issues.
I wouldn't want someone to experience that and not realize that there is a full lifetime warranty!
Turns out that I had a bad batch of gloves in the manufacturing process.
Something about the color of the text on the tag inside of the glove helped the support team member to dictate the problem… That information was quickly forgotten since a new pair was sent almost right away.
Maybe you've experienced this level of customer support with other companies… But I can assure you that I've never experienced this fast of a response and in such a friendly way…
I was blown away!
Once the new pair came in I started riding with them right away. These have become my new daily gloves and I haven't run into any defects with this new pair that they sent me.
If, however, I do run into some sort of defect… I will absolutely update this review.
Lifetime warranties are pretty rare, especially when it comes to motorcycle gear. I love that Indie Ridge provides this high level of support and I'm happy to share that I've had extremely positive experiences with them!
I wanted to first share my experience with the company first hand before diving into the actual build quality and features of these gloves.
Let's get into the nitty-gritty with these gloves to help you understand whether or not these are the pair of gloves you have been looking for.
Indie Ridge Moto Gloves Build Quality
---
When it comes to buying a pair of gloves that you need for the long haul… You have to make sure that they're made with top-notch materials to stand up to the full test of time.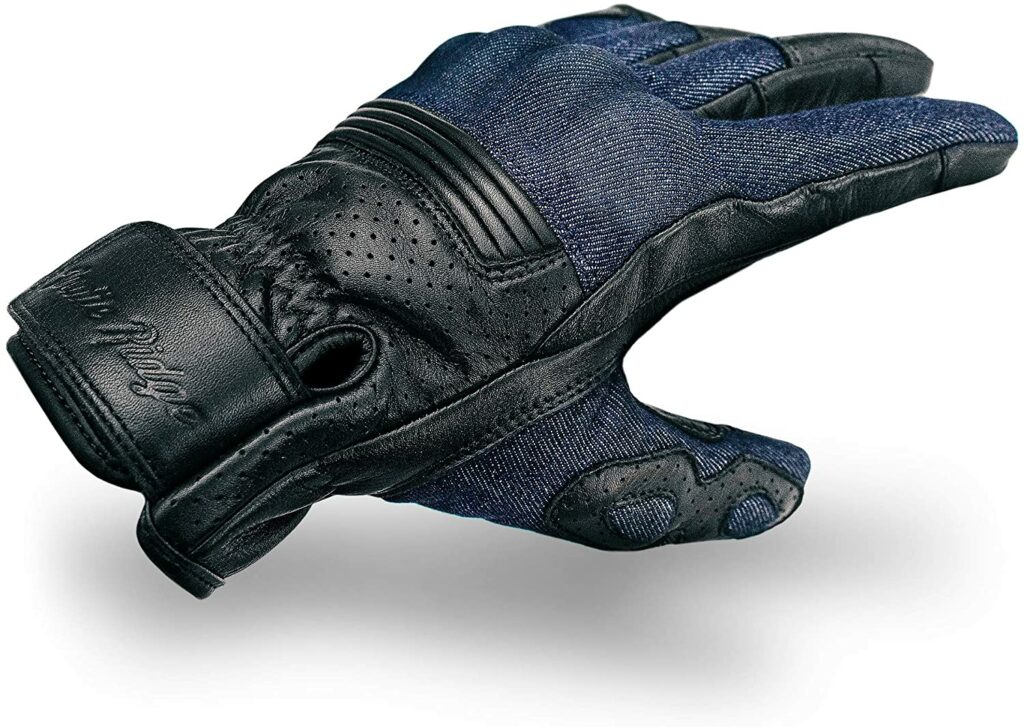 That's what Indie Ridge wants to accomplish with these gloves. Using materials that make sense and combining a full lifetime warranty – they want you to use these gloves for the long term.
The lifetime warranty speaks volumes about the gloves themselves.
They are personally guaranteeing that the gloves are going to last you for as long as you need them to.
Even knowing that… you should understand what is actually going on with these gloves.
Below we'll explain the materials used, how durable the armor is and how important it is to have gloves like this that have longevity in mind.
Types of Materials Used
The leathers used in a motorcycle glove is arguably the most important part of the glove because it'll dictate how tough the glove is, how comfortable it is and how long it will last.
Full-grain cowhide leather is used as the main material of these gloves. Cowhide is known for its high level of durability as well as being a supple leather all-around.
Cowhide is an effective leather when it comes to abrasion resistance. Indie Ridge decided to include a tough denim material with the cowhide not just for the sake of a cool design but also to increase abrasion resistance collectively.
The denim is stiffened with a kind of resin in the knuckle padding which creates an extra layer of protection on top of the gloves.
The denim material not only looks strong but it feels strong – it helps create comfortability as well as keeping the urban style intact.
While searching the market for denim & leather motorcycles gloves specifically… we had a hard time finding a pair that is built in a similar quality as Indie Ridge's gloves. Most other pairs were mass-produced in a low-quality fashion.
Other styles of these gloves (full leather, a lightweight pair, the gauntlet style) all use similar materials.
That is one thing that stood out to us – Indie Ridge ensured to stay consistent with the materials and overall design no matter which type of glove would suit you best for your riding style.
One thing is for sure… Indie Ridge isn't skimping out on the material used here.
Even if you do run into defects with the materials (which we ran into if you read the above section on their customer service) you still have their lifetime guarantee to get another pair where no mistakes were made during the manufacturing process.
What Armor Does Indie Ridge Use?
Knuckle armor padding is reinforced with a hardened yet flexible rubber material and the palms have some high-density padding at the bottom of the palm and a bit around just above the wrist.
If you ever go down while you're riding you will for sure want to have the knuckle armor protection… With the palm padding incorporated, abrasion resistance is at a high level!
These paddings also help with general impact resistance. Armor and padding in any gloves is essential when you want to have a pair that will survive after a nasty fall.
Glove Longevity
We touched upon longevity with both the Live Free Guarantee and the permanence of the materials used…
It really is important, when you're looking to buy a first-class pair of gloves, that they last! You shouldn't be running through several pairs of gloves when you're looking for a pair for your daily rides.
This also stands true with not having to constantly get a new pair through the lifetime warranty. Again, if defects pop up with the second pair that we received, we'll throw in an update.
The problem we ran into with the first pair was the stitching along the thumbs. That's a big no-no because if that area were to slide on some asphalt… It'd instantly break apart.
On the flip side, at least it's not the materials themselves that broke apart in that short period of time.
Indie Ridge Moto Gloves Features
---
Now let's get into the features going on with these gloves. Each style, how well the perforations perform, whether or not the touchscreen functionalities work and how long it might take to get them fully broken in.
It's nice to see the several styles that are available because it creates more use cases depending on how you ride. If you visit their full store page then you will be able to compare the different styles together.
For these explanations, we will be going over the features with the black & denim style since that is the pair that we have had our experiences with.
Unique Glove Styles
Indie Ridge offers different variations of the leather & denim gloves, full leather gloves, lightweight powersports gloves and a gauntlet style for the days where you're riding in colder weather.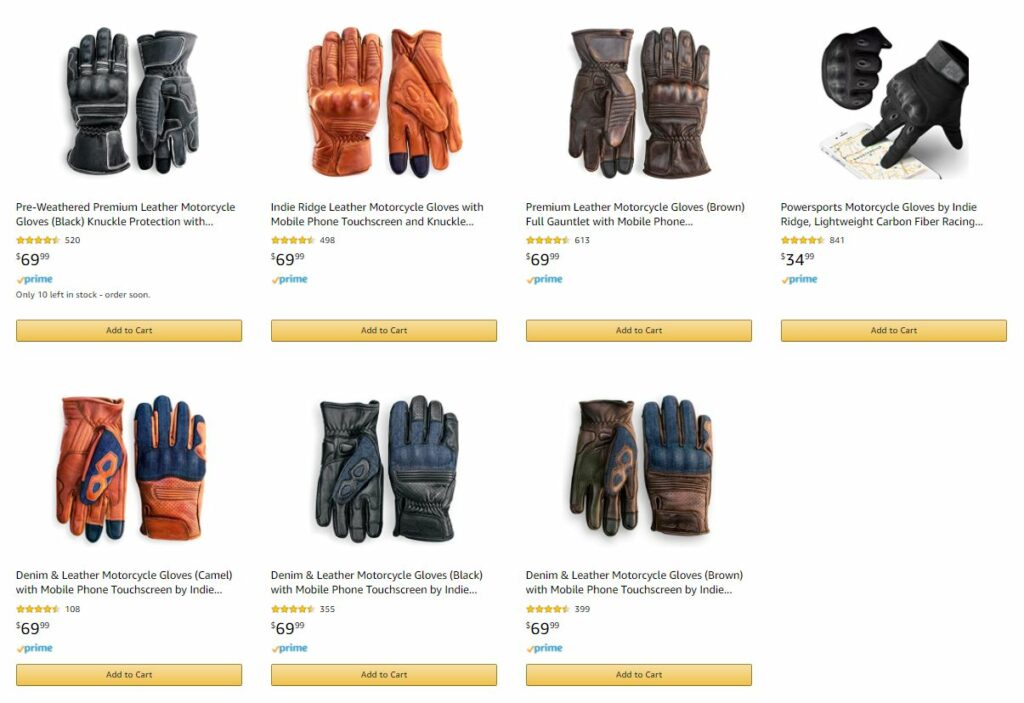 For the leather & denim gloves they offer a black leather, brown leather and camel color variant. Personally, the black & denim variation matches up most with what I enjoy. An urban, rugged style.
The camel variant is more of a "retro" style which is something I'd like to mess around with in the future. Going for more of a "retro" style is something on my to-do list when it comes to riding gear.
Their full leather gloves feature the same conduction material at the fingertips while also being less perforated. Those gloves come in a camel and brown leather style.
If you are looking for a lightweight option, the powersports gloves are more of a mesh/textile design combined with carbon fiber knuckle protection. Those would be ideal if you're doing some dirt riding or want gloves that could be useful for both on and off the road.
Then there is the gauntlet pair of gloves that they offer to help with riding during the colder seasons. Keep in mind that if you are wanting these gloves for riding under 40°F then you'll want to add in a liner or look for a pair that is designed to really keep your hands warm. For any other type of weather conditions, from rider feedback, they work well.
It's awesome to see that Indie Ridge offers the standard styles for almost any type of rider out there! Seeing the consistent design with all of them is a huge plus.
Perforation = Breathability
As you saw, there are different styles available for their line of moto gloves but this review is focused on the denim & leather style.
The perforation on the gloves is very well done. Riding in summer weather with them has been very comfortable, air flows easily through the whole glove.
It's also partly due to the slight opening above the wrist hook and loop closure – you can definitely feel the air flowing through.
They also included perforations within the leather that is combined with the denim in the thumb area. It's just the right amount set up there to optimize airflow for every finger.
There aren't any perforations in the palm… But that doesn't deter away from the overall airflow. Having ridden with gloves that make your hands super sweaty and wet after taking them off – it was a night and day difference in how much air easily flows through the gloves.
So yeah, if you're eyeballing these gloves for your new summertime daily riding gloves- these would be excellent to go with.
They do a pretty decent job for cooler rides but they're absolutely designed with warmer weather rides in mind.
Mobile Touchscreen Fingertips That DON'T Work?
Indie Ridge puts some focus on marketing the touchscreen feature of the gloves… But to be honest, it doesn't work as well as what is shown.
Yes, you'll be able to tinker on your phone a little bit – maybe be able to swipe through to see a notification real quick. But if you want these gloves specifically to be able to text without taking your gloves off – these aren't the pair you want.
With that said, we really aren't using our phones too much with riding gloves. They're meant for the ride, not to check and see what's new on the socials.
For us, that isn't a deal-breaker at all. We have yet to find a pair that truly has a streamlined process of good capacitive fingertips – not without sacrificing the protective features of the glove (which is the whole point of having the gloves in the first place).
Some riders have used capacitive stickers on their fingertips to make it easier to use their device which is probably what you'll have to do if you insist on keeping them on while using your phone.
Comfortability Factors & Breaking Them In
As with most leather riding gloves – these take a while to break in and maximize comfortability.
Almost every rider, myself included, mentions the break-in period because the gloves feel pretty tight when you first start riding with them.
This is completely normal with leather gloves. You'll have to simply keep riding with them over a period of time (around 2-3 weeks of riding) before they will be fully broken in.
After the break-in period, I experienced some discomfort when riding around for longer commutes.
This could be due to being in a more aggressive riding position on a sportbike but figured it's worth mentioning.
My hands aren't fully fatigued after long rides… After a small break, they feel just fine again.
Remember to tighten your legs as you're riding around and it'll help with hand fatigue as you ride.
Grabbing the clutch and hitting the front brakes is cake – the gloves are flexible enough to where it isn't harder to use your controls.
All in all, these gloves may take a while to start being a comfortable pair of gloves due to the break-in period.
If you're in a more aggressive riding position then they might get a little uncomfortable over time from leaning into the handlebars.
Are Indie Ridge's Motorcycle Gloves Legit?
---
To sum up Indie Ridge's motorcycle gloves – they're a prominent pair of gloves for all daily rides.
They have a unique style, they feature top-notch materials to optimize protection and they are backed by an amazing company.
Not only are they designed well but the company backs the gloves up with a no BS lifetime warranty through their Live Free Guarantee which isn't something you see too often with moto gear.
Sure, the first pair that we had were in a bad batch of manufacturing… But getting a new pair, with no questions asked, was a complete breeze. Indie Ridge's customer support is as top-notch as their glove selection.
If you are looking for an urban style of gloves that have high levels of protection and are comfortable for almost any riding condition then you'll certainly want to think about snagging these up.
So, are you going to be getting a pair of Indie Ridge's moto gloves?
Which style suits you best?
Let us know in the comments below!
Indie Ridge Motorcycle Gloves
Around $70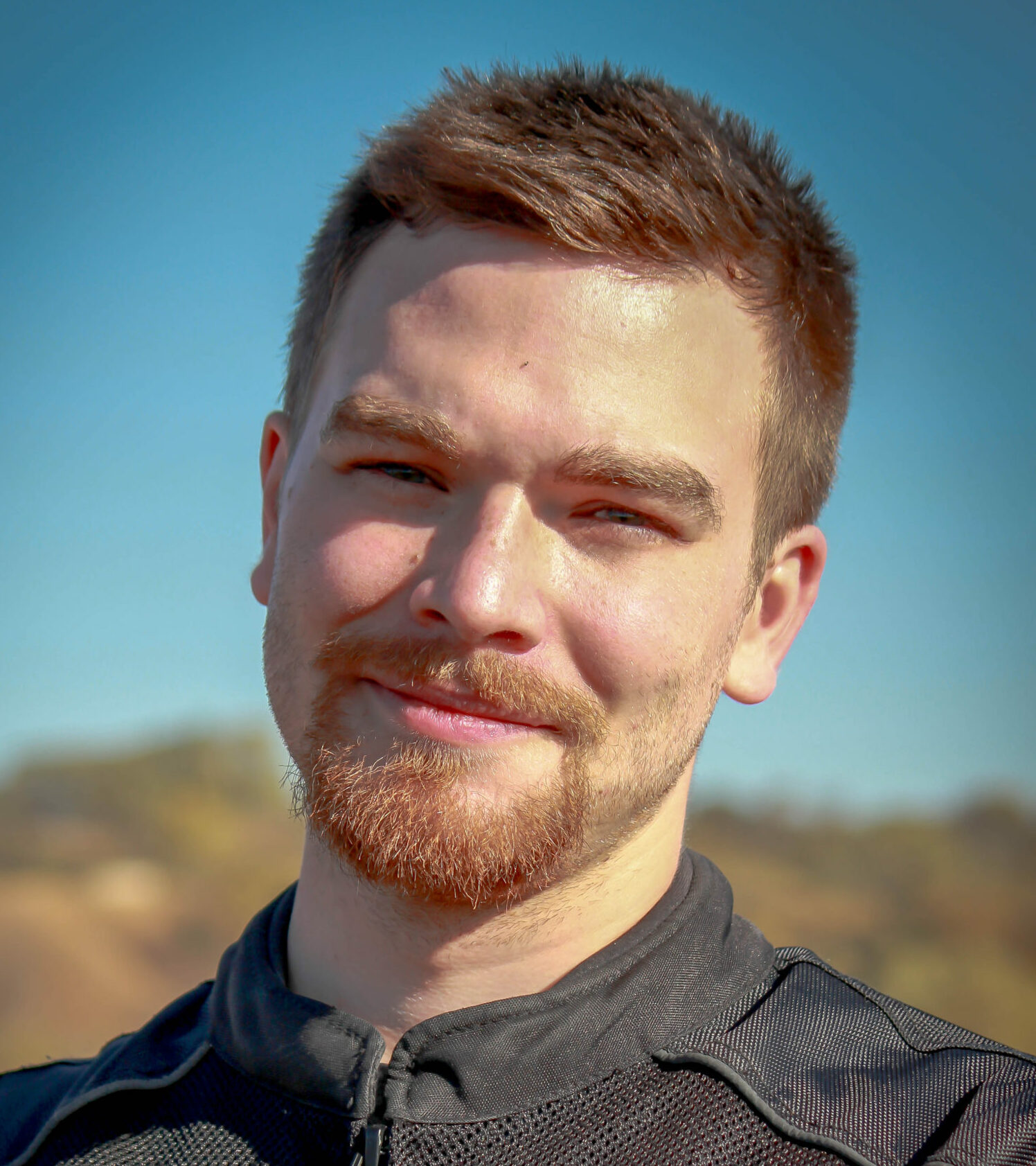 What's up! I'm Colton, the main guy behind Moto Gear Knowledge. Gear has always been my #1 priority when it comes to riding.
I share my experiences regarding gear and anything else moto related with you here. 👍