Last Updated on January 6, 2023
Viking Bags was kind enough to send us one of their large tail bags for sportbikes to try out and review! They also have other products on their website so be sure to head over there and check out everything that they offer!
With that, let's get to the review.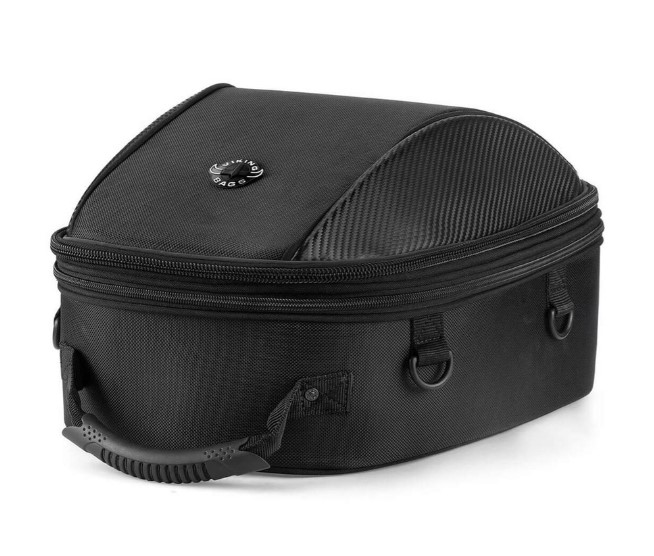 Product: Viking Bags Large Sport Tail Bag
Recommended Price: Around $100
Best Place To Buy: VikingBags.com
Our Rating: See below!
Warranty: 1 Year manufacturer's defect warranty
Viking Bags Has A Lot To Offer
---
Saddle bags, fork bags, sissy bags, swing arm bags, handlebar bags, and windshield bags… Viking Bags has got you covered on almost every type of bag you could think of.
Since I'll still be mainly commuting on the Ninja when the weather decides to get better for riding, it made sense to go ahead and review the large sport bag that they have available.
You should also check out their story when you get a chance. Here's a part from their page:
"Viking Bags was conceived the same way almost every great idea is conceived; out of frustration with the current state of things & out of a desire to change things for the better. In our case, the frustration was with the sub-par motorcycle luggage in the market at that time. Our desire was to create something that was just as beautiful as it was useful."

– Viking Bags
And based on the experience so far with their sport tail bag, they're certainly not kidding around when it comes to wanting to create better bags and better experiences for any type of rider.
Viking Sport Bag Build Quality
---
Even after first grabbing the bag out of the box that they sent over, I could immediately tell that the bag wasn't made out of some random, cheap garbage material that you often see in cheaper, more fragile bags that are on the market.
Although I'll have to wait a little while to actually ride around with this strapped on the back to test how well it holds up with daily riding, I have no doubt that it'll stand the test of time on the bag itself.
Materials Used
A good reason why the bag will surely last a long time is because it is made from Cordura fabrics. Cordura is a highly durable fabric that is often used in higher-end gear which, compared to other high-end bags on the market, Viking Bags is priced a bit better.
They used carbon on the outer top sides of the bag which helps to retain shape and it also just looks awesome. There is a hard plastic used all around the bag that, when squeezing it together, it just feels very durable, long lasting.
The buckles you attach the hook to are made out of a thick plastic, although the fasteners are a bit thinner than I'd like to see. If you try tightening the buckle too hard, I could see them snapping off… But this is also from me personally liking buckle fasteners to click on.
The zippers are thick, and they're going to last for as long as you take care of em'. That's something you often see missed with other companies – they'll use thinner zippers to make room for more profit.
Longevity?
As I mentioned before, it'll be a while yet because of weather for using the bag as daily tail bag storage, but there is zero doubt on it not lasting for the long haul.
As with almost any bag that's made well, if you take care of it, it'll take care of your storage needs. We'll try and get an update here on whether or not it is able to be used on the daily when riding season hits full swing.
Viking Sport Bag Features
---
A good bag isn't just a single piece of storage, but something that is designed for ease of use across the board. Viking Bags took care of that here, and you're able to see more details on all of their other bags on their site – there are plenty of pictures to show the ins and outs of each bag.
There were a couple things I would have liked to see otherwise which comes from both personal preference but also what is shown on their website which I'll detail within the next couple of sections.
Plenty of Storage
Once you open up the bag, there is a large, mesh pocket which can easily fit a few drinks, or whatever else you'd need to fit. There is a zipper you can undo that will create a bit of extra storage space as well.
It also comes with a separator inside of the bag that you place with velcro if you deem it necessary to use, something that wasn't necessary to add to the bag but it's an extra touch to detail that's always good to see!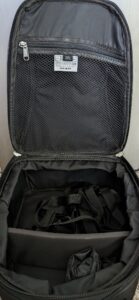 You can fit plenty in here, but it's not enough to fit your helmet. That's not an issue for me with the Ninja because I always use the helmet lock on the bike, but it's something to keep in mind.
Need to maybe fit a few groceries, your essential tools, bottles of water for the homies while on a long ride? Yeah, it'll fit all of that.
It's deep enough storage to fit all of the essentials. Sure, it's not enough room to fit a helmet, but it's not meant for that. It's meant for an easy to use tail storage solution that'll stand the test of time.
Ease of Use
Once you have it strapped up on your bike, it's simple to take off and to add the long strap that it comes with to make it into a shoulder bag to bring along. You don't need any tools for strapping it on.
On the product page for this bag, it shows the shoulder strap having a pad to fit right on your shoulder which would be nice, but that didn't come with the bag that they sent me…
That could have just been how they're bundling it now, but I can't confirm if the shoulder strap will always come with the padding for it. You see that with other brands, or even dual shoulder straps, so hopefully it does come with the bag when it's advertised that way on their site.
This could also be an issue of their linking, as I saw that when you click on the large bag on their site for the sport bag, it still brings you to the medium bag..? But I digress. For the quality alone, it's fine for what it is.
Weather Resistance
Although I'll have to add an update here as well while riding in the rain with the bag, it's certainly thick enough to resist the elements. It does come with a rain cover though, which will help a lot with keeping the rain out.
It's weather resistant – not completely waterproof. So you'll always want to ensure using the rain cover when you know you're about to ride out in the rain.
There's A Viking Bag For Your Riding Style
---
This is a nice, large tail bag for the fellow sport riders out there.
But if you aren't looking for a sport bag specifically, then be sure that you check out their catalog of other bags man… They've got something for every rider – for real!
If you want something that's a better price compared to other brands making bags and want to ensure that the quality is there, then I'd for sure recommend these Viking Bags.
On their homepage, you can select the make/model of your bike and go from there. There are plenty of bags to choose from depending on whichever bike you've got!
So, what do you think of Viking Bags?
Have you checked out everything else they have to offer? What do you ride, and what could you use?
Let us know in the comments below!
Viking Bags Sport Tail Bag
Around $100
Pros
Made of Cordura with carbon outer edges
Easy to strap on and take with you
Plenty of storage for the essentials
Cons
Would have been nice to have a strap pad when putting on your shoulder
Metal buckles are better than plastic
Could be frustrating to strap on if your bike doesn't have the slots for fastening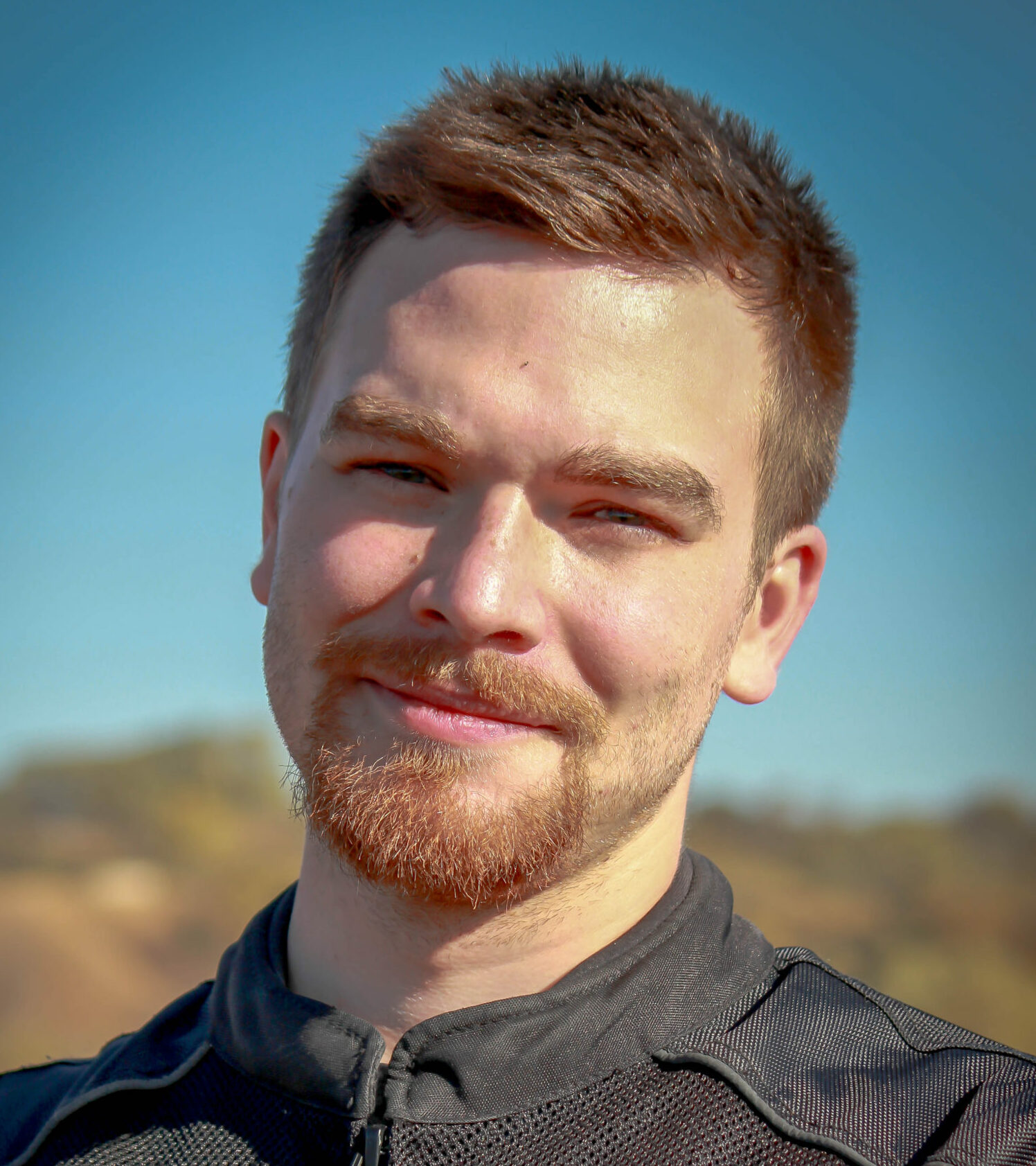 What's up! I'm Colton, the main guy behind Moto Gear Knowledge. Gear has always been my #1 priority when it comes to riding.
I share my experiences regarding gear and anything else moto related with you here. 👍