Last Updated on January 9, 2023
Highly visible, reflective motorcycle helmets help tremendously in being noticed while riding your motorcycle. Whether you're looking for the absolute best of the best choices that are available or if you are looking for a hi-viz helmet on a tighter budget… we've got you covered!
In this guide, we are going over the best hi-viz motorcycle helmets that have superb features as well as helmet brands that don't ignore important safety measures.
We'll go over these recommendations, where you can get them, and why we've chosen each helmet featured here. If you're in a rush, we've got our top picks listed right away.
With that said, you should take the time to go over each hi-viz option here. There are pros and cons to each pick, and depending on your riding style, you'll want to fine-tune what is most important to you with any helmet that you decide to go with.
Hi-Viz Moto Helmets – Our Guide & Overview
---
We don't pick out a helmet on the market and call it the absolute best one that's out there. We've factored in real rider feedback, the helmet's official specs, and the most crucial features so that you can feel more confident about choosing a hi-viz helmet that suits your riding style best.
Listed below are our top choices for some of the best hi-viz options that are available today. Pricing will vary from more budget-friendly options to some of the top-grade, feature-packed helmets that go for $600+.
You won't find any helmets in this guide that are low-grade, fragile picks because safety is always our #1 priority when it comes to any piece of gear. The helmets featured in this guide are made out of the greatest materials and have features that will expand on your quality of riding.
Right now, the HJC i90 Davan Helmet is a top contender when it comes to a modular hi-viz helmet with streamlined ventilation. If you don't want to break the bank on a flip-up hi-viz helmet that is comfortable for long-distance touring then you'll want to go with the i90.
If you are on the lookout for a full-face helmet that maximizes on protection and comfort simultaneously then you'll want to consider the Scorpion EXO-ST1400 Carbon Antrim Helmet. It's a carbon fiber helmet that is priced lower than most other carbon helmets on the market and it has a reflective, hi-viz option.
Continue reading through this guide and check out all of the helmets that are featured below – there are different styles and use cases for each helmet.
If you read through each helmet that is reviewed in this guide then it'll help you narrow down which helmet will be the top choice to move forward with!
Comparison Table
HJC i90 Davan Motorcycle Helmet 
Modularity and streamlined ventilation - that is what the i90 from HJC is all about. For under the $250 mark you get a helmet that has some of the most essential features you could ask for in a helmet.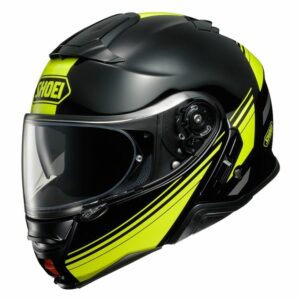 Shoei Neotec II Motorcycle Helmet
Shoei helmets speak for themselves. The Neotec II is one of their most popular helmets because it is simply one of the best all-around picks. If you are in the market for a premium quality hi-viz lid... It is hard to beat the Neotec II.
BILT Force Ten Motorcycle Helmet
If you are on a tighter budget then you should take a look at this Force Ten helmet from BILT. This is a modular helmet with a drop-down sun visor for under the $150 mark. When it comes to spending a lesser amount and still getting the job done - the Force Ten helmet has you covered.
Top 10 Rated Hi-Viz Motorcycle Helmets of 2023
1. HJC i90 Davan Motorcycle Helmet
---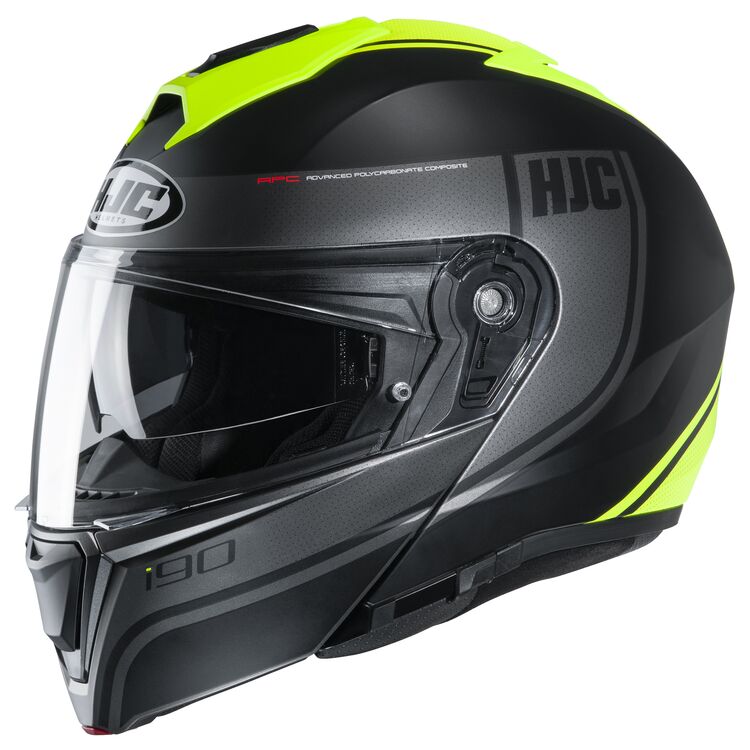 HJC's i90 helmets are a great pick when it comes to a high-quality, mid-range modular helmet. It cuts through the wind nicely with how the ventilation system is designed and they provide a couple of different hi-viz styles to choose from.
It is constructed with a lightweight polycarbonate shell, specific design choices for better aerodynamics, a streamlined ventilation system with large vents, it has a Pinlock-ready shield, a large drop-down sun visor is built-in, and inner padding that cuts down wind noise nicely.
Overall, the i90 weighs under 4 lbs with the polycarbonate composites that HJC decided to go with. It's important to have a lighter weight with a modular touring helmet like this to decrease neck strain while riding.
The flip-up mechanic has been updated compared to previous modular models where the shield flips up with the chin, this has an impact on the general aerodynamics and it's easier to adjust when the chin bar and face shield share the same pivot point.
There are two intake vents, the front vent is easy to adjust and the large top vent has an effortless actuation compared to previous models where the vent interfered with the sun visor adjuster.
Two exhaust vents are inlined with the helmet in the back which helps with wind noise, airflow, and further optimizes the aerodynamics of the helmet.
When this ventilation system is combined with the thicker inner padding, wind noise is, on the whole, canceled out because of how enclosed the openings are while you're wearing the helmet. The liners are also designed with moisture-wicking and comfortability in mind, using the "SuperCool" interior for the liners.
The drop-down visor is large and covers the entire area to block out sunlight that beams down while you ride. This is sometimes overlooked with other helmet manufacturers where the sun visor doesn't actually come down all the way, it's nice to see they ensured that they integrated the sun visor correctly.
The face shield is Pinlock-ready but it does not come with the lens insert that is necessary to have it with the shield.
A few riders have reported having sizing issues so be sure to follow the sizing charts accurately to know which size you really need!
When it comes to a modular touring helmet for under the $250 range, the HJC i90 comes through with some must-have features and high levels of comfort for the longer touring rides.
Pros
Streamlined ventilation system, low levels of wind noise
Large drop-down sun visor
Comfortable inner materials and lighter weight
Cons
Does not come with Pinlock lens insert
Some riders have had slight sizing issues
2. Shoei Neotec II Motorcycle Helmet
---
Shoei is known for creating some of the best helmets on the market. Their Neotec II helmet has some of the best helmet design choices you could have when it comes to a modular helmet.
It's made out of Shoei's "AIM" material which is an abbreviation for their Advanced Integrated Matrix. The previous generation of the Neotec helmet used this as well. It's a fiberglass complex to optimize the different shell sizes that are available with the helmet.
Shoei optimizes the aerodynamics of this helmet to provide a master level of ventilation and protection for every ride. It's designed to handle any long touring rides.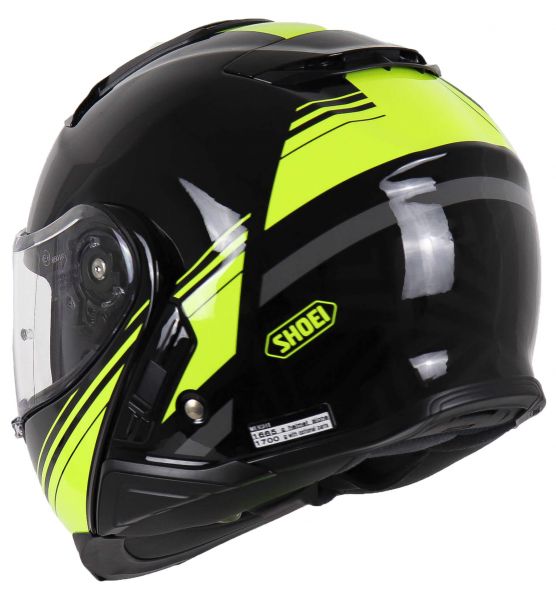 The cheek pads are designed to keep noise out. Shoei uses their Noise Isolator pads which do an excellent job at keeping noise out.
Noise cancellation usually comes with some problems when it comes to airflow, but the Neotec II's wind tunnel ventilation systems are top-notch here. Even with the neck roll being tightened up, you're still going to get plenty of adjustable airflow from the ventilation system.
The visor comes with a pin-lock insert which will ensure that your shield never fogs up. Incorporate that with the catfish front vent, really the ventilation system as a whole, and you aren't going to have any problems with the shield fogging up.
There are only a couple of downfalls to the Neotec II. They have a slot for adding in the Sena SRL Communication System specifically which makes it very difficult to add in any other brand of headset. You almost have to use that Sena headset if you want any communication devices inside.
Although Sena makes some of the best communication devices on the market, and the insert makes it very easy to install, it's just rough if you'd prefer a different brand of device.
Also, if you are one that absolutely needs the lightest helmet that is possible, then there are lighter helmets out there compared to the Neotec II.
It comes out to just over 4 lbs. which is a common theme for the other premium modular helmets on the market that compare to this. Just know that if you are looking for the lightest weight possible, there are other options.
When it comes to premium, state-of-the-art brands creating hi-viz helmets – the Neotec II from Shoei is hard to beat. Invest in this helmet if you go on long tours and want one of the best hi-viz lids on the market.
Pros
Premium materials
Comes with PinLock installed, superb anti-fog
Top-tier ventilation system
Extremely comfortable inner materials that cancels most noise
Cons
If you want a Bluetooth device with it, you can only use the Sena SRL Communication System
It's not the absolute lightest helmet available
3. BILT Force Ten Motorcycle Helmet
---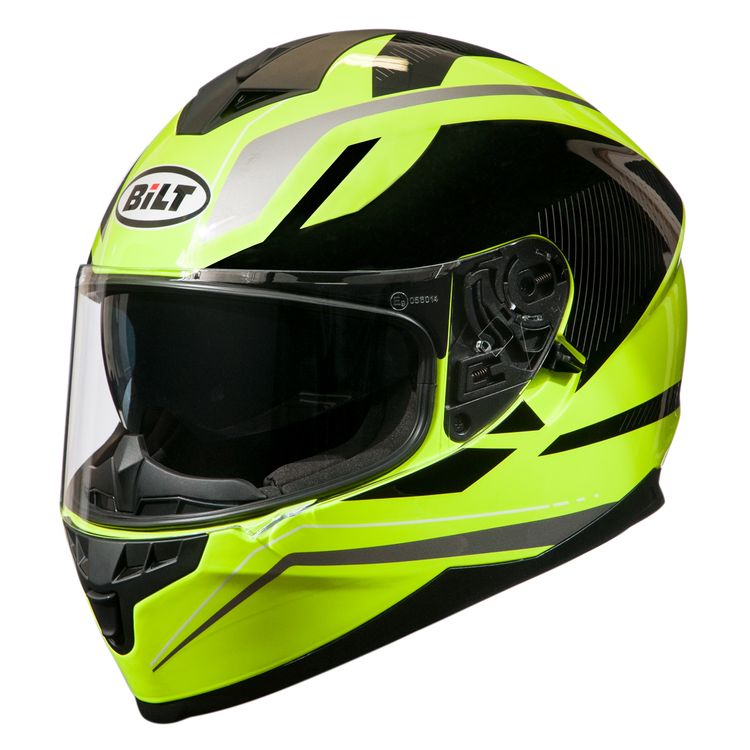 If you're on a tighter budget and need something that has essential features to get the job done then you'll want to take a look at the Force Ten helmet from BILT.
It's made out of a polycarbonate shell, has an internal flip-down sun visor, a good moisture-wicking inner liner, and has large vents that you can adjust.
Polycarbonate materials are used with almost every budget-friendly on the market because it's a highly protective material that is cost-effective. With the Force Ten usually being priced at under $150, no complaints there about the materials used especially with the other included features!
Although it's not a modular helmet that you can flip up, this helmet still comes with a drop-down sun visor. It's adjusted with a simple lever system.
The comfort lining is simple to remove (it's a snap-out liner) and wash and is made out of comfortable materials. With that said, some riders have reported that it's pretty warm inside of the helmet – even with the vents opened up.
Sweat will stay out of your eyes while you're riding but if you're riding in some intense heat, you'll likely want to take a couple of breaks to cool off a bit.
Wind noise will start whistling on above 30+ mph, but it isn't anything jarring. While the visor is fully shut, it does a good job of sealing shut and it's also easy to take on and off.
In all, the Force Ten helmet is great if you're looking for the best bang for your buck on a hi-viz helmet. It comes with a built-in sun shield and does everything you need it to do when you're hitting the road.
Pros
Great value, low-cost
Built-in sun visor
Not made out of low-quality materials
Cons
Not great airflow while riding in high heat
Some wind noise after 30+ mph
4. BILT Power Motorcycle Helmet
---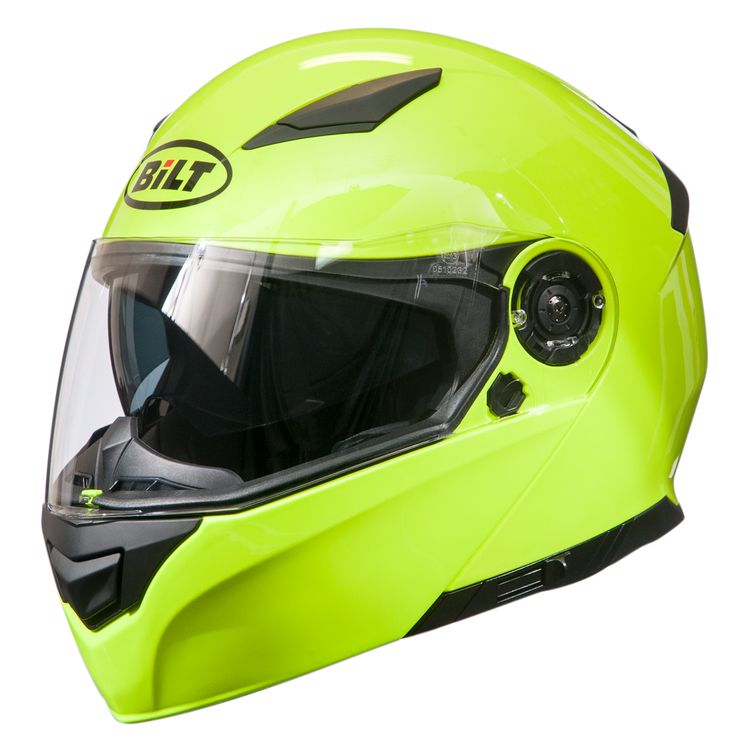 Right back at it with another helmet from BILT, this one is their Power Modular helmet. It's a solid hi-viz shell that can be flipped up and also has the included drop-down sun visor.
The shell is made out of polycarbonates, it has a built-in sun visor along with the flip-up chin, it has plenty of airflow with adjustable vents, and it doesn't break the bank.
The shell is designed just right, with the vent adjustments placed in areas that are easy to use with gloves on. If you need more airflow, you can flip the chin up quickly for easy access and airflow on the go.
With how the vents are placed, however, there is quite a bit of wind noise with this one. It's a good trade-off though because it's a modular helmet that's always available for under the $150 range!
The inner padding is very similar to BILT's Force Ten helmet – it's easy to take out and is made out of comfortable materials.
There are cutouts for Bluetooth comm units, so it's simple to mount a unit and use it with this helmet. You should use a device that mounts with adhesive on the side, that way you can still control the throttle while being able to adjust the device whenever you need to.
In a nutshell, this is a highly affordable modular helmet from BILT that might not be fully optimized for wind noise reduction or airflow, but you'll have the sun visor built-in and you can always flip the chin up for some quick breeze while riding.
This would be an ideal pick for those of you that like the solid hi-viz coloring along with not breaking the bank on a modular helmet.
Pros
Built-in sun visor
Modular, can easily flip the chin up or down
Budget-friendly price point
Cons
Wind noise reduction isn't optimized
Airflow isn't the best, but you can always flip the chin up for more air
5. Schuberth C3 Pro Sestante Motorcycle Helmet
---
Another premium model, the Schuberth C3 Pro Sestante helmet is one of the best sport-modular helmets on the market. Their hi-viz model has bright, reflective portions where it matters most and has some of the most advanced aerodynamics on the market.
It's made out of a glass fiber combined with special resin (makes it extremely lightweight and sturdy), designed with some of the best acoustics to cancel out wind noise, it has an adjustable inner liner depending on the weather you're riding in, and has an optimal design in terms of maximizing airflow.
The glass fiber is combined with a special resin that is pressed into the shape under high levels of pressure and temperature. This is what creates the extremely strong shell, while also staying at a lighter overall weight.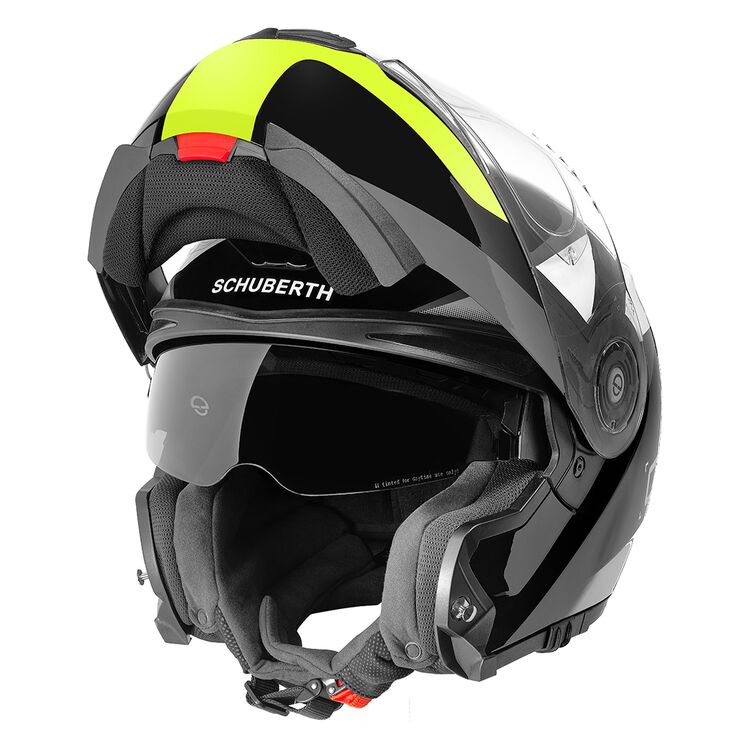 As for internal fit, the liner is made of Thermocool and COOLMAX materials to provide efficacious results when it comes to moisture removal and keeping cool during hot summer rides.
With the top-notch liner and comfort pads combined with the helmet's effective ventilation system… There aren't any problems with having an optimized level of airflow at all times while riding.
There are multipath channels in the foam liner which correlate with the ventilation on the mouth/chin/head areas which makes certain that airflow is distributed properly and where it matters most.
Schuberth developed the Anti-Roll-Off System which is part of this helmet. This system makes it so that the helmet cannot pivot off of your head from behind. Essentially, when the chinstrap is closed and correctly adjusted, the helmet isn't going to roll off of your head.
A.R.O.S. is simply an extra safety feature that Schuberth created, and anything that adds extra safety is always a surefire plus to have!
The visor is easily removable and it's a Pinlock visor. Pinlock visors use the power of physics rather than a coating to prevent any fog from manifesting on your visor – it's always super nice to see helmets that have a Pinlock visor that ships with it.
The only real "gripe" to have with the C3 Pro is that it's specifically designed to use the Schuberth SRC-System when it comes to installing a communication device.
Although it's most optimal and designed with only that device in mind, the helmet does come equipped with two antennas that are integrated into the helmet to help with overall reception with the device.
In all, the C3 Pro is an amazing helmet and it comes in a highly reflective hi-viz style. If you want the best sport modular hi-viz helmet on the market, the C3 Pro is the helmet to have on your radar.
Pros
Extremely lightweight and sturdy sport modular helmet, premium glass fiber used
One of the quietest helmets ever made
Top-tier ventilation system
Added A.R.O.S. safety feature
Cons
Designed with the Schuberth SRC-System in mind, 3rd party devices not as easy to use
6. Nolan N100-5 Consistency Motorcycle Helmet
---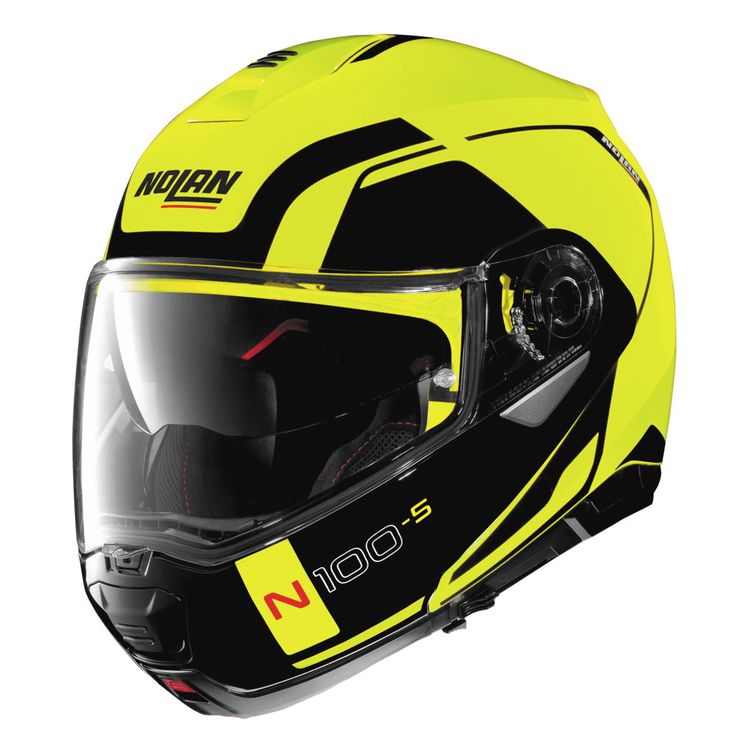 If a higher field of vision with a modular helmet is what is important to you then you'll want to check out the N100-5 Consistency helmet from Nolan.
This helmet uses an ultrawide face shield, the shell is made out of polycarbonates, it has a drop-down sun visor with UV 400 protection, the visor has Pinlock included, and it has a micrometric adjustable chin strap.
A higher field of vision means that your peripherals while riding are going to be significantly increased. For most riders, it's more peace of mind knowing that you're able to have a more full view while wearing your helmet.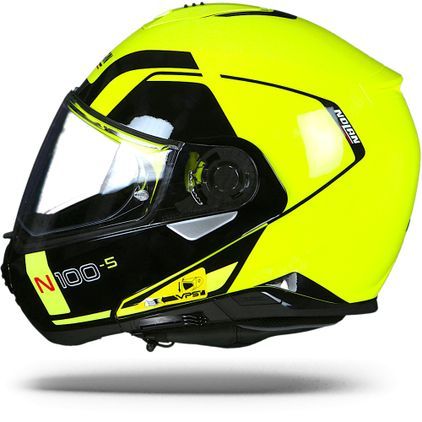 The shell is made out of polycarbonate materials which are used with most helmets. No, it isn't a superbly high-quality material like carbon fiber, but polycarbonates get the job done when it comes to a well-designed helmet which Nolan has done since the 70s.
The drop-down visor has a high level of UV protection which you don't see featured with many sun visors. Nolan made it a point to ensure that the sun visor did more than provide a bit of tint with the visor.
Although the visor comes with Pinlock, there have been a few reports from riders that say that the visor doesn't completely prevent fog build-up. This may be due to some slight ventilation problems with the helmet, where it can be too much ventilation on cooler days but not enough flow on hotter days…
With that said, keep in mind that it's a modular helmet, and flipping it up for a quick breather is a piece of cake. Nobody wants a foggy visor, and it isn't the majority of riders that have reported it, but it's good to know that it hasn't always worked 100% of the time for some riders.
The chin strap is a nice touch when it comes to a modular helmet – this one uses a micrometric chin strap system. It's easy to buckle it on and adjust, micrometric chin straps are very quick and easy to use.
Nolan has also pulled a similar stunt that most higher-end helmet makers do… If you want to add a communication device, you're going to have the easiest time with Nolan's N-Com system.
It's still possible to tag on other 3rd party systems, but the helmet was specifically designed to use Nolan's system with it.
Overall, Nolan's N100-5 Consistency helmet is the go-to pick if having an ultrawide visor with a sufficiently designed modular helmet is most important to you. It has a comprehensive design and is a popular pick for a daily riding helmet.
Pros
Has an ultrawide visor, high field of vision
UV 400 protection with the drop-down sun visor
Comes with Pinlock
Micrometric chin strap buckle
Cons
Ventilation isn't optimized for cooler riding days
Some riders reporting fogging issues, could be due to not having the right fit/size
7. Scorpion EXO-ST1400 Carbon Antrim Motorcycle Helmet
---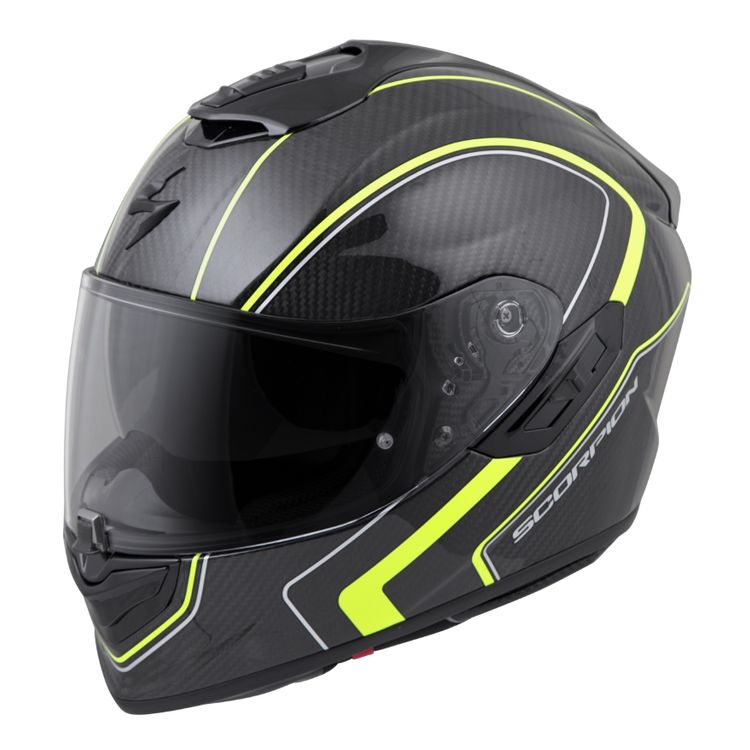 Scorpion helmets are well known across the board for many riders and their EXO-ST1400 helmet has got to be one of the best carbon fiber helmets that have a sleek hi-viz design.
Their EXO-ST1400 Antrim helmet is made with a resin-infused TCT-U 3K carbon fiber shell composite, a refined aerodynamic shell design, inflatable air bladders with the cheek pads, good speaker pockets to fit almost any communication device, and it comes with an extra Pinlock-ready face shield with a Pinlock insert.
The 3K carbon materials used for the shell make the helmet extremely light – it weighs around 3.05 lbs. Similar carbon materials are used with helmets that have a much higher price point compared to this helmet, making this helmet one of the most affordable carbon fiber helmets on the market.
The shell is CAD designed and refined for optimal aerodynamics. It has a very sleek design with an impressive fit with the aerodynamics involved. This design minimizes the turbulence and lift for a straightforward, quieter, and more solid ride.
Something unique with some of Scorpion's helmets is their AirFit inflation system that provides an extra feature to fine-tune how the helmet fits on you. The EXO-ST1400 comes with these air bladders and you'll be able to adjust them with a few pushes to find your perfect fit.
Speaker pockets are decently sized with this helmet, it should be compatible with almost any communication device you could think of. This is something we'd like to see more companies do – provide further compatibility with a broader range of communication devices.
You get an extra face shield with this helmet that is Pinlock-ready and it comes with a Pinlock insert as well. Scorpion wants you to have the option to use different types of shields depending on what you like to use most. It also has a drop-down sun visor that is easy to operate!
A couple of notes about the face shield and sun visor – the face shield actuator is located right at the front of the shield above the front vent. At times, you might accidentally shut the front vent because of where this is located.
As for the sun visor, almost every rider has reported that they wish it came down just a little bit further to fully cover the area. Although it's not very noticeable while riding and it's a nice addition anyway, it would have been nice to have that drop-down visor fit just a little bit better.
If you're on the hunt for a hi-viz carbon fiber helmet then the EXO-ST1400 Antrim from Scorpion is going to be hard to beat. It's available for a fair price when it comes to carbon helmets and the hi-viz design is slick.
Pros
Affordable price point for a carbon helmet
First-class aerodynamic shell design
Compatible with almost any communication device
Comes with an extra Pinlock face shield
Cons
Drop-down sun visor could have came down a bit further
Face shield actuator is located right above the front vent
8. Arai Signet-X Motorcycle Helmet
---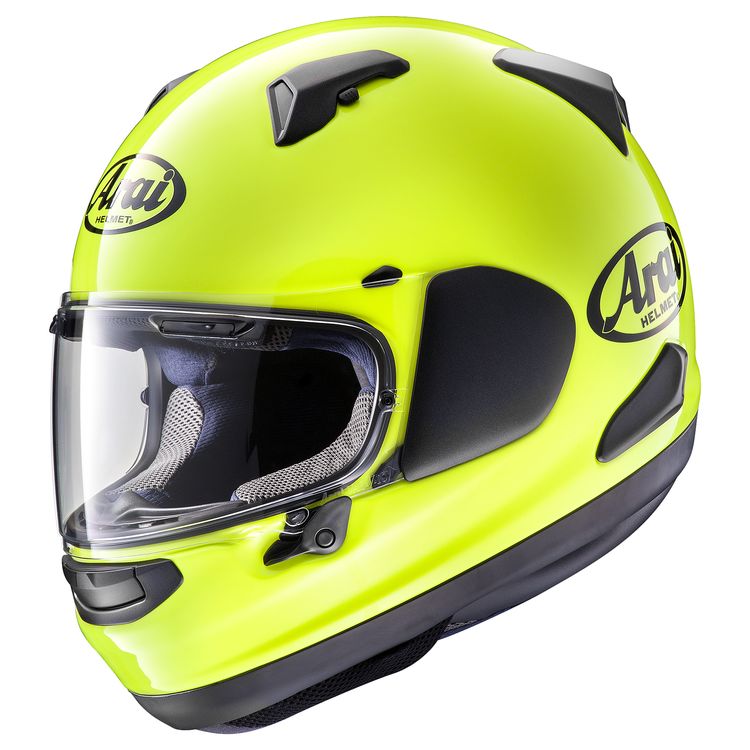 Arai is one of the best brands when it comes to helmet design. They're widely known for being a super premium brand in the industry for a long time now (they've made premium riding helmets since the 50s).
Their Signet-X helmet is packed with everything you'd expect out of a super-premium helmet maker. The shell is made out of a mixture of carbon fiber, aramid, and organic resins. This results in a helmet that is very strong and capable of optimizing energy management in the event of a wreck.
Couple the prime materials used in the shell with a sophisticated ventilation system, adjustable temple padding, a top-notch shield system, and compatibility with almost any Bluetooth device and you've got one of the best helmets that Arai has ever released.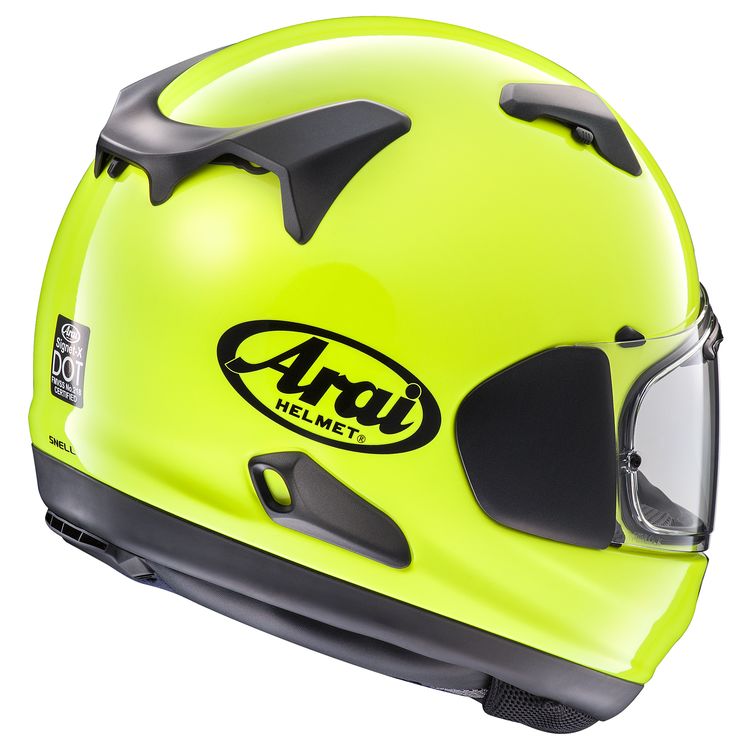 The vent scheme was developed to purposely distribute airflow behind the ear without sacrificing wind noise at higher speeds. It's incorporated with the adjustable inner liner for the best possible airflow.
The top chimney vents go through a 10mm vent hole that can be completely closed from the side slider. It completely blocks out the flow which cancels out any whistling that would otherwise be heard without this type of top vent.
The ventilation exhausts in the back are done through five extraction channels, which again provide some of the best airflow all around your noggin without having the blaring wind noise.
The chin skirt and other portions of the padding have mesh on the sides which helps the moist air to breathe and not interfere with the anti-fog effects of the Pinlock shield.
Within the padding are tabs that allow you to have precise adjustments to your fit with Arai's contour system. The first-class padding materials, adjustability, and optimized ventilation are the main features of this helmet.
The face shield has eyelid vents at the top and it's integrated with a very simple system to remove and snap the shield back on. You can open up the side pods with the click of a switch which opens up the sides of the face shield for an extremely easy removal process.
You'll be able to throw in almost any speaker system you'd want with how adjustable the inner liners/paddings are and Arai ensured that there was plenty of space for any communication device.
If you're looking for super-premium quality with your hi-viz helmet in the realm of materials used and superior airflow, then the Signet-X is going to be the helmet to get.
A quick note about the Signet-X, it's designed for long oval sizing. If you have a more round dom size, then you'll want to snag the Quantum-X variant to ensure you have the correct fit. Always follow the sizing charts!
Pros
Some of the highest quality materials used across the board
Top-notch ventilation system
Precise adjustability with the inner liners/padding
Cons
Not available for every single fit type
9. Scorpion EXO-R320 Endeavor Motorcycle Helmet
---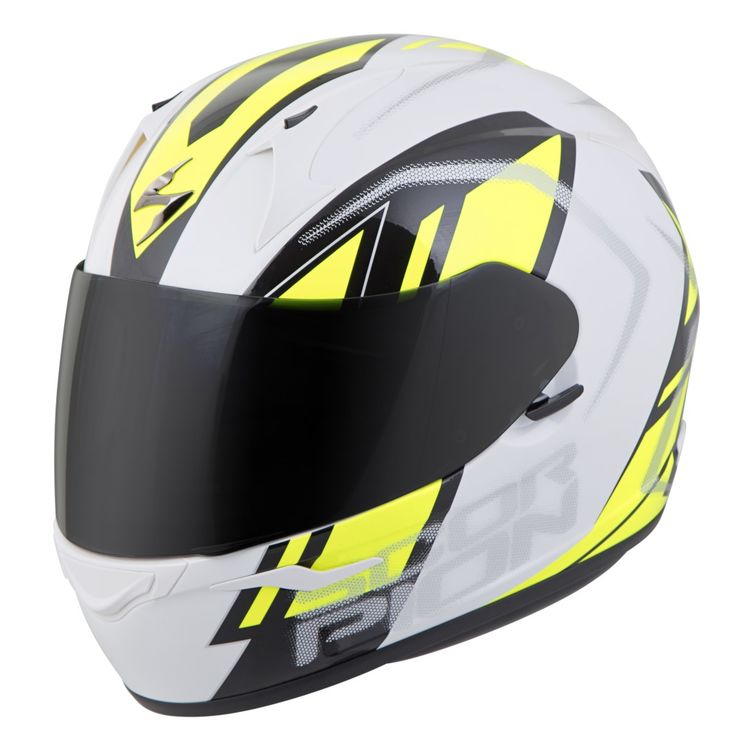 Another pick from Scorpion, the EXO-R320 Endeavor is a full-face helmet with a white and hi-viz yellow finish that is highly affordable and packed with some awesome features.
The shell is made out of polycarbonate materials, the padding is made out of dual-density EPS, it has a good moisture-wicking liner, the visor is Pinlock-ready, you'll be able to add most communication devices to it, and has a low level of wind noise.
It comes as no surprise that the helmet is made out of polycarbonates as that's the standard when it comes to more budget-friendly helmets, but the EXO-R320 is known for being a comfortable helmet with the "KwikWick" liner, decent ventilation, and lighter weight with the overall construction of the helmet.
It'll get the job done of providing a high level of protection for a full-face helmet that's usually priced under $150. This really does do a great job of wicking away moisture while riding in hotter weather.
The visor is Pinlock-ready, but it does not come with the lens insert that you'll need to pop in. If you want to keep the shield from fogging up, getting that lens insert is going to be essential.
Another note about the shield is that, although it is pictured with a tinted shield, it only comes with a clear shield. You'll have to get other shields separately if that's what you're after.
Speaker pockets are provided and will fit almost any communication device you'd want to put into it. The "KwikFit" padding they use is simple to add and remove – it's a straightforward process to put a speaker system inside.
Although there are some issues with the shield fogging up, ventilation is as good as it needs to be to get enough airflow – but the ventilation system also does a great job of keeping the helmet quiet which isn't something you see very often with most budget-friendly helmets.
When you need a full-face helmet that provides a high level of protection for less that still doesn't compromise on having the essential features then the EXO-R320 is the way to go! It's also one of the only hi-viz styles that are white with reflective hi-viz graphics.
Pros
Comfortable padding and liner, good moisture wicking materials
Highly affordable
Visor is Pinlock-ready
Cons
Only ships with a clear visor
Tends to fog up easier without the Pinlock lens insert
10. Bell SRT Transmit Motorcycle Helmet
---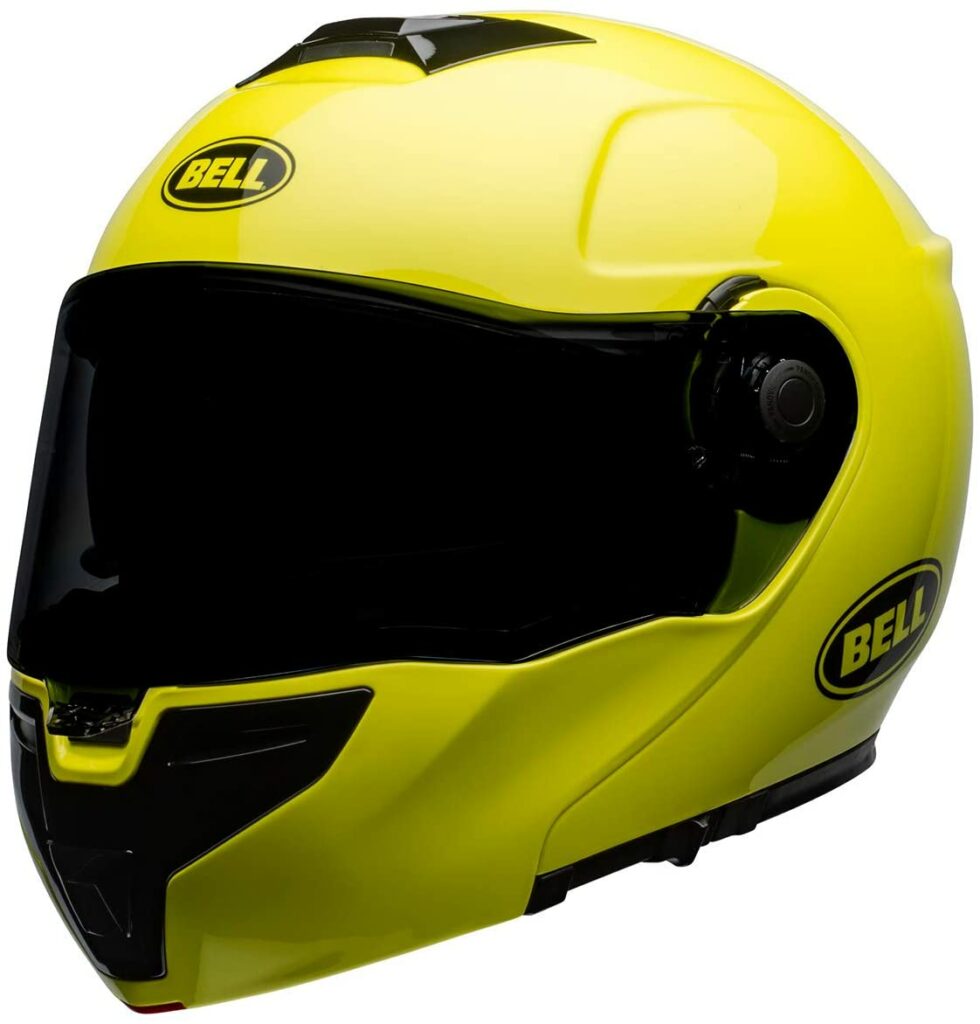 Last and certainly not least is a solid hi-viz helmet from Bell. This is a modular helmet that has all of the bells and whistles you'd expect out of a quality helmet from a highly approved brand.
Bell has been around for a long time, since 1954, and they've got a great reputation for making gear that is not only more affordable than other brands but their gear delivers on some of the most sought-after features.
The shell is made of a fiberglass composite material, it uses a Panobision system Bell Shield, there is a drop-down inner visor, adjustable ventilation at the chin and the top of the shell, and moisture-wicking pad inserts.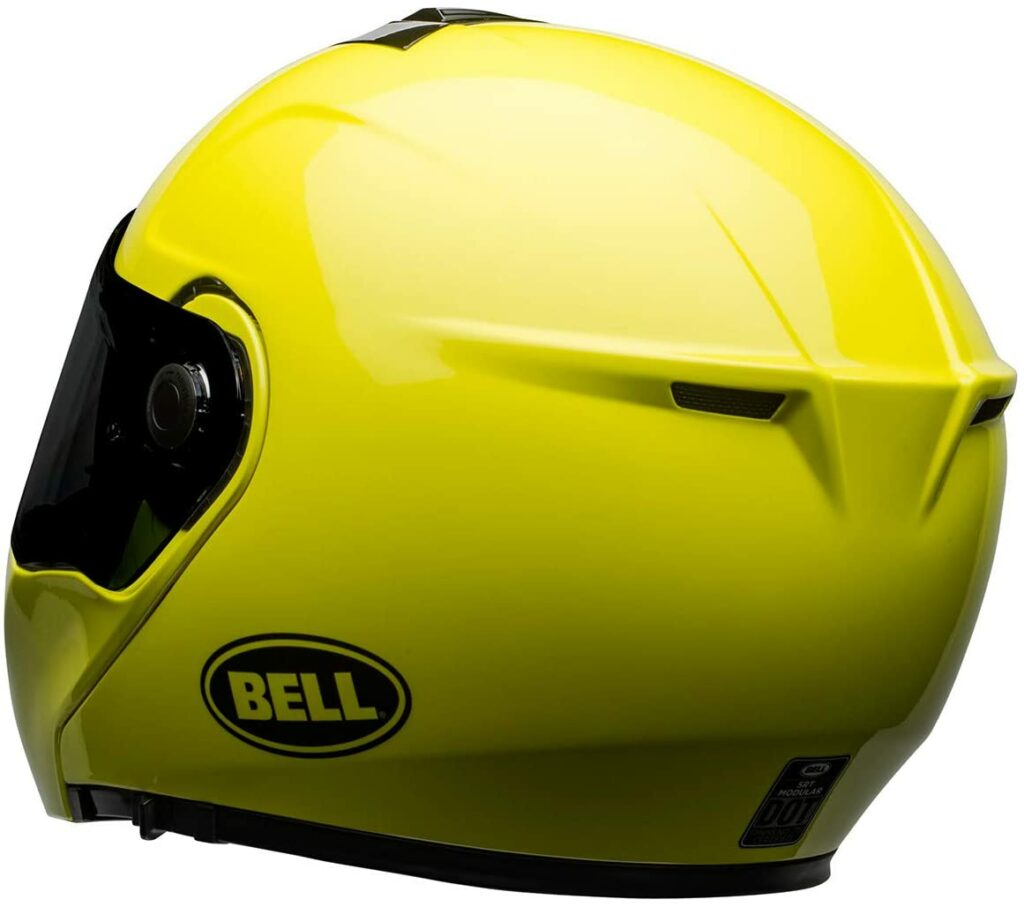 Fiberglass composite is a lighter material than the usual polycarbonate materials used in helmets which is how this helmet is able to weigh in at 3.14lbs. It's nice to see that fiberglass composite is used in a modular helmet like this as some of those modular picks tend to be on the heavier side.
The Panobision visor system from Bell has a cutaway on the sides of the visor which is featured with Bell's high-end racing helmets. It's designed to give you a full field of view while riding with the visor locked in.
The drop-down sun visor is a cable-actuated system that you can adjust on the left side of the helmet. Slide the slider to adjust the sun visor, which comes all the way down past the bridge of your nose.
As for ventilation, the two main vents at the top of the shell and the chin are able to be adjusted open/close. They provide plenty of airflow with the two exhaust vents at the back of the helmet. The chin vents do a good job of keeping fog from building up on the visor.
The inner padding is easily removable and made of moisture-wicking materials as well as designed to optimize where you would sweat most while riding.
Those pads do well enough for canceling out noise while riding, although not as well as some of the higher-priced helmets out there, at under the $400 range, it keeps enough noise out to not be bothered.
Although the pads are easy to get out, they aren't as easy to get back inside due to the thickness of the pads and how they keep them locked inside of the helmet.
If you're looking for a modular hi-viz helmet at a mid-range price point that has a sportier design then this is going to be the helmet to go with!
Pros
Modular helmet with drop-down inner visor
Made of lightweight, fiberglass composite
Optimized airflow
Cons
Inner padding can be difficult to snap back in after taking it out
Not widely available for purchase
High Visibility Motorcycle Helmets: A Guideline
---
When it comes to picking out the perfect hi-viz helmet… You've got to ensure that you are certain of the right fit, to know if the materials used makes sense with the cost, make sure the helmet follows your standard of comfortability, and to know the type of helmet you need.
That's why we decided to make this guide – to help you along the way when it comes to deciding on a hi-viz helmet that makes sense for you and all your daily rides!
You now know of many of the best options on the market when it comes to staying visible on the road with your helmet, now you've got to make certain that it's the right one.
Below are some guidelines that you should follow, whether or not you're going to get a helmet that was featured here. With all of this information at your disposal, we hope you'll feel more assured with whichever helmet you end up wearing.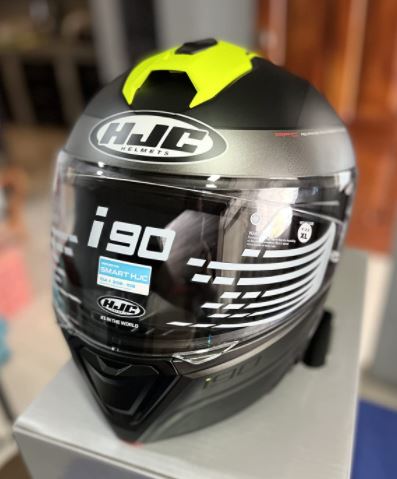 Making Sure You're Getting The Right Size
The sizing of your helmet is very important. If you don't have the right fit, you'll not only experience a helmet that isn't comfortable to ride with but you also won't have the full effect of the safety measures that your lid was designed with.
Having the correct sizing of your helmet is key to knowing how to buy your helmet online – you should try on a friend/family member's helmet or try on helmets at a local shop before you venture into buying one online.
If you don't have those options then you'll want to take a measuring tape around your head to measure it and follow the sizing charts that are provided on the product page of the helmet that you're considering buying.
Materials To Lookout For
We shared multiple types of helmets in this guide which inevitably leads to different materials used in the helmets as well as the overall design.
Polycarbonates are the most common material used with most helmets on the market because it is a sturdy, protective material that is low-cost when it comes to the construction of the helmet.
Other high-quality material choices such as carbon fiber or aramid are used to provide a much lighter weight during construction whilst not compromising how protective the shell is.
Helmets that are created with those materials are priced much higher, but they also provide a premium level of quality. Those that are made out of high-grade shell materials typically have some of the best extra features tagged on such as adjustable fitting and high-end aerodynamics.
As far as which materials to be on the lookout for, polycarbonate composites are the most common and are very strong. Most of the helmets listed here are created with a polycarbonate shell.
If you are in the market for a higher-end helmet that will last for a very long time, you'll want to consider the higher-end shell materials that some of the premium helmet brands use.
Comfortability & Safety Measures
Along with the materials used for the shell of the helmet, you have to consider the materials used with a helmet's inner liner and padding.
The more comfortable helmets will use a softer, moisture-wicking liner that is easy to wash and wear along with their padding. Some padding will have mesh on the sides to prevent moisture build-up.
Expanded polystyrene (EPS) is a common, higher-quality material used for the insides of helmets. Different density levels of this material help with impact absorption and comfortability while riding.
As long as you stay away from moto helmets under the $100 range then you'll have an easier time finding hi-viz options that include the higher-quality liners and padding within the helmet.
Ensure that there is mention of the type of material used with the liner and padding, otherwise, there's a good chance that it isn't made with quality in mind…
Essential Helmet Features
The features that you need will depend on how you ride and what you need for every ride.
Hi-viz gear is popular with touring riders because it increases their chances of being seen while going the distance. This is one of the reasons why we shared multiple modular helmets.
Features such as a drop-down sun visor, good speaker pockets for comms, Pinlock or Pinlock-ready face shields… These are always good things to have in addition to a protective and comfortable helmet.
If modularity isn't your thing and you're just looking for a good helmet with some reflection, then you should still look for Pinlock-ready shields and inner liners/pads that are easily removable and washable.
Anything that lets you further fine-tune the helmet to your fit and style – the quality your of riding life should be something that the helmet maker heavily considered in the design of their helmet.
Do Hi-Viz Helmets Actually Make A Difference?
The point of wearing a hi-viz helmet is to increase the chance of the drivers around you taking note of your existence.
Hi-viz gear has been proven to help significantly in drivers noticing a motorcyclist when they have highly reflective gear, especially when it comes to their helmet because that's the first piece of gear that is visible to others.
It's true, hi-viz gear saves lives not only for the rider but for those around the rider as well. Highly visible, reflective portions of gear are noticed even in the peripheral vision of other drivers and it simply stands out compared to darker gear.
So, yes! Hi-viz gear really does make a huge difference in standing out and being noticed by others. This reduces the chance of injury for the rider because those few seconds of noticing the rider and adjusting accordingly really can and does make a difference.
Stay Visible With A Hi-Viz Riding Helmet
---
We hope that this guide helped you on your search for the best of the best when it comes to hi-viz riding helmets.
The helmets featured here really are some of the best picks when it comes to having a highly reflective helmet that includes some awesome features that are able to be included in a moto helmet.
Get the helmet that best suits your style, that has notable safety features, and that will help you stay visible on every ride.
So, are you going to be getting any of the helmets listed here?
Are there any other high-visibility moto helmets that you think deserve a spot in this guide?
Let us know in the comments below!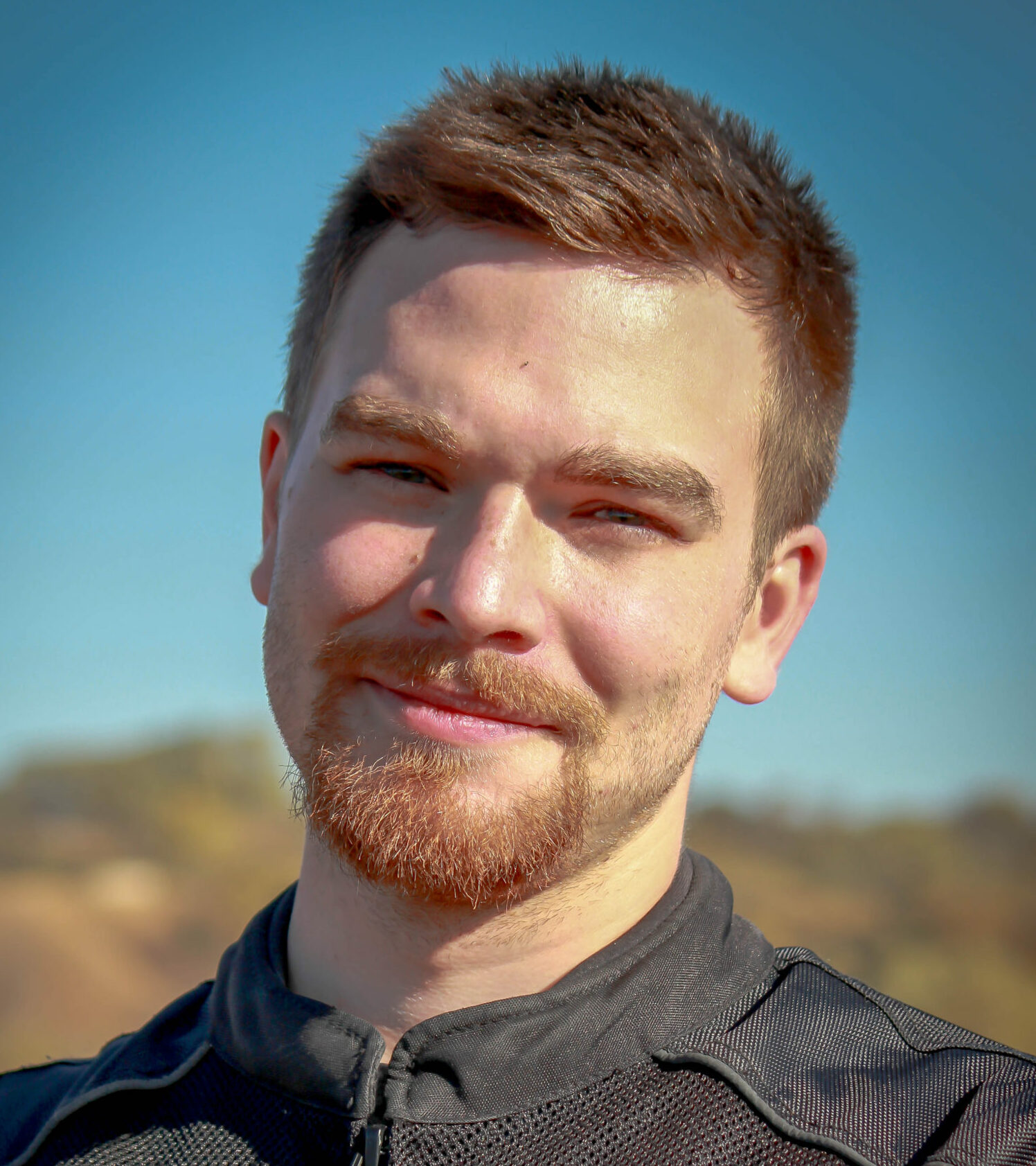 What's up! I'm Colton, the main guy behind Moto Gear Knowledge. Gear has always been my #1 priority when it comes to riding.
I share my experiences regarding gear and anything else moto related with you here. 👍