Last Updated on April 1, 2021
Motorcycle accessories such as speakers, thermometers, clocks, helmet add-ons, alarms, disc locks and others help to increase the overall quality of life of riding.
That's what this post is all about – how accessories can and do help with the overall quality of life for each ride whether it's to have a positive impact on the riding experience or to keep your motorcycle safe when you're not around.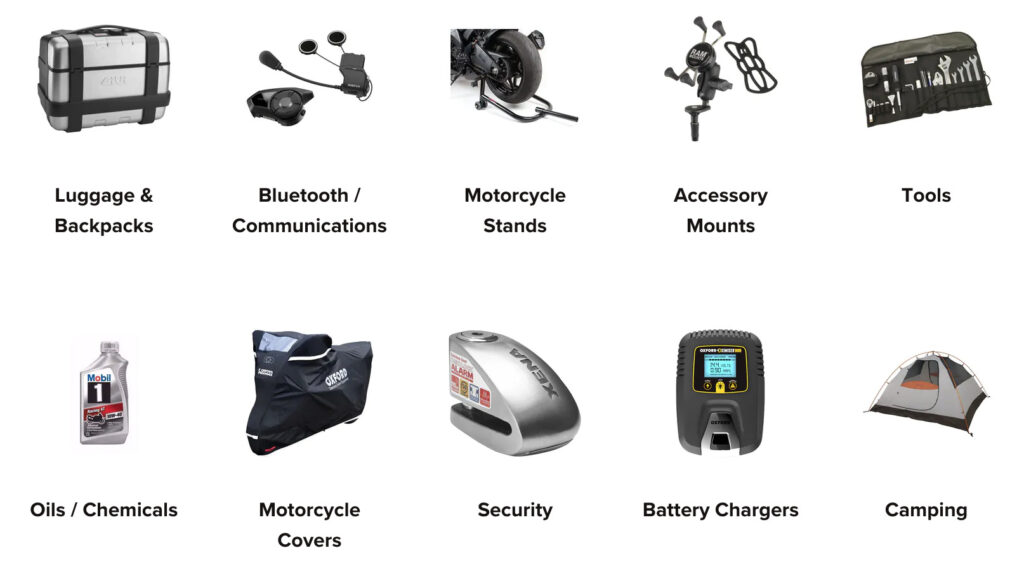 Why Use Any Accessories At All?
---
Accessories aren't just a waste of money… Riding accessories aren't for throwing money out and for spending more on your motorcycle for the sake of spending more on your motorcycle (although, if you really love your ride… then any amount isn't money wasted 😉 )
Things such as cameras, alarms, security measures that can lock your motorcycle up, different kinds of panniers for storing the essentials… There are a LOT of different accessories out there that truly help and increase your quality of riding life!
Now that's not to say that they are entirely necessary, of course the quality of your every day ride comes from you as the rider. There isn't a single accessory that you "must" have in order to enjoy riding your motorcycle. If there is one for you… then it might be time to get your next bike! 😂
Seriously though, you don't need any of the accessories that are going to be listed here but a bunch of them are accessories for safety as well as some that can help in the event of an accident so it's good to know what's available out there to try out.
Handlebar Mount Accessories
Different handlebar mount accessories such as phone holders, speaker systems, handlebar clocks and thermometers are some of what's available to attach to your handlebars.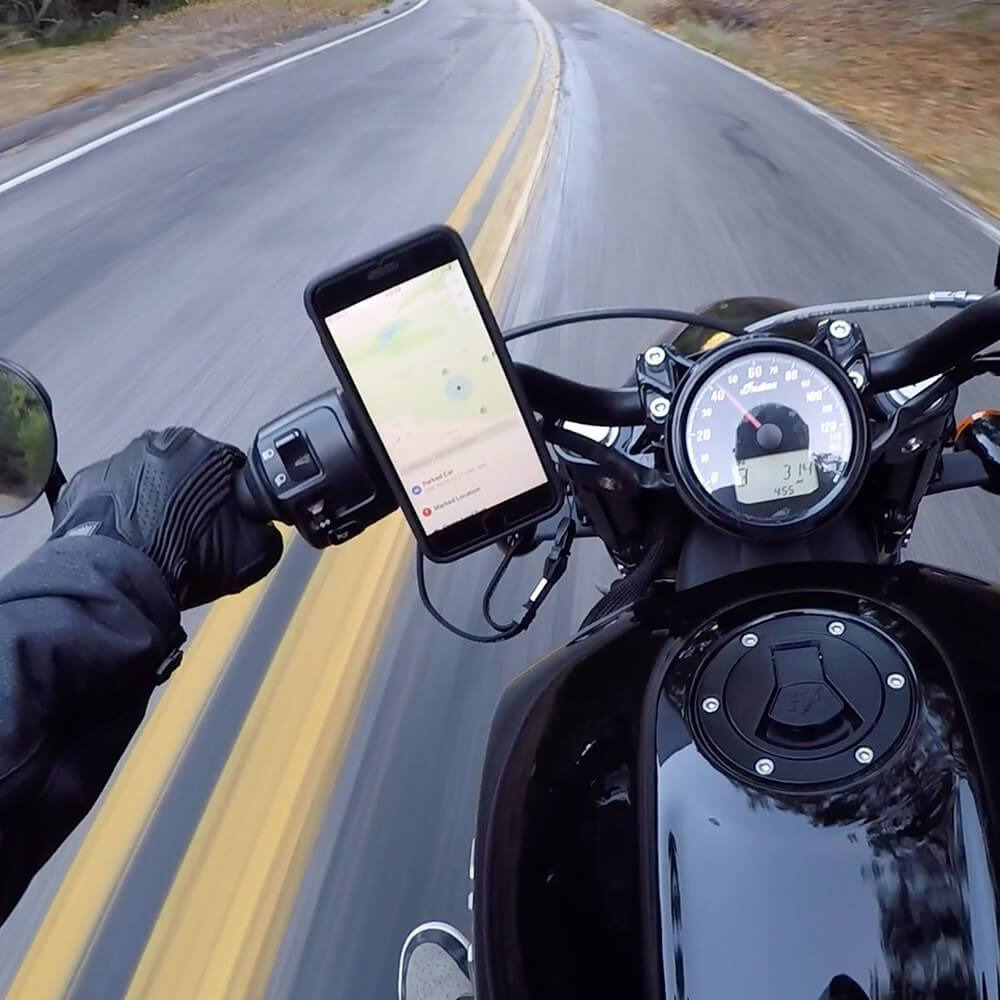 Typically, handlebars are going to be 7/8″ – 1″ in diameter. Almost all accessories on the market such as clocks or phone holders that you mount to the handlebar are going to be compatible with the industry standard handlebar size.
Most will have adjustable sizing but some of the smaller accessories are going to be compatible with a single handlebar size since that's just what the size is for most bikes.
Same goes for speaker systems or other mounting options as well, they'll almost always have full adjustability to be able to mount them.
You'll want to look out for little faults with the mounts such as the materials used in the part that actually holds onto the handlebar or what the accessory is made out of as a whole…
You absolutely don't want them to fall off from a few bumps in the road – especially if it's a phone holder that you have mounted.
Helmet Accessories
There are quite a few helmet accessory add-ons that help with the every day ride as well. Different types of visors, camera mounts, visibility accessories, communication devices and speakers are typically what you'll see added to helmets.
Visors can help because of their tint and obviously for safety. You can match up your visor with the colors of your bike or the accent colors of your overall gear. That maybe isn't important for everyone but it's a nice touch to add in.
Camera helmet mounts will clearly help in any event of an accident where the person(s) involved try to pin the accident on you or when there aren't any other witnesses… Then it comes down to your word versus theirs.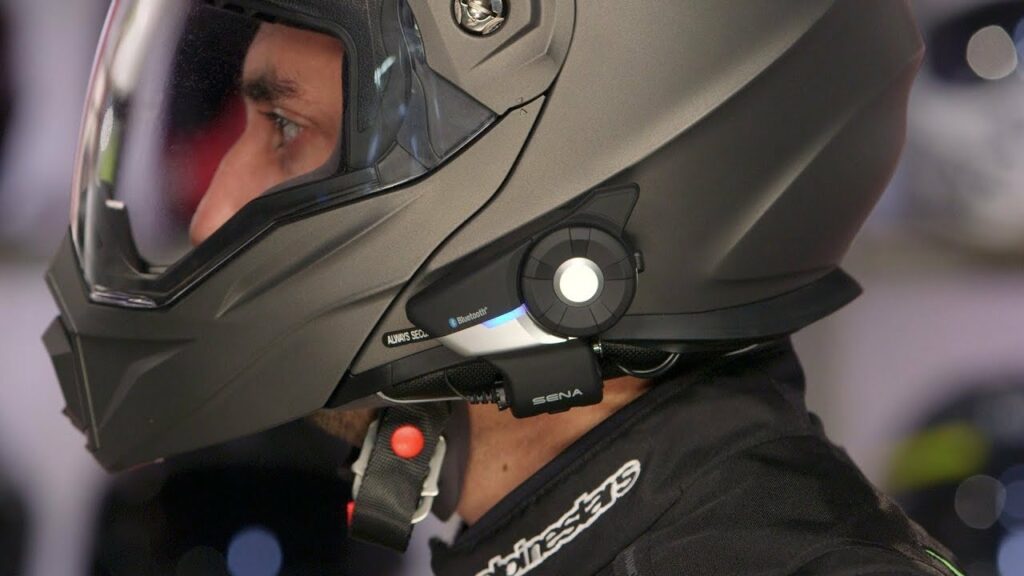 I still don't have any cameras on my bike or helmet but I absolutely plan to have cameras on both in the near future…
I feel cameras are similar to wearing gear for each ride. You don't know it'll help tremendously until there comes a time where you need it the most.
Speakers and/or communication devices also help with safety and the quality of the ride.
Communication devices are very nice for when you're riding with a buddy or in a group ride – it's nice to be able to chat and be able to point out hazards on the road ahead.
Now when it comes to speakers… I'm 50/50 about them. Yes, being able to listen to your favorite playlists while riding is very nice but it comes at a safety cost of not fully being able to hear what's going on around you…
But then you could also argue that, if you have a slip-on exhaust or a full system replacement, that you aren't able to hear much anyway…
When you're riding, your head should always be on a swivel that way you can always know what's around you but being able to hear what's around you is also important so when it comes to helmet speakers… I've got to stay 50/50 about them.
Security Accessories
Security is extremely important when you aren't able to lock your bike up in a garage or if you aren't able to keep an eye on it while you're in the gym or in a restaurant.
There are too many examples of how bike thieves were able to snag up a bike because it wasn't properly locked up and because there weren't any alarms present.
Hopefully you live in an area where it doesn't happen or you have a garage that you can keep your bike locked up in but if you don't then there are options out there to help out!
There are disc alarms where you can lock up the brake disc on your bike and the only way to unlock it is with a key you have. Or there are chain locks as well as different kinds of alarms.
Yeah, there's a hassle of having to constantly unlock the locks and alarms but wouldn't you rather spend the extra 30 seconds unlocking your ride rather than having it stolen?
A friend of a friend's bike got stolen in what we thought was a very nice, "thief-free" neighborhood and it was taken in broad daylight. He had it parked alongside a curb and lo and behold – they snagged it up without any cameras around or any sort of lock on the bike.
At the very least, you should always try and lock up the handlebars. I even lock mine up when I have it locked in the garage! It's a simple key-turn and although the handlebar lock can be broken… it's still more time that the thief has to spend trying to steal the bike.
Storage Accessories
Storage is handy for the long rides as well as when you're taking a quick stop somewhere and want to bring some of what you bought with you.
There are options of tail bags, tank bags, panniers and handlebar bags to name a few.
I almost always at least wear a backpack whenever I ride because I never know if I'm going to need to buy something or take something with me wherever the roads lead me to… that way I at least have the option to do so.
For when you're going the distance, however, extra storage options are entirely crucial. There are plenty of options when it comes to pannier/bag types – there are hard and soft panniers to choose from.
You'll want to have tough, hard panniers when you know that the riding climates aren't going to be the best. Soft ones are great for a lighter weight and for easy access but hard panniers keep your items safe from rain and possibly even if you needed to lay the bike down.
Even a little handlebar bag comes in a quick handy for when you want to store your phone, your wallet or other essential items. Just don't forget that you put them in there in the first place!
Express Your Style & Increase Your Quality of Riding Life
---
There are many choices when it comes to adding accessories to your bike and your gear. All of which help to expand on your quality of life for every ride!
Not only do accessories help out with making your rides more comfortable, more enjoyable and more fun – they're an easy way to express how you ride as well.
Are there any accessories that you're using almost every time that you ride?
Are there any accessories that you feel that we forgot to mention in this post?
Let us know in the comments below!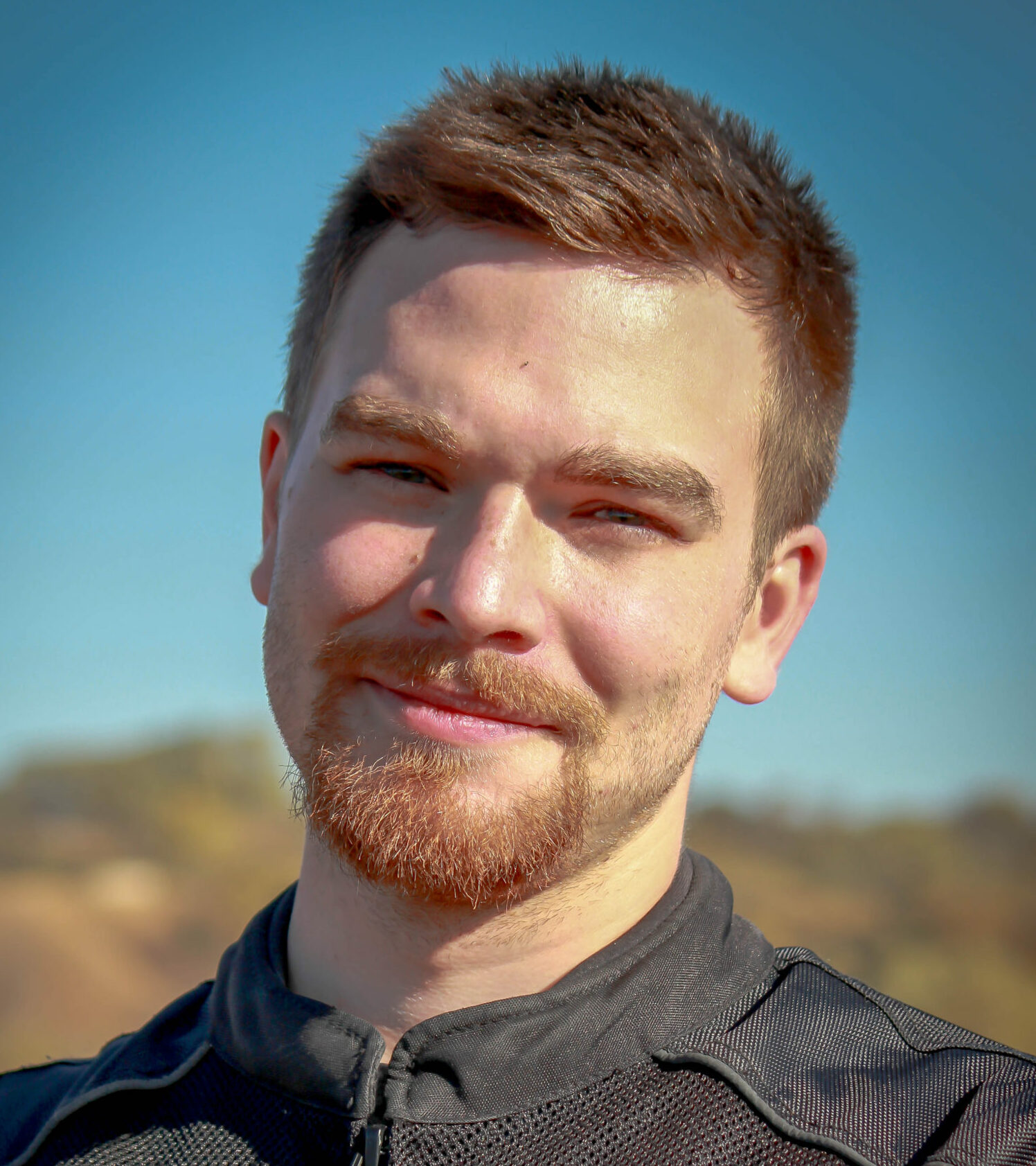 What's up! I'm Colton, the main guy behind Moto Gear Knowledge. Gear has always been my #1 priority when it comes to riding.
I share my experiences regarding gear and anything else moto related with you here. 👍