Last Updated on October 9, 2020
In today's review we are going to cover the Speed and Strength Thumper Regular Fit Jeans. They are great riding jeans for those looking for a low budget option.
Why?
Because they cost under $100, are made out of good abrasion resistant materials and have some armor padding to boot.
They aren't the absolute greatest pair out there, there are a couple of design hiccups with these… but if you're looking at getting these then you're in the mindset of having a good pair that doesn't cost you a bunch of cash.
When it comes to a pair that doesn't break the bank but will keep you highly protected, these can be a great choice. Pants will help tremendously in the event of an accident, riding pants are important and you'll wish you had a pair if you ever have to put the bike down and slide.
With that, let's get to the review.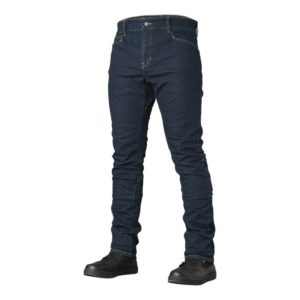 Product: Speed and Strength Thumper Regular Fit Jeans
Recommended Price: Under $100
Best Place To Buy: Amazon.com
Rating: Find out below!
The Speed and Strength Thumper Experience
---
First off, I'd like to touch up on my riding experience so far with the Thumper jeans.
I've been riding with these jeans for about a month since the time of this writing and I've got to say… when it comes to comfort during the ride, these do an excellent job.
When I first put the jeans on I could feel the knee armor padding at my knees and thought it was uncomfortable… I could also feel the velcro itching at my knee as I was walking around.
But after messing around with how the jeans were fit onto me, I was able to find a "sweet spot" where, at times, I forgot I was even wearing motorcycle jeans!
While riding, you aren't going to feel the knee pads at all. Same thing with the velcro that holds the padding in there, you won't be able to feel it.
For recent riding weather, it has gone up to around 100°F here in the midwest and I still rode with these jeans on. For jeans, they actually breathe pretty well. I'm not constantly sweating while wearing them, even in the hot weather.
They look great as well! Some friends of mine couldn't tell they were actual riding jeans. I simply asked what they thought of my new jeans but there weren't any comments about them being motorcycle jeans and they were surprised to find out that they were padded and lined with aramid materials.
But before I get into the materials and what not, I'd like to give a brief overview of the main features that these jeans provide
Main Features
(From RevZilla)
Removable Knox Lite CE armor padding in the knees
Zippered right rear pocket to keep wallet safe
Standard hip hand pockets for your essentials
Thin knit aramid liner for abrasion resistance
Zippered fly with button closure just like normal jeans
Stretch crotch panel for extra comfort
Comfort mesh lining for breathability
Armor ready hip pockets for additional protection
Leather branded patch for style points
Comes in black and indigo styles
Armor Protection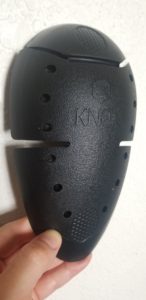 The armor padding for the knees is made from a British company called Knox. They specialize in CE approved impact protection across the board and their armor is used for many different pieces of motorcycle gear through many different companies.
These protectors are no joke! This may sound a bit unnecessary, but I have purposely banged my knee against metal corners of desks and other surfaces to test the impact protection. (I mean, how else am I going to test it out? )
From those random tests I felt like they will do a great job for impact on the knees in the event of an accident. It's 100x better than not having any protectors at all, that's for sure.
Overall Comfort
When I first bought these jeans I thought the back zipper was silver, but it is in fact a full black zipper which I appreciate more. In my opinion, a silver zipper would have been too noticeable and not very stylish.
A quick note about the back zipper, it's easy to get it stuck if you zip the pocket shut too far. There have been a couple times where I had to mess with the zipper for a while in order to get my wallet out and pay for something which can be a bit annoying, so don't shut the zipper too far.
The side pockets are what you'd expect – they are normal pockets that can easily fit your phone, keys and whatever else you may need.
Just like with any other normal pair of jeans, these have a zippered fly and you close em' up with a button closure. Any belt will work with them, which you'll definitely need to be wearing one with these jeans.
For some reason, the fit wasn't the same as the fit on other "regular fit" jeans that I have. These had more length to them than I had anticipated to have, I've got to hike them up a bit and tighten my belt more than I feel like I should.
With that said, after adjusting the jeans properly, they fit just fine. Sure, it would have been nice to see the fit be a true fit and not have to do different adjustments… but it is what it is. It's not that bad.
When squatting down and/or throwing the leg over to get on the bike, these are extremely stretchy. There isn't any feeling of tightness around due to the crotch stretch panel and overall "strechyness" of the jeans.
As I mentioned earlier, for hotter riding days these work fine. I actually expected them to not breathe very well but to my surprise, they actually breathe nicely in hot weather. This is because of the comfort mesh liner in the inner layer.
When it comes to comfortability, these do a decent enough job to state that they're a comfortable pair. Sure, the velcro could have been designed differently and the fit could have been better but with a couple of adjustments, they feel amazing.
Design
For styling, these come in a black and indigo designs. Personally, I went with the indigo style because I enjoy dark denim jeans and they looked like they'd fit the bill in that regard.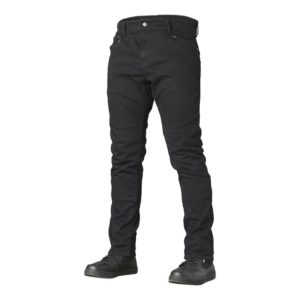 They look like a nice, spendy pair of normal jeans. An urban style that look and feel like a normal pair of jeans. Like I said before, friends of mine were not able to tell that these were a pair of armor motorcycle jeans.
I appreciated seeing the zippers being black to fit with the overall look and feel of the jeans as on the product pages the zipper is silver.
Speaking of the zipper, I would have liked to see the back pocket zipper have a stopper on the closure end to keep it from getting stuck if you go too far on it. It's kind of a hassle to get it to unzip if you get the zipper stuck on the other end.
In terms of design, these look awesome! Speed and Strength could have worked on a better zipper lock design for the back pocket and some possible comfort options for the knee velcro scratching if the adjustments aren't right… otherwise it's a great design they have here.
Materials Used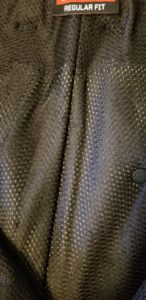 The aramid materials used in the lining of the jeans are well made and will absolutely help with general abrasion resistance. There are plenty of tests that have been showcased using these materials for abrasion resistance and it does a great job.
The knee protectors are made from lightweight flexible polyurethane. Termed Knox Lite, they are made with flexibility in mind while also being breathable and on the thinner side.
While they feel great while riding, there are times while wearing them around casually where you'll be pulling your pants up a bit to match the knee protectors to your knee just right… otherwise they sit uncomfortably.
By uncomfortably I mean that you'll feel the top of the knee protector right at the edge of the top of your knee cap and it doesn't feel right. It'll make you want to push it back up and pull your jeans up higher.
The inner liner stops at the end of the knee protectors which is down a little to your shins. Although the liner doesn't cover the entirety of the legs, it's more than enough to be happy with.
The aramid materials combined with the flexible and durable knee protectors makes for a tough pair of jeans. When I'm riding with these, they definitely feel like they'd stand up to impact and abrasion A LOT more than any normal pair of jeans.
The Ultimate Budget Motorcycle Jeans?
---
When it comes to style, materials used and usage – these Thumper jeans do a great job and they can be had for right under $100.
Sure, there could have been some changes in design with the zipper, velcro closures for the knee protectors and the sizing could use some work… but those negatives are minimal compared to the good things going on with these jeans.
If you're in the market for a cheaper pair of motorcycle jeans that would help to a high degree if you were to get into an accident then the Speed and Strength Thumper jeans would be a good pair of moto jeans to go with.
Have you been looking at any other pairs of motorcycle jeans?
What is your favorite feature of these Thumper jeans?
Are you planning on getting these for your rides?
Let me know in the comments below!
Speed and Strength Thumper Regular Fit Jeans
Around $100
Pros
Great look and style
Good levels of abrasion and impact resistance
Usually priced under the $100 mark
Surprisingly breathable in hotter weather
Cons
Sizing is a little bit off
Knee protectors can get slightly uncomfortable without adjusting
Back pocket zipper can get stuck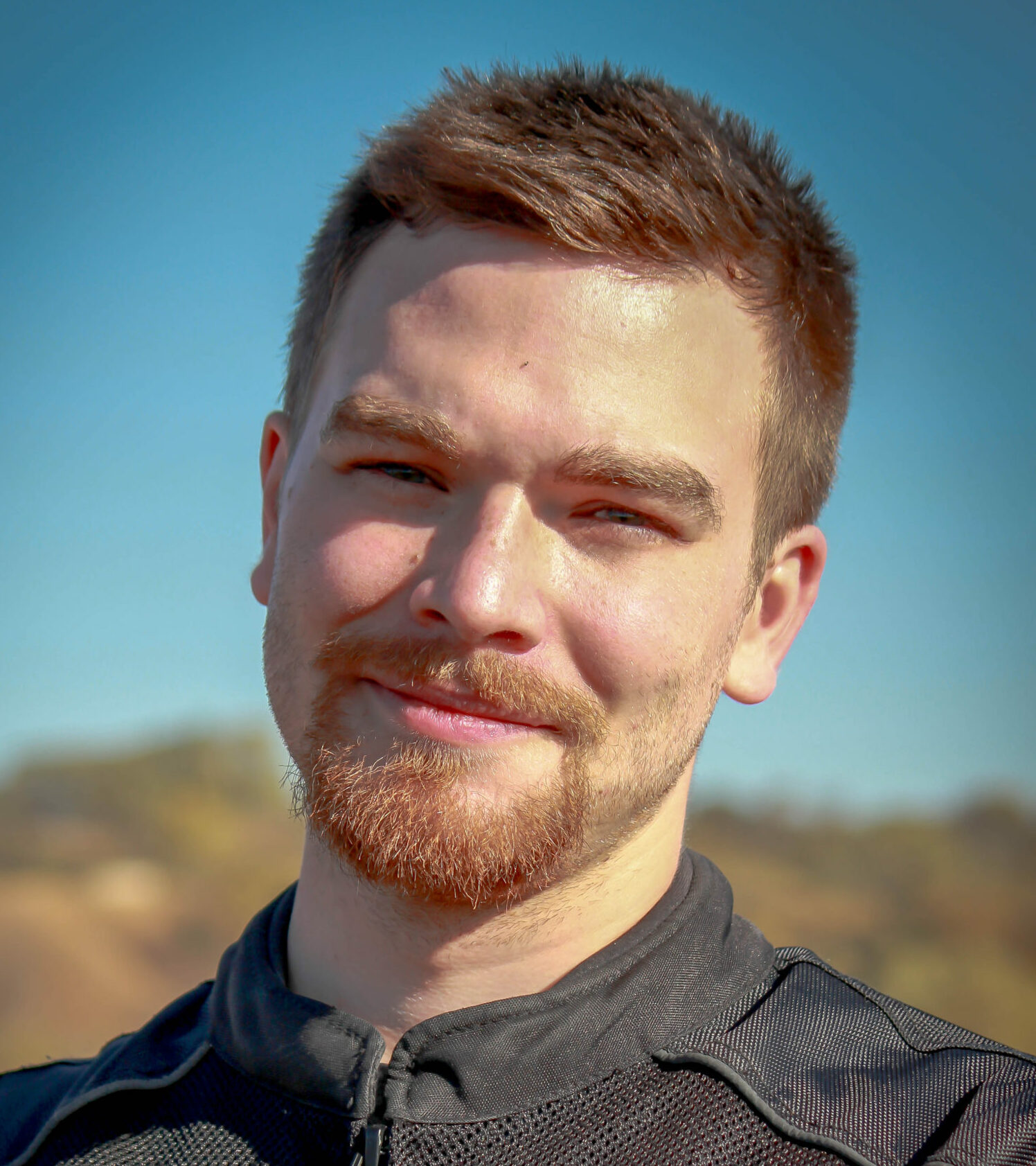 What's up! I'm Colton, the main guy behind Moto Gear Knowledge. Gear has always been my #1 priority when it comes to riding.
I share my experiences regarding gear and anything else moto related with you here. 👍