Last Updated on January 9, 2023
Whether you're looking for a nice fitting helmet or the perfect leather jacket, these are the best websites for buying motorcycle gear that we've found.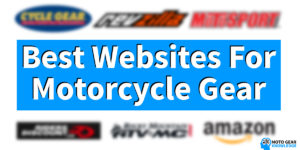 Best Websites For Motorcycle Gear
---
This list is not ordered in any specific way from best to worst or anything like that. These are websites that we've listed as the best for us because we've personally ordered from them or did extensive research on the type of business that they conduct.
There are a ton of options online when it comes to getting motorcycle gear online and to be honest, most of the websites that we came across didn't have the greatest reputation.
Complaints usually came down to customer service issues when shipping went wrong or if a customer had the wrong size. Many companies don't do too hot when it comes to solving those issues.
Below we'll list quite a few websites that again we've either personally experienced and enjoyed or that have a great reputation within the motorcycle community.
RevZilla
---

Revzilla easily has the best reputation when it comes to buying riding gear, parts, and accessories online. Ask anyone who has shopped online for gear and they'll probably mention Revzilla.
They were founded in 2007 and to quote them on their about page:

Personally, I have bought my gloves, helmet, and boots from Revzilla. Shipping was very fast and customer support is top notch.
They have a points reward program they call ZillaCash. For qualifying purchases you earn ZillaCash which can be used across the site to save more money.
When I bought my helmet and gloves I had $10 in ZillaCash and was able to use that towards my boots. It works by adding the ZillaCash from the total amount of the order.
For some reason, I accidentally ordered the gloves and helmet separately so I noticed that I didn't get the right amount of ZillaCash back from the order combined.
After a short phone call someone from customer service helped me out and made sure that the right amount was credited to my account.
I'll absolutely shop from them again and again. They have great pricing and the overall experience is amazing!
Cycle Gear
---
Cycle Gear is actually a sister company to Revzilla, but they operate separately. Cycle Gear specializes in retail where Revzilla partnered up to bring better online shopping experiences to the table. There is a FAQ page all about their partnership if you're interested in reading more about it.
Down the road, this partnership could mean more retail options for Revzilla and overall basically combining two awesome powers to create better shopping experiences.
Cycle Gear is an older company than Revzilla and they're right on par with what Revzilla is also about.
To quote Cycle Gear from their about page:

Whichever company you choose to order gear from, both are very reputable and they work together to make sure that everything is crystal clear throughout the buying process.
MotoSport
---
MotoSport focuses on power sports parts and accessories but they have plenty to offer when it comes to general riding gear as well.
They also carry parts for ATV/UTV which most of these other websites will not have available. Sales seem to be pretty frequent and most MotoSport customers shop through them because of the types of deals that they're able to get.
But this is one store where the reviews online have been… Very average. Maybe even a bit below average in recent times.
Some reviews I've read up on have explained how products that were labeled in stock actually weren't in-stock and that they've had problems when it comes to returning certain items.
I don't have any personal experience through MotoSport but there are plenty that have and it seems like it can be a good experience, though some haven't been lucky through them.
To quote them from their about page:

If you're the power sports type then MotoSport will be right up your alley. They have every part for whatever you need. You'll just want to make sure that the customer service side is being transparent with you and make sure you're ordering the right things you need.
Rocky Mountain ATV/MC
---

Rocky Mountain ATV/MC is very similar to Revzilla in overall design. They have an RM Cash rewards program, sections to dictate which bike you have and what's compatible as well as plenty of gear to go around.
From studying up on customers' experiences and the website itself, I've seen that they have great parts/gear for awesome prices but they also have a lot of troubles when you're wanting next-day shipping.
I only bring it up because that was a large portion of the reviews I read online. Many people try to get next-day delivery through this company but they somehow get it screwed up in the process. The next-day delivery is why a lot of people have ordered parts and gear through them.
Who knows if it has been cleared up or not and I haven't seen a whole lot of negatives when it comes to ordering regularly, so I'd say that they're great to buy from if you're looking for good pricing and you're good with normal shipping speeds.
To quote them from their about page:

Definitely look into their shop and compare the prices to other websites, they show that they have very good pricing and they've also got a policy where if something doesn't fit then you can ship it back for free!
RidersDiscount
---
RidersDiscount provides some of the best pricing I've seen compared to all of the other websites that we've mentioned.
They have a top-notch sorting system, easy exchanges, and no restock fees. It is a store that seems to have most of their dedication on gear but they also have a section for parts.
You'll find other brands that some of these other stores won't have available because it seems that RidersDiscount has gone out and contacted more gear companies than the other stores have.
They'll also match any other shop since they follow through with their low-price guarantee. If you're wanting to scope around for a super low price on random pieces of gear that you maybe didn't even know existed then I'd check this site out.
There hasn't been much when it comes to customer reviews of RidersDiscount but with the reviews that we were able to read up on, they've all been above average.
To quote them on their about page:

I'm taking their word for it when they say that they build, ride and race their motorcycles which would make them very knowledgeable when it comes to different parts and pieces of gear.
They also really push giving them a call on their customer service line and although I'm not sure what that experience would be like exactly, something tells me it's good when a company is pushing for you to give them a call.
If you're not looking for something specific and want to discover a new brand or if you simply want to see if you can save a little on something you're already planning on buying then it won't hurt to scan over RidersDiscount to see what they have to offer.
Amazon
---

Amazon … I don't think there needs to be much of an informative section on who Amazon is and why they're the #1 trusted and supported online shopping network.
Amazon absolutely does not have as much of a large selection of gear as everyone would like them to have but you'll still be able to find something if you look hard enough.
They have a decent selection of helmets at first glance and they have a ton of off-brand gloves and pants. I actually bought my Viking Cycle Warlock jacket through Amazon because they had it for a great price, I liked the look of the jacket, you can't beat their shipping speeds (especially with Prime) and the customer service is simply the best.
When I say off-brand gloves, I mean super cheap and most likely not durable gloves. I wouldn't recommend getting cheap gloves from Amazon if you don't know what to look for…
Luckily, you can check out our cheap motorcycle gloves guide if you are wanting to know the best of the best when it comes to inexpensive riding gloves.
If you want the most trusted shopping network and the best shipping speeds, Amazon absolutely has that. But they don't provide nearly as many options and they have some odd brands that most likely aren't made with the highest quality materials.
You can still find some good deals though and we definitely recommend looking around to see if there's something you like from Amazon.
Buy Gear Locally or Online?
---
As shopping online gets more convenient and cheaper, it's hard to justify shopping locally at times. But shopping locally still has its benefits.
Shopping for gear online will never allow you to have the gear in your hands from day one, you'll be able to have hands-on experience with the gear and you can ask direct questions and get answers right away about anything that you're shopping for.
Although there is also great customer service with these websites as well, sometimes people want to have that hands-on experience and be able to go home the same day of purchase with their new helmet or pair of gloves.
You also support your local city/town when shopping locally which is always a plus.
Most riders I communicate with at least browse around online for their desired gear because that's where you can find the best deals. It doesn't hurt to compare the pricing and with all of the shops listed below, you're bound to have a good experience with them.
With that, let's get into the best motorcycle gear websites that you can find!
Where Should You Go?
---
As you can see, you have a ton of options when it comes to finding the best website for motorcycle gear.
None of these places are the absolute best… However, we have personal experience mainly with Revzilla – and Amazon never disappoints if you're able to find something you like from them.
We say go with your gut. If you find a piece of gear from any of the above-mentioned websites or maybe you've found other websites that seem better than these – go for it.
Our #1 recommendation is going to be Revzilla since they have amazing options and every experience has been excellent.
We plan on shopping from plenty of other websites going forward that way we can give you even more hands-on experiences with other companies.
Where do you plan on shopping for your gear?
Have you purchased gear from one of these websites?
What about other websites?
Let us know in the comments below!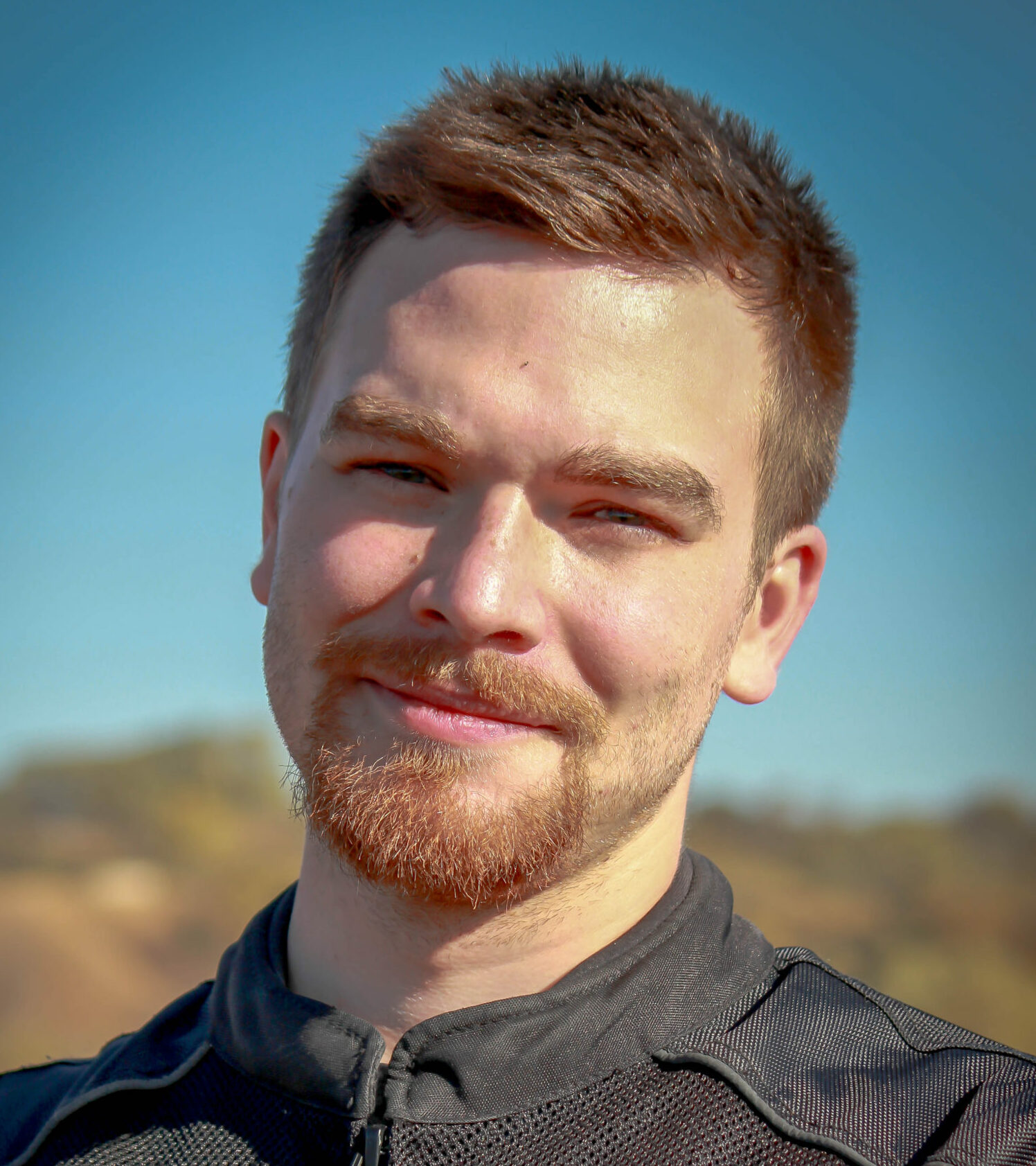 What's up! I'm Colton, the main guy behind Moto Gear Knowledge. Gear has always been my #1 priority when it comes to riding.
I share my experiences regarding gear and anything else moto related with you here. 👍