Last Updated on January 2, 2021
In today's post we're going to review the Viking Cycle Warlock mesh motorcycle jacket and help you decide if it'd be a good jacket choice for your rides.
We'll be going over the men's variation in this post but there is also a women's Warlock jacket that Viking Cycle offers.
With that, let's get to the review.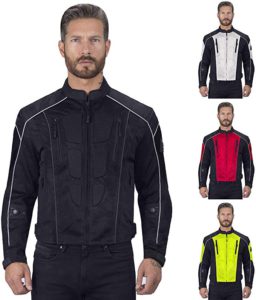 Product: Men's Viking Cycle Warlock Mesh Motorcycle Jacket
Recommended Price: $70-$80
Cheapest Place To Buy: Amazon.com
Rating: Find out below!
Viking Cycle Warlock Jacket Overview
---
I've used the Viking Cycle Warlock for a while and I'd like to give it a proper review at this point. It's a mesh jacket that doesn't break the bank while also saving the quality.
Viking Cycle also took note to make sure that you have every feature that you'd need during your rides. A bunch of pockets, durability that's hard to find in other jackets at a similar price point and armor locations that make sense.
If you're looking for a good cheap mesh motorcycle jacket then this is it. Check out the details below and you can also take a look at the other reviews over on Amazon!
Viking Cycle Warlock Jacket Material
---
Viking Cycle uses a signature fabric material that is made up of 100% 600D Polyester coated by PU (polyurethane).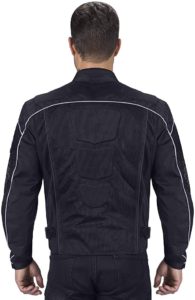 This helps to make the jacket more wind and water resistant.
The fabric is lightweight but tough against abrasions to provide more resistance between you and the concrete.
They also mention that Cordura materials are used in the jacket's construction which is a huge plus for having high quality, protective materials. If you'd like to learn more about Cordura be sure to check out our motorcycle gear 101 post for more info.
There is a quilted liner in the jacket that is removable. It's on the thinner side but there is a solid difference between having it in and not having it in.
When the liner is removed, the jacket breathes very well in summer heat.
With the liner in and a thicker sweatshirt on you'll still feel a bit chilly but it's manageable. Weather wise, this jacket's material was definitely chosen and designed for hotter weather riding.
Tugging and pulling at the seams and different areas didn't tear or rip anything out of place for me personally which to me attests to the fact that the material isn't just a standard fabric that rips and tears easily.
It's not as nice as a leather jacket as far as material goes but for what you're paying, it's not bad by any means considering that it'll still hold up.
Viking Cycle's Warlock jacket has material that was made with toughness in mind and it shows.
Viking Cycle Warlock Jacket Design
---
You can tell from looking at the photos of this jacket of how awesome it looks. If you're into a minimalistic design without a bunch of branding and you don't want to break the bank then you've probably found your ideal jacket.
It comes down to personal preference but I dig the armor padding that pops out in the front/back and shows through the jacket itself. The minimal Viking Cycle branding is top notch as well, I am a fan of the branding redesign they've done.
Black, yellow, white and red color variants are the color choices that are available for the Warlock. More colors would have been nice to see but those colors are all of the most popular picks so I see why it's only those that are available.
There are adjustable wrist cuffs and waist bands to get it to fit and feel the way you want it to. Fit is true to size so go with the size that you'd also wear as a sweatshirt or otherwise normal jacket and it'll most likely fit the way you'd expect it to.
Here's a sizing chart to go off of as well if you'd rather get the specifics on the fit.
Another awesome addition to the design is that there are pockets galore with this jacket. In total, it provides 11 different pockets.
Yes, you read that right. There are 11 pockets.
Some are even labelled as the dedicated pocket for sunglasses, for your tablet or for your pens and knives. Those are just for the pockets on the inside!
Then you've got 4 pockets out in the front, two close to your waist and two on your chest. I usually hold my keys in one of the chest pockets and put my gloves in the other front pockets when not in use.
Do you hear ear buds while you ride? Then you'll be happy to hear that there is a dedicated wiring system within the jacket. This makes wiring your ear buds through the jacket a breeze.
As for reflection, they've updated the jacket to include a little reflection for the front and back but it's not a significant amount. Having a slightly older version of the jacket, there isn't any reflection at all so you might want to add some extra reflection either to the jacket or elsewhere to increase visibility.
The design decisions here were the right ones, for the most part. It would have been nice to see some extra reflection but to each their own.
Viking Cycle Warlock Jacket Protection
---
Protection is the most important part about a jacket and I was skeptical of what the protection was like when the jacket doesn't have too high of a purchase price…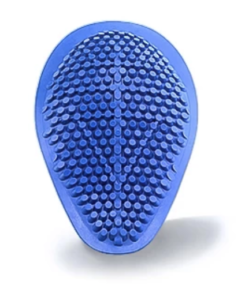 But I am actually impressed with the armor padding that's going on with this jacket.
There is CE approved armor on the back, chest, elbows and shoulders.
The elbow and shoulder armors are made with a honeycomb design to help with comfortability and overall movement. This armor is impressive, especially coming from a jacket that's on the cheaper side.
The back padding does feel like it's sort of on the cheaper side but it's still thick. It's not made out of the same material as the elbow and shoulder paddings.
Combine the armor with the strong fabric materials and you've got yourself the Warlock jacket. An affordable and protective jacket that'll most likely stand the test of time.
Viking Cycle Warlock Jacket Usage
---
This is the jacket that I'm currently using and I've enjoyed it so far. It has served me well in the one season of riding that I've worn it.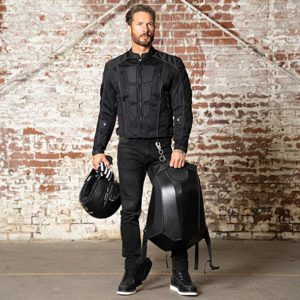 I've gotten some compliments on the looks of it, I feel flexible and comfortable while wearing it and it breathes extremely well while riding.
On colder days it'll be best to put the liner in and to wear a warm sweatshirt underneath.
Even then it'll still be chilly when you're riding on the highway or interstate but the hotter weather types is what this jacket was made for in the first place.
When you're sitting at a red light on a hot day you're going to feel it. It isn't perfect in terms of keeping you cool but that's hard to have at all when you're wearing any kind of jacket on a hot day. But when you're moving, you'll be comfortable and cool for sure.
I haven't used it in super rainy weather as I usually try to avoid riding in the rain. However, there have been a few rides with a little rainfall involved and I didn't get home soaking wet so as far as I can tell, it handles rain at an acceptable level. Again – I haven't used it in extreme rain so I cannot say anything towards it in those types of conditions.
As far as comfortability and general usage goes, it gets the job done. Nothing special while absolutely not being complete garbage either.
The Good & The Bad
---
As with any piece of gear, there are some good things and some bad things to be sure of to make sure if this is the right kind of jacket for you.
The Good:
Very cool minimal style
Tough material and armor padding everywhere
Breathes easily in hot weather
Low cost
The Bad:
Not ideal in colder weather
Back padding armor could be higher quality
Not a whole lot of reflection
It's Conclusive, The Warlock Is A Great Jacket
---
All in all, if you're looking for a lower priced jacket that isn't made out of crappy material and has proven, durable armor protection going on then you should look into getting the Warlock jacket from Viking Cycle.
This jacket has served me well with all of my rides and I plan on continuing to use it during hotter days. It'd probably be smart to get another jacket that's dedicated to colder weather if you ride in that type of weather but wearing a thick sweatshirt underneath with the liner in might suffice enough.
If you're just starting out with motorcycling then this jacket would also serve as a perfect mesh jacket for beginners. It's very comfortable and provides a lot of protection.
This marks the end of the men's Viking Cycle Warlock mesh motorcycle jacket review. Hopefully you're able to make a more clear decision on getting this jacket after reading through this review!
What do you like most about the Warlock?
Do you think it's an ideal jacket for you?
Let us know in the comments below!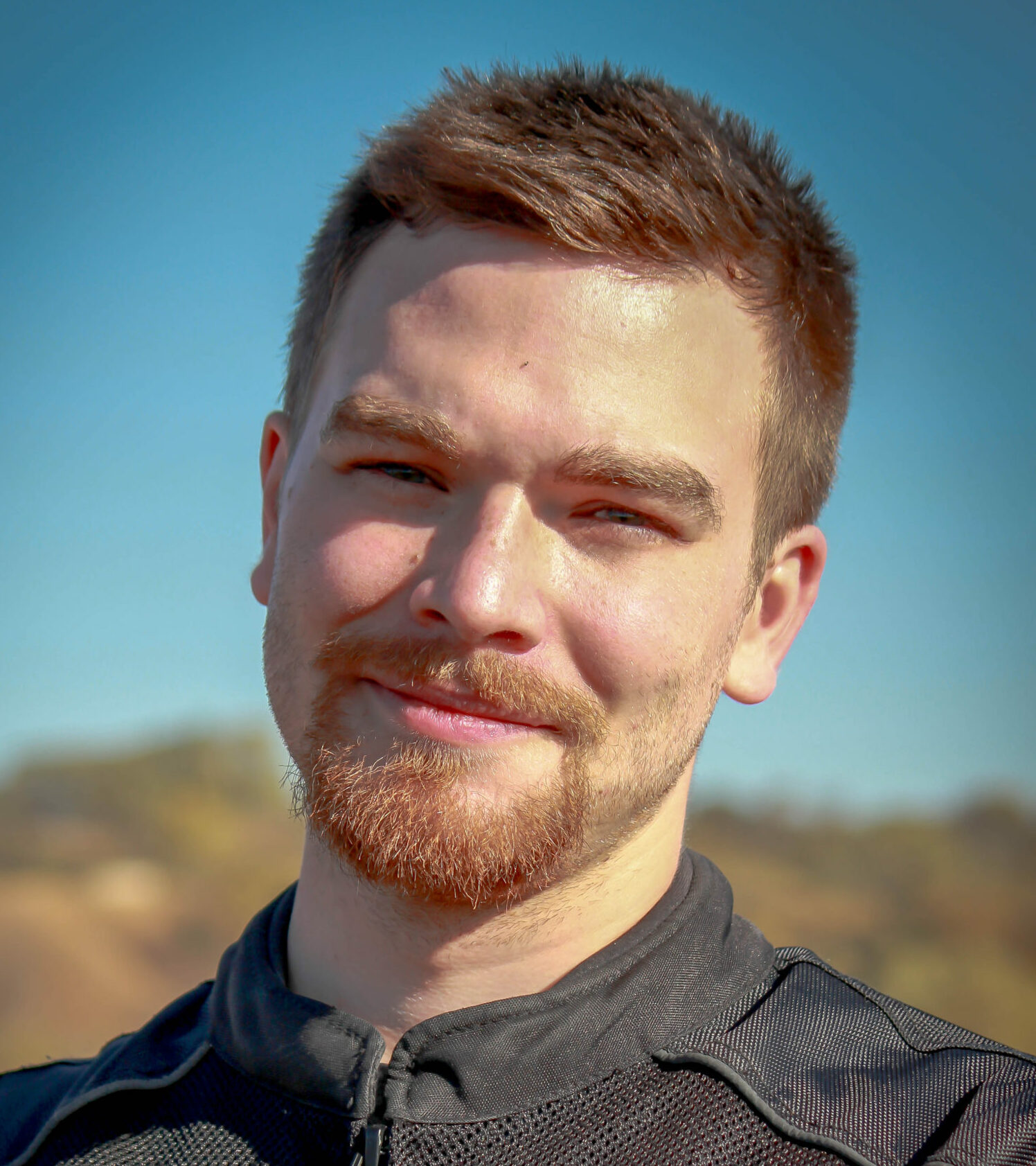 What's up! I'm Colton, the main guy behind Moto Gear Knowledge. Gear has always been my #1 priority when it comes to riding.
I share my experiences regarding gear and anything else moto related with you here. 👍