Last Updated on January 2, 2021
I'd like to post an Icon Alliance Dark Helmet review due to its popularity when it comes to affordable, high quality helmets.
I've been using the Alliance Dark for the last couple of years now so I figured it'd be good to share an in-depth review of what it's like using the Alliance Dark.
With that, let's get to the review.
Product: Icon Alliance Dark Helmet
Recommended Price: Around $170
Best Place To Buy: RevZilla.com
Rating: See below!
Icon Alliance Dark Helmet Overview
---
Having been using this helmet for a while, I figured it's a good idea to review the pros and cons of riding with this helmet.
All in all,  it's a great inexpensive helmet that still provides plenty of protection while also having plenty of airflow.
I'll go over all of the details with you below, you can also check out a lot of the detailed specs on RevZilla!
Icon Alliance Dark Material
---
The materials used with any helmet's design is important because you can tell whether or not it'd stand a good blow in the case of a wreck.
Polycarbonate is the main material used in the mold here. Impact resistance is extremely important when it comes to a helmet's mold and polycarbonate is no joke when it comes to impact resistance.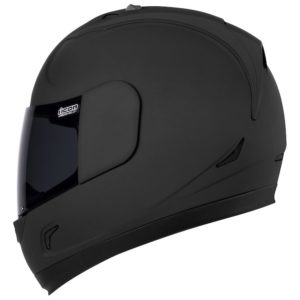 Although this material leaves the helmet a little on the heavier side of things, you can be comfortable knowing that it has been proven over and over again as having high levels of impact resistance.
It's one of the toughest thermoplastics out there and it's used for many different helmets.
As for the interior of the helmet we have HydraDry wicking liner. This liner is focused on wicking up moisture that builds up while you ride but it's also thick and comfortable.
In the midwest our summers get pretty hot and I sweat like a pig. While wearing this, the liners honestly helped wick up most of the moisture going on – especially while riding.
Front air vents are made out of a strong wire mesh material, I have a hard time trying to bend it out of shape which tells me it is durable enough.
As far as the materials used… We've got durability all around.
Polycarbonate is a great thermoplastic to use for the shell and the HydraDry liners inside are very comfortable and help wick up most of the moisture around your head.
Icon Alliance Dark Design
---
Overall, I'm happy with the Alliance Dark design. This was my first helmet and I'm a fan of minimalism when it comes to helmets and this one does it right.
A nice dark, rubberized finish will go with any other pieces of gear really.
It comes with a dark tint shield and a clear shield so you've got options to start out with.
You can also check out other Icon ProShields that are available for the helmet and they come in many different colors. I chose the blue ProShield for mine.
It's nice being able to pick and choose different colors for your face shield. You'll easily be able to match it up with your other gear or your bike with how many options there are.
But besides the look and feel of the helmet, the design factors involved with comfortability and usage need to be considered.
Usage
---
This is an easy helmet to use.
The face shield moves up and down with ease and you can lock it shut by simply moving it all the way down.
Top air vents are easy to reach and they lock open or shut. They actually work too, you can feel the bit of airflow that the top vents provide.
The front air vent slides up and down and it provides a good amount of frontal air flow.
Everything feels comfortable, it fits perfectly while wearing glasses and I can't feel any of the plastics of the helmet intruding within the liner.
The chin strap is made of a layered, cloth fabric which gets held together by metal rings.
After securing the chin strap, overall comfortability is top-notch! It doesn't feel like it's going to be removed easily at all.
While riding, it feels natural reaching for the different vents. You can also move the face shield easily while riding, I usually have it right above the lock for even more airflow.
Using the helmet is easy. I could comfortably recommend the Alliance Dark as a good helmet for beginners due to how easy it is to use.
Features
---
There are plenty of awesome features here for a helmet that costs under $200.
Here are some Icon Alliance Dark Helmet features:
Injection molded polycarbonate material for durability
Fully removable and washable HydraDry interior liners
Fast-change and fog-free ProShield with side plates
ProLock shield locking system
Wind tunnel tested and refined
Molded twin channel SuperVent on top for increased cooling
Rear exhaust ports prevent heat buildup
Removable molded breath deflector reduces shield fogging
Chin venting system reduces shield fogging
Most of these features we've already talked about while discussing the overall usage and materials used.
I will say that the ProShield is not 100% fog-free. It does a good job of reducing most fog while breathing but there are times while being idle on the bike where fog has built up.
Changing the face shield in and out really is quick and easy. It's simple to remove the side plates and lock in the clear shield for night riding and vice versa with the tinted shield.
The "SuperVent" they mention for increased cooling is designed well. It's the two vents on top that you can open and shut and there's a distinct difference between having it open and shut.
There are quite a few exhaust ports around the helmet which helps a lot with overall airflow.
The breath guard does help a little with reducing fog. It's not the best but it gets the job done.
The front vent is the chin venting system that they mention, there's a noticeable difference with that vent as well when it's open or closed.
This has most of the features that are standard when it comes to preventing heat buildup, moisture and ease of use.
Icon Alliance Dark Protection
---
This is all world standard, meets or exceeds the following:
DOT FMVSS 218 (US), ECE 22-05 (EUROPE), SAI AS1698 (AUSTRALIA) and SG (JAPAN) safety and testing standards. It does not ship with SAI OR SG Certification stickers unless purchased from an authorized dealer in that country.
Not only does it follow the all world standard but it has also been part of a crash as well.
Here's a video that shows how the Alliance Dark Helmet protected the head during a wreck.
As you can see, the Alliance Dark Helmet helped tremendously with impact resistance, abrasions and keeping his face intact.
DOT safety and testing standards are extremely important to go through, that and with this being wind tunnel tested and refined you can tell that Icon went through the motions for testing the helmet for multiple elements.
If you're going to go down you need to know that your head is going to be good to go. There is plenty of proof showing that the Alliance Dark helmet is very protective!
Concluding Icon's Alliance Dark Helmet
---
If you're looking for a helmet that is highly durable, looks awesome, has all of the features you need to maximize heat buildup and costs less than $200 then the Icon Alliance Dark helmet is going to be perfect for you.
Having used it for a couple of years now, it's going to be my main helmet for the foreseeable future.
This marks the end of our Icon Alliance Dark helmet review – what do you like most about it?
Are you planning on buying this helmet?
What are some other helmets you've been looking at getting?
Let us know in the comments below!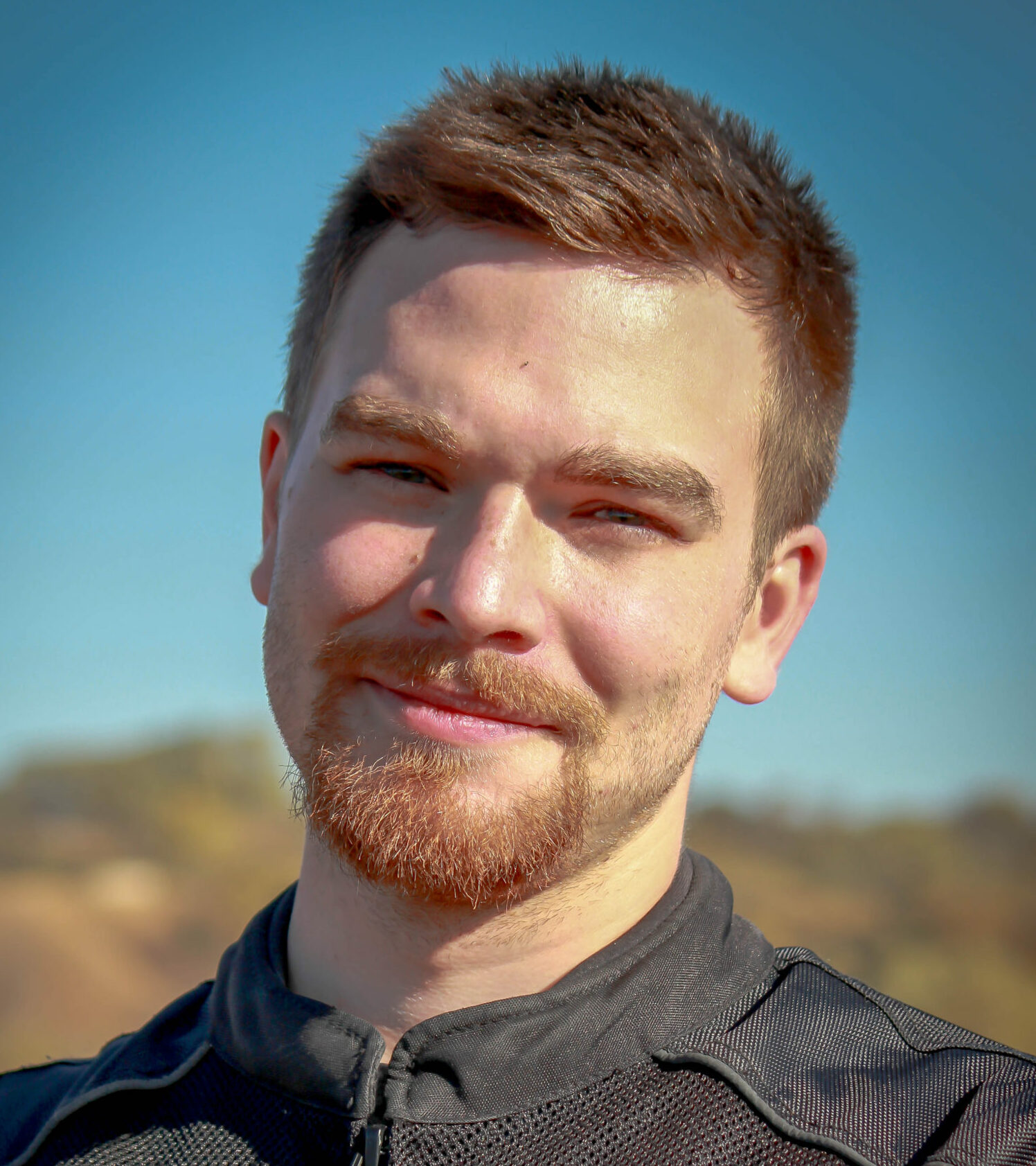 What's up! I'm Colton, the main guy behind Moto Gear Knowledge. Gear has always been my #1 priority when it comes to riding.
I share my experiences regarding gear and anything else moto related with you here. 👍