Last Updated on March 20, 2021
Let's review the Icon Anthem 2 CE gloves since they're a popular choice when it comes to a low-cost mesh riding glove that still provides adequate protection.
I've used these gloves for the past couple of years now and wanted to share my personal experiences with them thus far.
With that, let's get to the review.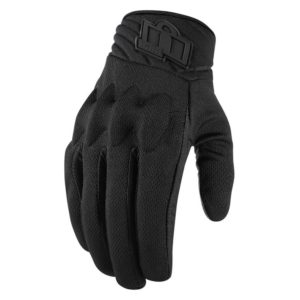 Product: Icon Anthem 2 CE Gloves
Recommended Price: Around $40
Best Place To Buy: RevZilla.com
Rating: Find out below!
Icon Anthem 2 CE Material
---
Before getting into anything else we should go over the materials used with these gloves.
Materials used in gloves are important because it can help determine how tough the glove is overall and if it'll be able to stand the test of time.
These gloves are made out of a mesh material to create more breathability and comfort during the warmer times of the year.
Goatskin leather is used in the palm to help with a better, more ergonomic fit while still trying to keep the toughness going.
These types of materials are used with plenty of other brands of gear and for good reason. They're cheaper to use when creating different pieces of gear and they get the job done.
Or do they?
Material Durability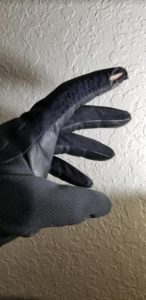 To the right is a picture of my left Icon Anthem 2 CE glove.
I never brushed it up against something sharp, never fell/slid and definitely take good care of the gloves…
One day I noticed that my finger was able to poke out of the side of the glove. This part of the glove feels like it's made out of a thin nylon and upon looking further into it, it's easily ripped.
This isn't a good thing… Riding gloves are supposed to be able to fully protect your hand.
In my opinion – when you haven't done anything to remotely come close to ruining the glove by accident… It shouldn't just "happen" to rip one day.
If the glove rips this easily without being in a wreck then how well will the glove protect your hand in an accident?
If I were to keep messing with it I know that the hole would simply keep getting bigger and it sucks… The gloves seemed to be the perfect kind of glove for me since I was looking for this style for a while.
When it comes to the leather, it's great! I'm certain that your palms would be in good "hands" with these gloves.
But protective gear is should be rated by the overall protection of all of the durability factors combined. I know for a fact that it comes from some odd stitching and a thin layer of whatever fabric is used for the sides of the fingers.
Take a close look at the picture I took of the sides of my left index finger and you'll see that the thin layer is starting to slightly come apart… which is not good at all.
Again though, the goatskin leather feels genuine and I feel that it'd be tough against the pavement. It's possible that I had gotten part of a bad patch of manufacturing… But when it comes to protective gear manufacturing…
These faults shouldn't happen.
Icon Anthem 2 CE Design
---
In terms of design, these gloves look awesome. Especially if you're a fan of a slick black, minimalistic look.
The stitching from the backhand to the palm is minimal. You can tell that Icon took their time to ensure that the back and the palm merged together nicely.
Branding is hardly noticeable and the entire glove is blacked out. I wonder how they got the Stealth name for the gloves..?
Jokes aside, they do look pretty sick. They're simple, black mesh gloves that don't break the bank.
Design is more than the style and look of the glove, though. You also need to consider how some of the key features were designed and how general usage feels in terms of design.
Features
We've touched on a couple of the features such as the mesh design and the goatskin leather palm but there are a few other key features to point out with these gloves.
List of features:
D3O knuckle armor insert
Neoprene cuff
Hook-and-loop closure
Touchscreen compatible thumb and index finger (kind of)
Knuckle armor is almost a complete necessity for me as I feel it'd come extremely handy for impact and abrasions to the knuckles. D3O Armor is used with the knuckles and I'm a fan of them.
They aren't going to make you 100% invulnerable to knuckle damage, but they'll do a lot better than nothing would.
The cuff is short enough where it doesn't get in the way and it's a comfortable cuff. Mainly riding in warmer weather, I was looking for a glove with this exact kind of cuff. Short and sweet.
Putting the gloves on and taking em off is a breeze. Simply loop the velcro closure around the cuff of the glove and you're good to go. Would they stay on in a slide..? I believe so.
Obviously a more armored and more durable closure system is safer but you don't get lightweight mesh gloves to maximize protection on the road.
The "touchscreen compatible" index finger and thumb design is rough.
It's not very accurate and they don't work 100% of the time so if that's a big factor for you, don't bother. They don't work nearly as well as other touchscreen compatible gloves out there.
Usage
These feel adequate while riding around when it comes to a glove that's enough to do what they're made to do. To be comfortable, lightweight and breathable gloves for warmer weather riding.
I wear a size large with most riding gloves and these feel snug except for at the tip of my thumb where it feels as if they expected a large sized hand to have a longer thumb.
Maybe your hand is different but I haven't noticed this kind of thumb design with other gloves that I've tried on and used. There feels like there is a bit of extra space there and it doesn't feel right.
I constantly want to push my thumb forward more into the thumb of the glove but to no avail.
Again, while riding I hardly even notice it. I don't think about it. Another issues with the tips of my other fingers is that you can feel some thick stitching going on that doesn't feel very comfortable.
I'm not saying that it's unbearable, it's really not that bad, but it would have been nice to feel a smoother tip for the fingers.
They feel decent while riding, they do a reasonable job keep my hands cool while riding in hot weather and their touchscreen stitching sucks.
Icon Anthem 2 CE Protection
---
Icon has shown that protection is an important element to any piece of gear they create. Even when it comes to the lighter, mesh gloves such as these – protection is still a top priority.
The goatskin palms are certainly abrasion resistant and it feels high quality. The knuckle inserts aren't extremely thick but they'll absolutely provide enough knuckle protection to where it's worth having in the glove.
As for the mesh material… on the backhand it's solid. But the sides of the fingers have an odd, nylon like material that just doesn't cut it. Or actually it does cut… it cuts and tears too easily.
Overall, protection is not completely optimized here but it's hard to do that with a lightweight, mesh glove in the first place.
It would have been nice to see a better material used for the sides of the fingers… That scares me a bit but I still have faith that the other parts of the glove hold up just fine.
Are They Worth Getting?
---
Now that we've reached the end of our Icon Anthem 2 CE gloves review we have to answer whether or not we'd recommend getting these gloves for yourself.
For an inexpensive, lightweight glove that does a fair job of keeping your hands cool during summer rides… sure. These aren't a bad choice.
But make sure that you fully understand that the protection here isn't the best we've seen.
From personal experience of the finger side stitching and material not being the best… it's kind of disheartening to see.
Other than the side finger stitching being weak, the touchscreen compatibility being laughable and the odd uncomfortability that goes on at the tips of the fingers… they aren't a bad choice. Everything else lines up.
I'd say go for these gloves if you want a lower cost pair that does a better job than the under $20, low quality gloves you see that wouldn't protect your hands in the slightest.
At least these provide some realistic, albeit mild, protection.
Are you planning on getting these gloves for yourself?
What other gloves compare to these ones that you'd like to hear about?
Let us know in the comments below!
Icon Anthem 2 CE Gloves
Around $40
Pros
Nice, slick black design
Does a good job keeping your hands cool
Has D3O knuckle armor
Leather palms are high quality
Cons
Side finger materials are not great, tears easily
Touchscreen fingertips hardly work at all
Inside the gloves at the tip aren't the most comfortable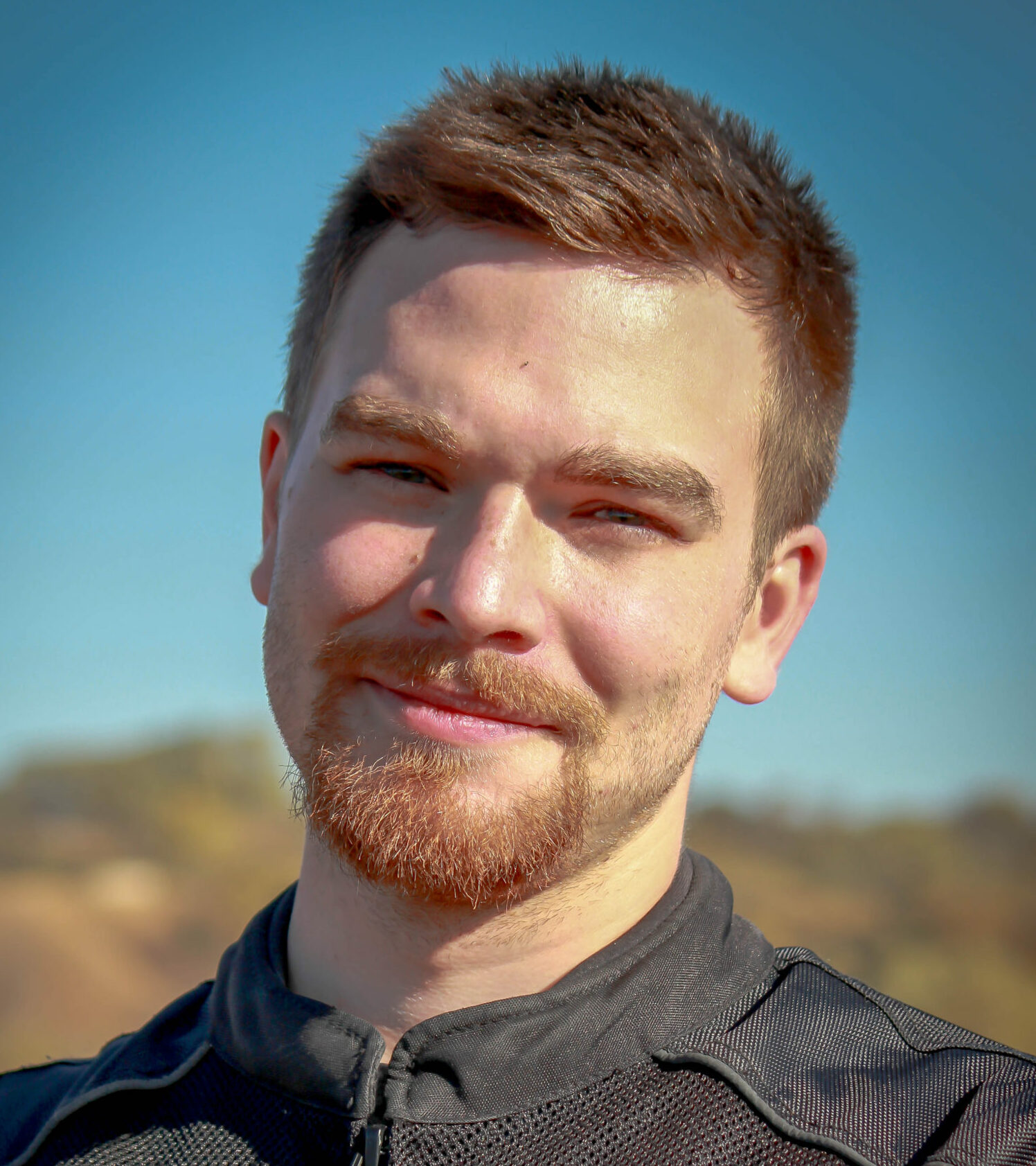 What's up! I'm Colton, the main guy behind Moto Gear Knowledge. Gear has always been my #1 priority when it comes to riding.
I share my experiences regarding gear and anything else moto related with you here. 👍