Last Updated on January 9, 2023
Are you browsing around looking for the best burnt orange motorcycle helmets that are out there on the market? If so, then it's a good thing we decided to create this guide for you!
We've surfed all around the best gear sites in search of the top burnt orange helmets that you can get right now.
You'll want to keep some key factors in mind as you are trying to find the one that best suits you and your riding style… which is where we come in!
Hopefully, this guide will help you sort out which type of helmet you will need for all of your rides. There is a wide selection of burnt orange moto helmets on the market so be sure to read through all of our advice as you move forward with a helmet that works best for you.
Top Rated Burnt Orange Motorcycle Helmets – Our Guide & Overview
---
We do not want to showcase a single burnt orange riding helmet and call it the absolute best one that exists. Different helmets provide different features, levels of comfort, styling, and usage.
Listed below are some of our main recommendations when it comes to the burnt orange color style of moto helmets. Safety features are our #1 concern when it comes to any helmet so you can be certain that only high-quality ones will be featured here.
If you aren't able to find the right helmet here then we hope at the very least you can have something to take away in these guidelines that will help you pivot in the right direction towards finding the perfect burnt orange helmet for you to ride with.
There wasn't much information out there on this style of helmet out there so we took the most important parts that make a great motorcycle helmet, combined that with this style, and boo-yah, this is what we came up with!
Right now, the Biltwell Gringo ECE Motorcycle Helmet is one of the top-notch choices when it comes to a classic and safe burnt orange helmet. There are a bunch of shield and visor options for it and it fits the bill when it comes to an ideal shade of burnt orange.
If you're looking for one of the best orange open-face motorcycle helmets that are out there then you'll want to look into the Bell Custom 500 Rally Motorcycle Helmet. It also has a ton of visors to choose from so you'll be able to get the style you're looking for out of it if you look hard enough!
Plenty of other alternatives are on the market so keep reading through because you never know – your ultimate orange riding helmet could be featured here!
Comparison Table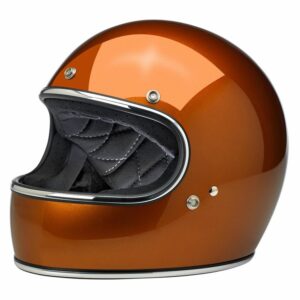 Biltwell Gringo ECE Motorcycle Helmet 
Looking for the classic, vintage helmet design with the burnt orange style? The Gringo from Biltwell is the perfect helmet when it comes to having a highly functional retro helmet. There are plenty of aftermarket shield and visor options for it as well.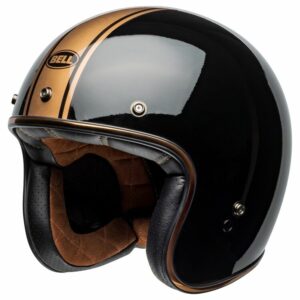 Bell Custom 500 Rally Motorcycle Helmet
Bell has been one of the biggest helmet brands in the industry for a very long time now. Their Custom Rally 500 helmet takes everything great about Bell's high-quality helmet designs and packs it into a retro helmet with a copper burnt orange pinstripe. This one also has a ton of cool visors to pick from.
Scorpion R-320 Motorcycle Helmet
Scorpion is a brand that we feature here a lot. Their R-320 full-face helmet has an orange and black style that is easy on the wallet, keeps you safe and keeps a minimal design with packing in the essential features you need in any helmet.
Like we said before… There isn't going to be an all-time best orange helmet that suits every single rider out there that's looking for this style of helmet.
If you're looking for orange dirt bike helmets that are great for airflow and have a high field of view or even orange & black motorcycle helmets that are great for all-around motorcycling… we've got you covered!
Whichever helmet you end up deciding to go with, you'll want to make sure that it has top-grade impact and abrasion resistance as that's the whole point of using a helmet in the first place.
This comes from top-tier materials used in motorcycle helmets, highly comfortable padding options, and faith that it's going to stand a long test of time.
You shouldn't have to shell out more dough every year or so for a new orange helmet. Odds are that you're having this as your main go-to helmet or even as an extra helmet to accent your bike.
No matter which burnt orange beauty you end up deciding to go with – there's no need to waste your money on some of the cheap crud that's out on the market. Treat yourself and get something that's really worth showing off!
There are some great contenders out there when you really dig in and research the options out there which is why we've done all of the analyzing for you!
The 5 Best Burnt Orange Motorcycle Helmets
1. Biltwell Gringo ECE Motorcycle Helmet
---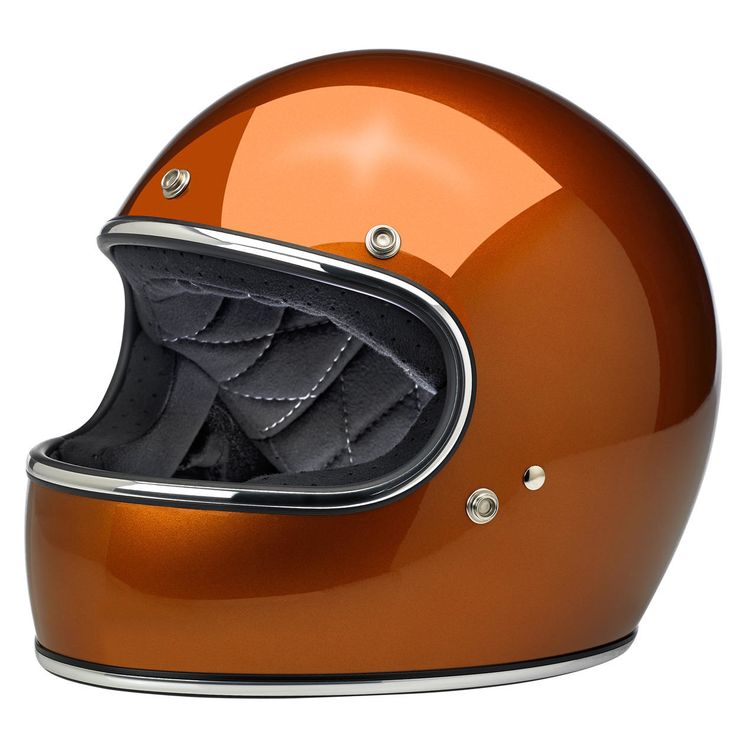 Biltwell is a widely known gear company that focuses on ease of use and a classic style. They don't add in all of the extra features that some folks would rather have left out.
That's where their Gringo helmet comes in – this one is a classic style helmet that has low-cost accessories, a simple design, and everything else you need in a safe riding helmet.
When it comes to that burnt orange style, this Gringo helmet has a unique shade close to a "copper" coloring style which is akin to the burnt look/feel.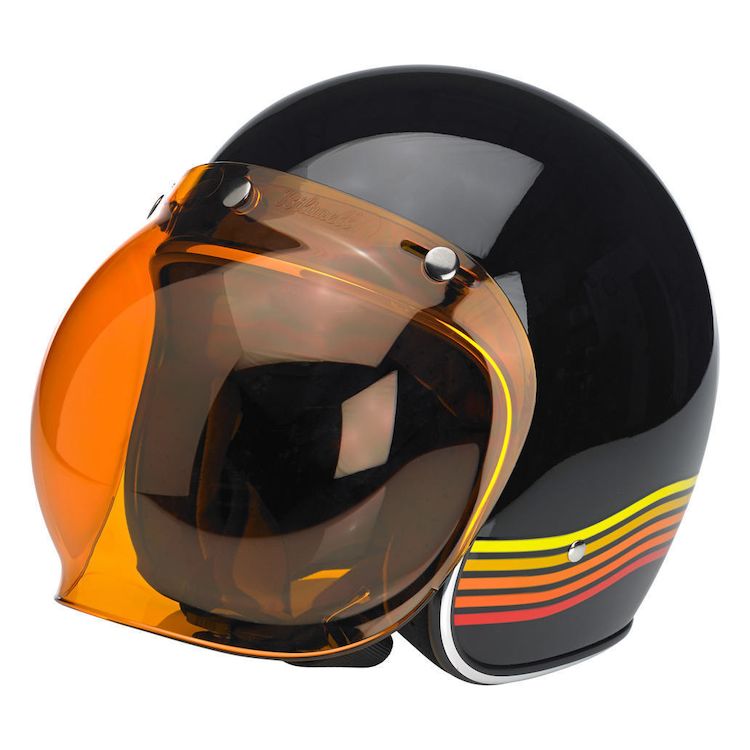 It has an injection-molded thermoplastic outer shell, an expanded polystyrene inner shell, a hand-sewn inner liner, and a D-ring neck strap which is easily adjustable.
Basically, it has everything that a classic – and safe – motorcycle helmet should have.
These features are combined with DOT and ECE approvals meaning that it will certainly do a great job at keeping you up and at em' in the event of a wreck.
There are plenty of cheek pad and liner replacements in all sorts of sizes that are highly affordable as well as different visor options.
From bubble shields to full visors and blast shields… there are a ton of options to choose from.
Most of the shields are right around the $20-$30 range as well which is an easy snag if you ever decided to add a shield to this helmet. They come in all sorts of different tint designs.
Really there are only a couple of downsides to this helmet which is that it is entirely non-ventilated and sizing could be a bit off.
For the summer rides if you opt-in for a face shield… It's going to get warm in there. There are riders that have reported the helmet not being true to the size so they either had to get smaller padding for the inside or they simply returned it for a size bigger.
The Gringo also comes in open-face and the S variant will come with a face shield but the pricing is going to vary depending on the version that you end up getting. This one specifically is the only one that is crafted for that sweet, sweet ECE certification for extra safety.
If you're looking for a classic burnt orange style that will keep your noggin' super safe on your rides then the Gringo is hard to pass up!
Pros
A plethora of visor options to choose from
ECE-certified, very safe helmet
Classic style that is hard to find
Different variations available
Cons
No ventilation
Might have to go a size up rather than what you're used to
2. Bell Custom 500 Rally Motorcycle Helmet
---
Another classic style from one of the first, original helmet brands comes the custom 500 Rally helmet from Bell. If you're looking for an open-face helmet with a lighter burnt bronze style then this is THE helmet to go for.
A multi-density inner liner, a padded chin strap with a D-ring closure, and a traditional 5-snap pattern for all sorts of visors… This open-face helmet maximizes comfortability.
Bell has provided exceptional helmets for a long time now and with that comes exceptional quality both from the helmet and from the company itself. Their custom 500 helmets come with a five-year warranty.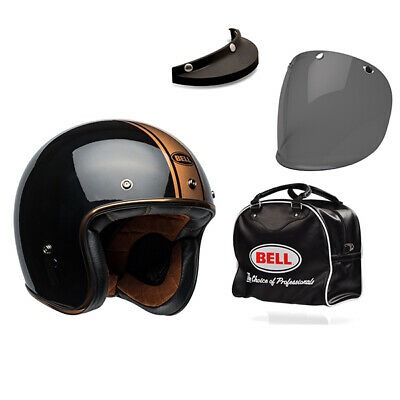 An important design choice that Bell made with this helmet is that there are different shell shapes for the different sizes that are available.
Sometimes, with open-face helmets like this, the shell size doesn't line up with the usual sizing that you would be used to.
Different shell sizes help tremendously with making sure that you have a nice, comfortable fit.
The inner liner is also sized specifically with the different shell size options to ensure that it keeps that low profile style and comfortability that you'd expect from an open-face helmet from Bell.
The five-snap pattern makes the helmet compatible with several different aftermarket shields and visors. You shouldn't have too many problems finding the perfect shield for it.
Really the only main gripe with this helmet would be similar to the Gringo helmet – the fact that there isn't any ventilation. If you add a full visor shield on this, it'll probably get pretty hot in there.
There are plenty of riders that have reported riding in humid, hot climates knowing that there wasn't any ventilation added with the helmet but they still have comfortable rides while wearing it.
Bell is known for having some of the comfiest inner cushions you can have in a helmet. If you're looking for a retro open-face helmet that is optimized for comfort then the Bell Custom 500 Rally helmet is going to be the one for you.
Pros
Extremely comfortable inner cushions
Different shell sizing to make sure it has a good fit
Five year warranty
Plenty of compatible aftermarket shields/visors
Cons
No ventilation
No other burnt styling options
3. Scorpion EXO-R320 Motorcycle Helmet
---
Scorpion full-face helmets are a popular pick when it comes to reliable riding helmets. Their EXO-R320 model comes in a variation that is close to a more burnt orange style. The orange and black helmet styling is designed nicely with this one – not too much, not too little.
It has emergency release cheek pads, it has more than enough ventilation, it is very lightweight, and highly affordable.
The helmet is made out of a state-of-the-art polycarbonate shell, has dual-density expanded polystyrene, an Ellip-Tec ratchet system, and KwikWick anti-bacterial liners.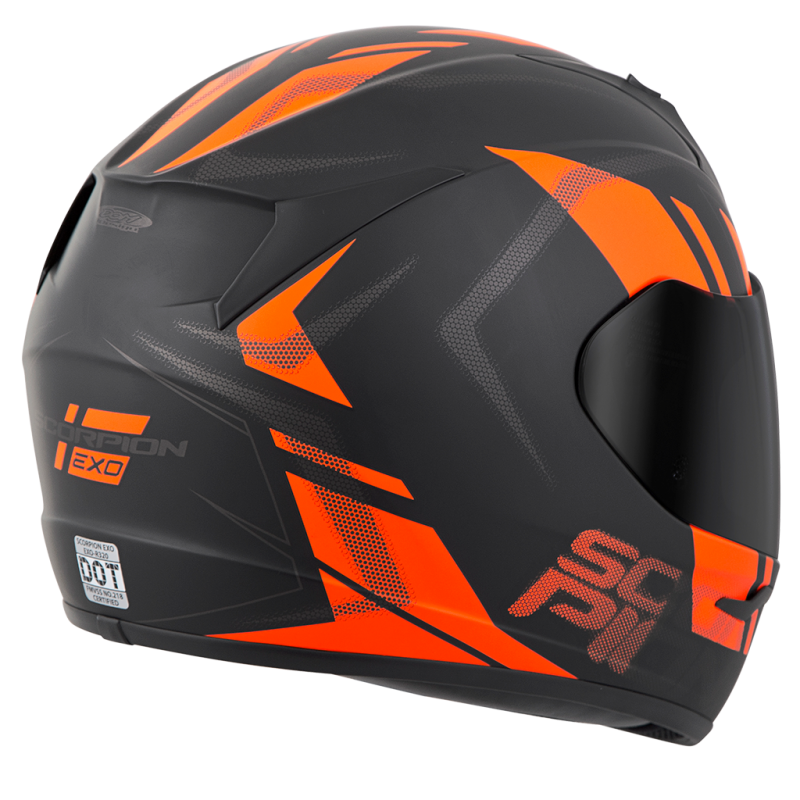 All of Scorpion's helmets do a good job of creating easy-to-use and comfortable inner padding with all of their helmets.
There is also an emergency release on the cheek pads in case they need to be removed in a pinch which is always a great feature to see in any helmet.
For ventilation, there are a couple of chimney vents on top and there is also a chin vent. You are able to adjust the top chimney vents to open or close.
The helmet's aerodynamic design allows for natural exhaust flow at the back of the helmet.
Even at its more budget-friendly price point, the liners have cutouts to help with overall ventilation.
It's surprisingly lightweight – it weighs a total of 3 lbs, 2 oz. This makes it one of the lightest full-face helmets that you can get at this price range.
The chin vent does vent to the visor which will fog up the shield but it's also Pinlock-ready if you ever decided that you didn't want the shield to fog up anymore.
Another note on the visor – this one only ships with a clear visor. If you want to have the dark smoke visor, it is sold separately.
If you are looking to spend the least amount of money possible when it comes to having an orange and black full-face moto helmet then this R320 is going to be your best bet. It has all of the basic and essential features that you'd typically look for in a full-face riding helmet.
Pros
Highly affordable
Very lightweight
Emergency release cheek pads
Good ventilation airflow
Cons
Only ships with a clear visor
Visor can easily fog up – you'll want to add a Pinlock shield
4. Bell SRT Proverb Motorcycle Helmet
---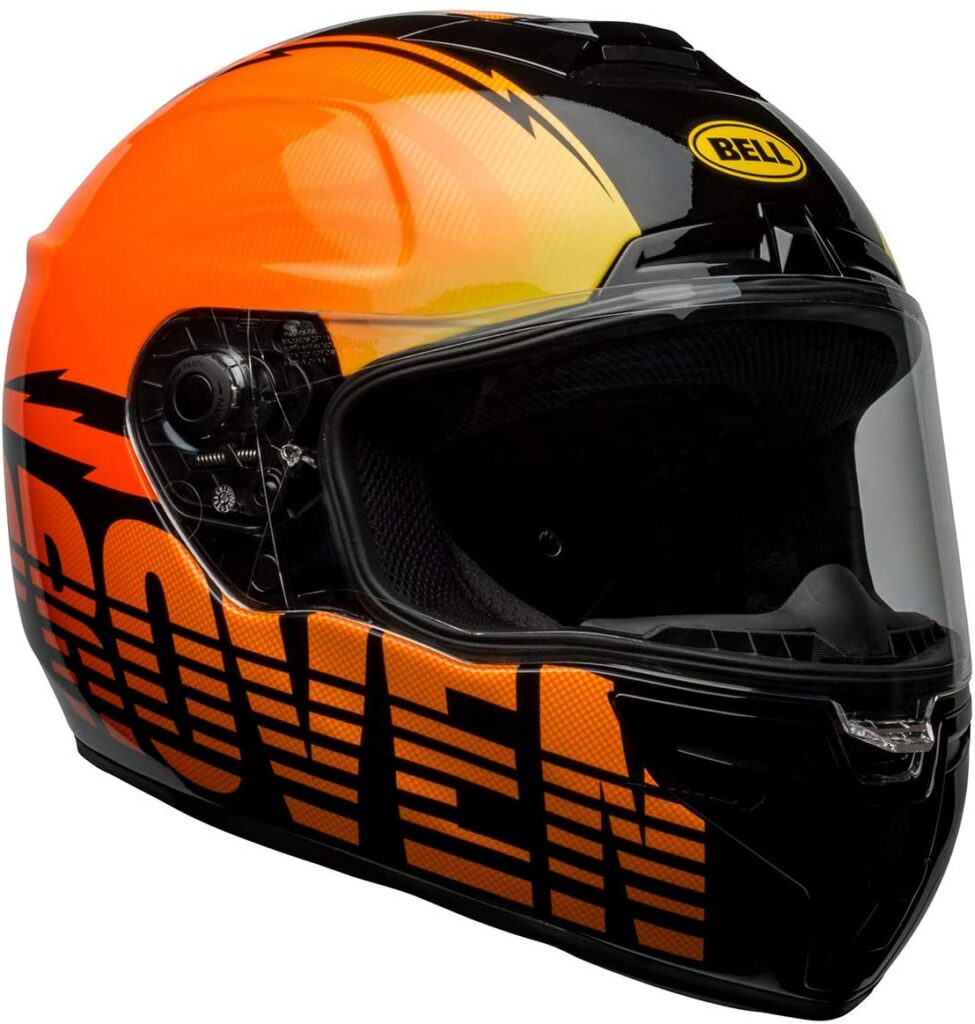 A full-face option from Bell, the SRT Proverb helmet is a newer model release that has a unique burnt orange gradient color design that will match up well with all sorts of other burnt orange gear.
This helmet meets the FMVSS 218 Standard, is made out of a lightweight fiberglass shell, it comes with a five-year warranty, and has a variety of vents for airflow.
The FMVSS 218 Standard is a tougher standard than a simple DOT standard which marks this helmet as being thrown into more rigorous tests through the manufacturing process of the helmet.
If you want the safest features and measures out of a helmet then you'll want to look for tougher certifications like this one with the Proverb helmet.
Using fiberglass during the shell construction is a nice touch as it means that it'll have a tougher level of impact and abrasion resistance compared to other traditional materials used in most helmets.
It also makes the helmet a bit lighter – it weighs a total of 3lbs 7 oz.
That five-year warranty from Bell is always great and they add that with most of the helmets that they make.
You will have a hard time finding that long of a warranty period from most other companies…
Bell has always been a great brand. They are highly credulous when it comes to general customer service – hence why the helmet states that it has been proven since '54 right on the helmet.
Front ventilation is controlled towards the bottom of the chin area. Keep note that the adjustable portion of those vents is for the defogging of the shield. The front airflow comes from the top front vents.
The Panobision face shield is incredibly easy to use. There is a button on the side of the shield that you press which allows you to easily remove the shield.
The lock used to open and close the visor is located in the center which lets you use either hand to adjust the visor how you see fit.
Combine all of that with a comfortable and removable liner and you've got a bright burnt orange riding helmet that has most of the bells and whistles you'd want to see in a feature-rich full-face helmet.
It, unfortunately, only ships with a clear visor. It is compatible with any of the other Panobision shields which you can get directly from Bell.
If you want a gradient burnt orange design in a full-face helmet then this Proverb helmet from Bell is going to be the only one with this distinctive style.
Pros
Meets the FMVSS 218 Standard
Unique gradient styling
Made out of fiberglass
Five-year warranty
Cons
Only ships with a clear visor
Front ventilation locks might be harder to open/close compared to most helmets
5. Daytona Helmets R1-O Motorcycle Helmet
---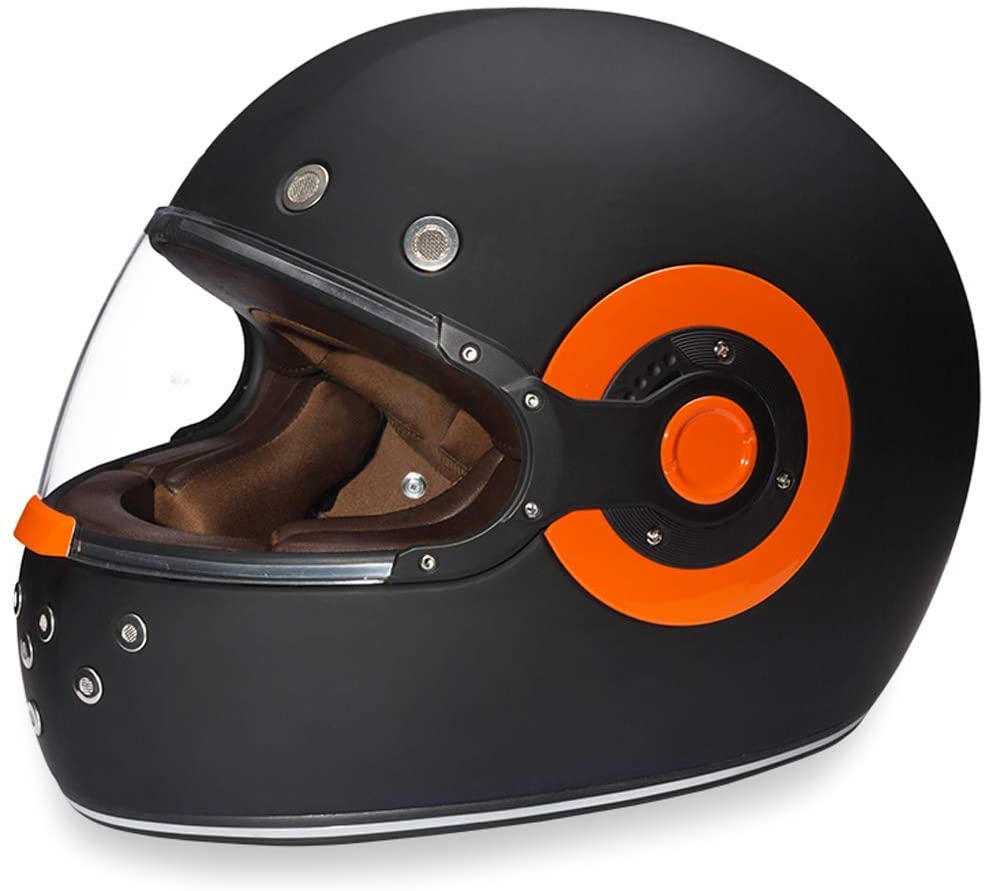 Daytona Helmets create a variety of different types of helmets but where they stand out the most is in creating high-quality retro helmets such as this R1-O orange accented helmet.
This one comes with a Pinlock 70-R visor, it has a retro style with front ventilation, premium leather is accented with the moisture-wicking liner and it meets the FMVSS 218 Standard.
This is another great choice if you're in the market for a vintage helmet because, unlike the helmets we first mentioned, it comes with some ventilation in the front.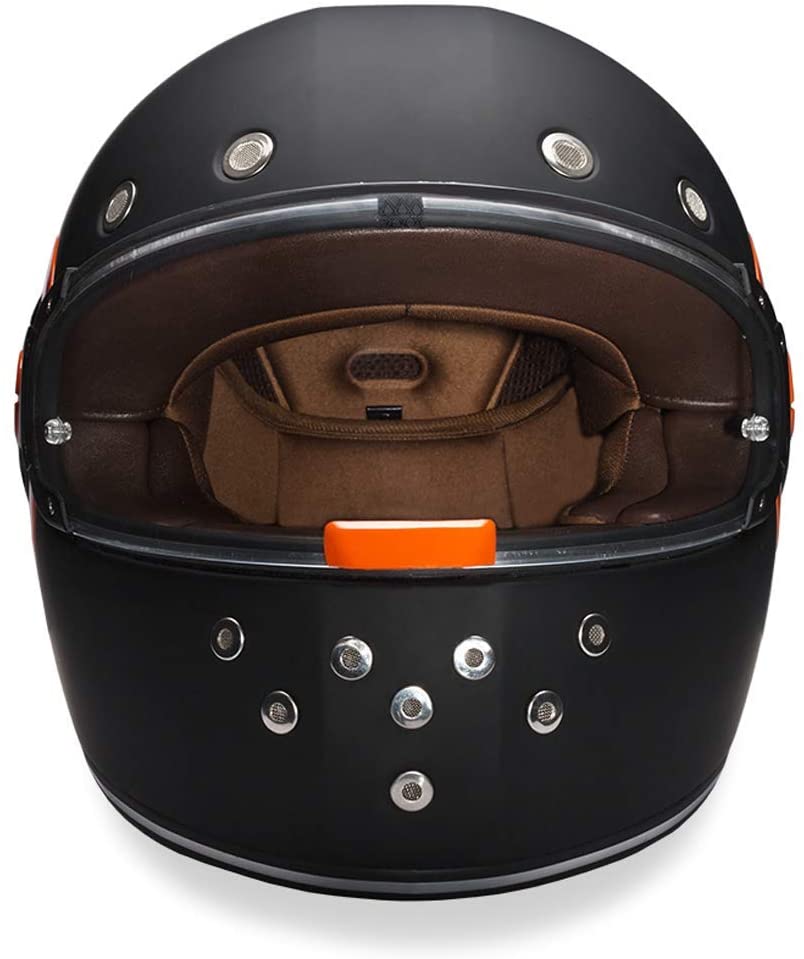 Combine the ventilation with a proper Pinlock 70-R visor and you've got a helmet that will do a great job at keeping fog at bay inside the visor while also keeping your head cool while riding.
However, this helmet does not have any exhaust vents. The inner liner is moisture-wicking and is able to keep most of the moisture away but general exhaust airflow isn't the greatest with this helmet.
The liner is accented with a vintage leather design which adds to the retro styling goal of the helmet.
Most of any moisture will be wicked away even with this leather accent – many riders reported being able to stay cool enough on their rides.
A retro vintage helmet that is at a lower price point that comes with a Pinlock visor and meets the FMVSS 218 Standard? Yup, you've read all of that right. It has a TON of features!
The biggest downfall to this helmet is that the visor mechanism to remove and attach the visor takes some time to get used to being able to do it fast. You have to use a tool that comes with the helmet in order to take the visor out.
Other than that and the occasional report that the fit wasn't exactly perfect for some riders – it has everything else you'd want when it comes to a retro helmet that offers more in terms of quality-of-life features.
If you are looking for a retro helmet that has burnt orange accents then you are going to have a hard time finding something that is as feature-rich as the R1-O helmet from Daytona Helmets.
Pros
Retro design with front ventilation
Comes with a Pinlock 70-R visor, great for anti-fog
Vintage leather accents inside the helmet
Cons
Visor takes a while to take on and off
No exhaust vents
Some riders reported sizing issues – be sure to follow sizing chart accurately
Burnt Orange Moto Helmets: A Guideline
---
There aren't many resources out there that help to showcase the best of the best when it comes to the different burnt orange styles of motorcycle helmets that are out there on the market.
The burnt orange style is most popular with those that have the burnt orange color accent on their motorcycle – it's always satisfying to match up your gear with your ride.
Written below are some extra guidelines that we think you should follow before buying a burnt orange helmet.
Making sure you've got good materials inside of the helmet, making sure that it's going to fit when you receive it or simply fine-tuning which type of helmet will best suit you – we go over everything else you need in these next few sections.
Finding The Ideal Shade of Burnt Orange
Burnt orange comes in a few different types of shades.
There is a copper burnt look, a brighter burnt look, or the brushed burnt orange look… Most of those shades of burnt orange are created specifically to match up with the burnt orange style of a Harley, for example.
Take into account how bright or brushed the orange is on your bike and go from there. Or if you simply like the burnt orange color and want to accent that with whatever color style your bike has – there are a lot of choices that we shared in this guide.
Typically, if you've got a burnt orange bike, almost any of the traditional burnt orange helmet styles are going to match up nicely.
It's the copper burnt or brushed burnt that you'll want to take note of and do more research on if you want your helmet to match up with it more.
Which Type of Helmet Is Best For You?
Full-face helmets are obviously the best choice if safety is your #1 concern when buying a new helmet (which is definitely our #1 concern when we create these guides).
With that said, not everyone wants the exact same type of helmet.
The Gringo and Bell Custom 500 Rally helmets we listed above have different styles for open-face and they both also have plenty of options when it comes to alternative shields and visors.
If you don't have much experience with different helmet types and found this guide because you decided you wanted this color for your first helmet then we'd encourage you to start with any of the full-face helmets.
Not only because they provide the most safety for your noggin' but also because they come with more features and are good to get into the habit of wearing.
There's something for everyone on the market… Most of the burnt orange helmets that are currently available are full-face. At least the ones that match up the style that you see with some of the most popular cruisers.
Making Sure You Have The Right Size
If you don't know your ideal helmet size yet, go figure it out. Have a friend or family member let you try on their helmet.
Don't know anyone that has a helmet for you to try? Most of the local gear shops don't mind if you try on their gear!
From there, you'll be able to follow the sizing chart of the specific helmet that you're looking at and move forward with it from there.
If something doesn't fit or feel right with your helmet then you'll be able to make a return. Sometimes it comes down to trial and error.
Materials To Look Out For
Most helmet manufacturers use the same materials in a motorcycle helmet because it's widely available and proven to help out in the event of an accident.
Some helmets use different materials though and you should know about them before making a final decision.
For example, the Bell SRT Proverb helmet listed above uses fiberglass for the outer shell rather than the usual polycarbonates you see with most helmets.
Fiberglass is a good material because it's strong, it's a light material and looks awesome.
But you don't have to have the absolute best materials in the helmet. Not unless you're trying to spend top dollar for your helmet.
Comfortability Features
Almost all of the helmet companies these days feature moisture-wicking, anti-microbial and anti-bacterial properties to the inner liners of their helmets.
To ensure comfortability – you should look into those features with the liner, check the weight of the helmet and make sure that you have the right kind of fit.
Sometimes when buying helmets online, some folks don't consider their head shape when they're buying their helmet. Especially for first-time online buyers.
A high level of comfort is key to being able to enjoy every ride that you have. Scratchy liners, heavyweight helmet design flaws or not having the correct fit… Those are never good things to have in your helmet.
Factor in real rider feedback as well. That's what we do with every guide that we write up here.
Don't simply listen to what the company shares with you about the materials they've used for liners and the shell – do your due diligence and really dive into the research!
That's one of the main goals with guides like this – to do most of the research for you so that you can feel better about getting a helmet that works great for you and your style.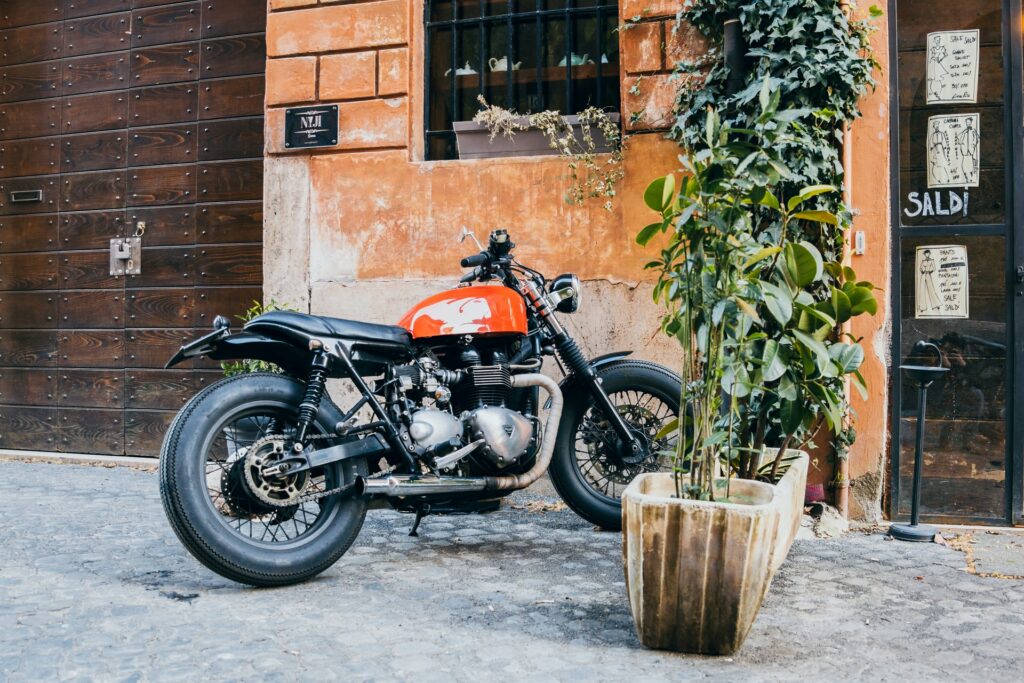 Burnt Orange Helmets Are All Around
---
We hope that this guide helped you narrow down the different options that you can choose from when it comes to the different burnt orange motorcycle helmets that are presently on the market.
Get something that you'll enjoy wearing – both in terms of style and build quality.
The helmets that we decided to feature in this post have high ratings from other riders, they are made by a well-known company and they all have good use cases.
Know of any other burnt orange-style helmets that you think should be added to this list?
Which helmet do you think you'll be going with? Are you getting one of these to match up with your bike?
Let us know in the comments below!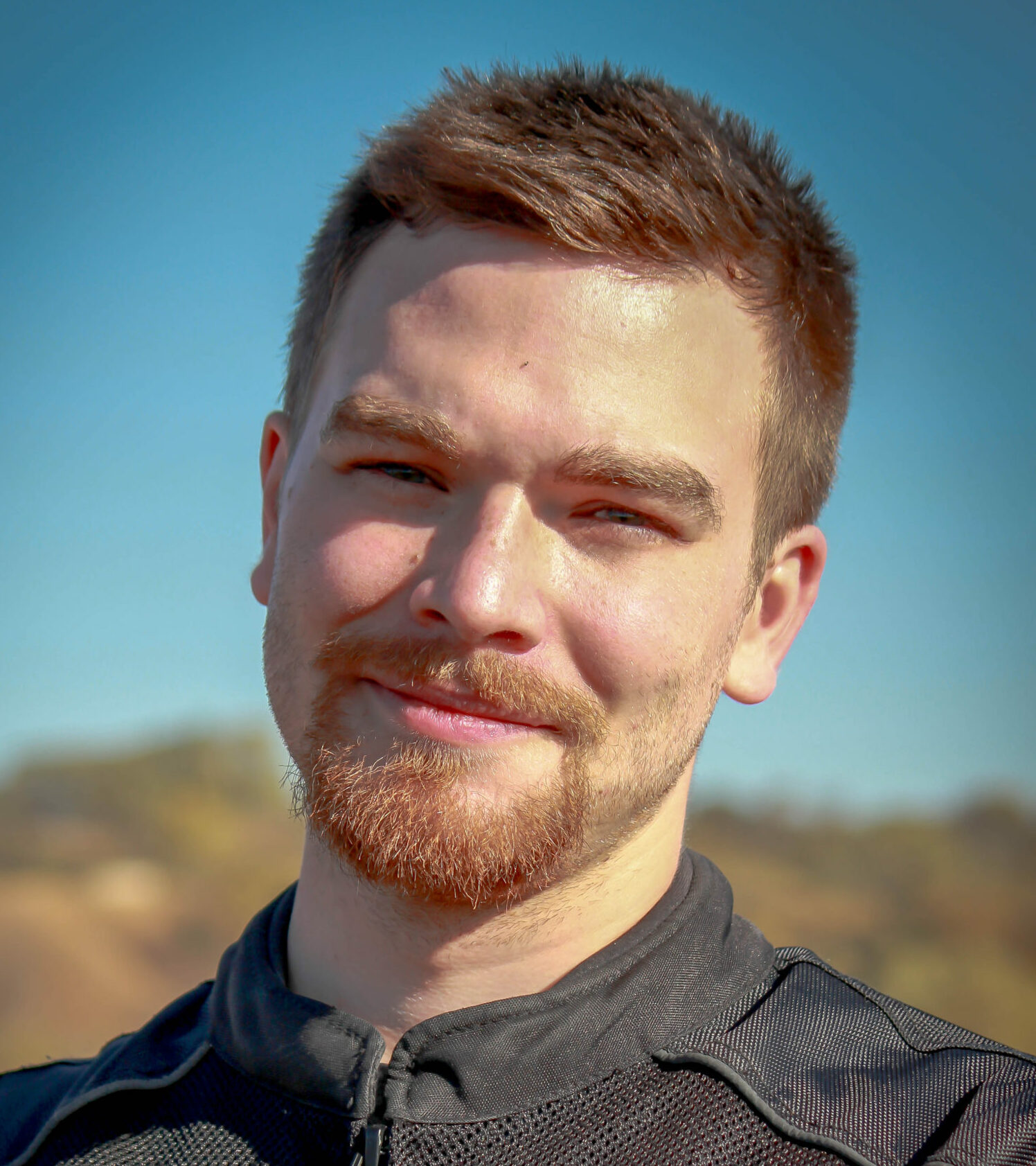 What's up! I'm Colton, the main guy behind Moto Gear Knowledge. Gear has always been my #1 priority when it comes to riding.
I share my experiences regarding gear and anything else moto related with you here. 👍