Last Updated on May 27, 2022
ATGATT. You should always be wearing all the gear, all the time. This includes motorcycle pants or riding jeans.
Durable motorcycle riding pants and jeans designed for riding your bike is the most unpopular piece of gear for most riders to wear.
Why?
It's most likely because of the high cost, the belief that motorcycle pants will not help much, or even that the pants would be too hot to ride in.
Truth is, riding pants protect you in a significant way compared to regular denim jeans and there are plenty of features in different styles of pants that help with ventilation and keep you cool.
With that, let's go over the different aspects of motorcycle pants and riding jeans that make them just as important as any other piece of gear and why you should be wearing them while riding.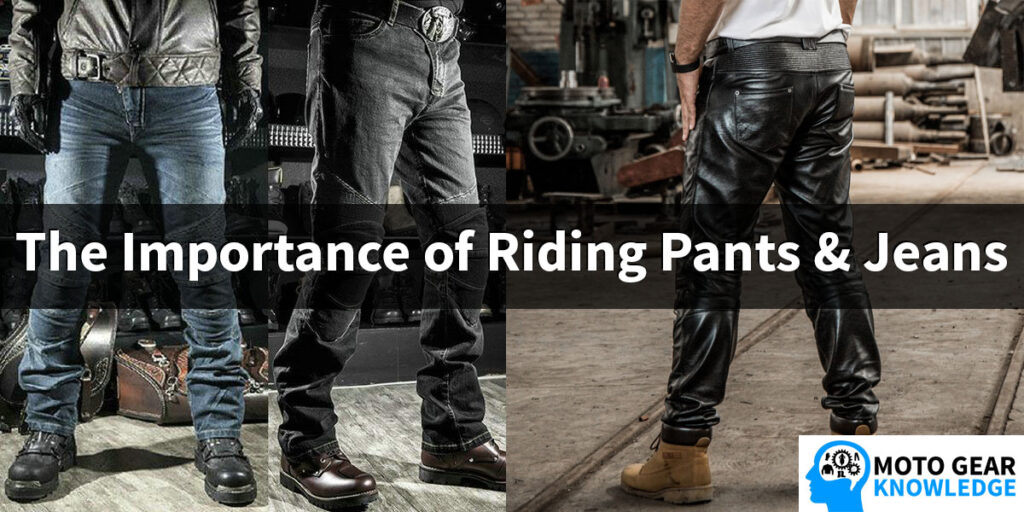 Motorcycle Pants or Motorcycle Jeans?
---
Choosing any type of pants over riding jeans comes down to understanding the levels of protection of both and the style that you enjoy the most.
There are some sizable differences in terms of both safety measures and the styles to choose from and that's what we're going to share within this post.
Whether you go with a leather pants type or riding denims, they are both tremendously more protective than a regular pair of denim that you'd wear out and about.
Leathers have been proven to be the most protective – and it's by a substantial margin. But riding denims are, in general, more than double the protection compared to regular denims jeans in terms of overall protection.
Types of Motorcycle Pants
---
There are plenty of different types of motorcycle pants out there. You are bound to find a pair that suits your style and helps to protect you from abrasions.
All of these different types of motorcycle pants could or could not include different types of armor such as Kevlar included with the pants. You will have to look further into a specific pair of pants to see if they have any armor included with them.
Here are the main types of motorcycle pants:
Leather
Textile
Mesh
Motocross
Jeans
Leather Pants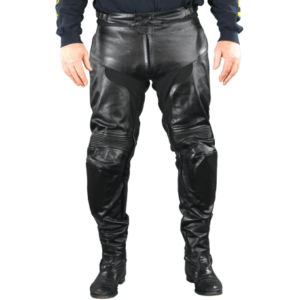 Leather riding pants are the most protective out of any kind of riding pants.
Why?
It's because leather is absolutely the toughest material when you're skidding across the pavement. Leathers have the highest level of resistance when it comes to abrasions.
This makes them the heaviest type of riding pants you can have which is a problem for some riders.
Leather pants also don't have as much breathability going on so they can get pretty warm. You're also not going to find leather pants that are very waterproof.
Leathers help to sustain impact shock if you go to the ground. Most leathers are stretchier and provide a great deal of comfort which is important for the long haul.
Leather pants will be more so up your alley if maximizing protection, stretchy comfort or staying warm is what you're after when it comes to riding pants. Keep in mind that leather pants are also the most expensive type of pants because of these reasons.
Textile Pants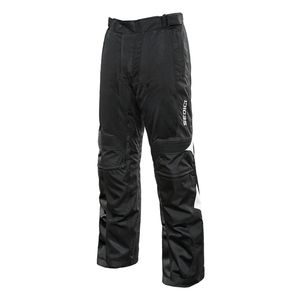 Textiles have come a long way, especially in terms of what they can do for riding protection.
Kevlar and Cordura fabrics being woven together with the help of today's technologies means having lighter, comfortable pants that can hold their own in the event of a crash.
These fabrics were initially created for military-grade equipment such as bulletproof vests which says a lot when it comes to knowing how well it's going to protect you while riding your bike.
When you have a high-quality pair of textile pants they can be almost just as good at protecting you as leather pants can be and oftentimes can be more comfortable as well.
For comfortability, some of you maybe prefer how leather pants feel compared to textile pants. Whichever the case, most textile pants today are going to do a great job protecting you as long as you don't cheap out on them.
Mesh Pants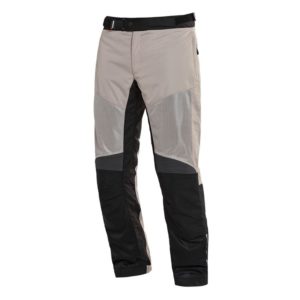 Mesh pants are the most sought-after type when it comes to summer riders looking to have extra ways of staying cool while also making sure that they are staying safe.
Mesh pants are similar to textile pants in that most mesh pants are also made out of some kind of Kevlar or Cordura hybrid fabrics but there is a focus on having more mesh panels and mesh shells.
Good mesh panel locations are behind the knees, on the shins, and on the thighs. That way you're able to have the best possible airflow going on.
Most of the mesh pants you'll find will have armor inserts included or they'll have an option to add armor inserts whenever you feel like adding them in.
If breathability and moisture wicking are most important to you then you should be on the lookout for mesh riding pants.
Motocross Pants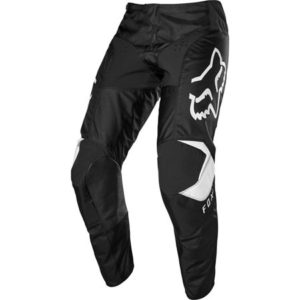 Pants that are designed for motocross are best for keeping you comfortable and work well when you're constantly treading through the dirt on the track.
Motocross pants need to be very durable, have the right fit for constantly moving around, and need to provide high levels of impact and abrasion resistance.
These types of pants do that by being made out of tough outer layers such as 600D polyester, Cordura, leather, or even a mixture of it all.
Higher quality motocross pants will have leather inner panels for knee grip, a durable mesh liner, and armor inserts that either includes the armor or have optional inserts for you to decide on using or not.
They are basically a combination of the above types of pants but with a more aggressive racing style. They are a complete necessity if you're doing any sort of motocross.
Riding Jeans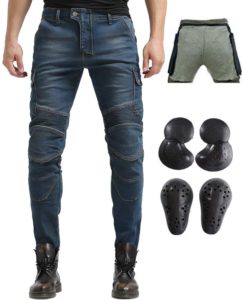 Motorcycle jeans are popular for those that want to have pants that they feel comfortable in whether they are on or off the bike.
They provide the street style while usually having armor padding and higher levels of abrasion resistant fabrics.
Motorcycle riding jeans or denims aren't going to provide the highest level of abrasion protection because the denim fabrics just aren't able to be made with the same durability as leather or textile pants but they are still far more protective than a regular pair of jeans.
This is because they are reinforced with Kevlar or Cordura fabrics, like the textile style pants, with the denim fabrics as well.
A more protective pair of jeans will include armor inserts for the knees and hips. Some riding jeans will have adjustable knee armor inserts to help you find the right fit for extra comfort.
Riding jeans and denims are the way to go if the denim jean style is important to you. They will not provide as much protection as the other riding pant styles but they are leaps and bounds better than regular jeans while riding.
Abrasions Are Horrible Without Proper Riding Pants
---
If you don't have a pair of riding pants on and you go down sliding across the pavement on your rear end, hips or knees then you're going to be in big trouble.
Check out this table that compares the different styles of riding pants and how well they do at abrasion resistance:
These different types of materials have been tested to see how many revolutions of abrasion they could take before you'd start to see them break apart and no longer protect you from abrasion injury.
As you can see, leathers are the king in terms of protecting you during abrasions. But even taking a look at Kevlar reinforced riding jean materials… They can handle almost double the amount of abrasion revolutions.
If the chart isn't enough for you to understand and you need more of a visual then you absolutely need to watch this video from FortNine. They compare the abrasion resistances of motorcycle pants to regular jeans.
That should be enough proof to get you interested in wearing real riding pants while you're out there on your bike. Don't wait until you are sliding on the pavement… go ahead and get yourself a pair.
Riding Pants Are Extremely Important
---
Although any piece of gear alone is better than no gear at all, you should not disregard riding pants as part of your daily gear.
Most riders will use a helmet, gloves, and even boots but real motorcycle pants will help tremendously in reducing the amount of abrasion and impact injury in the event of a wreck.
Need a place to start when it comes to affordable riding pants? Then check out our cheap motorcycle pants guide here on the site, there are plenty of protective and inexpensive options out there to choose from!
Do you wear riding pants while you ride?
Do you have leather, textile, or riding jeans?
Is there anything I might've missed regarding the importance of motorcycle riding pants and denims?
Let us know in the comments below!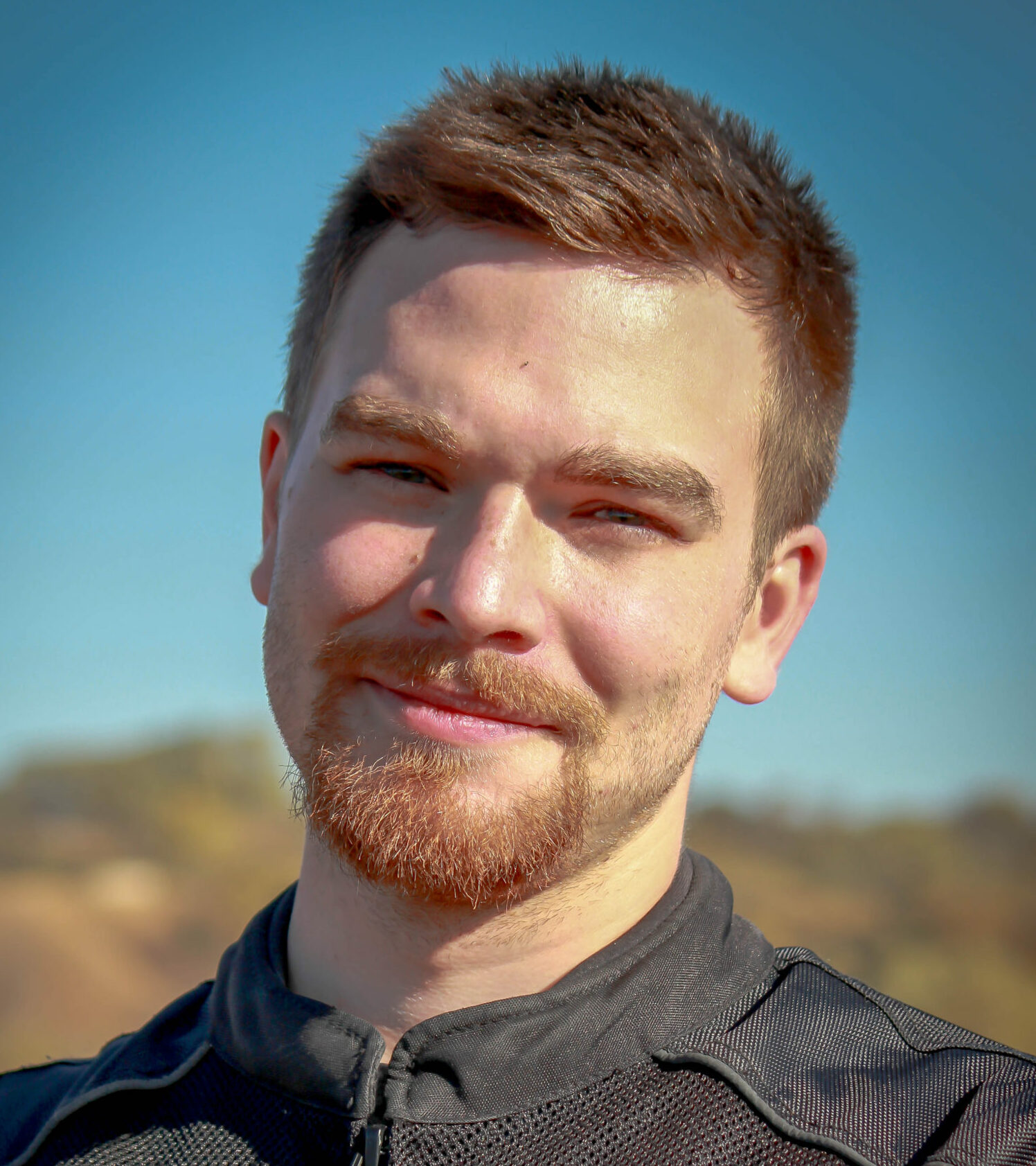 What's up! I'm Colton, the main guy behind Moto Gear Knowledge. Gear has always been my #1 priority when it comes to riding.
I share my experiences regarding gear and anything else moto related with you here. 👍