Last Updated on April 29, 2021
Unfortunately there is a chance that someone may try to steal your motorcycle. That's why we want to share how to keep your motorcycle from being stolen.
There are plenty of things you can do to ensure that it will be difficult for a thief to steal your motorcycle or to even make it impossible for someone to steal it.
With that, let's get into the different ways to keep your motorcycle from being stolen.
How To Keep Your Motorcycle From Being Stolen
---
Always Lock Your Ignition & Steering
Keep Your Key(s) On You At All Times
Keep Your Motorcycle In A Storage Unit
Park In Smart Positions
Keep An Eye On Your Motorcycle
Have Unique Indicators On Your Motorcycle
Invest In Locks & Alarms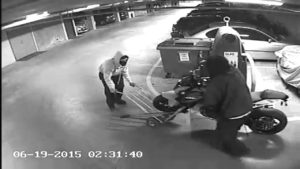 Motorcycle Theft Prevention Tips
When you lock your ignition and steering it will make it a lot harder to have your motorcycle stolen.
If they are not able to steer it to a proper angle to load it up or even start it then it'll become too much work for the thief.
Never keep your key with your motorcycle. Make it a habit to remember to keep your key on you.
Don't leave it in a locker or sitting somewhere unless you've got it locked up. Smart thieves will observe where the keys are at and take advantage of it.
A garage is extremely helpful for making sure your motorcycle doesn't get stolen because it's storage that you can lock up. That and if you have a main vehicle you can use it to block the motorcycle from getting out without moving your car first.
Always park in smart locations. Going to the gym? Or getting a bite to eat at a restaurant? Park next to the main entrance.
If your motorcycle is parked far away from the building you're in then it'll make it easier for a thief to steal your motorcycle.
Which ties in with the next point – try and always keep an eye on your motorcycle. This is a good reason why you should park near the entrance… You'll be able to (hopefully) have a good line of sight to your motorcycle.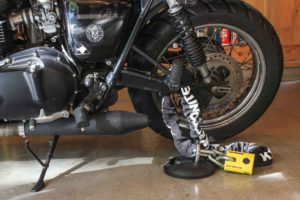 Having unique indicators on your motorcycle to distinguish it from other motorcycles is important because it will help with the officials being able to find it.
You'll be able to have a better description of the motorcycle for them in the event that your motorcycle does get stolen.
Last but most certainly not least, it's smart to invest in different locks and/or alarms for your motorcycle.
There are plenty of them out on the market. If a loud alarm goes off while someone is trying to steal your bike then they will most likely try to get away as fast as possible.
Now you know several ways of keeping your motorcycle from being stolen. Practice these and you'll be able to further prevent a theft.
I'd like to share some motorcycle theft statistics with you and explain why it's important to practice motorcycle theft prevention day in, day out.
Why Motorcycles Are An Easy Target
---
Unlike cars, motorcycles do not have a ton of security going on in the form of locks and alarms from the factory. Most new motorcycles do not include security measures when they're created.
This makes a motorcycle thief very happy. It makes it easy for them to steal any motorcycle. They also don't have much of a problem cutting out a lock for the motorcycle which is different from a car.
Us riders also love to add aftermarket parts to our motorcycles such as a slip-on exhaust, mirrors or other accessories that will give them a profit for selling online or scrapping at the junkyard.
So it's not only the motorcycle we should worry about, it's the parts as well. Granted, there is nothing to stop a thief from getting your aftermarket parts if they truly want them… But we can work on preventing full theft of the motorcycle itself.
Some Motorcycle Theft Statistics
---
Theft statistics for 2019 and beyond are yet to be released so we are going to go off of the 2018 reports and statistics to share.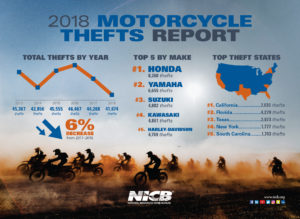 Total Thefts in 2018
Although there was a 6% decrease in motorcycle theft from 2017 to 2018, there were still 41,674 motorcycles that were reported stolen in 2018 which should be more than enough to make you want to ensure that you keep your motorcycle safer.
Hopefully motorcycle thefts across the nation will continue on this trend of decrease.
Most Commonly Stolen Motorcycles
The top 5 makes that are most commonly stolen is something to take note of. This could be something more along the lines of a certain make being a more popular choice but it can also say a lot as far as which kinds of motorcycles thieves want to take the most.
Top 5 motorcycle thefts by make:
Honda – 8,260 thefts
Yamaha – 6,655 thefts
Suzuki – 4,882 thefts
Kawasaki – 4,861 thefts
Harley Davidson – 4,769 thefts
Honda has a staggering amount more thefts comparatively to any other make but again, this could be more due to how popular Honda motorcycles have been as of more recently.
A thief is absolutely not going to ignore any motorcycle that isn't vulnerable to being stolen. It does not matter what kind of motorcycle it is – if it can be stolen then a thief is going to think of ways to steal it.
Top Thefts By State
Different states have higher or lower crime rates across the board but it's interesting to see which states have the highest amount of motorcycles stolen.
Top 5 motorcycle thefts by state:
California – 7,035 thefts
Florida – 4,279 thefts
Texas – 3,073 thefts
New York – 1,777 thefts
South Carolina – 1,743 thefts
If you're in any of those states you should be on the lookout more than others. But just because it's more common in certain states doesn't mean it doesn't happen at all in others.
Top 5 least motorcycle thefts by state: (Source)
New Hampshire – 66 thefts
South Dakota – 58 thefts
Wyoming – 53 thefts
Maine – 38 thefts
Vermont – 22 thefts
Although these numbers are a lot lower than the other states mentioned, it's still smart to practice different ways of keeping your motorcycle safe from thieves on the daily.
Make It Difficult, Keep The Thieves Away
---
We hope you feel more comfortable in knowing how to keep your motorcycle from being stolen with the tips and details we've shared with you here!
Make it difficult. A thief will stray away from your motorcycle and move on if they don't think they can steal it quickly and smoothly.
Remember, a thief's main worry is getting caught and losing their freedom so they aren't going to risk getting caught for very long.
If you can make it a long process to steal your motorcycle then odds are that they will give up within a few minutes.
What are you doing to keep your motorcycle safe from thieves?
Have you attached any alarms systems to your bike? Have you been looking around at different locks?
Let us know in the comments below!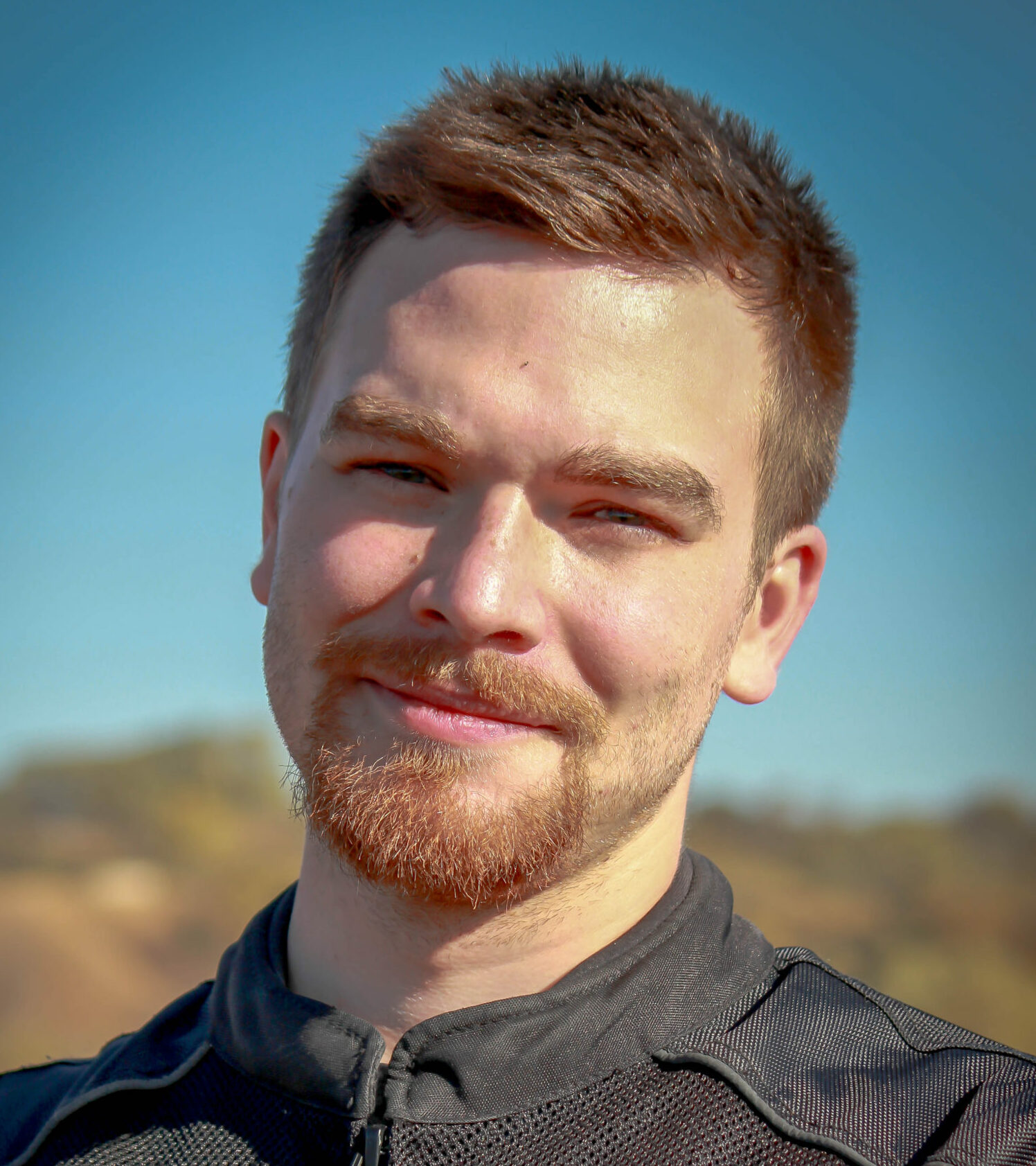 What's up! I'm Colton, the main guy behind Moto Gear Knowledge. Gear has always been my #1 priority when it comes to riding.
I share my experiences regarding gear and anything else moto related with you here. 👍