Last Updated on April 6, 2020
It's awesome how connected the motorcycling community is. Motorcycles are a way of life and there are plenty of motorcycle Instagrams out there.
That's why in today's post we'd like to share the best motorcycle Instagrams that you should give a follow. From official motorsport companies to Instagrams sharing the best motorcycle videos that have surfaced on the web, we have got you covered!
Best Motorcycle Instagrams
---
I've scoured through a lot of awesome motorcycle Instagrams to find the best of the best when it comes to motorcycle content.
Some of these Instagrams are very well known and you may already be following them whereas others don't have very high follower counts but the content was too good to pass up and not share…
With that, let's go ahead and get into all of the different motorcycle Instagrams, shall we?
Official Motorcycle Instagrams
These Instagrams are all official Instagram accounts of different motorcycle companies. By following these accounts you'll be able to keep up with their newest trends and content which is always a good idea.
Find the ones you're most interested in and keep up with the times!
Icon Moto Sports – @iconmotosports
Icon is a very reputable brand when it comes to moto gear, I use an Icon Alliance Dark helmet and I use their Icon Anthem 2 Stealth gloves during the warmer riding days.
I'm a big fan of their gear, they always keep quality and affordability in mind.
Alpinestars – @alpinestars
Alpinestars are one of the main brands for sport riders and motocross alike. They have always created durable gear that stands the test of time.
They also have some really nice styles for all of their gear.
Ducati USA – @ducatiusa
Ducati is an Italian motorcycle company that creates some of the most high-end motorcycles on the market. They've innovated heavily within the industry.
Some of my favorite Ducati motorcycles would have to be the XDiavel and the Monster.
Indian Motorcycle – @indianmotorcycle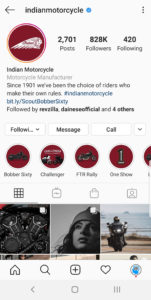 If you've ever looked into different cruiser motorcycles on the market then you've stumbled upon Indian motorcycles.
They're one of the most popular cruiser motorcycle brands and their bikes are absolutely phenomenal. The Indian Scout Bobbers are probably my favorite Indian style of motorcycle.
Harley Davidson – @harleydavidson
I don't think we need much of an explanation as to what Harley Davidson is all about. Their the #1 American motorcycle brand and they created all sorts of different motorcycles.
Their Instagram showcases what they're currently working on as well as different marketing materials for their several motorcycles.
AGV Helmets – @agvhelmets
AGV is easily one of the most popular helmet manufacturers in the market. They create extremely excellent quality helmets.
They constantly changed how helmets look and feel as they've built themselves out… I simply love their helmets.
Energica Motor Company – @energicamotorcompany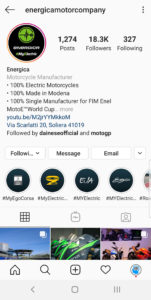 Energica is one of the leading motorcycle companies behind creating some of the best electric motorcycles in the industry.
If you've never looked into them, be sure to. Some of the electric motorcycles that they have cooking up are incredible.
Speed and Strength Gear – @ssgear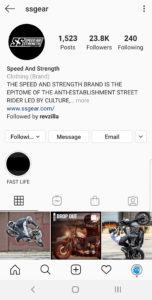 Speed and Strength create amazing gear. I am currently using their Speed and Strength Black 9 moto shoes whenever I ride and they're stylish, comfortable and highly protective.
They also create helmets, jackets and other pieces of gear as well. If you're looking for cheaper gear that doesn't suck, follow Speed and Strength.
KTM – @ktm_official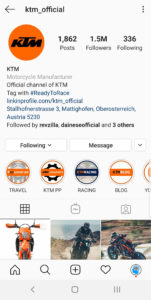 KTM creates some of the world's best adventure motorcycles. They have adventure bikes down to a curated science that is unmatched.
My favorite KTM motorcycle is either the Super Duke R or the Super Adventure R.
MotoGP – @motogp
MotoGP is motorcycle grand prix racing. Racers use extremely fast sport bikes and race around the grand prix track to see who is the best.
If you've never watched the MotoGP races then you should check them out! They're some of the best riders in the world.
Meme Motorcycle Instagrams
---
What's Instagram without the meme accounts?
We've found some meme motorcycle Instagrams that you can follow for the occasional chuckle. Some also share great content across the board.
Motorcycle Planet – @motorcycleplanet
When it comes to motorcycle meme videos, Motorcycle Planet is the Instagram to follow. They share all sorts of funny meme videos while also sharing some other cool motorcycle content.
Danky Moto – @dankymoto
Danky Moto is a small motorcycle meme Instagram that seems to have mostly original memes. They also share the occasional motorcycle meme video so it's a daily dose of memes coming from Danky Moto.
2Wheels Hub – @2wheelshub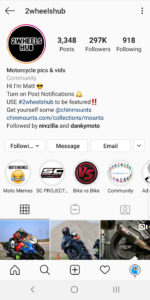 2Wheels Hub mainly focuses on sharing amazing bikes and bike videos but they create the occasional meme. If you're looking for an account that'll bless your feed with great bikes but still providing the occasional good, classic meme then 2Wheels Hub is a must.
Motorcycle Memes – @memes.motorcycle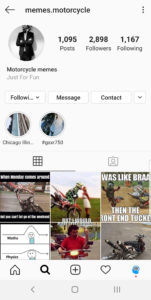 This was a random account I stumbled upon with a good amount of random motorcycle memes. They're pretty decent and figured it wouldn't hurt to add them to the motorcycle meme bit.
Bikers Tube – @bikerstube
Bikers Tube is another account that focuses on motorcycle meme videos. Funny bits of motorcyclists doing funny and stupid stunts or rides.
Cool Motorcycle Instagrams
---
If you're looking for more than memes and official accounts then these are going to be the Instagrams to follow when you're looking for some seriously awesome motorcycle content.
All of these accounts have the focus of sharing the coolest motorcycle pics and videos on the internet.
Super Bikers – @superbikers
Super Bikers is all about super bikes. Plenty of videos and different pics of amazing super bikes here. I enjoy simply taking a look at different super bikes out there and this Instagram has them all.
Bikers of Instagram – @bikersofinstagram
Bikers of Instagram is one of the biggest motorcycle Instagram accounts listed here. You can get your bike featured using #bikersofinstagram which is what a lot of the content here is.
If you want to see random bikes within the motorcycling Instagram community then Bikers of Instagram should be an instant follow.
Motorcycle Dreams – @motorcycledreams
Motorcycle Dreams showcases some of the classiest and fanciest bikes. I spent a good while browsing through all of the bikes that they've shared and I'm sure you will as well if you give them a follow.
Cafe Racers of Instagram – @caferacersofinstagram
If you're interested in cafe racer motorcycles at all then Cafe Racers of Instagram needs to be an instant follow for you.
They share all of the best cafe racing motorcycles on Instagram on one account and it's fun browsing through and looking at all of them.
Motorcycles Culture – @motorcyclesculture
Motorcycles Culture mainly shares different chopper and cruiser motorcycle pictures and videos. If you're a chopper or cruiser fan then you'll want to take a look at Motorcycles Culture.
What Are Some Other Best Motorcycle Instagrams?
---
I hope you've found some hidden gems with the motorcycle Instagrams that we've shared with you here.
If you'd like, we also have our own Instagram page! You can follow us on Instagram using our tag which is @motogearknowledge.
What are some of the other motorcycle Instagrams that you think should be shared in this post?
Are there any other meme accounts that we missed?
Let us know in the comments below!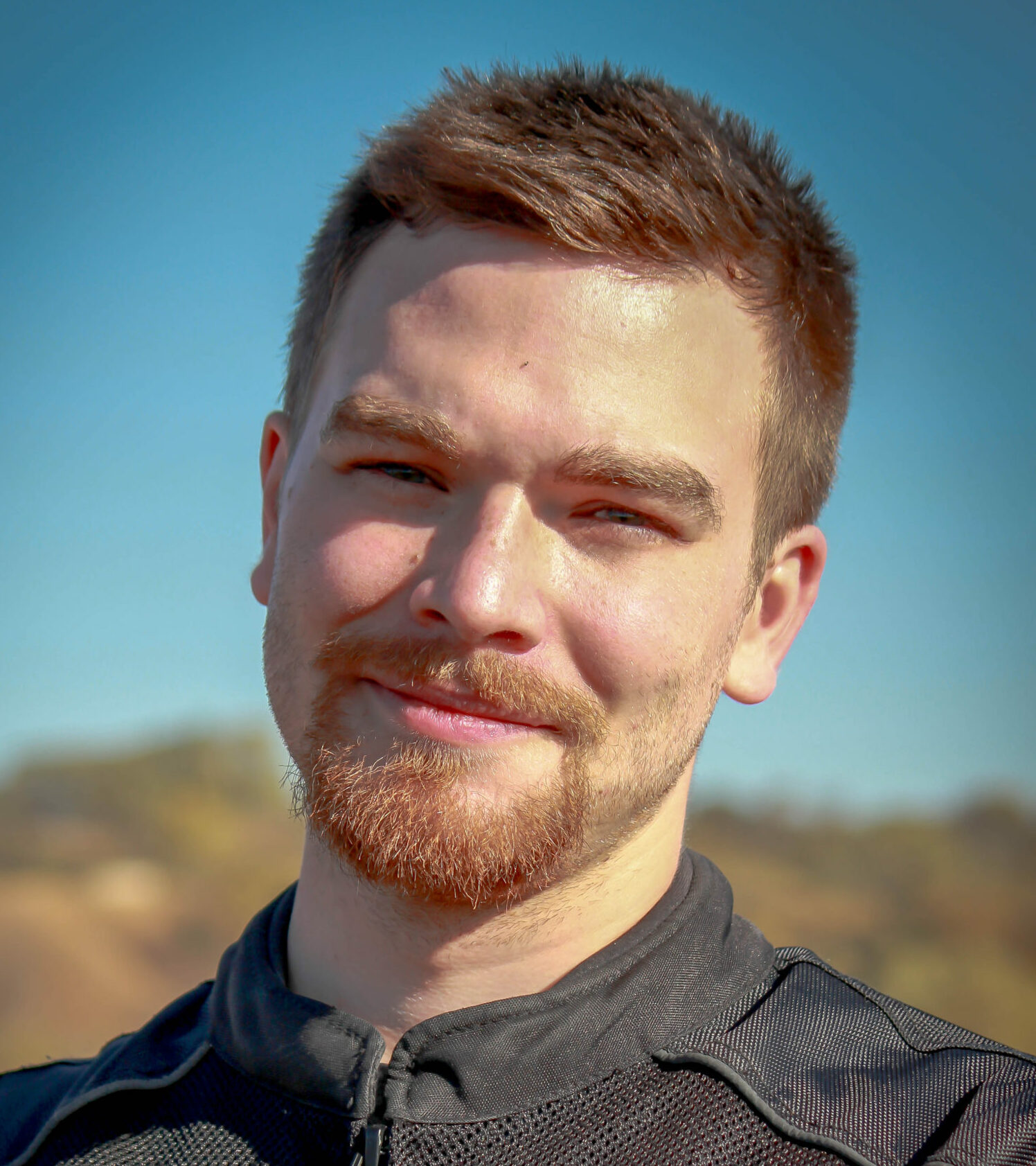 What's up! I'm Colton, the main guy behind Moto Gear Knowledge. Gear has always been my #1 priority when it comes to riding.
I share my experiences regarding gear and anything else moto related with you here. 👍