Last Updated on January 9, 2023
If you're on the hunt for the best winter motorcycle cover then you will need something that will withstand every element of the winter season.
In this guide, we will be going over some of the best winter motorcycle covers that are waterproof, will be able to handle heavy wind speeds, and will not tear up within only a few months of use.
We'll go over our recommendations for why we picked each cover here and the best place to get one yourself. If you're in a hurry, we've got the top picks featured right away.
With that said, we hope you'll go through each cover as each one is good or priced in its respective way – it all comes down to what you're looking for.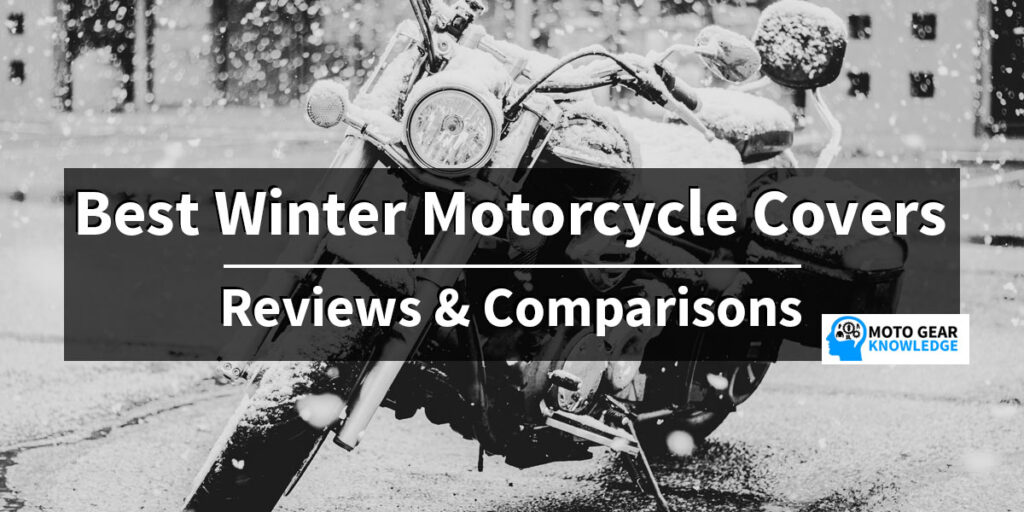 Winter Motorcycle Covers – Our Guide & Overview
---
There isn't a single specific "all-time best" cover out there for protecting your bike during the winter. Some covers offer higher levels of protection than others, or another type of cover will be better for security, etc.
Based on the materials used, how/when you'll be using the cover, real rider feedback, and the important features that you need to narrow down in order to know which cover would be best for you and your bike – that's how this guide was made.
You aren't going to be seeing any covers featured here that are made of garbage materials. There are too many covers on the market that have blatantly fake marketing using materials that rip and tear almost immediately into the winter season…
It wasn't the easiest thing to find a set of covers that are actually worth the cash. There are too many brands out there with the only goal being to make quick profits out there…
Right now, the Dowco WeatherAll Plus Motorcycle Cover is a top pick for an all-around, protective winter cover. It is a heavy-duty motorcycle cover that has every feature you'd need out of a high-end cover, and it's built to last forever since it comes with a lifetime warranty.
If you're looking for something that is easier on the wallet, you'll want to look into getting the Autolion Motorcycle Cover. It's made out of a thick cloth material that will keep snow at bay and it has a few different styles to boot.
Be sure to look into all of the other covers featured here because, as we mentioned earlier, some of the pros/cons could have more weight to you depending on what you want most out of a bike cover.
Comparison Table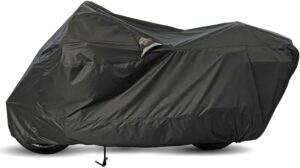 Dowco WeatherAll Plus Motorcycle Cover
When you need a heavy-duty cover to last for every winter season that has some of the best features you can get out of a winter cover then the Dowco WeatherAll Plus cover is the way to go.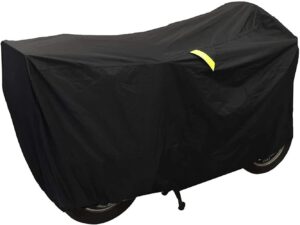 Badass Moto Gear Ultimate Motorcycle Cover
The name of the brand is accurate for this cover. A decent price, a proven track record of high-end protection, and an all-around badass cover from Badass Moto Gear if you're looking for a mid-range cover that gets the job done.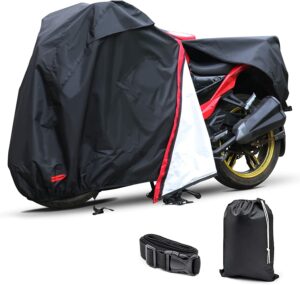 Autolion Motorcycle Cover
When you're looking to spend the least amount possible for good winter protection then the cover from Autolion is hard to beat. It doesn't use low-quality materials as most other cheaper covers use... And it comes in a few different styles as well!
Top 5 Rated Winter Motorcycle Covers of 2023
1. Dowco WeatherAll Plus Motorcycle Cover
---
If you need the most feature-rich cover that will surely stand the test of time then the WeatherAll Plus cover from Dowco is the one to go with. Not only is it built with complete durability, but it's also backed by a lifetime warranty should anything go wrong with the cover.
It's made with sturdy 300D polyester, it has a ratchet system that makes the cover simple to get on/off, it has a soft cotton layer to protect your windscreen/gauges, it has a heat shield to protect the cover from the heat of your exhaust, it has an optional alarm pocket, and it can be used for every season.
300D polyester is basically the standard material for most of the higher-quality covers that are on the market. Dowco combines this with ClimaShield Plus which is an extra water-repellent coating on top of the polyester which helps with heavy snowfall.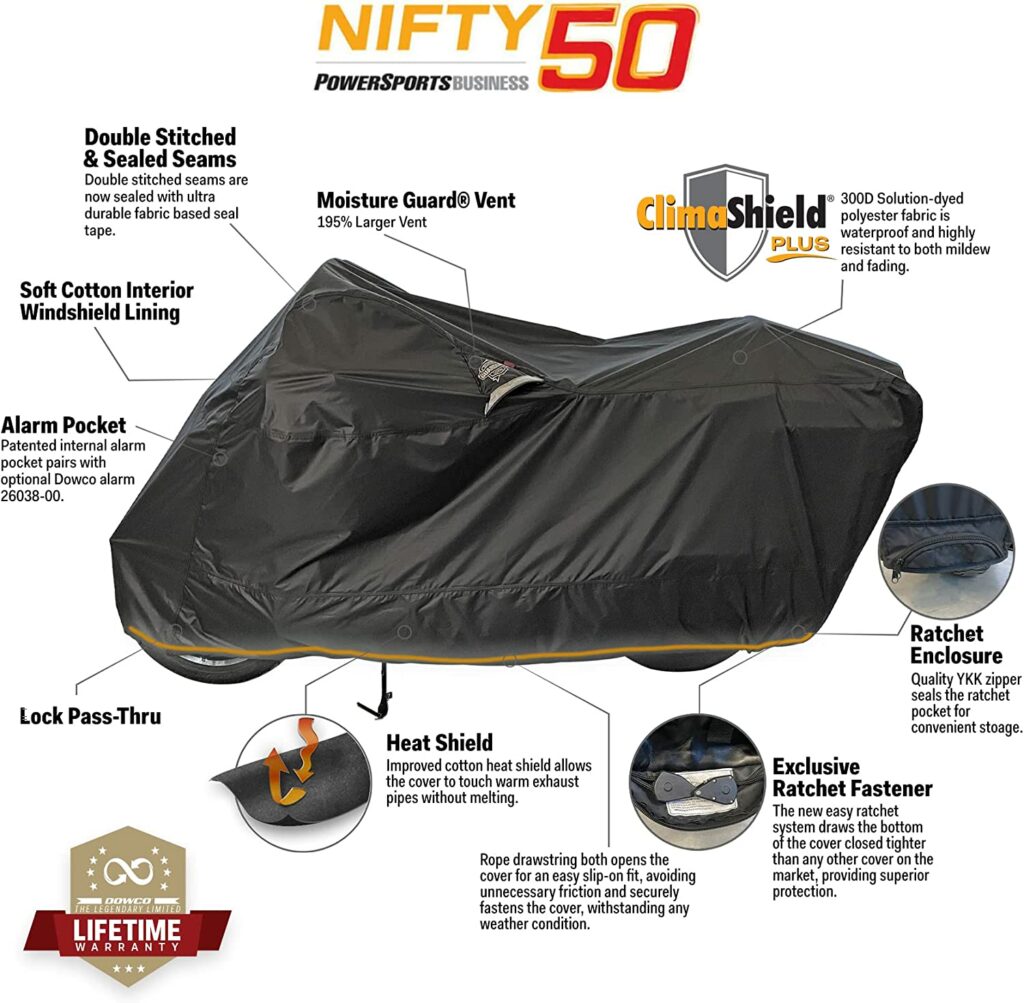 The ratchet system is a drawstring rather than what you'd usually see with elastics. You simply loosen the pull cord to lift the cover over your motorcycle which protects it from scratching or doubling over. The ratchet on the cord stays cinched tight while covered.
Soft cotton lining is nice to have in order to keep things smooth for your windshield and gauges on your bike. If you follow the sizes correctly from Dowco for your motorcycle's size then the lining will match up precisely with the windshield.
A heat shield layer is placed to prevent the cover from melting due to the heat of your exhaust if you plan on covering it right after riding. Although not necessary if you're only using this during the wintertime, it's nice to have in case you need to use the cover all year round.
Then there is the internal alarm pocket that you can use with the Dowco Guardian alarm. It tethers to your bike and blasts with a 130-decibel warning if anyone messes with your cover.
When it comes to having a cover that has all of the features you need for premium protection, can be used all year round, and has the proof in the pudding with many riders who have used it for multiple years with no issues then it's a no brainer to go with the WeatherAll cover.
Pros
ClimaShield water-repellent layer
Soft cotton layer for windshield protection, heat shield for exhaust
Optional alarm pocket
Lifetime warranty
Cons
One of the higher-priced covers on the market
Only comes in one style
2. Badass Moto Gear Ultimate Motorcycle Cover
---
With a name like "Badass Moto Gear" as the brand name, you had better deliver on actually having something that's killer. Badass Moto Gear didn't skimp out on their Ultimate cover and they have a good track record of riders to back it up with some of the most and highest ratings.
This is made with 300D polyester, it has a windshield lining, the vents have reflective strips to be seen at night, it uses a buckle strap that helps the cover to stay on in the wind, it has hidden pockets to use an alarm/cable lock, and it has an exhaust shield.
As is the standard, the good ol' reliable 300D polyesters are used here for durability. Taped seams and a tight fit – it's designed to stay on and to keep snow out if you've got the right size.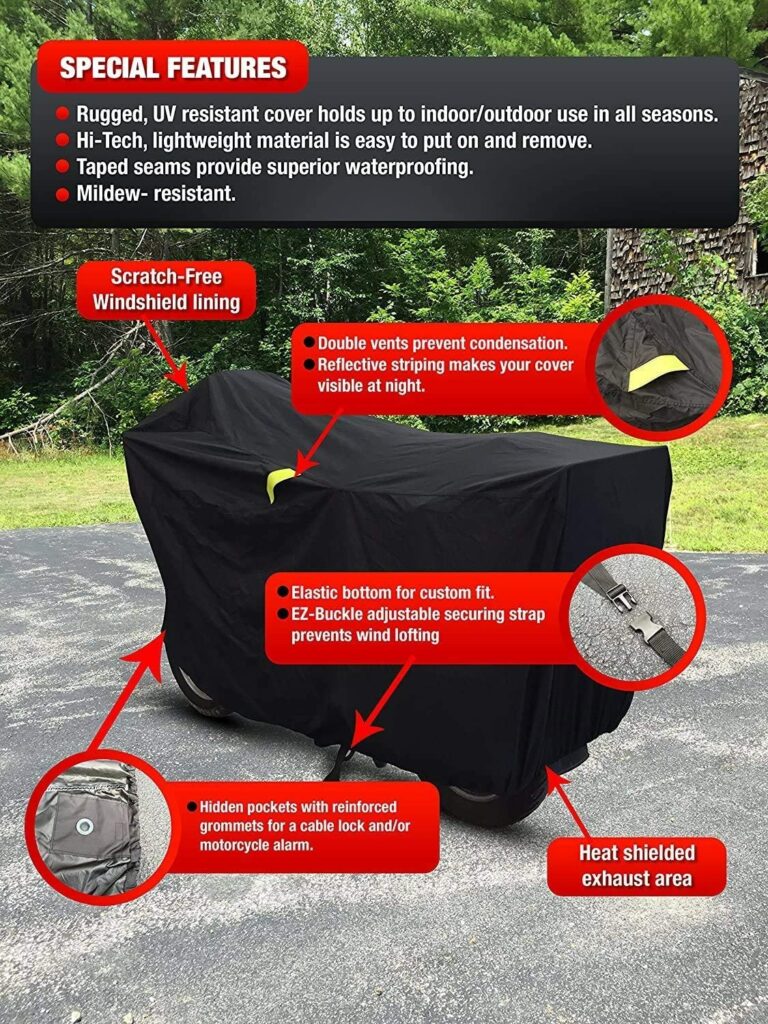 With the reflective vents and overall coverage, this is another cover that's designed to be used for every season. The latch buckle strap at the bottom of the cover is adjustable to ensure that the cover stays on at all times.
It has a windshield lining to prevent scratches and has a layer for your exhaust which is always nice to notice when a company provides key components to a good cover.
You can use an alarm within the hidden pocket or use the grommet to use a cable lock for added security measures if you deem it necessary. Extra security measures are built-in to keep others from tampering with your ride, something you love to see with any cover.
And if you're looking for a good trike motorcycle cover, this one actually comes in an adequate size for them which isn't something you'll see with most other comparable covers on the market.
All in all, the Badass Moto Gear Ultimate cover definitely covers all the main bases of protecting your bike. If you dig the branding, you want something high-quality, and have a high-mid range budget then this cover should be on your radar.
Pros
Durable material with water-repellent coating
Windshield and exhaust heat protection
Uses an adjustable buckle strap
Security pockets and grommet for an alarm or cable lock
Cons
Heat shield doesn't cover full pipes with certain bikes
Only comes in the one style
3. Autolion Motorcycle Cover
---
When it comes to spending the least amount possible on something that is still able to protect against the snow, this cover from Autolion is about the only way to go.
It's usually available for under $50 and is made of 420D oxford cloth, it's easy to get on/off with a waterproof zip closure, there's a hole in the cover for a cable lock, there are large vents along the side mirrors, and it comes in a few different styles.
Under the $50 range and staying winterproof means that this is the best budget-friendly winter cover to go with. Anything else around this price range either doesn't actually work as well as it should, or it simply cannot withstand winter conditions.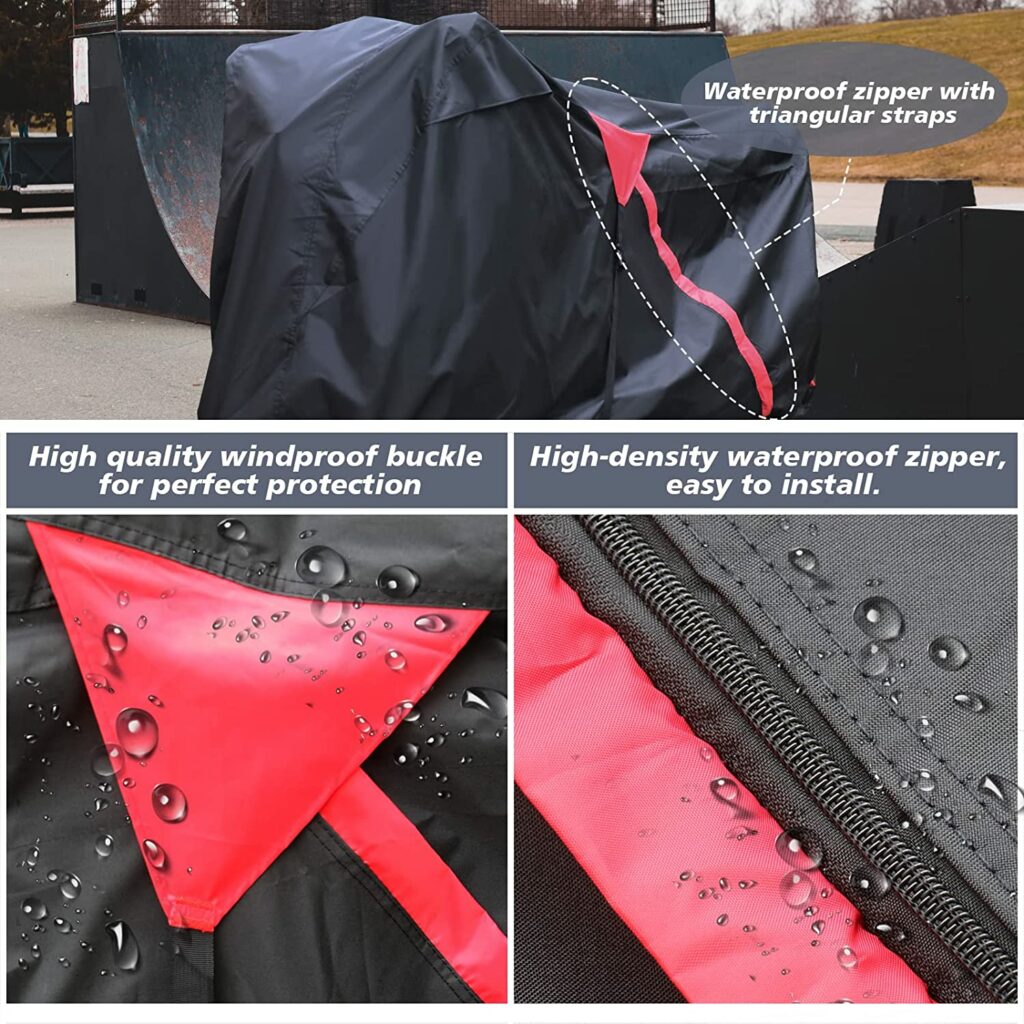 420D oxford cloth is a heavy material that is thick enough that it's completely waterproof. Combine the material itself with how the zipper is constructed and you get a cover that's easy to use, that's good at keeping snow out, and keeps a low cost.
All of this winterproof coverage needs to be vented, however, so they've placed large vents along the sides where your mirrors sit. This will help with ventilation to avoid moisture build-up on your motorcycle.
It has a simple hole for a cable lock which is better than not having anything at all, but a grommet would be better suited here. There is not a pocket for an alarm.
Although it doesn't have as much going on for anti-theft measures, everything else is here to cover your motorcycle in the winter without much cost. If you need to spend the least amount possible without sacrificing the need to keep snow off your bike, then this is the cover to go with.
Pros
Thick, snowproof material with a low-cost price
Easy-to-use zip closure
Comes in a few different styles
Cons
The heat resistance isn't very reliable, use only when your bike has cooled off
The storage bag is small, it's hard to put the cover back in the bag
Security is only a simple hole in the cover for a cable lock
4. Nuzari Heavy Duty Motorcycle Cover
---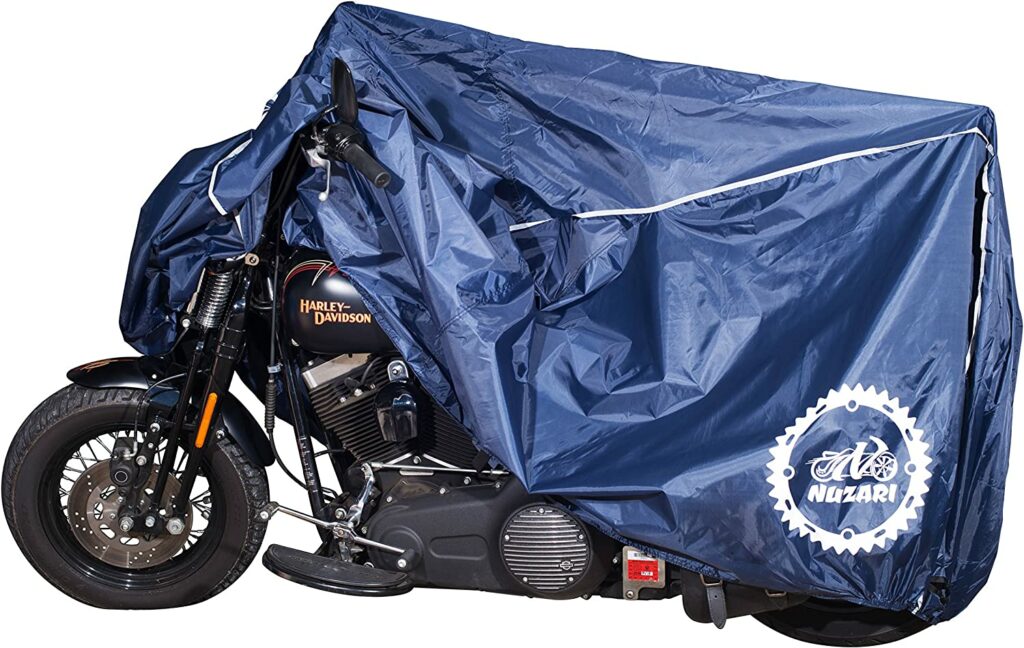 This next cover features a handy bag to store the cover in, cool styles, and the level of quality you need to keep your bike covered all through winter.
This is made out of thick polyester, it comes in black/camo/green/blue/red styles, it has a lot of reflective strips that pop out at night, it comes with a drawstring bag that you can wear on your back while storing the cover, it has windscreen protection, and there is a heat-resistant layer within.
Although Nuzari doesn't have an official measure of the type of material that they use with their cover, it is certainly a heavy-duty polyester since there are plenty of riders that use the cover throughout winter without any issues with snow/water getting through it.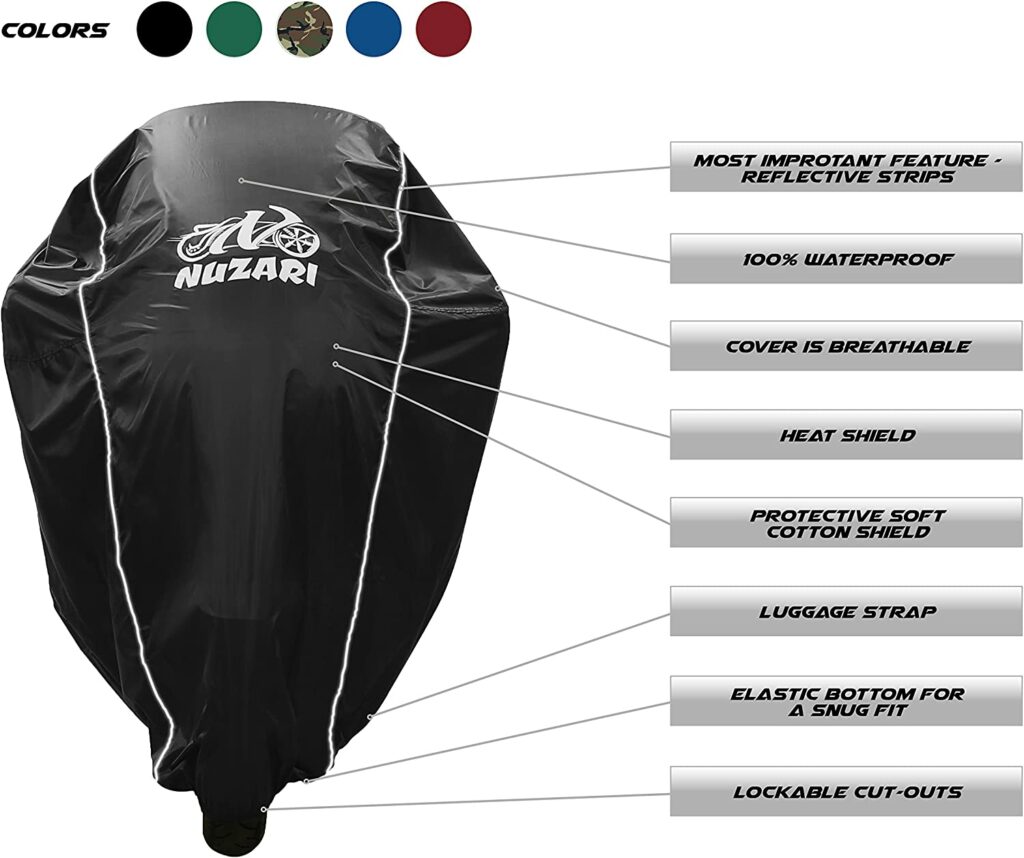 A cool part about this cover is that it comes in several styles and has plenty of reflective piping around the cover. More styles are never a bad thing, and your covered bike being noticed at night is a certainty with the number of reflective strips on the trim of the cover.
Another unique part about this cover is the storage back that comes with it. You can wear the bag on your back as a drawstring bag and it's easy to get the cover into the bag and take it with you.
Then it has a soft layer to prevent any scratching on your windscreen and a heat shield that is proven to withstand the heat from your exhaust up to 150°. The vents keep moisture away, but some riders have reported that some water can seep into the cover in high-wind conditions.
This cover does have a cutout for a cable lock and it's just that – a simple cutout. Good enough for a base level of security.
If you want a cover that comes in a more unique color or style and maybe plan on taking it with you while traveling then this cover from Nuzari would be the most ideal!
Pros
Available in unique styles
Plenty of reflective strips, highly visible at night
Comes with a drawstring storage bag that is easy to use and take with you
Cons
Only a simple cutout for a cable lock
Some riders mention that, in high-wind conditions, some water can seep into the cover
5. RaynCover Motorcycle Cover
---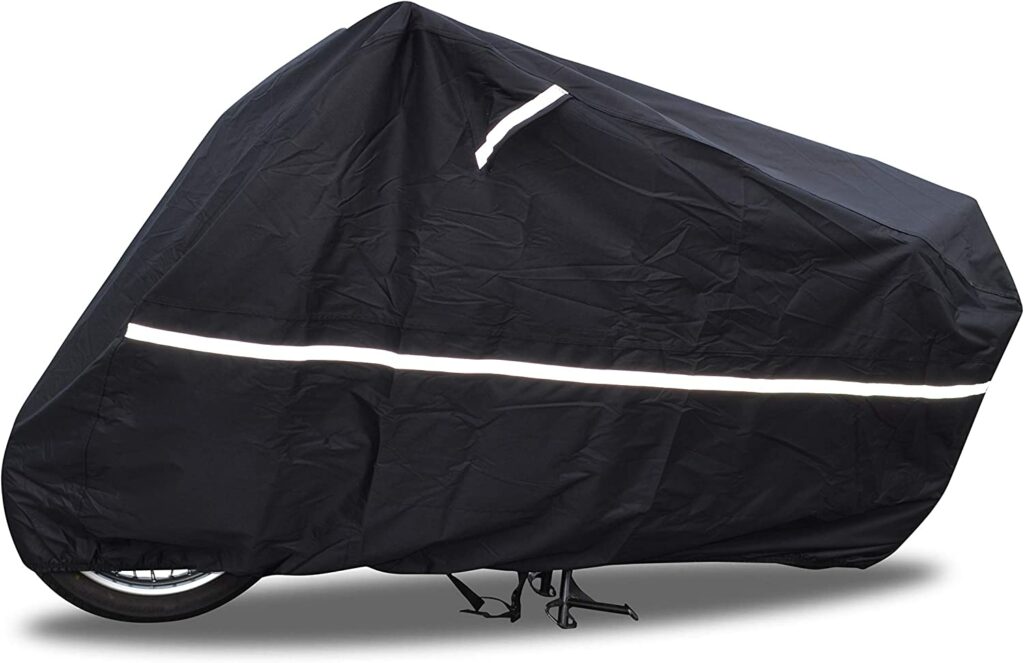 If durable minimalism is what you want with a winter cover then this one from RaynCover will be right up your alley. It has all of the base essential features without any flashy branding or styling.
It's made out of 420D polyester, has plenty of reflective strips for visibility, has a soft layer to protect your windscreen, has a double-layered heat shield for the exhaust, and it's easy to slip on/off your bike.
The reason you'd want to go with this one is the fact that there isn't any branding on it and that it's a thick, snowproof cover that is easy to use. The biggest downside with this cover is that it doesn't come in many different sizes, only a couple of the most common sizes.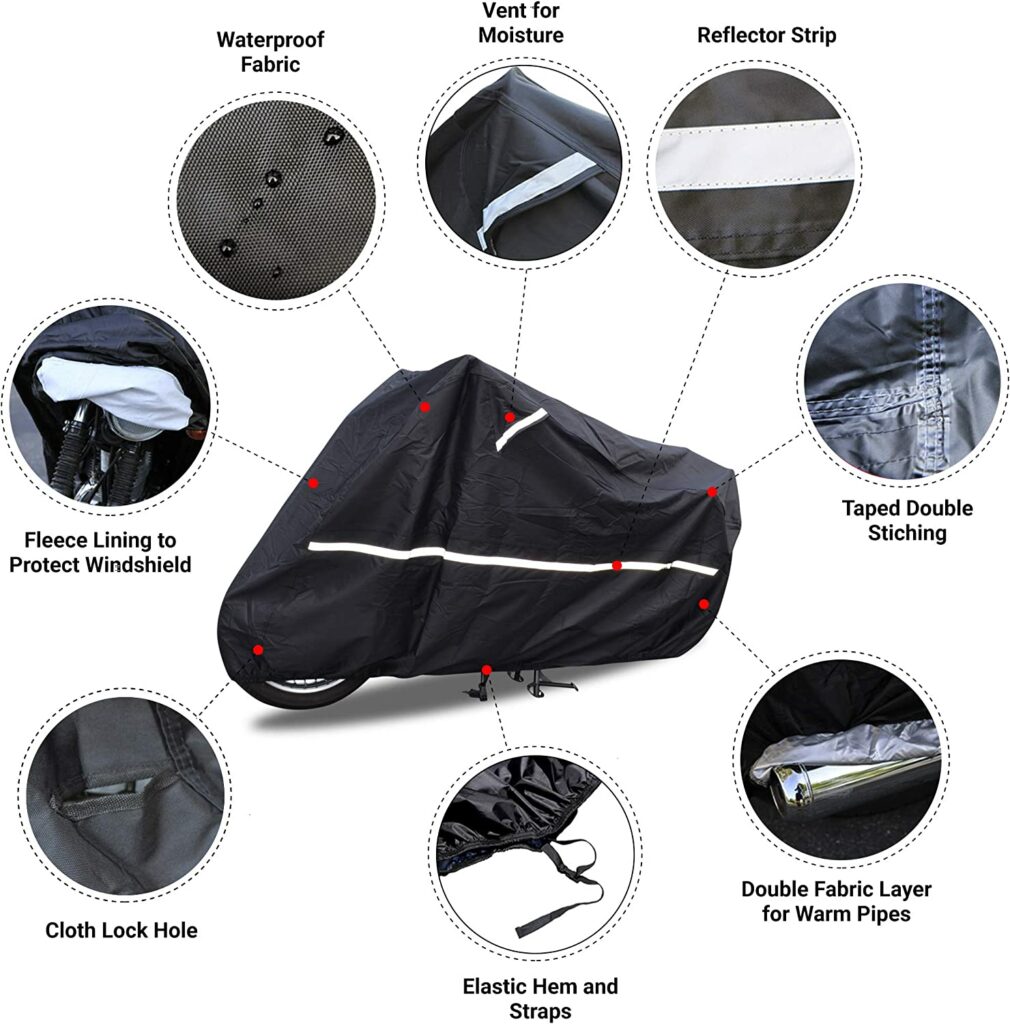 As with any other useful cover, this one has a soft cotton upper for your windshield and a heat-resistant layer for the exhaust. The heat shield is double-layered, so it'll do better than some of the simpler heat shield designs we've seen on other similar covers.
This cover has some of the most reflective surface areas – the reflective strips run all along the cover which will stand out well while storing it outside at night.
It uses an elastic hem and it's proportionate to the couple of size options that are available. That's the main reason why it's easier to get on and off.
If you're looking for a cover that doesn't do anything extra or fancy and gets the job done then the RaynCover is the way to go. It's unfortunate that it doesn't come in more sizes… Be sure to follow their chart to ensure you get the right size.
Pros
No extra styling or branding, good for minimalism
Double-layered heat shield
More than enough reflective piping on the seams
Cons
Only comes in a couple of sizes
Uses a simple cloth cable lock hole
Winter Moto Covers: A Guideline
---
Many covers on the market use materials that simply tear to shreds during the winter season. You need to know what you're looking for when you need a good cover specifically for winter, and that's what these next sections elaborate on.
The covers featured here have stood the test of time and have real riders using them whether it's for indoor or outdoor winter storage – these ones get the job done.
If you follow these guidelines to ensure you've got the ideal cover for your motorcycle and consider everything else involved with them then you'll be able to get yourself a good heavy-duty motorcycle cover that'll handle the winter weather.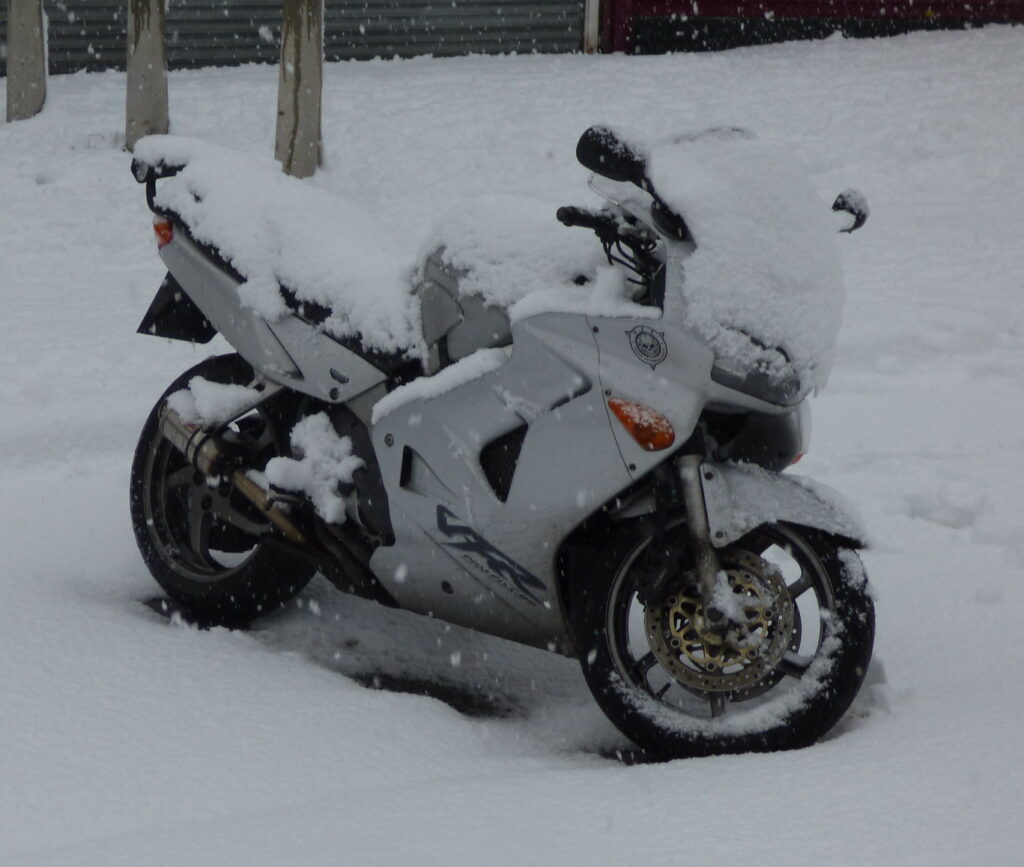 Choosing A Correctly Sized Cover
All of the covers we've shared have a sizing chart of sorts, or the different size options are explained on the product page itself.
In a nutshell, you can get the dimensions of your motorcycle model from the maker's website. Then, follow along with the sizing charts or descriptions of the different sizes that are available and get the one that is closest to your motorcycle's dimensions.
If you are off on sizing, then you aren't going to have a snug fit which could cause the cover to potentially blow off of your bike.
For example, with the Dowco cover featured here, I would go with a large cover for the Kawasaki Vulcan 900 since it's closest to those dimensions according to the size guide to follow from them.
If for whatever reason you can't find accurate sizing charts with the cover that you're going with then you will likely be able to find a more accurate chart/guide directly from their official website.
Materials That Withstand The Winter Elements
When it comes to winter protection, you'll need a heavy-duty motorcycle cover. There are no other options, especially if you need to store your motorcycle outdoors during the winter season.
Common heavy-duty materials include high-rated denier polyester or high-rated denier cloth.
Denier ratings are used to determine the thickness of the threads or filaments used in the construction of textiles and fabrics. Fabrics with high denier count tend to be thicker and more durable, which helps to protect from the winter elements.
300D and up – that's the sweet spot for most of the covers on the market that can withstand the snow and keep your bike dry.
Some companies (from some of the cheaper covers available) blatantly lie about the materials that they use for the sale… That's why we created this guide – to do the thorough research for you so that way you can find the right cover quicker.
Using Your Cover To Secure Your Bike
Most covers have some aspects of security built in with the cover itself. Sure, you'd have to look into different cable locks or alarms in order to utilize the feature, but it's definitely worth it as it's one of the best ways to keep your motorcycle safe.
It's better to have a metal grommet for the cable lock rather than a cloth cutout, but either way, having a slot for a cable lock is going to deter theft. Some covers have hidden pockets for an alarm that, if the cover is tampered with, will emit a loud sound to alert you that someone is messing with your ride.
Some cover manufacturers have their own brand of alarms that are made specifically for their cover, but just about any cover alarm will do.
Low-Budget VS High-Budget
These covers would be considered more of the "mid-range" budget options, with a couple being higher budget options.
If you go for the cheapest possible covers on the market, especially when we're talking about winter protection… You aren't going to have a good time.
As we've mentioned, there are quite a few companies that straight up lie about the materials they use where they get destroyed within a few months of use – and that's not even considering the winter season. Those covers get destroyed even in mild wind speeds and a little rain…
When it comes to outdoor snow protection with a cover… You have less room to skimp out on. There are a few options that are available at a lower cost, but if you're able, you should go for a cover that will truly last and protect your bike from the winter elements.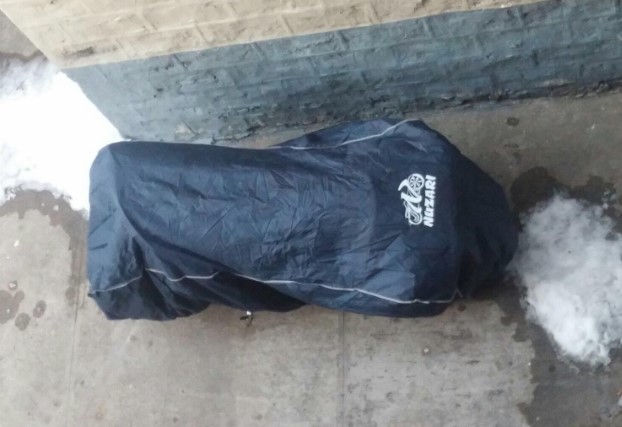 Winter Moto Covers That Stand The Test of Time
---
This marks the end of our winter season motorcycle cover guide.
Hopefully, by reading through this guide, you have a good understanding of what you need to effectively cover up your motorcycle during winter.
You shouldn't skimp out on a cover, especially if you're using the cover for outdoor storage in the snow. Get a heavy-duty motorcycle cover that actually works, and you'll be able to use it for years to come!
So, which of these covers are you thinking of getting?
Are there any other covers that you think should be featured here?
Let us know in the comments below!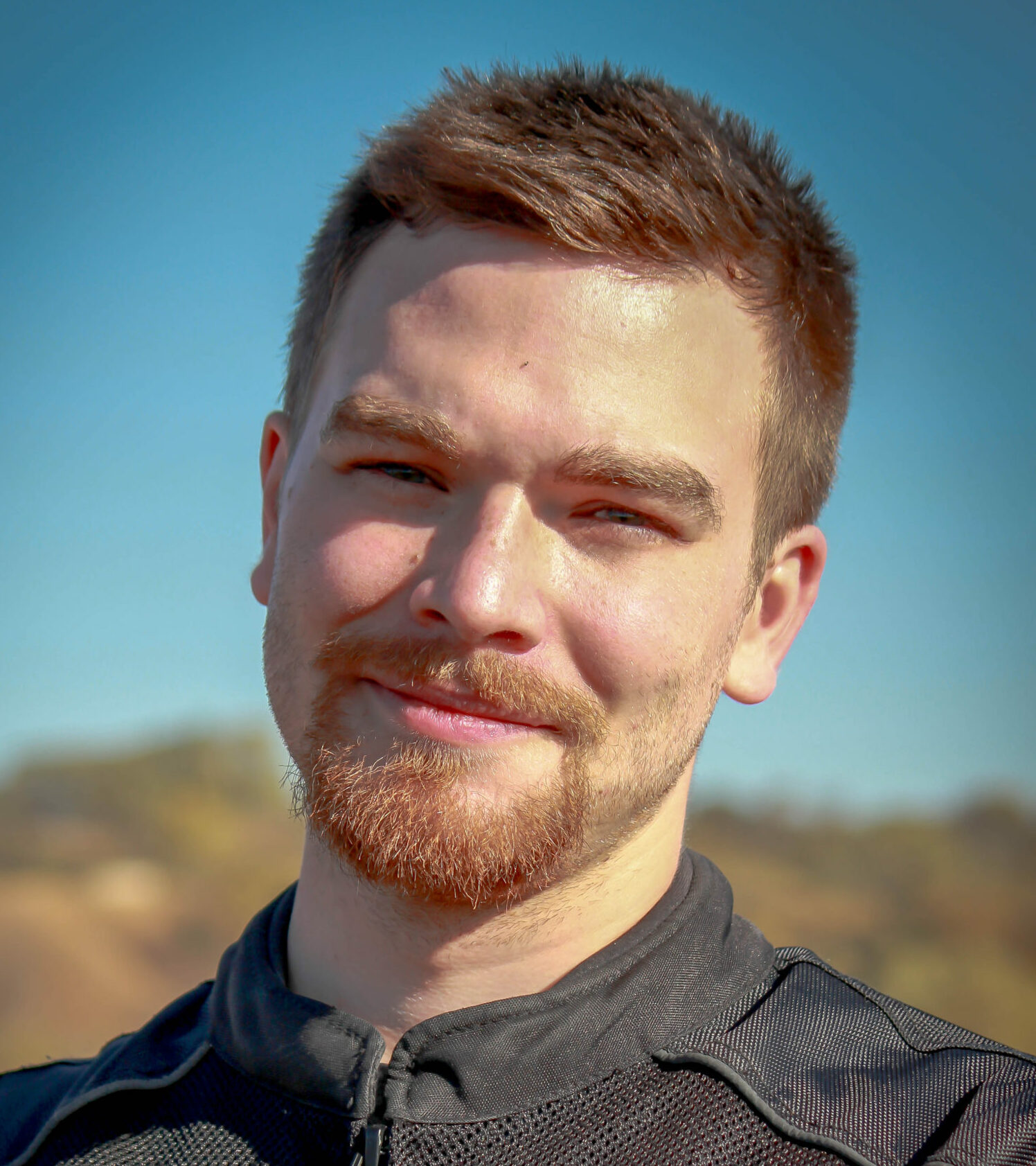 What's up! I'm Colton, the main guy behind Moto Gear Knowledge. Gear has always been my #1 priority when it comes to riding.
I share my experiences regarding gear and anything else moto related with you here. 👍