Last Updated on January 9, 2023
Looking for some small motorcycle tail bags to store the essentials? Check out our post on the best small motorcycle tail bags that are on the market today!
Small motorcycle tail bags are great to have for your motorcycle to be able to store tools, water, and other important items you will want to take with you on your rides.
But there are some small motorcycle bags that simply don't work the way you want them to. Some bags can't keep water out, don't have a good universal fit, or break easily after a few uses.
That's why we decided to create this post for small tail bags. We wanted to showcase some of the best smaller bags on the market and share what is done to make a high-quality bag.
Whether you're looking for something with zippers, or buckles or if you simply need a bag that is completely waterproof, we have got you covered!
No need to browse around aimlessly and check all sorts of different reviews… We have done all of that research for you in this guide. Be sure to read through the different bags – each bag serves its own purpose and you should take your time and pick the bag that's going to be right for you.
Afterwards, be sure to reach out to us in the comments! I'm happy to discuss these bags or any bags that you think should be on the list. We will also share some additional information on how you can pick a bag that works best for you and your daily riding style.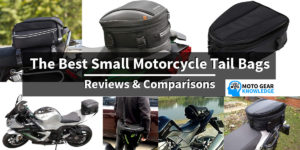 Compact Motorcycle Tail Bags – Our Guide & Overview
---
We don't just list out a bunch of picks and call it good. Real rider feedback, in-depth research into experiences, and the reviews of what goes right and wrong with each bag… Diving deep into each pick is essential for us to feel confident enough to want to publish this guide for all of you.
Listed below are the small bags that we found to be of the best value. Prices vary depending on the bag and the features that you are looking to have but there are some small budget bags for you to choose from as well.
There are bags on the market that are made of crap quality and are a complete waste of time and money.
We made sure to not list anything here that would be a waste of your time… we would also want a quality bag so we are not going to be sharing bags just for the sake of sharing them.
Right now the Nelson Rigg CL-1060-R Commuter Lite bag is the best overall pick. It is made of extremely high quality and it has some of the coolest features out of the rest of the bags listed here. It's entirely worth the price if you are looking for high quality.
Surprisingly enough, after digging deep into all of the other bags on the market, the AmazonBasics Motorcycle Tail Bag is actually another top pick for being an incredibly well-made bag. It even comes with a waterproof high-vis cover!
Be sure to check out all of the bags here, you might find one that better suits you than what we think is the better pick!
Small Motorcycle Tail Bags At A Glance:
Nelson Rigg CL-1060-R Commuter Lite Tail Bag
AmazonBasics Motorcycle Tail Bag
Riding Tribe Motorcycle Tail Bag
JFG Racing Motorcycle Tail Bag
Vinmax Motorcycle Tail Bag
Comparison Table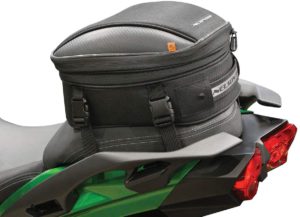 Nelson Rigg CL-1060-R Commuter Lite

If quality and plenty of features is what you are after when it comes to a smaller tail bag then this one from Nelson Rigg is going to be the one to go with. Quick release buckles, industry leading fabrics and a perfect middle ground for size... it's a hard bag to beat!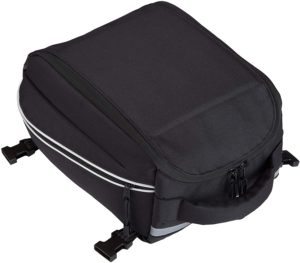 AmazonBasics Motorcycle Tail Bag

Hearing that an AmazonBasics branded bag is the runner up might sound odd but it's the truth. This bag has all of the bells and whistles you need as well as coming with a high-vis waterproof cover for the rainy days.
Riding Tribe Motorcycle Tail Bag
If you want to spend the least amount possible on a smaller commuting bag then this one from Riding Tribe will be the best bag for you. It doesn't hold much but it's very affordable and does what it needs to do - to hold the essentials.
The Best Small Motorcycle Tail Bags In 2023
All of these small tail bags are ready to go and most have a universal fit. Be sure to do your own research on any specific bag to make sure that it's going to fit your motorcycle. Most of them will attach underneath your back seat.
1.
Nelson Rigg CL-1060-R Commuter Lite Small Motorcycle Tail Bag
---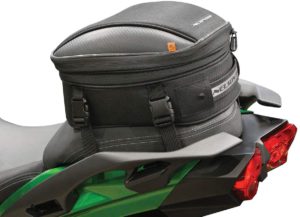 This bag from Nelson Rigg is simply a top-notch bag in terms of build quality, design, and usability. It has everything you need to help you quickly and easily use the bag to store your essentials.
They used what is called "Ultra Max" fabrics which has UV protection. It's a very durable fabric made up of spun yarn combined with PVC paste gel. A durable bonding occurs while combining them hence why it's called the "Ultra Max" fabric.
Mounting is easy and fits almost all seats, there are quick-release buckles to be able to get your bag quickly. They mount together through the straps that come with and after installation, using the bag is a breeze.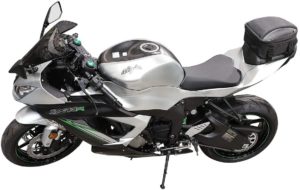 Ethylene-vinyl acetate (EVA) is molded to the lid with Fibertech "carbon-like" accents for a slick style. Although it's not using true carbon fiber, they nailed the look and the fabrics used are still highly durable anyway.
There are straps inside that will help you better secure your belongings inside the bag. No worries about something moving around or possibly breaking if you fasten it correctly!
There are eyelets on the zippers to allow you to lock up the zipper pouch with whatever lock you want to use that will fit within the eyelets.
As a bonus, it also comes with a waterproof cover that you can stretch over the bag during heavy rain.
When it comes to a high-quality, feature-filled bag you can't go wrong with the Commuter Lite. They have other options available as well, the Commuter Lite is the smallest option they have. It measures 11 x 10 x 6.5 inches.
Pros
Highly durable "Ultra Max" fabrics
Lockable zippers
Quick release buckles
Fasteners inside for securing items inside
Comes with waterproof cover
Cons
Straps may be a bit long for some tails, could take a little while to mount on to bike
2. AmazonBasics Small Motorcycle Tail Bag
---
Again, it was kind of a surprise seeing that Amazon had created their own tail bag through their own AmazonBasics brand but lo and behold – Amazon made a pretty decent bag!
The fabrics used here are durable, they resist a bit of water and they use foam panels for extra protection adding in some buffer.
From rider feedback we found out that it can work well as a sissy bar bag as well, but it depends on how wide your sissy bar is. If it is around 9-10 inches then it will work just fine.
There are rubber strips that run along the bag to provide a bit of extra grip to your tail. This helps you with making sure it isn't going anywhere that it shouldn't.
There really isn't much else to say about this AmazonBasics bag in terms of features and whatnot… It has all of the fundamentals of a high-quality tail bag that can carry your essentials in a protective and safe way.
It would have been nice to see a way to easily lock the bag up through the zippers. You might be able to lock it up with a smaller lock but being able to lock it up in a secure way would have been nice to see.
It'd also be cool to see other styles/colors for the bag. This isn't a "true" complaint but I'm sure it'd be pretty simple to add in some styling options with their fabrics.
Worried about the universal fit actually being true? Don't worry about it, you can easily go into the questions form on their product page and ask if it will fit your motorcycle specifically. An actual Amazon rep will respond quickly to let you know if it will fit your specific bike!
If you are looking for something at a middle-range price point that gets the job done then this tail bag from Amazon is going to be the one to go with! It measures out to 12.5 x 7 x 9.5 inches.
Pros
Durable, sturdy materials are used
Rubber grips run along the bag
Comes with a high-vis waterproof cover
Has a 1-year warranty
Cons
Does not have features for easily locking the bag up
If your motorcycle has a thinner back seat, might have some trouble getting it to fit right
3. Riding Tribe Small Motorcycle Tail Bag
---
Riding Tribe created a small and highly portable tail bag that you'll really appreciate if you like to take your tail bag with you after you arrive at wherever you are riding to.
It also happens to be our top pick when it comes to value. If you are looking for the best budget small tail bag then this is it. You will have a hard time finding a tail bag that is cheaper than this one and provides similar features.
The bag is made up of polyurethane leather (PU leather). In a nutshell, it is made of thermoplastics which is plastic polymer material, and when you mix that with leather you get PU leather.
It's not made of real leather but it's very close to the real thing in terms of durability and feel. This is also a cheaper material to manufacture which is why this is available for a lower price point.
It has two strips where you tighten it and then you have four buckles to secure it to your tail seat.
Riding Tribe made this so that it will fit most bikes universally and it has a "seat shape" if you are wanting something that will fit the style of your seat and not look too bulky on your bike.
On certain bikes, the angle could be a bit off and not work well when you open it up so if you have a decent angle on your seat be prepared to have some items falling out as you open the bag up.
From rider feedback, it does a great job at keeping water bottles cold and it keeps small food items like granola bars from melting inside the bag. But as far as how waterproof is it… you might want to look into getting a cover that will fit over the bag.
When it comes to a small bag that doesn't break the bank and stores your small essentials, this is the best of the best. It measures out to 11.8 x 11 x 8.3 inches.
Pros
Extremely portable, can bring it with you
High-quality artificial leather
Fits most seat designs for styling
Cons
If your seat has a decent angle to it, items might fall out when you open the bag up
Does not come with a cover
Not very waterproof
4. JFG Racing Small Motorcycle Tail Bag
---
This bag from JFG Racing is similar to the one from AmazonBasics but it costs less and has a slightly different design to it. It doesn't seem to be up to par with Amazon's bag either in terms of quality but that's not to say that it's complete crap either.
JFG Racing mainly focuses on creating parts and accessories for different dirt bikes but they also have this bag and another bigger bag that they purposely wanted to make universal to fit any bike, even dual sports, and different dirt bikes.
It has all of the basic features you expect from a tail bag. It fastens just like most other bags do where you tighten the two strips and buckle the four straps together under your seat.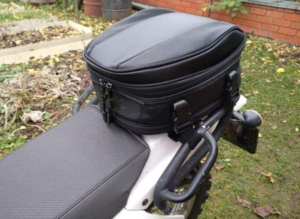 As for the materials used here, it's constructed with high-quality PU leather with 600D polyester which means this is a nice and durable bag. The inside uses microfibers so items inside the bag have a nice cushion.
From rider feedback, even after a year of use, this bag will not fade from being exposed to the sun all the time.
However, it may run a bit smaller compared to the specs that they share due to the taper on the corners. And if you plan on wearing a backpack with it, for some bikes, it might conflict and not work very well. It measures out to 12.4 x 10.3 x 4 inches.
If you want a smaller bag like the AmazonBasics one we mentioned earlier but don't want to spend as much then this one from JFG Racing is right up your alley!
Pros
High durability for a low price
Microfiber insides
Does not fade in the sun
Minimalistic design
Comes with a rain cover
Cons
Runs a bit smaller than the specs say due to inner tapers
Might conflict with your backpack with some bikes
5. Vinmax Small Motorcycle Tail Bag
---
This last bag is not as popular as the other bags we featured here but it's still worth a good mention because it's a lot like the Riding Tribe bag but I'm certain some of you don't want the bright green writing on the bag.
That's where this bag from Vinmax comes in! It has a similar design to match up with most seats but it doesn't have any of the extra branding going on.
Vinmax uses oxford cloth fabrics combined with a little PU leather here which makes the bag durable.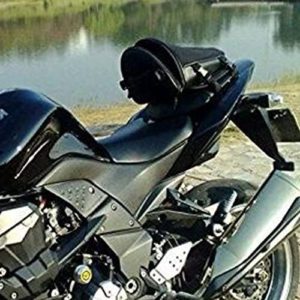 It's not the most durable mixture of materials out there and other bags listed here have better, higher durability materials in their construction but oxford is reasonable enough to get the job done.
Even with part of it being a mesh material, it still does a fair job of keeping water out. I wouldn't ride in heavy rain while using this, no way will water stay out in heavy rain but for having to ride in light rain for a little while… this will do fine.
It has two metal buckles attached to the bag where you can slip whatever you want on and it's easily portable, you can take it with you and throw it over your shoulder with the shoulder strap.
For when you need something to carry just the right amount of stuff such as your wallet, a water bottle, and your phone, this bag gets it done! It measures out to 12 x 8.3 x 11 inches.
Sure, there are better quality bags using better materials but if you want a cheap one that doesn't have all of the branding going on then this is perfect.
Pros
Fits most seat designs
Can carry it with you using the shoulder strap
Minimalistic design
Cons
Materials used could be higher quality
Not a very spacious bag
Understanding Small Motorcycle Tail Bags
Even if you have gone through and checked out numerous reviews and whatnot, you might still be having a hard time finding the perfect bag for you and your bike.
That's why I wanted to go over some other factors for you to think about while you are deciding on which bag to get. There are plenty of reasons why you'd want a bag and why you'd want a specific style of bag, read through and let us help!
We have also written up on different motorcycle accessories and whatnot so be sure to check out the other posts if you are looking for more info on different accessories out there.
Storage Capabilities
Obviously, you get a tail bag mainly for storage capabilities. You'll be able to store the essentials in a smaller bag such as your wallet, maybe some small granola bars, your phone, or different things to bring the gym.
A tail bag allows you to not always have a large backpack on that could mess with your overall riding or how comfortable you are. That and smaller bags look pretty nice on a bike, you don't get a bulky mess with smaller bags.
Choosing Your Bag Style
There are plenty of different bag styles to choose from. From the more square ones to ones that match up closer to a seat's design… to being able to take it with you over your shoulder or wanting to carry it as a handbag…
Also, consider the branding. Many of us riders don't want flashy branding popping out so be sure to go through the different pictures of the bag on the actual product page and make sure it's the design that you would like!
Installing The Tail Bag
Almost all of the tail bags listed here, along with any others that you will find on the market today, install the same way.
You will take your back seat off, set the straps on the seat adjusting the distance between the two strips, adjust the tightness of the two strips, put your back seat back on and then buckle up the four straps from the bag.
It's very simple to install the different bags to your seat and most of them will come with detailed instructions for each specific bag.
Useful Features
It's entirely up to you but make sure that the bag you decide to go with has the features that you either sought after right when you realized you needed a bag or features that you didn't even know would be able to exist with some of the smaller bags on the market.
Do you want to be able to easily carry your bag with you over your shoulder? Are you wanting to be able to lock the bag up while it's on your tail? Is a waterproof cover crucial for you and your bag?
Think about all of your options and make sure that the bag you want has the features that would be most helpful to you!
Small Moto Bag Storage Works Great
---
It's time to wrap up the post.
If you are in the market for some small motorcycle tail bags then hopefully this post has helped you be able to figure out what kind of bag you want or to even show you some of the best picks out there that you maybe didn't know about!
A smaller bag simply for your important belongings is a great idea and any of these bag choices would suffice for you and your bike.
Are there any other bags on the market that you've seen that weren't mentioned here?
Are you planning on getting any of the small bags we decided to share in this post?
Which bag that was mentioned here is your favorite? Why is it your favorite?
Let us know in the comments below!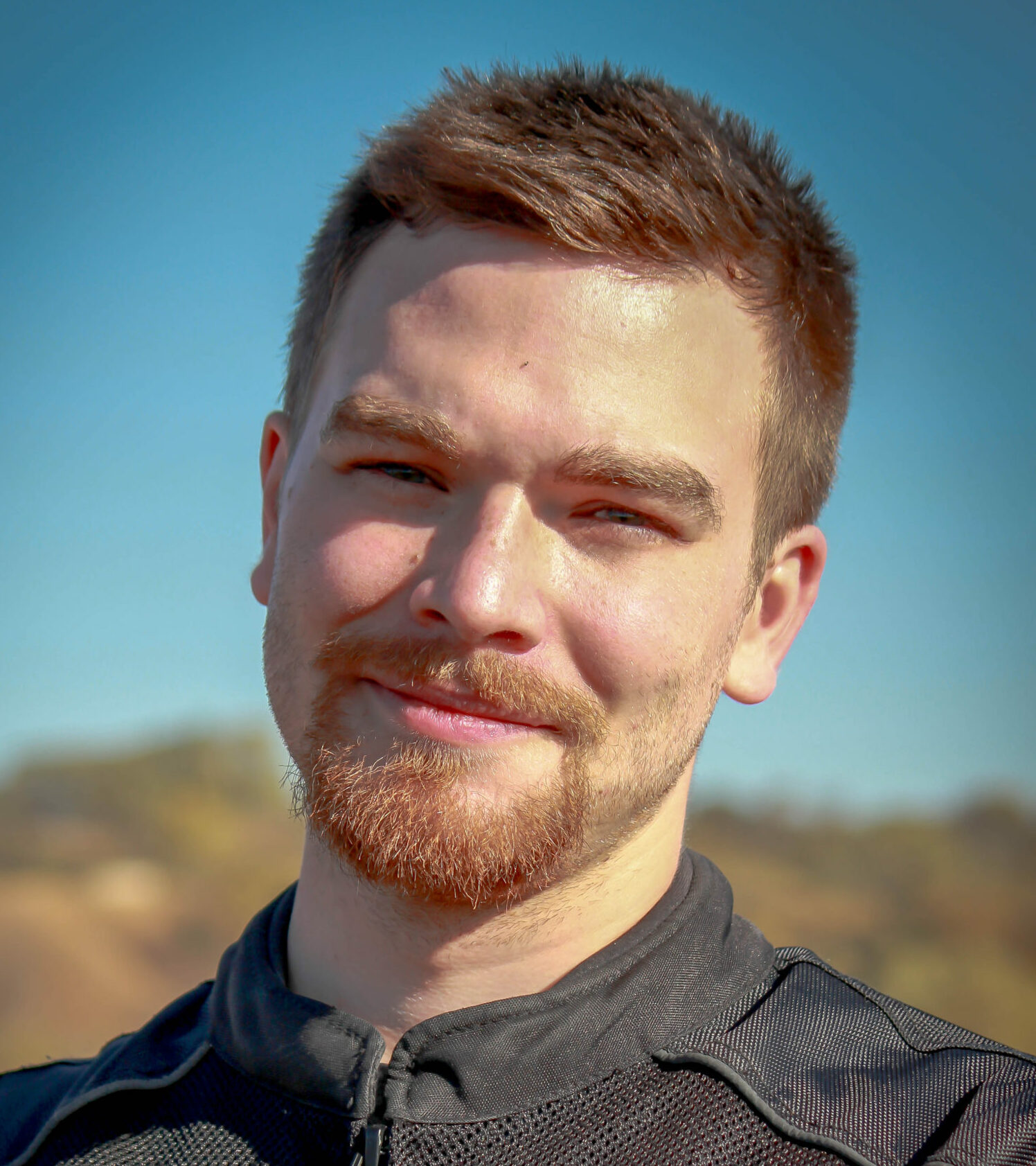 What's up! I'm Colton, the main guy behind Moto Gear Knowledge. Gear has always been my #1 priority when it comes to riding.
I share my experiences regarding gear and anything else moto related with you here. 👍