Last Updated on September 25, 2021
Need some ideas for motorcycle helmet add-ons and accessories? In today's post, we are sharing all of the best motorcycle helmet add-ons that we have found online!
Whether it's trying to look like you're straight out of Tron, adding a sick mohawk to your helmet style, or wanting to have brake lights on your helmet – you'll be able to find some amazing motorcycle helmet add-on ideas within our post!
Why Use Motorcycle Helmet Add-Ons & Accessories?
---
Add-ons for your helmet can help with your general safety as well as helping you add more to your personal riding style.
I added a blue mohawk to my helmet as well as adding on a blue tint visor since my motorcycle matches up with the blue colors and I wanted to match up the style.
It also helps me to be more visible to others, it's hard to miss a bright blue mohawk riding by.
Other add-ons such as cameras or communication devices help with general safety as well since it allows you to be able to have definite proof in any event of an accident or to be able to talk with other people that you may be riding with.
It's hard not to want some add-ons for your helmet which is why we decided to compile a list of add-ons and ideas that you can use for your own helmet.
Here are some motorcycle helmet add-on ideas:
LED Lighting
Communication Devices
Cameras
Reflective Tape
Interchangeable Visors
Decals/Stickers
Helmet Covers
Mohawks, Ponytails, Pigtails
Horns, Spikes, Bling
Now let's go over these different add-ons, why they're good to have, and some sites you can go to and browse some of them for yourself.
Helmet LED Lighting
There are plenty of ways to add more visibility to your helmet while also looking awesome all at the same time. There are different sets of LED lighting kits out there but if you're wanting pure quality then you'll have to pay a pretty penny.
Most of the kits we have found don't have the greatest quality and the companies that do have high-tier lighting kits cost upwards of $150+ depending on the kit.
If you're interested in some of those kits then head over to Light Mode Helmets and take a gander, maybe there is a kit that's perfect for your helmet.
If you're more so interested in simply putting the lights on yourself then you can get crafty with EL wire lighting strips that you can find online.
Reflective Tape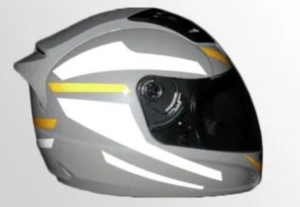 Reflective tape is another way to light up your helmet, albeit a cheaper way as well.
You'll need to take good care and clean your helmet off before you apply any sort of reflective tape to your helmet if you want it to stay on.
Reflection is important for any piece of gear and if you want to have your helmet shine when cars are riding by you then reflective tape is what you'll want.
You can put the tape in any form you want as well, get creative with it and make a design that fits your style!
Either way, lighting up your helmet in any sort of way is smart and it'll look awesome.
Communication Devices
Sena is the top name brand when it comes to Bluetooth communication with your helmet. However, there are plenty of different brands out there as well that also work great!
It's no secret that Sena is the highest quality and that's usually what most riders go with. Be sure to look around and pick one that you think will work for you.
Being able to communicate with your other riders when you're on a group ride or being able to answer the phone while you're riding is a nice luxury.
Some Bluetooth headsets out there also have decent enough speakers where you can listen to music in your helmet as well.
A communication device and speaker system is a nice "quality of life" add-on that you might want to get if you wish you could communicate while on your commute.
Helmet Cameras
Most riders that have a camera have a chin mount with a GoPro in it. GoPro has created one of the best cameras for motorcycle helmets so it's no surprise that it's the go-to camera right now.
But just like with the different communication devices out there, you can find cheaper alternatives to the GoPro that work as well as you need it to.
Some riders have a camera to simply record their rides but a camera is most important for having all of the "proof in the pudding" if someone were to ever ram into you.
If someone lightly bumps you or even full-on wrecks into you, you're going to want recorded proof. It has been shown time and time again that some folks are horrible and will lie to get their way – claiming that you were "in the way" or "you weren't paying attention".
I feel like helmet cameras aren't seen as important until the moment where one is absolutely needed, so it's best to browse around at different motorcycle helmet cameras now to be on the safe side.
Helmet Styling Add-Ons
There are plenty of ways you can add styling to your helmet. Lighting is a way of styling but you can also add in things like mohawks, horns, or full-on covers.
There are too many of these types of accessories and I love my mohawk. As I mentioned before I added a blue one to my helmet because it compliments my blue Kawasaki Ninja very well and the more people that notice me, the better. Visibility is very important.
Mohawks, Ponytails & Pigtails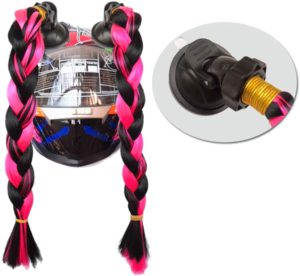 Any of these types of styling adds plenty of visibility and personal style to any helmet.
Almost all of the mohawk, ponytail, or pigtail choices out there are bright colors that are hard not to notice.
I went with a Helmet Hawk mohawk for my helmet – they made their mohawks on a velcro which lets you change them out for whichever other color you'd want.
You'll also find a lot of different ponytails and pigtails on Amazon if you search around for them! There are a TON of options available so be sure to browse around.
Most of the ponytails and pigtails on the market are attached with a suction cup and then you can screw in whichever piece you want to have. This also makes them interchangeable so you can go crazy with a bunch of different styles.
Horns, Spikes & Bling
Other accessory ideas you could add on would be horns, spikes, and even little jewelry studs for some bling.
Horns and spikes will attach similar to how you'd attach a mohawk to your helmet, they'll either stick on or have velcro that you can attach it to.
Some of the horns and fins will be able to stay on with a suction cup and then you'd screw the horn or fin in.
For spikes, mohawks, ponytails, pigtails, or general bling… it's up to you! These are all personal style choices. Some love them, some hate them but at the end of the day, it's about what you like and if it's something you want to add.
Helmet Covers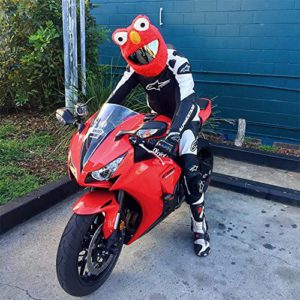 Helmet covers are hilarious and probably provide the most visibility out of any of the other add-ons listed here.
They cover your entire helmet and some of the funniest ones are obviously mimicking some iconic cartoon characters from our childhood. Just… just take a look at the picture of one I found below and you'll see what I mean.
If you want to get some laughs from others and you want to have the most visibility possible then you should take a look at the different helmet covers that are out there.
The ones from Moto Loot on Amazon seem to be some of the higher quality ones that aren't super expensive but I'm sure if you look hard enough you could find some other amazing ones as well.
They're all pretty ridiculous but I can see myself snagging the pumpkin head cover they have for when Halloween rolls around again.
It's a hysterical styling option but it's completely viable and would cheer up so many people that see you riding with one on.
Interchangeable Visors
Having multiple visors will allow you to change up your style as well as provide tint for the sun but you should also have a clear visor for night rides.
Almost any helmets you find on the market today will have plenty of visor options to choose from to add to the helmet.
Some helmets will even come with more than one visor, usually a dark tint for day riding and a clear one for night.
It's neat to have your visor match up with the trim that you have going on with the rest of your gear.
Some riders also like to add some stickers to the visor and there are some visor skins that you can find online as well.
I have a blue tint visor that matches with my blue bike and blue helmet mohawk. Go with whatever you like and make sure that whichever visor you may end up getting is compatible with your helmet. Do your research with the company behind the helmet and see which ones are available!
Which Add-Ons Are You Getting?
---
This concludes our motorcycle helmet add-on ideas.
You can add a camera, LED light strips, or have different styling options to your helmet.
Add-ons are great for developing your personal style and really all of the add-ons and ideas we shared here help with your overall safety when you're on your day-to-day ride.
Do you see yourself getting any of the add-ons we mentioned here?
Which styling options best suit your personal taste?
Let us know in the comments below!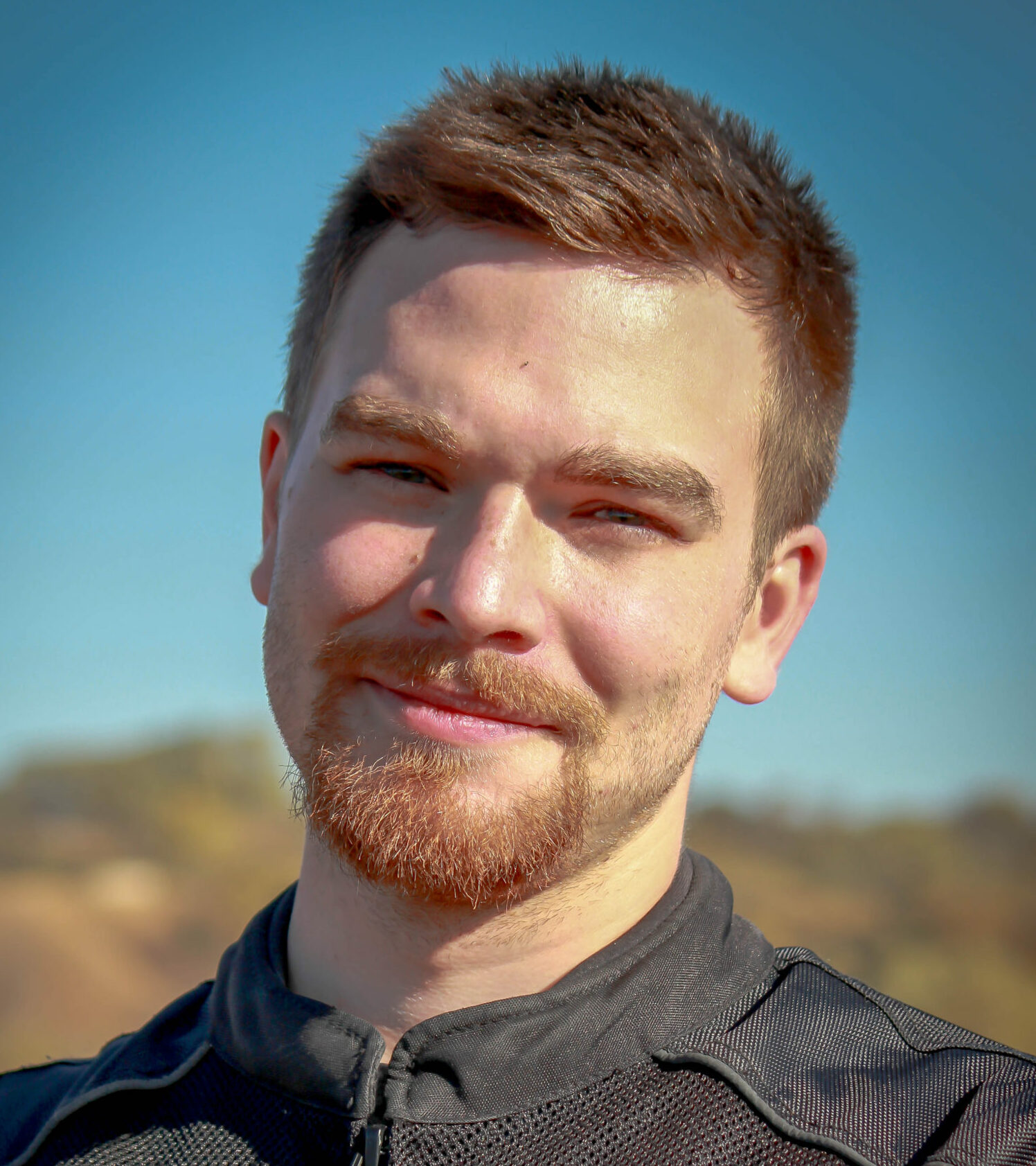 What's up! I'm Colton, the main guy behind Moto Gear Knowledge. Gear has always been my #1 priority when it comes to riding.
I share my experiences regarding gear and anything else moto related with you here. 👍