Last Updated on April 21, 2020
Want to know how to choose motorcycle gloves that are ideal for you? Choosing motorcycle gloves can be simple if you know what to look for in a riding glove.
There are plenty of types and different sizing rules to follow depending on the gloves that you're looking into. The goal with this post is to shed some light on what kind(s) of gloves you will need depending on the type of rider that you are.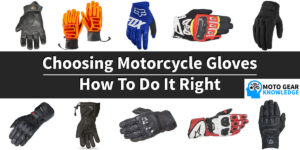 Choosing Motorcycle Gloves
---
The motorcycle gloves that you end up choosing is important because, especially if they are your first pair, you're going to be using them over and over again.
It will probably be a while before you decide on getting another pair of gloves down the road.
With this in mind, you're going to want to take careful note of the style/look, the overall protection, how much value you get for the cost and if it's going to suit your riding style for the foreseeable future.
You'll want gloves that you enjoy wearing. Whether having them match your motorcycle and/or other pieces of gear is important, how comfortable they are or how well they protect you – you need to make sure that you love em'.
Most riders will choose gloves that match up with the rest of their gear. You'll see some that have total brand loyalty, they need a specific brand and refuse to go with anything else because that's what they love and are used to.
Some riders want the best protection possible so they'll snag armored gloves that are bright and provide plenty of reflection.
Me personally, I like the slick black look. I've got a pair of Icon's Anthem 2 CE gloves which have a minimalistic, black tone. I mainly ride when the weather is on the warmer side so they have plenty of breathing room.
I will be getting another pair of riding gloves for when the weather doesn't fare well with the warmer side of things. From riding experience, it's ideal to have one pair of gloves for hotter weather and another pair to keep your hands warm during cooler days.
Styles of Motorcycle Gloves To Choose From
There are plenty of different types of riding gloves and depending on how you ride, where you ride and what your style is – you'll need to choose the right style of glove that is the best possible type for you.
In a nutshell, there are short cuff gloves and gauntlet style gloves and both types have a variety of styles you can go with.
Short Cuffs
---
Short cuff gloves are best for warmer weather. Most riders that ride on their daily commute through the city will have short cuff style gloves.
Some prefer the style over the gauntlet gloves for comfortability and the overall looks as well. All in all, when it comes to riding in hotter weather, short cuff gloves are a must.
Street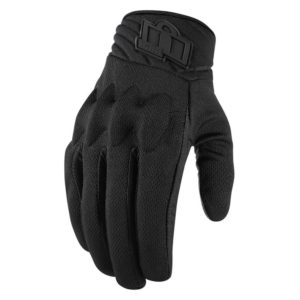 Street gloves are generally worn for the daily commute or cruising around town.
They have a more urban style and are usually on the minimalistic side of styling. They can be made out of leather, textile or a combination of both.
Racing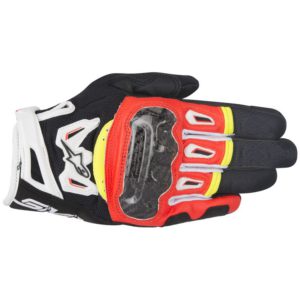 Racing gloves are usually for the branding and looks of the glove itself.
Most commonly made out of textiles, plenty of sport bike riders want to rep up the top racing brands for that aggressive racing style.
Cruising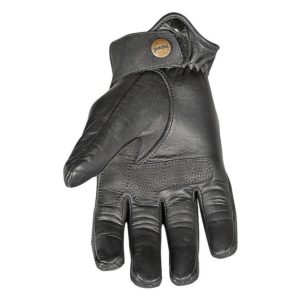 Cruising gloves have the urban style, usually made out of leather. Most cruising gloves are going to be worn by the Vulcan, Fury and Street Bob type riders.
Off-Road
Off-road gloves are used for when you need to get out onto the dirt tracks or the wilderness.
Off-road riders are used to bailing out into the dirt rather than the cement so these gloves focus more on comfort and breathability more than the other types of gloves.
Gauntlets
---
Gauntlet motorcycle gloves cover more than just your hand, they go up a bit further protecting your forearms. These types of gloves are best for colder weather or if you're wanting to have the best protection possible.
Different styles of gauntlet gloves provide different kinds of comfort and protection. Overall, these types of gloves are for those that are riding for long distances and cooler weather.
Adventure/Touring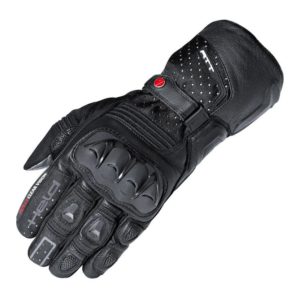 The touring gauntlet gloves provide a high level of comfort and protection which they should.
If you're going to tour across the country then you'll need a very high quality glove hence why most touring gauntlet gloves are on the more expensive side.
Waterproof
Waterproof gloves are completely doable with the gauntlet style since they cover more than just up to the end of your wrist.
These aren't going to have any breathability but they're essential if you're out riding in the heavy rain and want to keep your hands dry.
Heated
Heated gloves are another expensive type of glove but they're awesome for when you need to keep your hands warm while riding around during the winter season.
Most are battery powered and will heat your hands for a long period of time.
Taking Weather Into Account
Where you live, when you prefer to ride and the current point of the riding season – those are all key points to consider when you're getting a pair of riding gloves.
If you live in an area that is constantly on the hotter side then you will need to make sure that your gloves are breathable, mesh and have a short cuff style.
If it's mainly colder where you are then you'll want a thicker glove or maybe even a full gauntlet style glove that covers more than just your hands.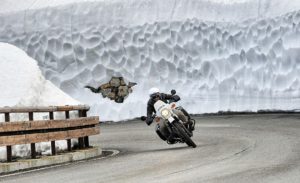 Take the average weather and where/when you prefer to ride into account before you decide on a specific pair of gloves.
Understand The Amount of Protection In The Glove
Protection is the main feature you should look for in any type of glove. After all, that's the whole point of wearing riding gloves… right?
Right.
So what kinds of protection should a glove include?
You'll typically want to have some armor padding on the knuckles and having a leather palm is always ideal.
If you have to brace yourself and possibly slide a ways with your palms then leather is going to hold up the best.
Some gloves will have an outer armor shell on the knuckles as well and that type of knuckle protection is going to be the best you can get.
Impact resistance with armor padding on the knuckles can help prevent abrasions and bruising as well.
No matter what, if you're in a wreck, it's going to hurt.
But with some extra protection on your hands it could be the difference between a few weeks of recovery and a few months.
What Type of Rider Are You?
Your riding style is going to be a big indicator for the type of glove you'll want to use with your daily rides.
If you ride a sport bike then you probably lean more towards the street or racing style gloves while you're constantly in a more aggressive riding position.
Touring and adventuring across the country will require you to have gloves that will fully protect your hands while also being able to handle the multiple world elements that you'll encounter on your rides.
If you are cruising around the city and ripping the highways then you are most likely leaning towards a more leather, urban style pair of gloves.
However you ride, there is a style of gloves that fits perfect for you. Be aware of what glove type suits you best and go with your gut.
Get Out There And Choose Your Gloves
---
Now that you know the different types of gloves and what they can do for you and your daily riding… you should have no problem choosing your motorcycle gloves.
There are plenty of different websites to buy gear from and you always have your local shops where you'll be able to try on different gloves first hand.
If you want to look around online at different gloves then we highly recommend checking out the motorcycle glove selection at RevZilla – they have an enormous catalog of every piece of gear and when it comes to gloves – they have it all.
What style of gloves do you lean towards the most?
Do you have a specific pair of gloves in mind that you think you're going to buy?
Let us know in the comments below!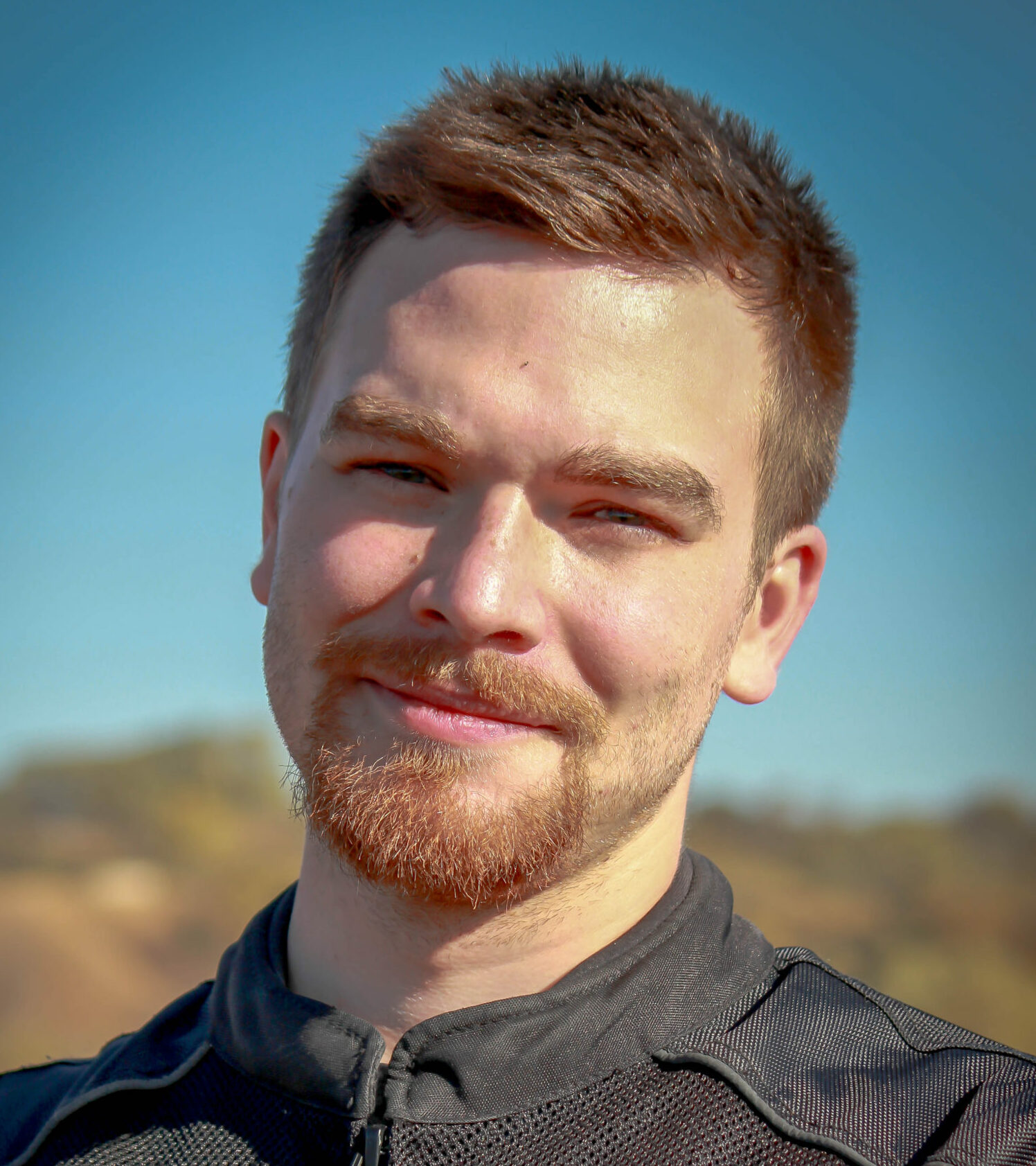 What's up! I'm Colton, the main guy behind Moto Gear Knowledge. Gear has always been my #1 priority when it comes to riding.
I share my experiences regarding gear and anything else moto related with you here. 👍