Last Updated on January 9, 2023
Whether you are looking for a new pair of good leather riding gloves or you know that you want to start out with some of the best deerskin leather motorcycle gloves that are out there… we've got your back.
In this guide, we are going over the best deerskin motorcycle gloves that are currently on the market that are top-notch quality while also being at a fair price.
We'll go over our recommendations and why we picked each pair of gloves featured here and where you can pick yourself up a pair. Trying to scurry through and find the best selections? We've listed our top picks right from the get-go.
However, we hope that you look through all of the gloves listed here because each pair has a unique styling and feature set that will compliment your specific riding style – you never know if there is a pair other than the top picks that would suit you best.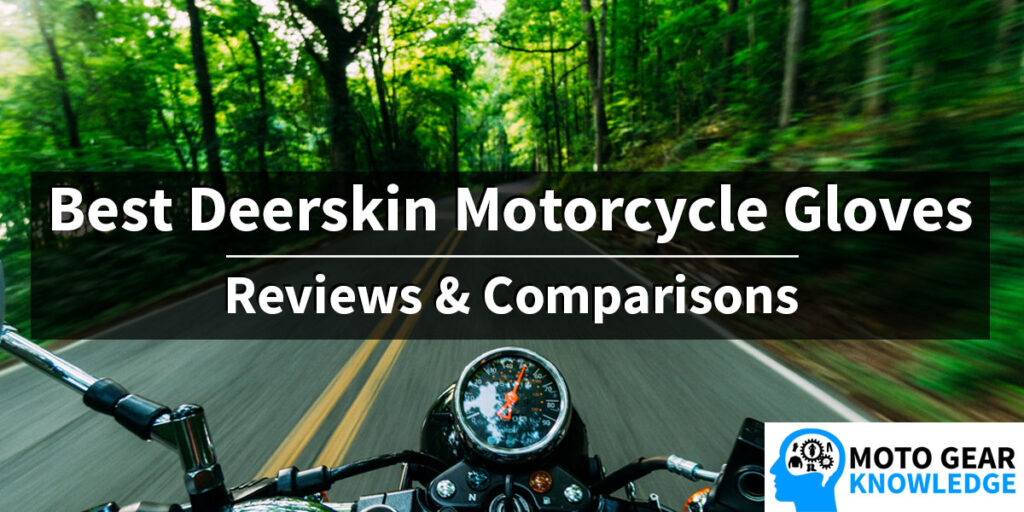 Deerskin Motorcycle Riding Gloves – Our Research & Guide
---
We don't want to pick a definite glove and call it the one and only best pick. We consider the official specifications involved, real rider feedback, and the most important features so that you can understand which deerskin glove is going to be best for you.
Listed below are some of our best findings for deerskin motorcycle riding gloves that we were able to roundup. These picks are all high quality, you should expect to be paying $40+ on a good pair of deerskin moto gloves.
We didn't want to include any of the low-priced, synthetic leather gloves in here because that's not what you're after when you are wanting an actual good pair of deerskin riding gloves.
You won't find any of the crap quality picks that are created with only profit in mind. These really are some of the best ones out there!
Right now, the Klim Rambler Gloves are a top-level choice when it comes to having high-class materials that stand the test of time and protect your hands well.
If you are looking for deerskin gloves that are designed specifically for cold weather riding then you will want to check out the Milwaukee Leather SH857 Gloves. They will keep your hands nicely insulated and secure.
Keep on reading through all of the other choices as well – each set of gloves has its own pros and cons so you'll want to dial in and find the perfect pair.
Comparison Table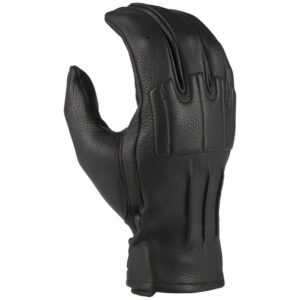 Klim Rambler Deerskin Gloves 
Klim is a highly reputable brand when it comes to durable, high quality riding gear. Their Rambler gloves combine the supple, comfortable deerskin design with extra armor padding to make certain that your hands are well protected during every ride.
Street & Steel Driven Deerskin Gloves
If you are looking for a cruiser style glove that is good for airflow as well as still having some extra protective features then these Driven gloves are going to be right up your alley. They are a great choice if you are wanting a simple cruising deerskin glove.
When you want a streamlined deerskin glove design for the short, cold commutes then these gloves from Z1R are going to be the ones to go with. You can also get them at a much lower price point compared to other glove choices on the market.
There is not an "all-time best" deerskin glove. Different types of builds will provide a different level of comfort, insulation, or style.
You'll want to make sure to get a pair that focuses on impact and abrasion resistance as well as what they're best for.
Riding gloves are essential for riding in the event that you ever go down… But you also need to ensure that the gloves you decide to go with actually match up with what they can do for you.
Since these are deerskin riding gloves, you aren't going to have to replace them anytime soon so that's why I really want to emphasize for you to fully understand what gloves you're getting yourself into before you pull the trigger on the first good pair that you see.
With that, let's get into the top picks when it comes to superlative deerskin moto gloves.
Top 5 Rated Deerskin Motorcycle Gloves of 2023
1. Klim Rambler Motorcycle Gloves
---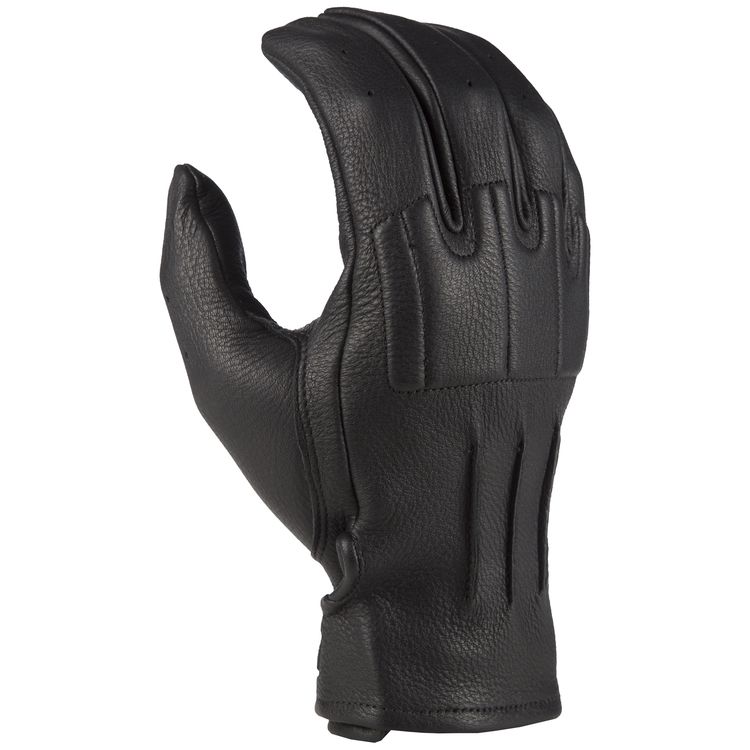 This first pair of gloves is from Klim, a super reliable and reputable moto gear company that specializes in top-grade gear.
Their Rambler gloves are perfect for those of you that want some slight perforation for airflow while also ensuring you have good knuckle protection.
These gloves have subdued Poron padding material in the knuckles.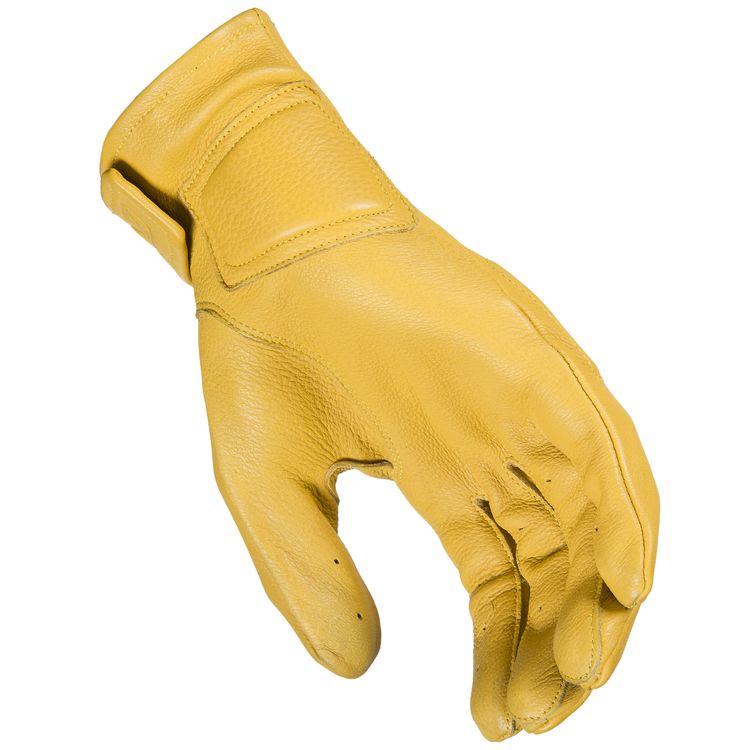 This material is a molecular dense foam that will increase the amount of overall impact resistance in the knuckle area.
Klim kept the classic lined styling in the glove when they decided to add in knuckle padding to these gloves which is a huge plus.
Then we've got the minimal perforations on the outside and inner parts of the fingers. This allows for a little bit of airflow for the hot days of riding.
Deerskin gloves not only have to work great, they should look great as well and Klim did a decent job of keeping the clean look while combining extra protection into the glove.
While some of you might prefer the 100% clean lining on a deerskin glove, I personally would prefer the extra protective padding.
On the palm, there is a bit more padding but it's not the same material as the Poron knuckle armor padding. It's simply a dense foam that helps out with vibrations in your handlebars.
It's a velcro strap to get the gloves on and as you can expect, the full deerskin design makes the glove super comfortable to wear. They also have a tan color option available if you want some higher visibility.
If you're looking for a solid build quality in a deerskin glove that also gives some technicality along with it then the Klim Rambler gloves are going to be the most cogent pick.
Pros
Extra knuckle padding
Extra palm padding
Sleek lining design
Cons
Only comes in black/tan styles
2. Street & Steel Driven Motorcycle Gloves
---
Next up are these Driven deerskin gloves from Street & Steel.
Built for the cruiser in mind, these gloves have an aggressive style and there is quite a bit of airflow with these due to the openness at the wrist.
The reinforced knuckle padding is a thick foam padding that adds to the overall shielding with the design.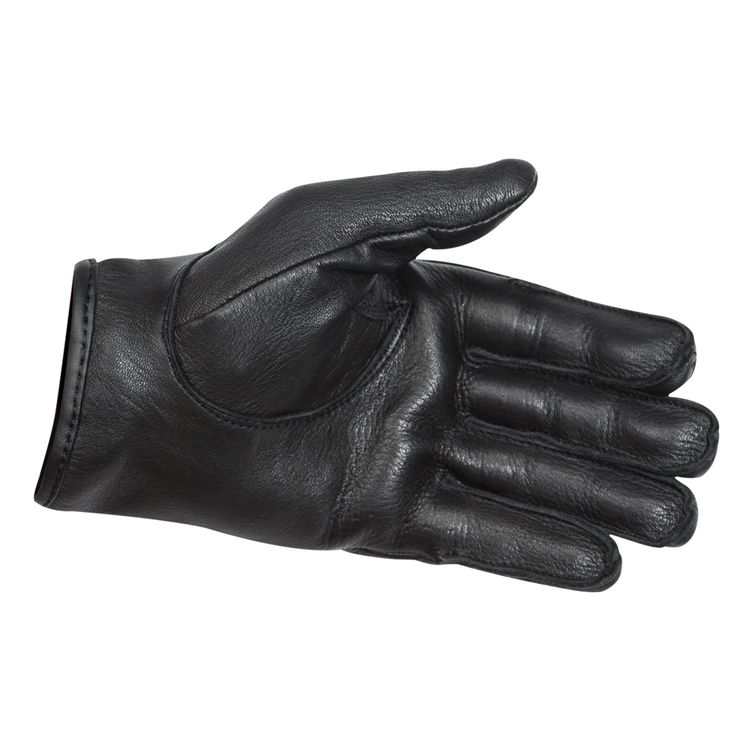 The button snap and open wrist design is going to be great for those of you looking for a highly protective deerskin glove for extra breathability.
The deerskin is drum dyed on the outer layer which gives it that smooth leather look and styling.
Although at first glance it doesn't seem like it, these are completely unlined – no other fabrics on the inside.
Perforations are only on the outside parts of the fingers as well as a few on the knuckle paddings.
There is some elasticity going on in the pointer and middle fingers to help with the stretch. This also helps them break in pretty quickly.
There is no padding in the palm, so they decided to go for a more simple construction so that the gloves could be more so on the more affordable side of things.
It would have been nice to see a brown color option and some palm padding would have increased the safety levels – but the palm padding would probably mess with the smooth construction overall.
When it comes to a deerskin glove that focuses on a comfortable cruiser cuff style, the Driven gloves will be right up your alley.
Pros
Extra breathability with open wrist
Knuckle armor padding
Cons
Only comes in the black style
No inner perforations
3. Z1R 938 Motorcycle Gloves
---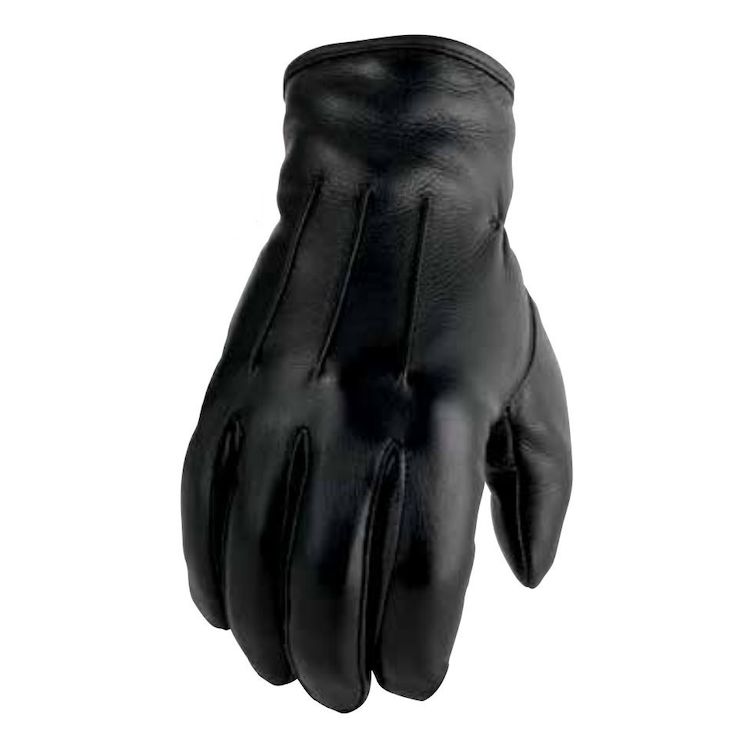 Z1R comes through with the most budget-friendly option featured in this list. These are the Z1R 938 deerskin gloves made to keep your hands warm.
Lined leather with 3M Thinsulate insulation means that you will not have any issues keeping your hands warm during colder rides with these on.
The liner is short at the fingers while the leather extends about 8mm, this is to trap air that will isolate the cold weather at the tips of your fingers.
From other rider feedback, riding in 40-50°F is comfortable.
Anything that is getting lower than 40°F and you'll want to wear another layer underneath the gloves.
The manufacturing process from Z1R with these provides a very soft feel and the gloves themselves break in fairly quickly.
But with extra comfortability comes some setbacks…
These don't have any extra protective features going on so you probably aren't going to get these gloves for longer trips.
These gloves are meant for short commutes during a cold morning in the fall/winter seasons. You'll want to look elsewhere if you are looking for a pair for longer rides or for warmer weather.
It is a button snap at the wrist to strap them on so you'll for sure need to make sure your jacket goes over the wrist to ensure that air can't get pushed into the glove from the wrist opening.
If you're looking for warm deerskin gloves that are low-priced, these will be the ones to go with. There are more protective gloves compared to these, but for the price… These aren't meant for longer rides and optimal protection.
Pros
Highly affordable
Keeps your hands warm in 40°F temperatures
Very soft and comfortable
Cons
No armor padding
Only comes in black
4. Highway 21 Louie Motorcycle Gloves
---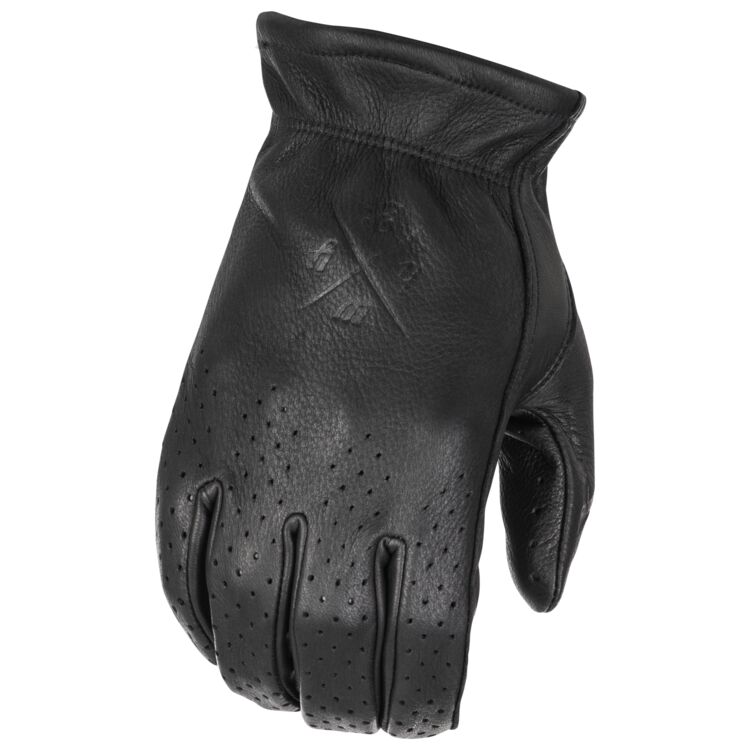 Highway 21 is another well-known brand and they stay true to their brand story – to stay on course with creating protective gear in timeless style.
Their Louie deerskin gloves actually come in perforated AND unperforated variations which isn't something you see a lot with all of the different gloves on the market.
If you want the perforated gloves then you will need to search "Highway 21 Louie" once you get to the product page over on the other site.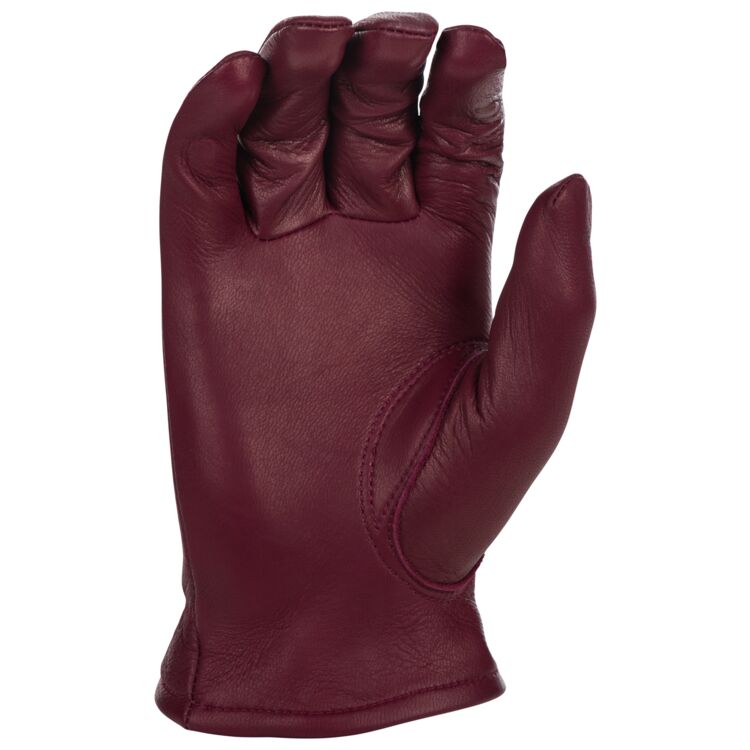 Unfortunately, some style options are locked to either one of the perforated or unperforated versions…
But at least there are some extra style options to choose from in general.
These gloves are supple and soft due to the single-layer design of the glove. Which also helps with having a better feel of the controls of your bike.
Sometimes leather gloves get "too" broken in where they will start to feel off after a while.
Highway 21 designed the gloves to return to form after a soaking so there is no need to worry about them getting too broken in after a long time.
If you are looking for a heavy-duty and simple short-cuff deerskin glove that will be good for cruising around, these will be great!
If you are wanting the absolute best protection combined with a deerskin-constructed glove… These fall short as comfortability and ease of use was the main focus here.
Pros
Comes in perforated and unperforated versions
Unique styling
Heavy duty construction
Cons
No armor padding
Not every style available for perforated or unperforated variations
5. Milwaukee Leather SH857 Motorcycle Gloves
---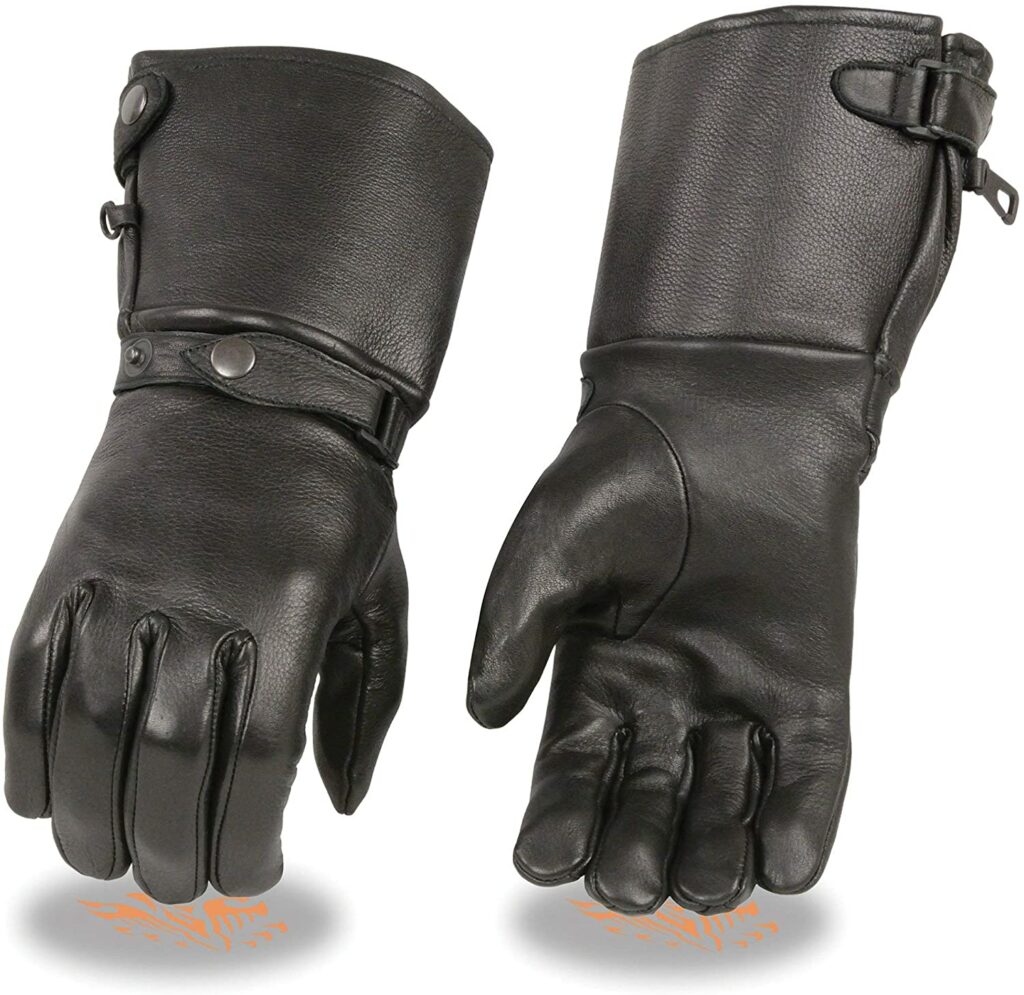 Last and certainly not least are these deerskin gauntlet motorcycle gloves from Milwaukee Leather. When it comes to optimizing a glove for cold weather riding, these gloves do the trick in the world of deerskin riding gloves.
Milwaukee Leather is a brand that we have been sharing for quite some time now and we have heard nothing but good things from all of the riders that utilize these gloves in their day-to-day rides.
These gloves feature having 3M Thinsulate lining inside just like the Z1R gloves that were listed above.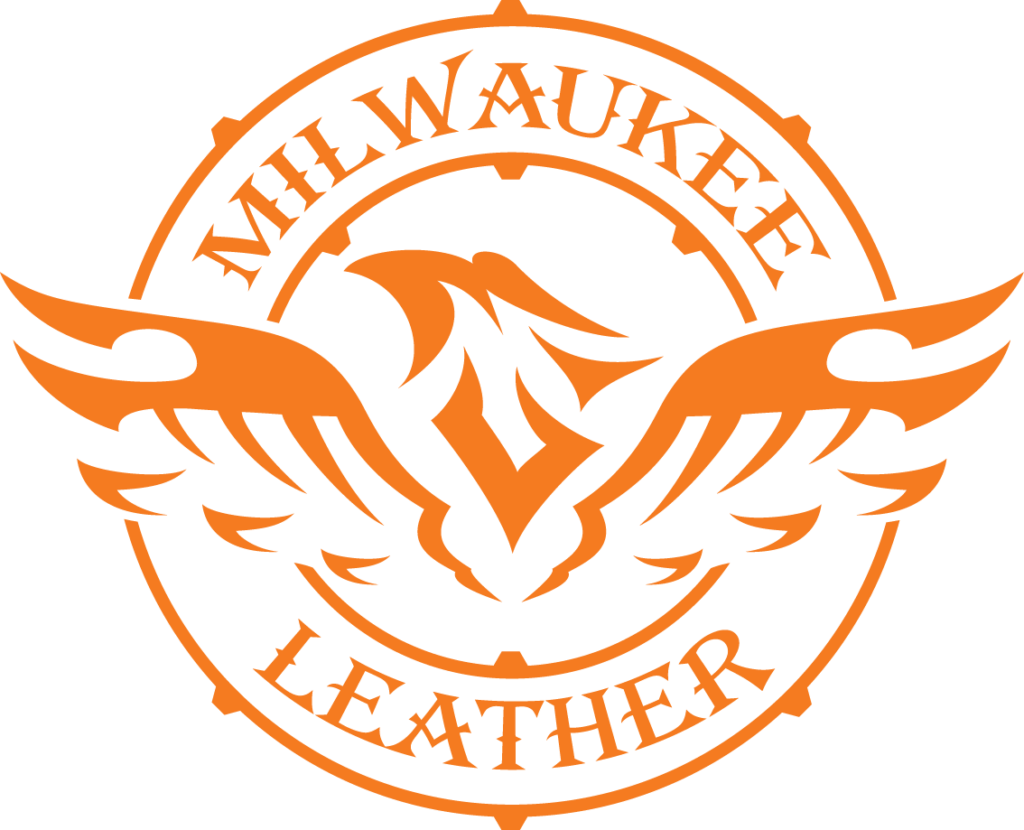 However, there are some design differences going on compared to those – more than the fact that they are gauntlet gloves instead of short cuff gloves.
The wide cuff is combined with an adjustable strap on the wrist so that you can control how tight or loose the wrist area is.
You can easily strap these tight around the wrist areas of your riding jacket because of how much you're able to adjust them.
There are two button snaps at the wrist and another button snap lower on the wrist area where you'll be able to make adjustments. Overall, there is more freedom when it comes to adjusting them to your liking.
Even so – with some good cool weather riding features, we weren't able to find other style options for these gloves and they aren't completely rainproof without some good leather conditioner… They also did not add in any armor padding which could turn some of you away from these.
If you are planning on getting these for riding in the rain and heavy snowfall then you'll definitely want to take a look at a quality leather conditioner to ensure that your hands stay dry.
To sum the gloves up, these will keep your hands warm during the colder riding days for sure. They are a good pair of gauntlet deerskin gloves and Milwaukee Leather has been known to make satisfactory gloves in the past.
If you're looking for a pair of winter deerskin gloves for short cold riding commutes then these will be great for those types of chilly days.
Pros
Gauntlet style will keep your hands vastly warm
Two adjustable straps on the wrist
Streamlined deerskin glove design
Cons
Will need leather conditioner to make them completely rain & snow proof
Only comes in black
Deerskin Motorcycle Riding Gloves: A Guideline
---
Deerskin moto gloves are sought after because of their custom fit, their durability, and the fact that they can keep your hands extremely warm.
We noticed that there weren't enough dedicated guides out there that show you all of the top options when it comes to these types of gloves and figured that we'd be able to help out in a big way.
Below are some extra guidelines that we think are worth looking more in-depth into because you should absolutely be certain of which pair of deerskin gloves will be best for you.
Some of you will prefer a more traditional style when it comes to these types of gloves whereas maybe some of you weren't aware of some of the more practical options – in terms of the most protective pair of gloves.
Hopefully, by following some of these guidelines you can feel more confident about whichever pair of gloves you end up moving forward with!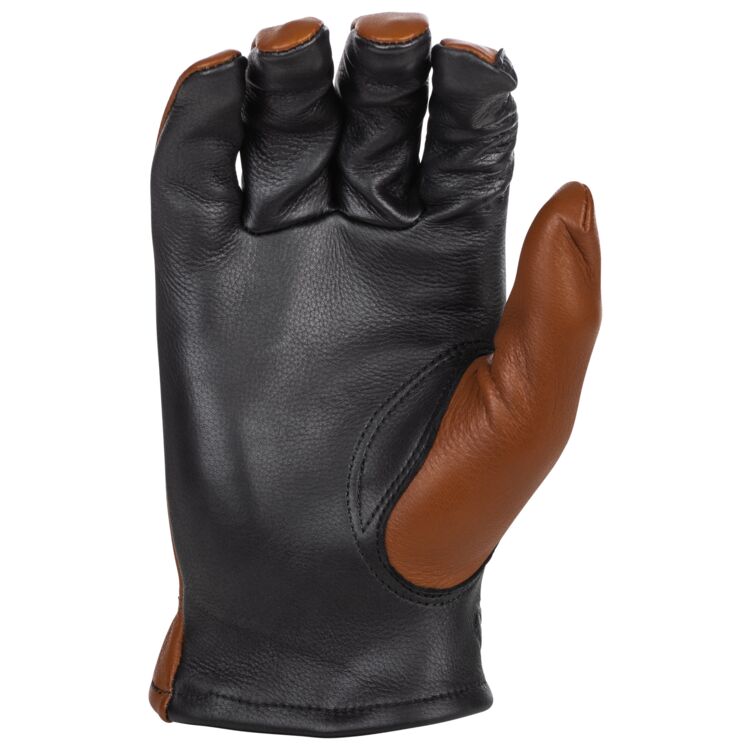 Is Deerskin Leather Better Than Other Leathers?
Deerskin is popular because of being able to have a custom fit with the soft/limber design, they are incredibly warm and they are a tough hide choice when it comes to abrasion resistance.
Compared to cowhide or goatskin hides – you aren't going to have such a soft and comfortable feel. That's why those other types of leather used in gloves are available at lower price points compared to deerskin.
Everyone will have their own personal taste when it comes to the most desired type of leather in a glove but deerskin is unmatched when it comes to comfort, fit and overall warmth of the glove.
Material Qualities To Look Out For
There are some companies that focus way more on how much they are able to profit from the glove manufacturing process rather than the actual value of the glove itself for a rider.
You'll want to look into the company of the gloves that you are planning on buying from to see if they follow similar procedures when it comes to deerskin riding gloves.
How do they dye their gloves? How do they warrant how safe their gloves are?
Do they have a good reputation from other rider feedback?
Are they cutting corners on stitching or do they have a solid build quality going on?
Those are some important factors to consider when looking at gloves like these.
Is Armor Padding Completely Necessary?
This will depend on how much you value your safety on the road as well as what your overall riding style is.
If you are looking for comfortable riding gloves for short commutes on day-to-day rides then you aren't going to favor spending more for extra armor padding.
But if you are planning on riding for longer periods of time then you'll definitely want to snag a pair of gloves that have extra protective features going on. The Klim Rambler gloves listed above are superb when it comes to additional armor added to the glove.
Perforated VS Unperforated
Whether you have perforated or unperforated gloves – a mesh textile glove is always going to have more airflow and be a more comfortable choice when it comes to riding purely in the summer.
But textile gloves also don't have nearly as close of a level of durability when it comes to aversions of abrasions which is yet another reason why deerskin is a favored type of leather riding glove to have.
With that said, a perforated design really does help tremendously when you're riding during hot days with these types of leather gloves on.
Obviously, you'll want to opt-in to a pair that is unperforated if you are looking for deerskin gloves that optimize the riding experience during the fall/winter seasons… It's a good thing that there are plenty of design choices out there to choose from.
Finalizing Your Ideal Riding Gloves
You'll want to consider how much protection you want, whether or not you are mainly riding during the cold or hot days, and – of course – the style that you most prefer.
The gloves that we featured here have some extra styling options and there is quite a wide variety when it comes to focusing on defensive design features and focusing on having an amazing-looking glove.
After scanning through each glove featured here – we sure hope that you feel more sure of yourself when it comes to deciding on which deerskin glove is best for you and your rides.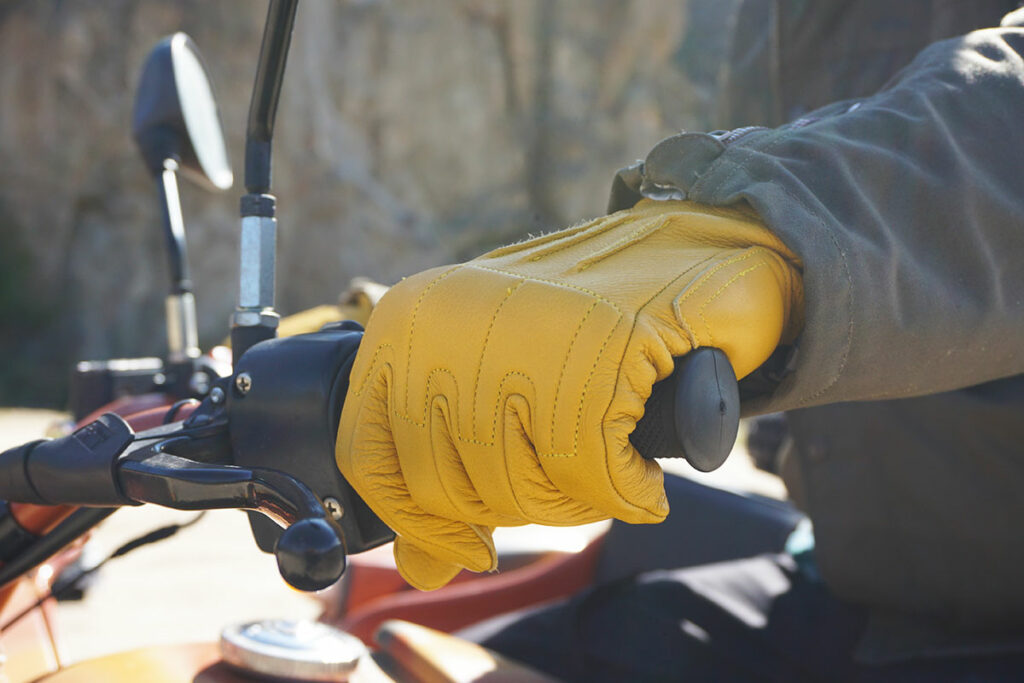 Deerskin Moto Gloves Are Good For Every Kind of Ride
---
Hopefully, this guide helped you narrow down which deerskin riding gloves are best for you.
Any deerskin-constructed glove is going to help out when it comes to overall abrasion resistance, but you should consider getting a glove that has additional armor padding if you are looking for the best protective glove you can get.
So, are you going to be getting any of these deerskin motorcycle gloves featured here?
Are there any other companies and gloves that you think should be added to the list?
Let us know in the comments below!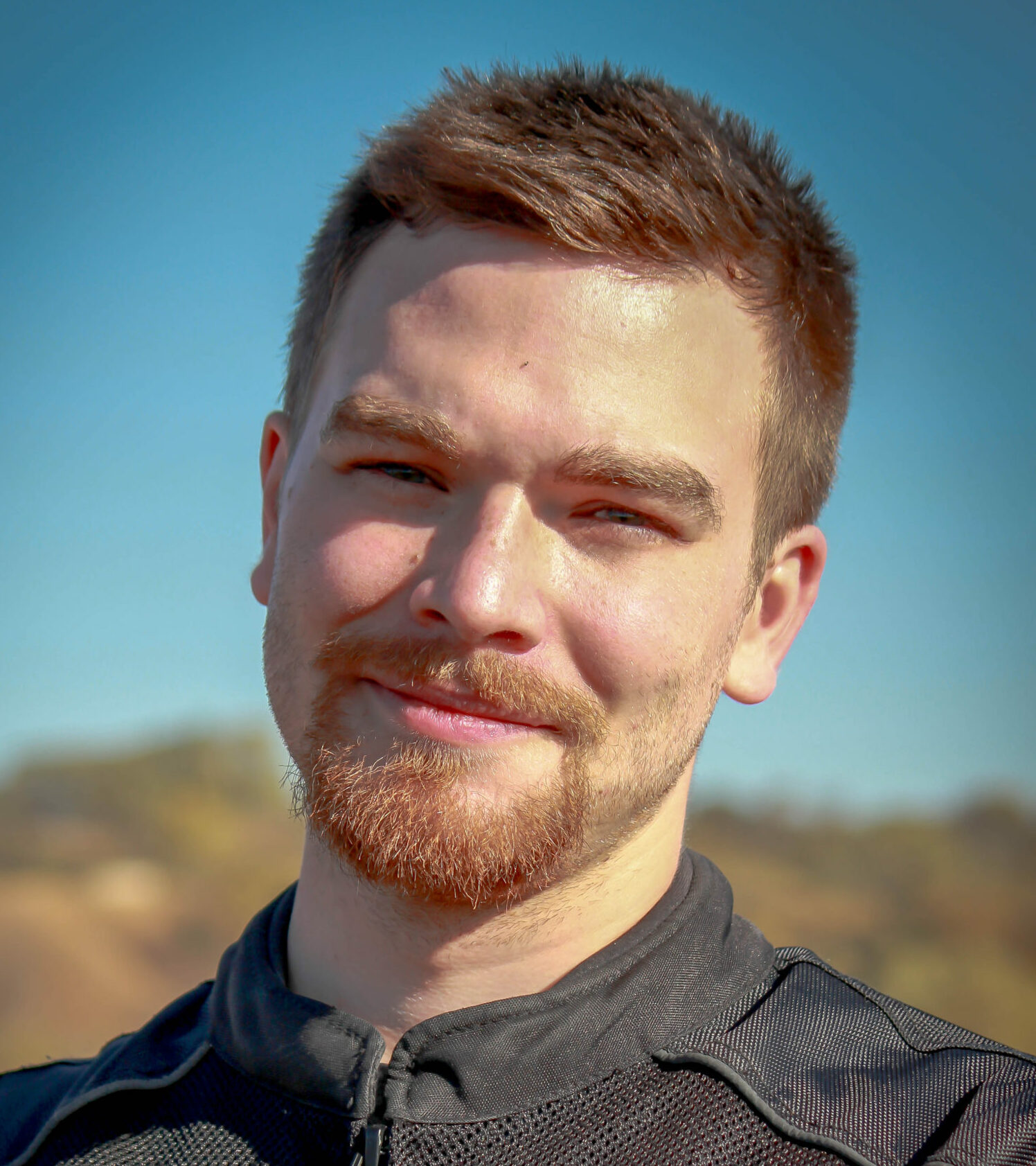 What's up! I'm Colton, the main guy behind Moto Gear Knowledge. Gear has always been my #1 priority when it comes to riding.
I share my experiences regarding gear and anything else moto related with you here. 👍