Last Updated on January 9, 2023
Whether you are a new rider and need to find the best low-cost motorcycle helmets out there or if you're looking for another helmet that doesn't put a huge dent in your wallet… we are here to help out.
In this guide, we are going over the best cheap motorcycle helmets that don't sacrifice important safety measures and materials for profit.
We'll go over our recommendations for why we chose each helmet listed here and where you can get it. If you're in a hurry, we have listed our main picks foremost.
However, we hope you take your time and look through all of the helmets listed here as some are going to be a different type of helmet, and depending on your motorcycling style, you may want to read up on some of the different helmets other than only our main picks.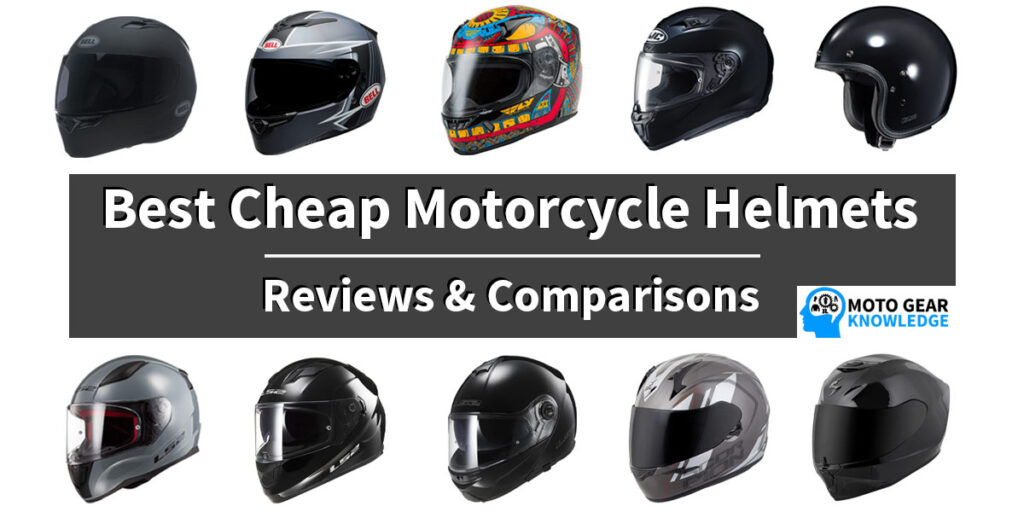 Cheap Motorcycle Helmets – Our Guide & Overview
---
We don't want to pick a distinct helmet and feature it as the outright best. We factor in official specifications, the most major features, and actual rider feedback so that you can feel good about picking out an affordable riding helmet that works best for you and your way of riding.
Listed below are our picks for some of the best moto helmets that are currently on the market for a lower price point. Think under $150, over $100 range for most of these helmet picks.
We didn't want to include any low-grade, fragile helmets since safety is the #1 concern here… but obviously on the flip side we don't want to be paying too much. This guide has dirt cheap motorcycle helmets that will last a long time and keep you safe on every ride.
It was kind of hard to find good moto helmets that are easy on the wallet that aren't made with garbage materials. There are a lot of very bad helmets on the market…
Right now, the Bell Qualifier Full-Face Helmet is the #1 pick when it comes to a low-cost, full-face helmet. Combine maximum affordability, a widely trusted brand along with the essential features you need in a helmet and you've got the Qualifier.
If you're looking for something modular then you should consider the LS2 Strobe Modular Helmet – it has everything you need when it comes to saving the most money possible while having all of the modular features you need.
Keep reading through if you want to see all of the other motorcycle helmets that we found to be worthy of listing! There are quite a few awesome choices out there when it comes to reasonably priced moto helmets.
Comparison Table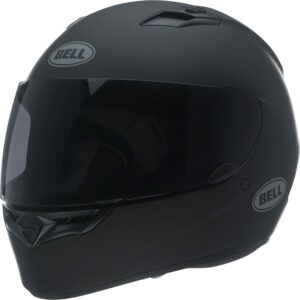 Bell Qualifier Motorcycle Helmet 
If you need a helmet with all of the essential quality of life features combined with a brand that has been trusted for over 50 years then you will want to take a look at the Bell Qualifier helmet. There are plenty of styles to choose from and it is usually available for under $120.
Scorpion EXO-R420 Motorcycle Helmet
Scorpion helmets have a unique style to them. Their EXO-R420 helmet includes SNELL approval, a super lightweight design and easy to use features that makes it hard to pass up when looking at helmets around this price range.
LS2 Rapid Street Motorcycle Helmet
LS2 helmets are known for their budget-friendly prices and their Rapid Street helmet is definitely a huge contender when it comes to the best bang for your buck. Usually available for just over $100, there are really cool graphic styles to choose from and has everything you need to stay safe on the road.
There isn't going to be an all-time best moto helmet that's befitting for every type of rider out there. That's why we have included a reasonable amount of different types of cheap helmets in this guide.
If you're looking for a budget-friendly winter motorcycle helmet, an inexpensive modular motorcycle helmet, or a low-cost motorcycle half helmet…we have them listed here!
You will want to get a helmet that has high levels of impact and abrasion resistance features. There are plenty of features to ensure that your helmet has, impact and abrasion resistance are some of the main reasons to wear your helmet in the first place!
High-quality build materials for if you need to bail out and slide, the types of padding materials used, a comfortable fit overall, and confidence to know that it won't need to be replaced in a year.
You don't want to have to buy a brand new helmet every few months and unfortunately, that is a frequent situation when it comes to inexpensive, low-quality brand helmets.
However, there are some amazing helmets out there if you dig deep and do the concrete research which is why we have done most of the searching for you!
These are some of the best of the best that we have found through finding the right kind of build quality you need in a helmet, real facts from riders that have used these helmets, and features that make sense.
Top 12 Rated Cheap Motorcycle Helmets of 2023
1. Bell Qualifier Motorcycle Helmet
---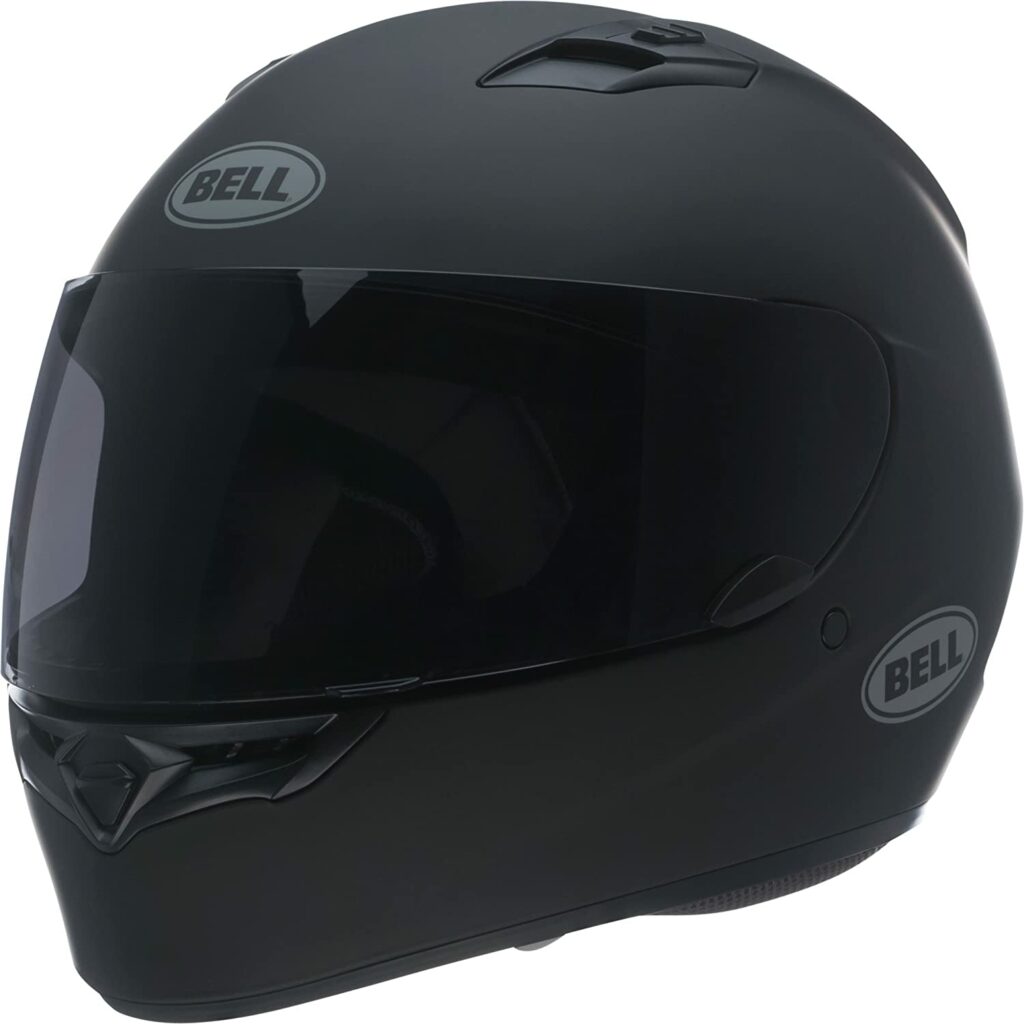 The Qualifier full-face helmet from Bell is the top recommendation here because it's the helmet that makes the most sense when you want a helmet that is all about optimal safety and affordable pricing.
Bell was established in 1954 and has always been one of the best brands when it comes to reliable motorcycle helmets. Almost every rider has heard of Bell and that alone says a lot about the quality of their helmets.
This helmet has a bunch of different styles to choose from, it comes in all sizes, it has all of the essential features that a good full-face helmet should have and it's almost always priced around the $115-120 range.
It is made out of a polycarbonate ABS material which is something that you're going to find with most of the helmets listed here.
Polycarbonate materials are a tough material that is widely available to mass-produce helmets like this.
The visor is Bell's NutraFog II shield which helps with eliminating fog in general while riding.
There is plenty of ventilation at the front, top, and back of the helmet which also helps to eliminate fog. You can adjust the top and front vents with a quick slide.
Unfortunately, the Qualifier only comes with a clear shield – despite the helmet being shown with a tinted shield.
You will have to get alternative shields separately which cost around $40-$70 depending on which shield you would want to get for it.
Taking off and putting on a different visor is super easy because there is a click release system with those visors, No tools are needed, pretty simple to pop on and off.
The inner liner is easily removable and can be hand washed. There are integrated speaker pockets behind the liner and it also comes with a padded wind collar.
It's DOT approved and meets the FMVSS 218 standard. DOT approval doesn't mean much because the DOT doesn't have a super strict level of testing which is why you can see "DOT approved" even on some of the most low-quality helmets out here.
But the FMVSS 218 standard goes through more rigorous testing for helmet manufacturers which proves how safe the helmet really is.
If you need a high-quality full-face helmet that is very easy on your wallet and is guaranteed to help tremendously if you were to ever go down while riding then the Bell Qualifier should absolutely be on your radar.
Pros
Meets the FMVSS 218 standard
There are a bunch of styles and sizes to choose from
Good anti-fog visor along with good ventilation
Bell is a top-tier brand when it comes to quality
Cons
Only comes with a clear visor
2. Scorpion EXO-R420 Motorcycle Helmet
---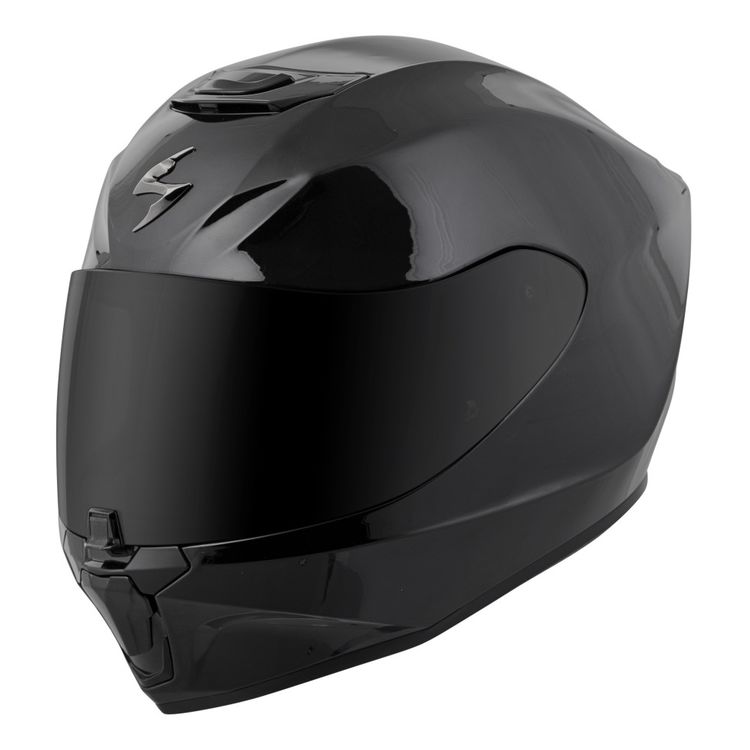 Scorpion is another widely known and trusted brand with uniquely styled helmets. Their EXO-R420 helmet is a popular helmet due to its lightweight, easy-to-use features, SNELL standard approval, and high build quality.
It weighs right at the 3 lb. mark which puts it a little bit below the average weight of most full-face helmets, but it doesn't sacrifice the quality of protection to have that light of weight.
The EXO-R420 is made out of an advanced LG polycarbonate shell that is SNELL approved.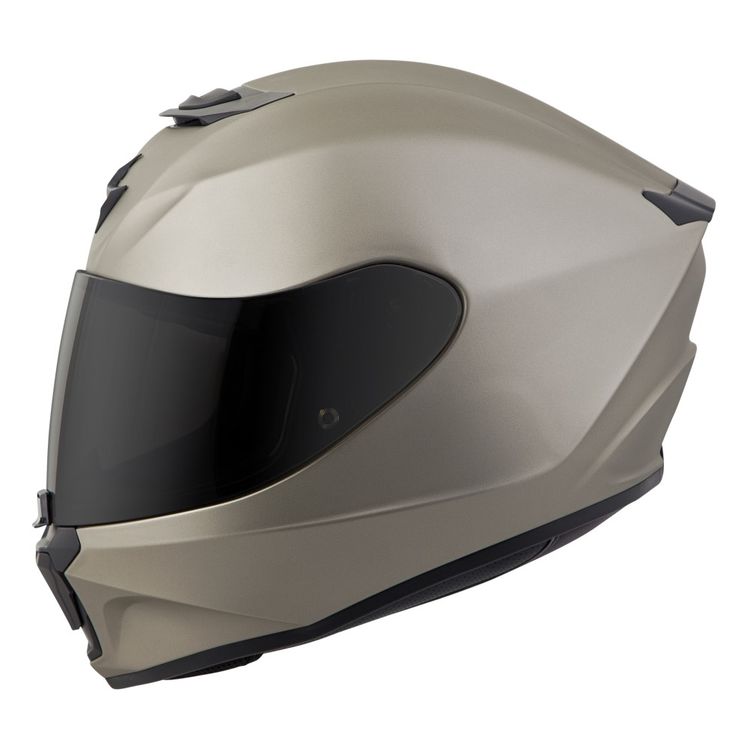 For a helmet to get SNELL approval it needs to go through some more rigorous testing to prove that it really can protect your noggin' at a high level.
Impact management and overall stability are a couple of factors that are tested for SNELL approval, amongst a bunch of other major, protective factors.
When browsing around for a moto helmet on a budget, you aren't going to find too many helmets that are SNELL approved so when it comes to maximizing your protection, this helmet is a perfect choice.
As far as features go, this helmet has an Ellip-Tec II Ratchet System for quick, easy, and tool-less face shield changes. Swapping them is super easy to do.
Unfortunately, this one also only ships with a clear visor. So you'll have to dish out an extra bit of cash if you wanted to get other shields which will run you around $45-$60 depending on the shield you are wanting.
The fabrics inside are comfortable and washable, they're easily removed. Ventilation flows through these fabrics pretty well and there are front and top vents that you can adjust to your liking.
The cheek pads are designed with an emergency release system for medical personnel which in all makes them easy to remove in general. Big quality of life feature there as some helmets struggle with having the inner fabrics removed in a simple way.
If you're looking for a helmet that is aerodynamic, is extremely easy to use/maintain, and has a more minimal design then it'd be difficult to pass up the EXO-R420.
Pros
Extremely easy to use and maintain
SNELL approval
Emergency release system in cheek pads
Decent ventilation
Cons
Limited number of style options
Only ships with a clear visor
3. LS2 Rapid Street Motorcycle Helmet
---
If you're looking to spend the least amount possible on a helmet that is still able to do enough to keep you safe for every ride then the LS2 Rapid Street helmet is right up your alley.
It's usually priced right at the $100 mark which makes it the lowest-priced featured here. Although there are a few things that you'll be missing out on by going with this one, that slight decrease in budget could be worth it.
It weighs about 4 lbs., it meets the FMVSS 218 Standard & ECE 22.05 Standard, has a removable inner fabric, there are multiple styles to choose from and it has adjustable ventilation.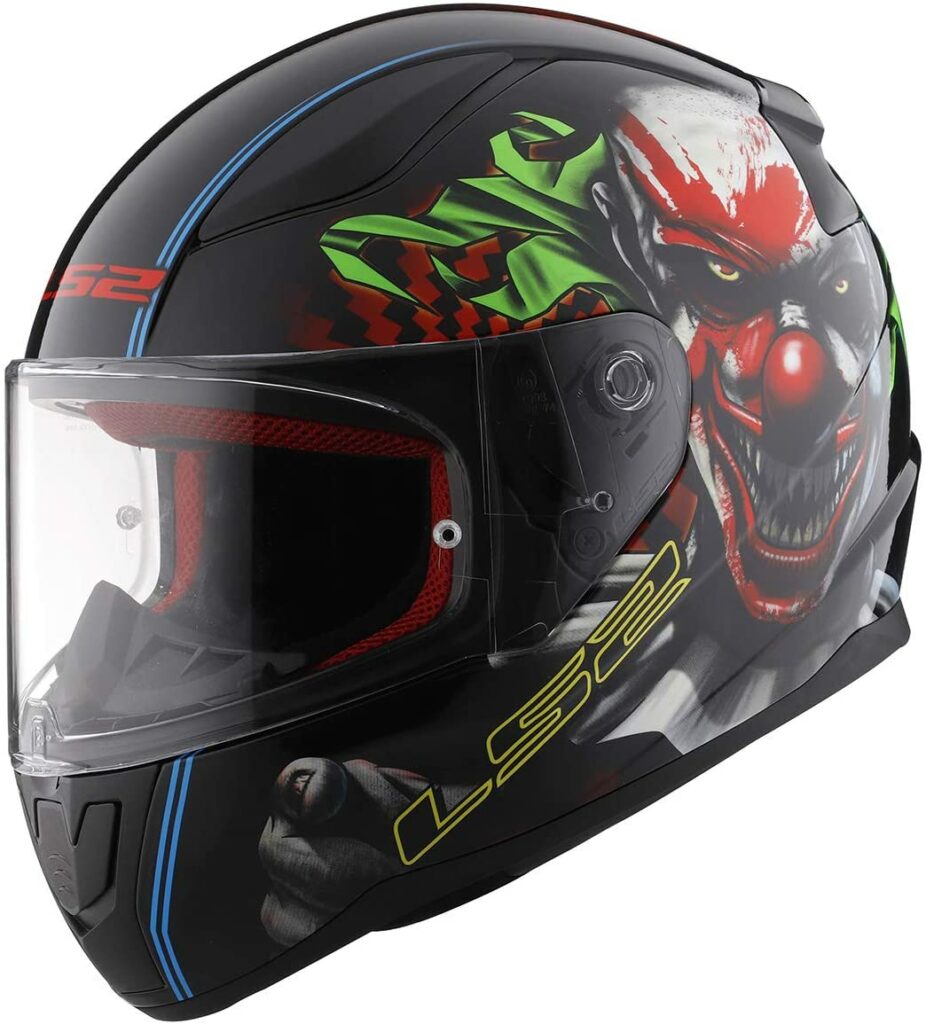 Although it's a little heavier than most helmets, LS2 created a super budget-friendly helmet that has been proven to save lives.
There is more than one report from other riders using this helmet that have gotten into an accident (at over 40mph) and the helmet stayed intact and absolutely saved their life.
The shell is made out of high-pressure thermoplastic technology that can withstand heavy abrasions and impacts. These thermoplastics do more than enough to keep you safe, especially with this one having the standard approvals that it has.
The inner fabric is some basic but thick padding that you can remove and wash with ease.
It's simple to remove and put back in. All of the different styles you can choose from use the same exact padding.
Speaking of the styles, there are a ton of different ones to choose from. Most of them are different graphics while there are a few color trim options… LS2 definitely has a great artist for their helmet graphics!
The adjustable ventilation gets a lot of air in the helmet but it's kind of loud when you're riding at higher speeds and the vents don't have any screen so there are chances of bugs getting into the vents.
All in all, this is the most affordable helmet that is listed here so if spending the least amount possible is what is most important to you then this Rapid Street helmet is going to be the one to go for.
Pros
Lowest priced helmet listed here
Plenty of styles to choose from
Meets the DOT FMVSS 218 and ECE 22.05 standards
Cons
Vents do not have screens
Not the best at sound reduction at high speeds
4. Bell RS-2 Motorcycle Helmet
---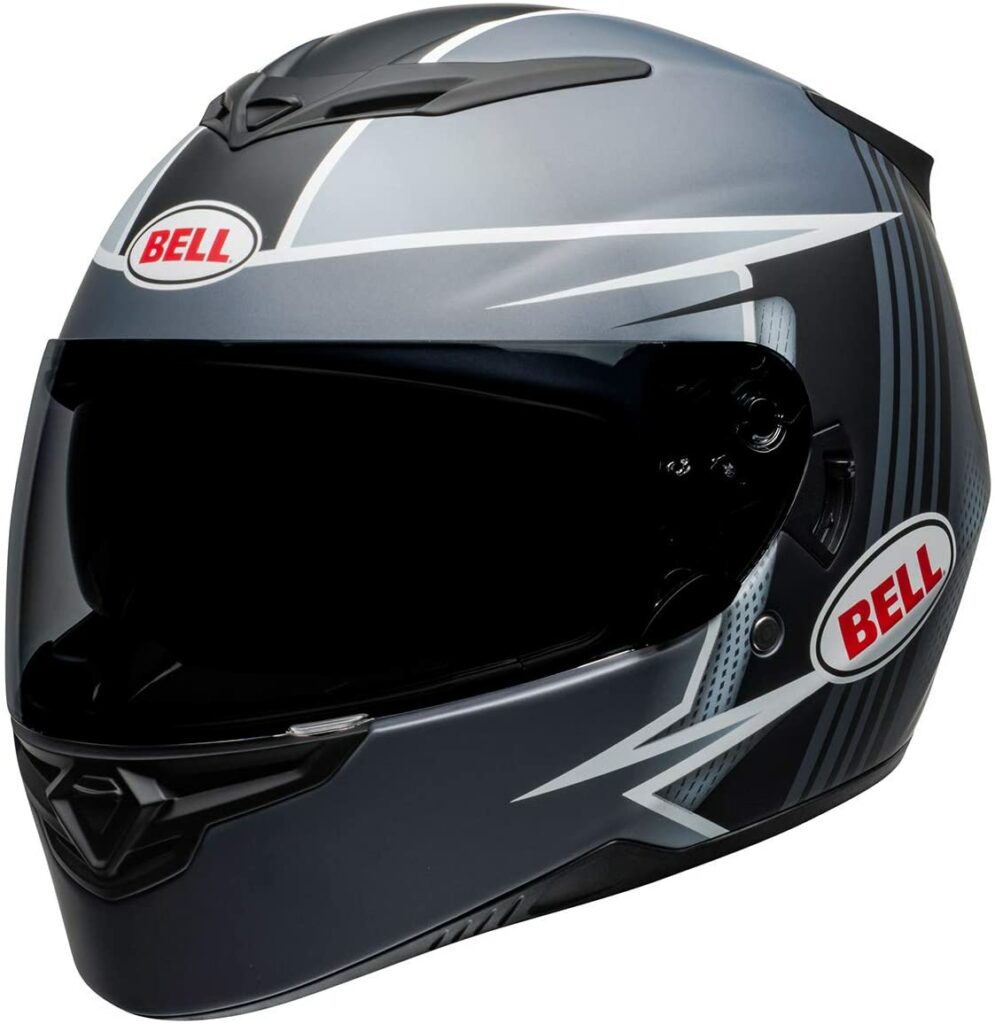 Now comes another pick from Bell, their RS-2 helmet. This one has a drop-down sun shield that way you don't have to shell out more money for an alternate tinted visor!
Aside from the built-in sun shield – this helmet also features a fiberglass shell, a washable inner padding liner, and good ventilation options.
You are able to drop the sun shield down from the left side of the helmet. There is a simple lever switch for up/down – it's as simple as that!
The drop-down sun shield is great for on-the-fly changes when the sun is getting into your eyes as well as for not having to be forced to wear sunglasses or buy a separate visor.
However, there are still some compatible visors that are available for this helmet.
The fiberglass shell meets the DOT FMVSS 218 standard and provides a high level of protection for the current price.
I believe that the low price point is because Bell has come out with a newer model of this helmet and has discontinued this model so we're not sure how much longer it is going to be available.
There is an inner liner that can be removed and washed. This liner helps to wick away some sweat as well as adding another layer so that the actual inner paddings have something in between.
Ventilation is always great with these Bell helmets – every vent is adjustable and there is plenty of airflow going on with them. But since the ventilation allows for heavy airflow, that means it's not a quiet helmet. Some riders have noted that it's not really on the quiet side compared to other Bell helmets.
If you do some extra searching for this helmet you'll find matte styles as well as other glossy styles. There are also a couple of trim color options and some hi-viz options as well so there are plenty of styles to pick from!
Like I said before, we're not sure how much longer this one is going to be available. This helmet likely will not always be available at this price point and for a drop-down sun shield helmet – this is a great option!
Pros
Drop-down sunshield included
Fiberglass outer shell
Meets the DOT FMVSS 218 Standard
Cons
Discontinued and likely not available for much longer
Kind of loud while riding at higher speeds
5. Fly Racing Revolt Codex Motorcycle Helmet
---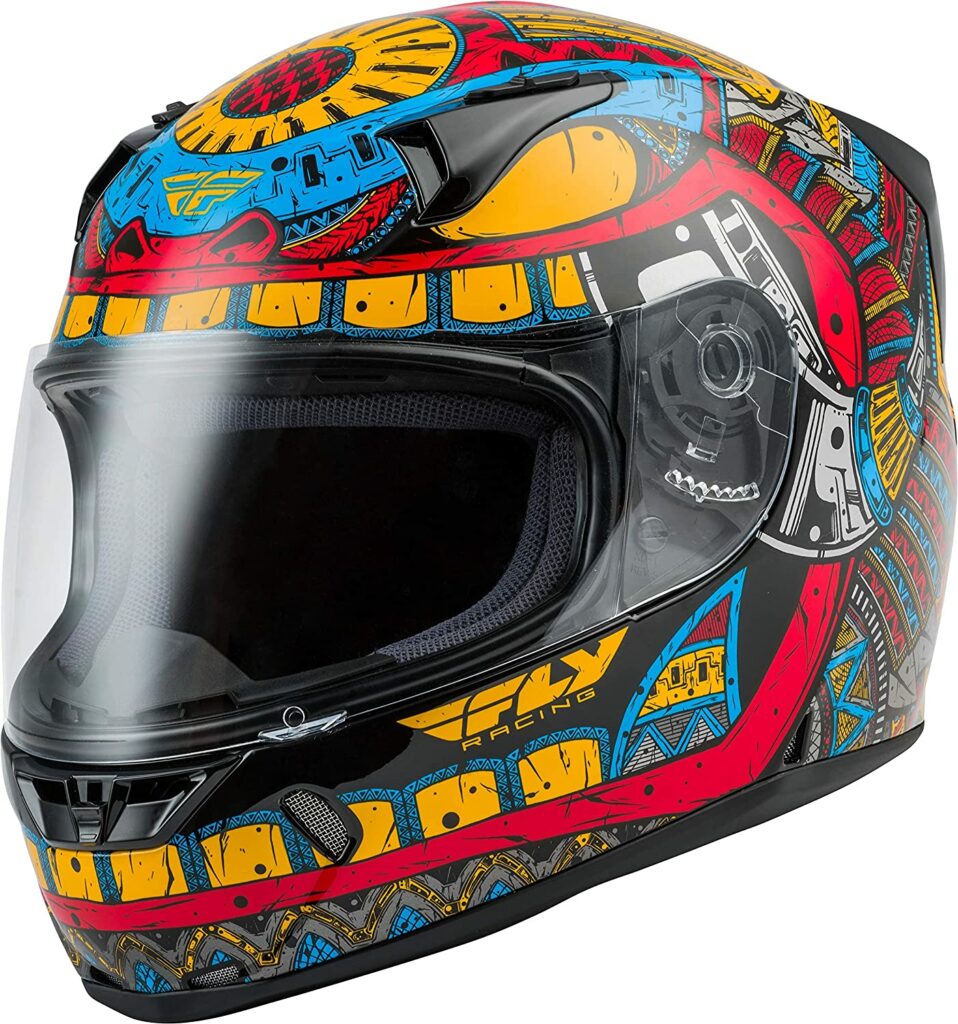 For another SNELL-approved pick we have the Revolt Codex helmet from Fly Racing.
Although this isn't nearly as popular of a pick compared to the rest of the helmets listed here, it has a unique graphic design as well as a more unique aerodynamic design.
As far as materials used, the shell uses a lightweight polymer material. The inner liner is a dual-density expanded polystyrene liner.
The uniqueness of this aerodynamic design is mainly because of all of the extra venting options that go along with the design.
This helmet has 4 adjustable intake vents, 4 passive intake vents, and 6 exhaust vents all around the helmet.
With that many vents, you are ensured to keep cool during the hot riding days.
However, this also means that the helmet is going to run a bit loud because of all of the intake it has going on.
One of the best parts about this helmet is that it comes with a clear and a tinted visor.
Not many helmets featured in this list come with two separate visors so that's a huge plus! Then the added quality of life is that the visors are extremely easy to switch out.
There are quite a few parts that you can remove and wash as well as different portions, such as the removable air guide, to help with anti-fog on the visor and general airflow.
This helmet has some of the best airflow going on for this price range and it also ships with an extra tinted visor!
Really the only downfalls to this helmet are that it is a bit loud at faster speeds and it doesn't come in a bunch of other styles, only the unique graphic pictured here and a black/white variant of that graphic.
Pros
Extremely good airflow with a bunch of adjustable vents
Very unique graphic & aerodynamic design
Comes with a clear and tinted visor
Plenty of parts that are adjustable/removable
SNELL approval
Cons
Only comes in two styles
Removing the chin curtain will add to higher noise levels at faster speeds
6. HJC i10 Motorcycle Helmet
---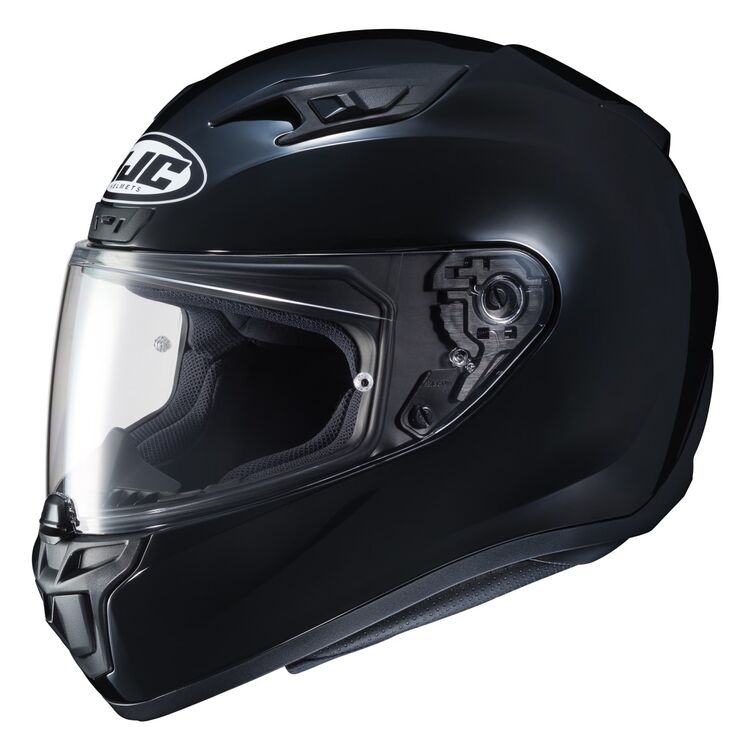 For another feature-packed helmet, we have the i10 full-face helmet from HJC.
HJC did a great job updating this helmet from the previous CL-17 model with extra venting, a streamlined shell design, a good seal with the added gaskets, and a comfortable interior.
It also has SNELL M2020 approval which is again, something you don't see very often with helmets around these price ranges.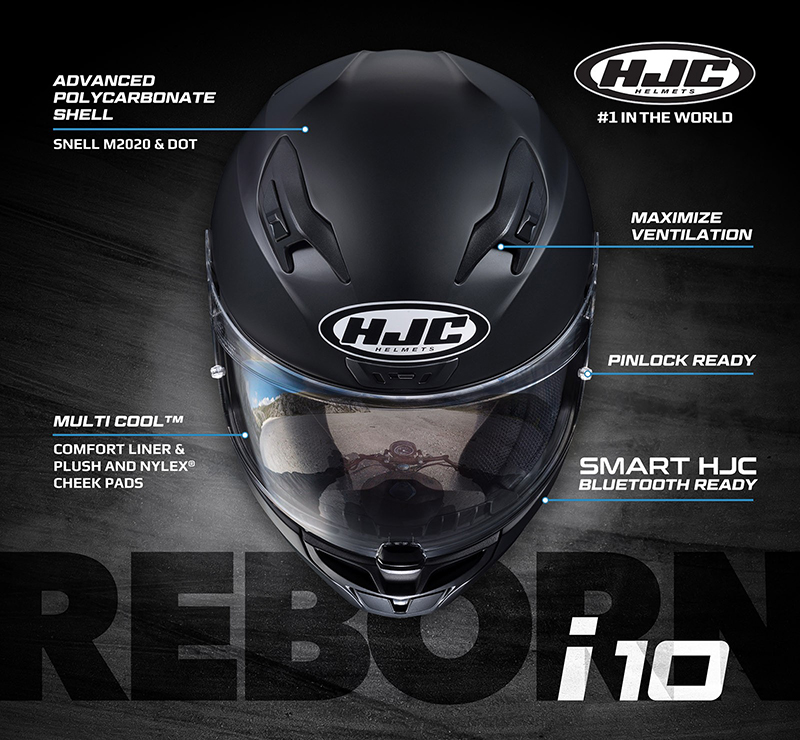 The shell is made out of lightweight polycarbonate composite. Nothing surprising there as, at this price point, plenty of helmets use similar materials for the shell.
Front vents are easily switched from open to closed from the front tab which you slide up or down.
Then the top vents also have tabs to open or close them allowing for more than enough intake.
All of that air is easily pushed through the back exhaust vents and makes this helmet quieter than most helmets at this price range.
EPS inner liners are used here which is always suitable for easily removable and washable liners. They're also pretty comfortable.
Pin-lock ready for those of you that want the extra anti-fog properties but this helmet does a decent job of keeping fog out as is. Shields are readily available as well but it only ships with a clear visor.
This also comes in quite a few styles including two black variants, white, blue, and grey.
For those of you looking for an all-around, feature-filled helmet that helps to keep the noise down and has proper protection approvals then the HJC i10 might be the helmet to go with!
Pros
Plethora of features
Comes in plenty of styles
Great ventilation
SNELL approval
Cons
Only ships with a clear visor
7. LS2 Stream Motorcycle Helmet
---
Another budget option from LS2 – their Stream model focuses on riders that have a longer head shape, that want a super quick face shield swap and a drop-down visor built into the helmet.
The shell is made out of a proprietary aerodynamic and lightweight kinetic polymer alloy material. This material helps to make the helmet meet the FMVSS 218 Standard.
Inside the helmet – there is a removable/washable technical fabric liner that helps to wick sweat to keep you cooled off while riding.
The cheek pads are 3D laser cut from their factory for extra comfort and no hot spots.
The visor has a quick change and there is a built-in sun visor that you can drop down by flicking the switch on the side of the helmet.
Although it's nice to see a quick change feature… It comes with a sun visor so unless you're wanting extra tinted styles, there really isn't a point in getting a tinted visor for the sun.
It also has a DOT-approved quick-release chin strap which is good if you ever find yourself in a situation where you need to get the helmet removed in a quick moment.
There are helmets that have more ventilation going on but this helmet also has fully adjustable ventilation slots with ported EPS to keep you cooled off.
As for styles, there are a BUNCH of them! From custom graphic ones to different color trims, it should be easy to find a style that suits you best.
If you're looking for a helmet that has a drop-down visor included that you can also show off, the Stream from LS2 is going to be the way to go. It could have had some extra ventilation features, otherwise, it's a great helmet for the price point!
Pros
A bunch of graphic styles to choose from
Includes a drop-down sun visor
Meets the FMVSS 218 Standard
Cons
Could have had better ventilation
8. HJC IS-5 Motorcycle Helmet
---
If a full-face helmet isn't what you're after but you still want a higher quality half/three-quarter helmet then you should definitely consider the HJC IS-5 helmet.
It's made out of an advanced polycarbonate composite shell like most of the other helmets listed here. There is an integrated sun shield and it comes with a visor that snaps to the three top buttons on the helmet.
With half/three-quarter helmets like this – it comes down to how comfortable it is to use.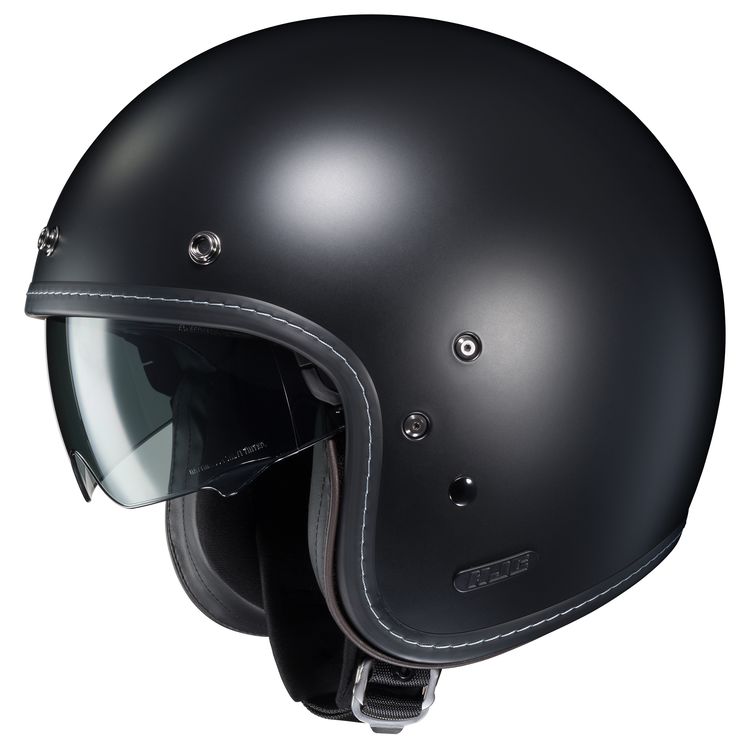 The inner liners are made with anti-bacterial, moisture-wicking fabric that has plenty of padding going on as well as a design where there is nothing that is poking around at your head while you ride.
The cheek pads and inner liner are completely removable and the helmet itself is DOT approved.
The main goal with the IS-5 helmet is to ensure that you have a comfortable ride with some extra features to choose from while still trying to keep the retro styling alive.
Modern features combined with the classic retro style – that's what this helmet is all about.
It comes in a matte black, gloss black, metal flake black, or a matte white finish – plenty of classic designs to choose from.
Obviously, we always recommend getting a full-face helmet as it's the safest option to go with but if you're wanting to have something in this style, this is definitely going to be one of the best out there!
Pros
Integrated drop-down sun visor
Excellent build quality
Comes with a 3-snap top visor
High-quality inner padding/liner materials
Cons
Not as protective as a full-face helmet
No top ventilation
9. Scorpion EXO-R320 Motorcycle Helmet
---
Scorpion's EXO-R420 is what was featured as the runner-up pick in this list which is an upgraded version of this helmet, the EXO-R320.
However, this helmet is available for a little less than the R420 and if you don't feel that you need the added features and whatnot from that helmet then the previous model might be the perfect fit for you.
The shell is made out of an LG polycarbonate material, it has dual density expanded polystyrene lining, a washable comfort lining on the next layer and it meets the FMVSS 218 Standard.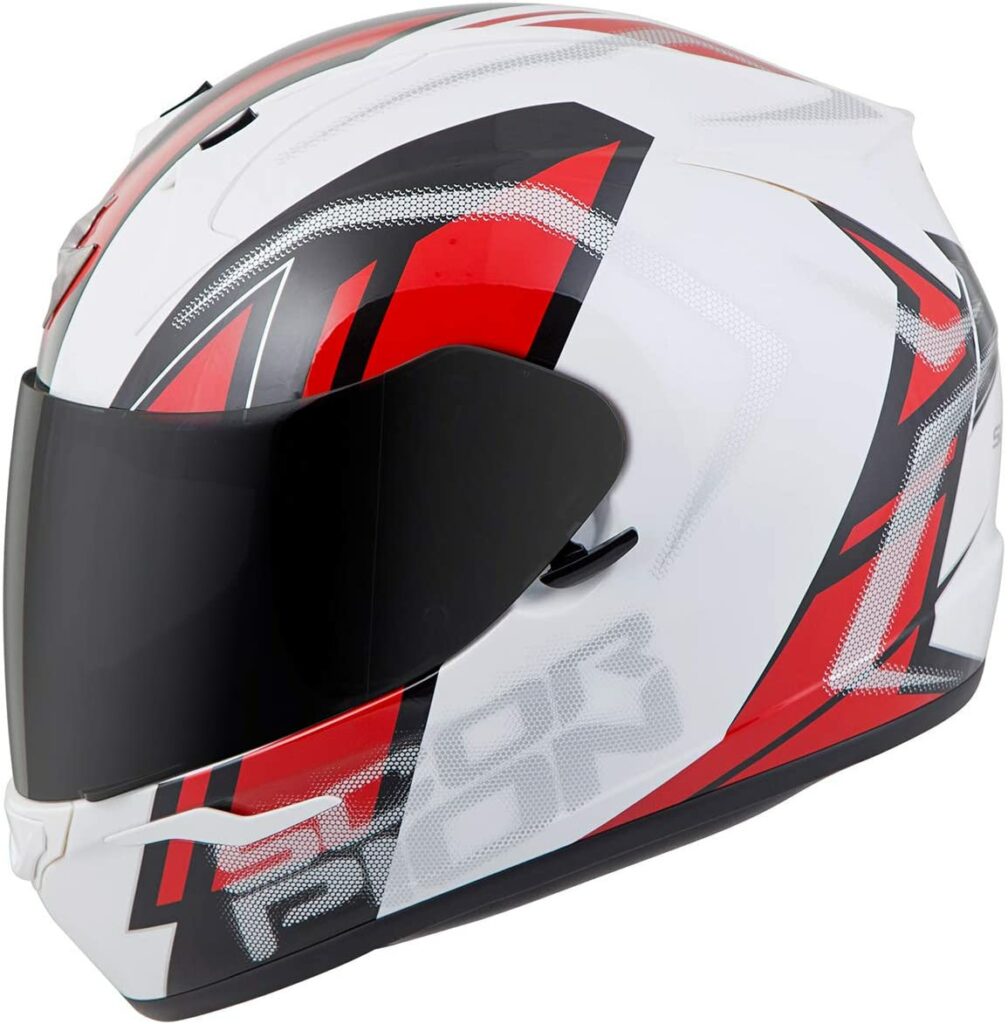 As for the main differences between this model and the R420 – this one uses a different shield lock system, it has a distinctively different shape, there are extra styles to choose from, ventilation is channeled differently through the EPS lining and it does not have SNELL approval.
The shield lock was slightly updated with the R420 but it's still a simple mechanism with the R320.
The main downfall to this shield is that it's more likely to fog up without tweaking it a bit so keep that in mind when comparing it to the R420.
This helmet also shares the lightweight, weighing in at a little over the 3 lb. mark. It still has the emergency release cheek pads.
Although when this was released it'd be considered more of an aggressive style, the R420 has more aggressive styling compared to it.
It is still a streamlined design and this one has plenty more graphic styles/colors to choose from but you should be sure to look into the shape differences yourself to see what you like and don't like.
If you are looking for something like the R420 for a lower price point and are alright with the SNELL approval being sacrificed, not having a visor specifically designed to keep fog away, and appreciate having more styles to pick from then you'll want to keep the R320 on your radar.
Pros
Cool styles to choose from
Emergency release cheek pads
More budget-friendly than the R420
Cons
Doesn't have SNELL approval like the R420
Visor is not built for anti-fog
Only ships with a clear visor
10. LS2 Strobe Motorcycle Helmet
---
This helmet is yet another pick from LS2 but this one is a modular model. The LS2 Strobe is for those looking for an affordable modular riding helmet that still has a high level of build quality going on.
It meets the FMVSS 218 Standard by being built with 3D optically correct polycarbonate materials. Combine that with a good quick-release strap, airflow that was designed to flow nicely through the EPS (and is fully adjustable) as well as a comfortable liner and you've got a recipe for a great helmet!
The key feature with this one, however, is that you're able to flip up the front portion from the full metal latch system to make it into an open-face helmet whenever you deem it necessary.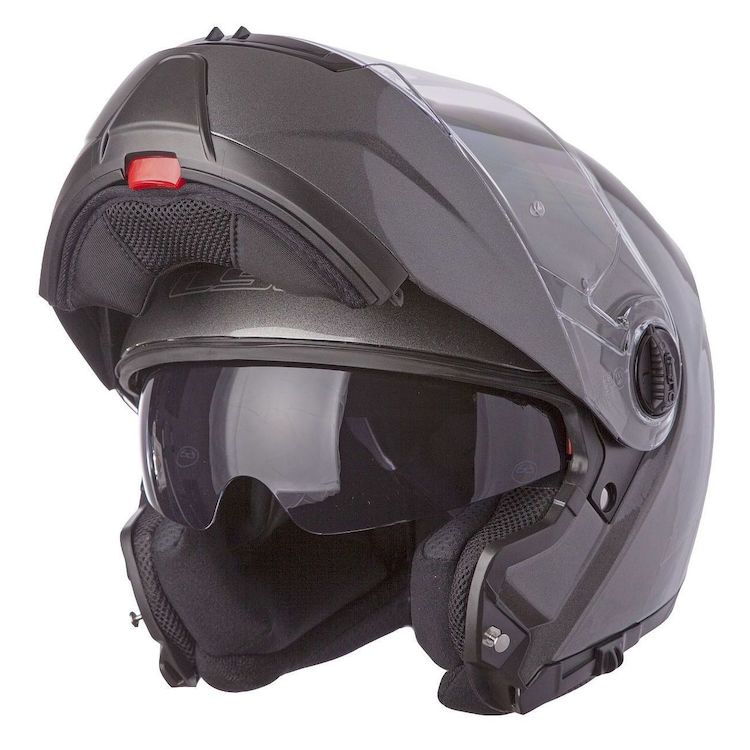 As far as modular helmets go, this one is one of the lowest-priced ones that we've been able to find on the market that doesn't sacrifice materials used for profits gained.
Modular helmets aren't for everyone, but the fact that there was one available for less than $150 – we had to add it here.
You'll be able to flip the helmet up from the single press button and it stays in place so it's easy to find when you want to flip the helmet back down.
It also comes with a drop-down sun shield which you can slide up/down using the slide and cable system built into the helmet.
This makes sure that the sun shield is easy to adjust while also not taking away from trying to keep the noise levels down and keep the ventilation at a good level.
All of the inner pads are removable and washable and they do a good job at wicking away moisture from the material they're made out of. Merge that with the flip-up design going on and you'll be staying cool with ease.
There have been a few reports from riders that the helmet does get a little loud after getting over the 60mph mark which is something to consider if you're planning on using this helmet mostly for longer rides on the highways/interstates.
It would have been great to see a wider range of availability with styles/size options but it doesn't seem like they are in stock all too often and a better exhaust ventilation design would be ideal for those that are experiencing loud noise and a little fog on the visor while riding.
Another rider reported having an accident at over the 60mph mark and the helmet stayed intact through the accident. A driver had pulled into their lane, clipping their front wheel.
If the materials used and the design itself doesn't prove the helmet's impact resistance then the actual rider living through a big accident should tell you enough!
When it comes to finding a much more affordable modular helmet that isn't made out of extremely low-quality plastics then the Strobe is going to be the ideal helmet to go with.
Pros
Flip up modular design
Comes with a drop-down sun visor
Easily adjustable in every way
Cons
Styles and size availability is slim
Some reports of it being on the noisy side at higher speeds
11. HJC C70 Motorcycle Helmet
---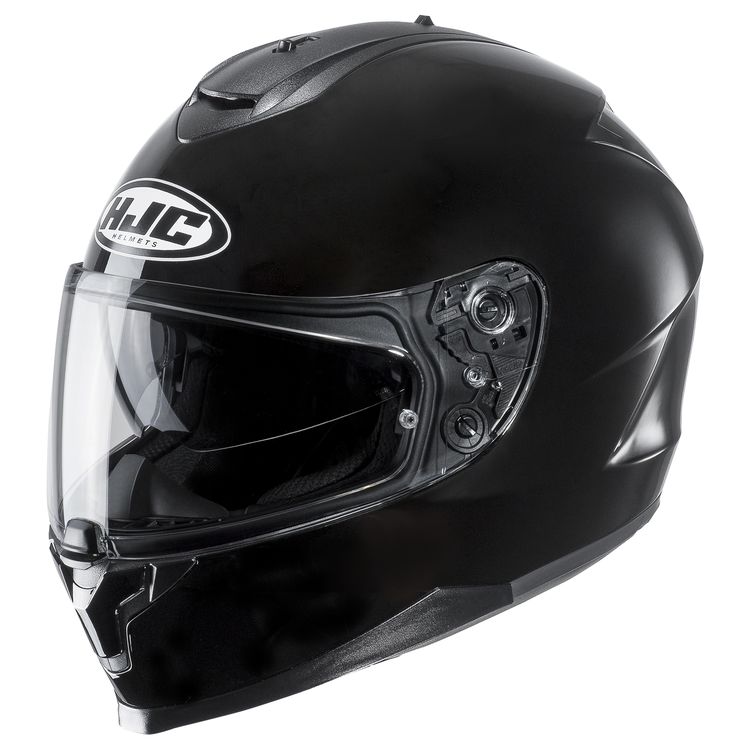 Another pick from HJC comes their C70 helmet model. It's a lightweight, quiet full-face helmet that includes an internal drop-down visor.
How this helmet mainly differentiates itself from other full-face options is that it is on the quieter side with wind noise and it's got an impressive comfort level when wearing it.
There is some trade-off there since the ventilation isn't as advanced as some of the other more pricey helmets out there, but it's still worth it considering that it's got awesome features at this price point.
The face shield is PinLock ready and has a simple center locking mechanism. It's easy to flip up or down and has excellent coverage when it is fully locked down.
The sun shield is adjusted at the top of the helmet, behind where you would open and close the top vent. It doesn't have any positions, just the simple up and down actuation on it.
A small issue with that is that it does not come all the way down, which brings in a little bit of sunlight but it isn't really a deal breaker.
The inner padding is made of a very comfortable material that is also tight around the edges, something that other picks happen to miss the mark on with other similarly priced helmets. That padding is also covered with some considerable moisture-wicking material.
This comes in a few different styles, it's super comfortable and lightweight. If you're on the lookout for an affordable helmet that has a drop-down sun shield, that has a snug fit, and is PinLock ready then you should consider the C70 from HJC.
Pros
Very lightweight and comfortable
Drop-down sun visor built-in
Face shield is PinLock ready
Low wind noise
Cons
Ventilation could be better
Sun shield doesn't come all the way down
12. BILT Nomad Motorcycle Helmet
---
This last helmet from BILT is another modular option that has quality features across the board. It's one of their newest helmets that they've released and it's a righteous modular to ride with!
BILT uses a new alloy composite injection method for this shell which helps to bring the overall weight down to 3.14 lbs. That's a superb helmet weight when compared to the other helmets on the market around this price range.
It has a built-in drop-down sun visor, the face shield is pretty wide and is PinLock ready, the chin bar has a quick release button which makes it easy to flip up/down, inner padding has an antimicrobial finish that wicks moisture away to keep things fresh, and it comes in multiple size options.
The aerodynamics of the shell is top-notch, and overall performance while riding is high up there – it's comfortable and has ease of use with the modular design combined with the aerodynamics.
The face shield is on the wider side which enables more visibility, and it's PinLock ready. The sun shield drops down with the flip of the side switch whenever you need to block out some sunlight.
There has been some rider feedback on the ventilation not being the greatest – it'll get a bit warm with the face shield down. However, you can always crack the shield or flip it up at a moment's notice, so it wouldn't be a huge deal with daily use.
With the incorporation of the materials used with the padding, moisture will be mostly wicked away with it flipped up for a bit. It'd be nice to see a better ventilation design, but it isn't anything that ruins the riding experience.
Overall, BILT has done a great job with their Nomad helmet. It's priced lower than other modulars on the market, has great aerodynamics, and is available in multiple sizes.
If you need a budget-friendly modular helmet that is packed with features and is bound to have a size available for you, then the Nomad is the way to go.
Pros
Flip up modular design with sun visor
Very lightweight and comfortable
Great aerodynamic performance
Available in a ton of different sizes
Cons
Ventilation isn't the best
Cheap Motorcycle Helmets: A Guideline
---
There are too many cheap helmet choices out there that will not help at all in the event of an accident.
That's why we wanted to create this guide – to show that there really are some great options out on the market that you can feel confident buying!
You don't need to spend multiple hundreds of dollars in order to get a good helmet that will provide the essential safety features you should have while you are on the road.
Posted below are some extra guidelines that you should follow whether you are considering going with one of the helmets featured here or not. We hope that this information will help you find your perfect helmet.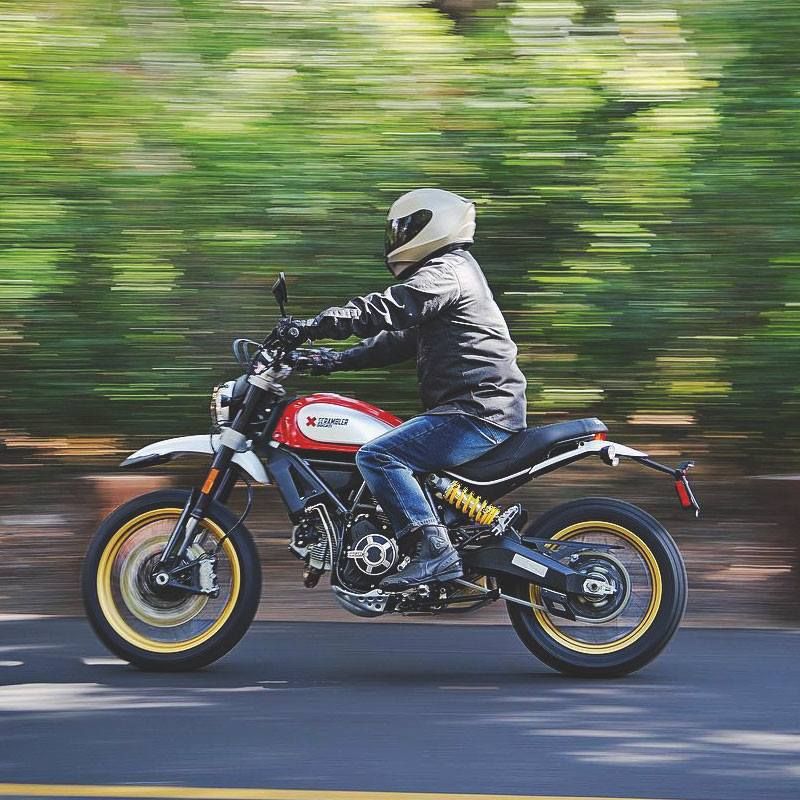 Choosing The Right Size
Sizing is extremely important, you never want a helmet that isn't snug against your head because then it has a much higher chance of flying off if you find yourself in a situation where you and your bike are going down.
The opposite is also true, you can't get a helmet that is too snug because then you're going to be uncomfortable during your whole ride trying to adjust the fit of your helmet when you should be focusing on riding.
Not every helmet company is spot on and you might run into some issues here and there with sizing but you should make absolutely sure that you are following the sizing chart that they provide.
If you are not able to find one on their product page then you should try to find the helmet on their official website(s) to see if there are sizing charts available directly from the company.
Are Budget Helmets Worth Getting?
They can be.
If you decide on the absolute cheapest helmet that's available online then there isn't much of a chance of that helmet doing what it should be designed to do.
Helmets are designed to keep you alive in the event of an accident and you should think of that as you're going through all of the options that you're going through.
So if you choose to buy motorcycle helmets for under $100 expecting them to stay fully intact at all times… then you aren't informed about the materials used with such a helmet.
BUT if you follow through with the right research and look into real feedback with the budget options that are available then you will be able to find the hidden gem picks like the ones featured in this guide.
Materials To Look For
Almost all of the shell designs on motorcycle helmets that are priced around this $150 mark are going to be made out of different polycarbonate materials.
The main difference with the helmets is going to be the process by which those polycarbonates are made. Many companies will showcase where/how they get/make the materials used in the motorcycle helmets which will help you out with knowing what's going on with a specific helmet.
Padding & Comfortability
If you want to stay comfortable on all of your rides with your helmet (which I assume we all do) then you will want removable, washable padding with your helmet.
Aside from that, you will want to look into what the paddings and liners are made out of as well as look into rider feedback on the overall comfortability of the helmet.
Sometimes the inner paddings will be placed in a way where the upper layer of the padding will stick out at the top and scratch at the top of your head. Or maybe the ventilation isn't what it is being advertised to be…
Everyone will experience the helmet in a different way but if there are any consistencies that you notice then you'll need to take note of that and decide from there.
Most of today's helmet designs have comfortability in mind with high-quality wicking materials and anti-bacterial properties.
Cheap VS Expensive
At the end of the day, we're trying to save some dough while trying our best to keep our brain safe in case of a heavy impact or abrasion situation.
Helmets that are more towards the $200-$300+ mark are going to be big brand names, they might have Bluetooth technology included, be made out of carbon fiber, made out of fiberglass, or otherwise different higher quality material… For some riders, those points are what is needed for them to buy a helmet.
But when it comes to riders that are newer, maybe not sure if motorcycling is right for them yet or the budget ballers out there that don't feel like getting the newest Arai helmet – that's what these affordable options are here for.
Although your helmet might not come with an extra tinted visor or maybe the ventilation isn't as finely tuned… that's the bit of "sacrifice" you make to save hundreds of dollars on otherwise more expensive helmets that only have a few more features compared to other choices.
Deciding On A Type of Helmet
When you know the features you need in your helmet and you have your ideal price point – how do you know which type of helmet best suits you?
We feature most of the helmets here as full-face helmets because they're the most protective type of helmet that you are going to be able to have on every ride.
So in that context, it really comes down to you and your personal style. From there, pick a color trim that you enjoy most, or go with your gut on the included features that seem most important to you.
There are also plenty of half helmets available for this price and lower if maximizing your safety isn't what is most important to you.
Finding motorcycle helmets online is easier than ever with all of the different choices and shop features that are available, however…
If you'd like us to go more in-depth on other types of helmets available for a lower price point then definitely let us know in the comments – we'll be happy to elaborate more on helmet types in another post!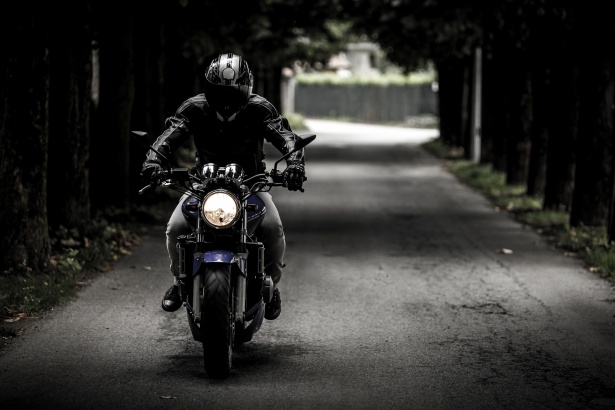 A Moto Helmet Will Save Your Life
---
Any helmet is always better than no helmet. Even the more affordable options out there provide a tremendously higher level of safety compared to riding without any type of helmet at all.
Get a helmet that has good approvals, get something that suits your style, and has good build materials going on. You likely won't be replacing it for a while so be sure it's the right one for you!
We hope that after reading through this guide you will be better equipped when it comes to buying a motorcycle helmet that doesn't completely break the bank.
There are a ton of picks out there and the helmets featured here are definitely some of the best of the best when it comes to budget-friendly helmets!
Which helmet featured here suits you best? How so?
Are you planning on getting any of the helmets listed here?
What are some other helmets that you think should be listed here?
Let us know in the comments below!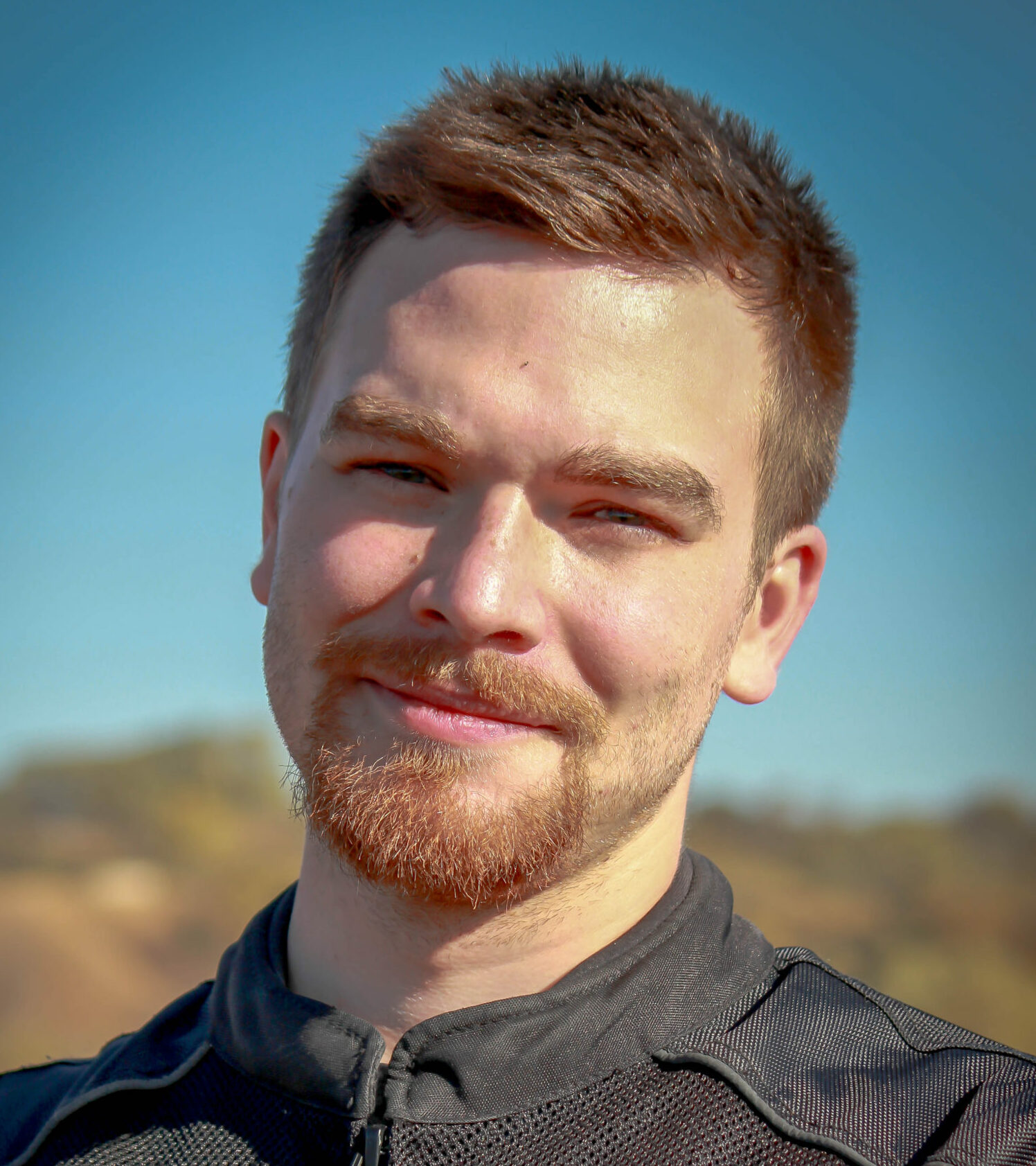 What's up! I'm Colton, the main guy behind Moto Gear Knowledge. Gear has always been my #1 priority when it comes to riding.
I share my experiences regarding gear and anything else moto related with you here. 👍