Last Updated on January 9, 2023
Whether you are a newbie motorist and want to find the best value motorcycle riding boots on the market or if you're just wanting an extra pair that is on the cheaper side – we have got you covered.
In this guide, we are going over the best cheap motorcycle boots that fit great, have high levels of protection, and have good styles to choose from yet still be available for a lower price point.
We'll be going over our recommendations for why we picked each pair of boots featured here and where you can get them. If you're in a hurry, we have listed our top-rated choices right out of the gate.
With that said, we hope that you'll go over all of the boots posted here as some are going to be a different type of boot, and depending on your motorcycling style, you might want to read up on some of the different boots other than those few top options.
Cheap Moto Boots – Our Guide & Overview
---
We don't pick a specific pair of boots and call it the outright best pair that you can find. We look at defining elements that make a great pair of boots such as the most important features, real rider reports, and official specs so that you can compare and choose a pair that will be best suited for rides.
Below are our picks for some of the best moto riding boots out on the market that are accessible for a lower final cost. Think under $100, over $40 range for most of these riding boots.
We didn't want to include any low-quality, frail boots since safety is always the #1 concern here… but clearly, we don't want to be burning a hole in our wallets. This guide has sensibly priced boots that will last a long time and keep your feet protected for every ride.
It wasn't easy to compile a list of riding boots that are not only affordable but also aren't made of crap-quality materials. There are too many lesser boot brands out there…
Right now, the BILT Pro Tourer Boots are the real deal when it comes to an affordable and protective pair of boots. These are great for any season but they are also one of the best pairs of cheap waterproof motorcycle boots that you're going to be able to find.
If you're looking for boots that keep a casual style that closely resembles everyday shoes then you should consider looking at the Borleni XZ001 Boots. They are comfortable, easy to get on/off, and they have high levels of impact & abrasion resistance with the materials that they are made with.
Keep reading through if you want to see all of the other moto boots that we found to be worth featuring! You can find some amazing value when you compare and contrast all of the different pairs of boots shown here.
Comparison Table
BILT is a great moto gear brand and their Pro Tourer boots are a great choice for any tourer or commuter. They are completely waterproof and they have protective features where they matter most.
Milwaukee Afterburner Boots
These Afterburner boots from Milwaukee are very comfortable to ride and walk around in. They are a perfect fit for any cruiser rider looking for a budget-friendly pair of cruising boots.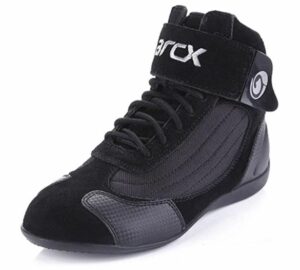 If you are looking to spend the least amount possible without sacrificing important features then these HEROBIKER boots are hard to pass up. They are highly breathable and are very comfortable to wear. 
There are plenty of styles to choose from when it comes to budget-friendly boots. There isn't one pair that is defined as the "one and only" best pair out there.
You're going to want to look through all of the pairs featured here because not everyone has the same style of riding. There are some boots, for example, that are made specifically for aggressive riding positions or for riding in the rain.
Shoe styles are also featured here… But we still consider them a safe boot option because they have a lot of the same features that you'll find in traditional riding boots. That's why you'll see some "shoe" styles also listed here.
You don't have to break the bank in order to have a good pair of riding boots! There are a bunch of boots that have some of the same aspects of boots that you'd otherwise be spending $200+ on.
These are some of the absolute best pairs out there for a low cost. We've factored in materials used, rider feedback, quality-of-life features, and general construction to ensure that they're worthy of being featured here.
Top 10 Rated Cheap Motorcycle Boots of 2023
1. BILT Pro Tourer Motorcycle Boots
---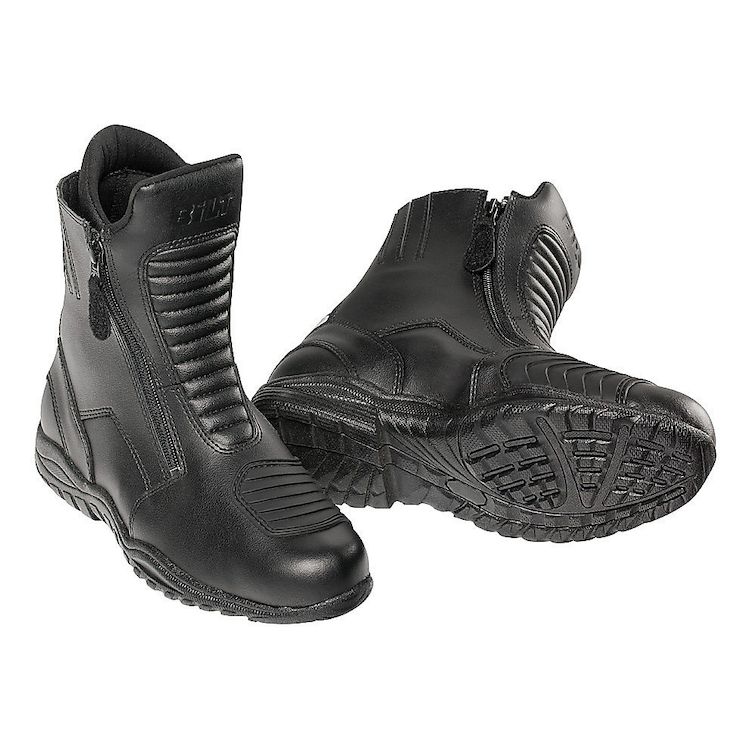 BILT is a well-known brand for all sorts of gear. Their Pro Tourer boots are one of the best picks when it comes to budget moto boots because they're good for almost any use case.
These are great for tourers and commuters alike. It's difficult to find boots like this for under $100 that have waterproof membrane linings, are incredibly easy to get on/off with twin zips, they include ankle protective padding with some reflective detail, and still be comfortable whether you're on or off the bike.
A leather upper is used with an oil-resistant rubber sole which also helps with the overall grip of the boot. The membrane lining in between the materials helps to keep water out and these do a great job at that!
There are plenty of riders that have reported riding out in heavy rain conditions without the rain getting into the boot. One specific rider had mentioned riding for over two weeks on a trip in and out of the rain and their feet stayed dry the entire time they were on their trip.
It's one thing to be waterproof but it's another to have a boot that is quick and simple to get on and off. With these, gone are the days of having to lace up your boot and spend time tightening or loosening your boots in order to go do what you have to do.
Plenty of other riders have worn these in casual settings as well – it matches well with any leathers and they're comfortable to walk around in.
The break-in period is shorter than other boots because of all of the stretch lips with the boot and the overall construction of them.
It would have been nice to see some extra protective features and maybe a couple of other styles with these boots as this style isn't for everyone… But everything else about these boots is right on the money!
Pros
Waterproof membrane lining
Easy and comfortable to wear
Reflective details at the heel
Cons
Protective padding only at the ankle
2. Milwaukee Afterburner Motorcycle Boots
---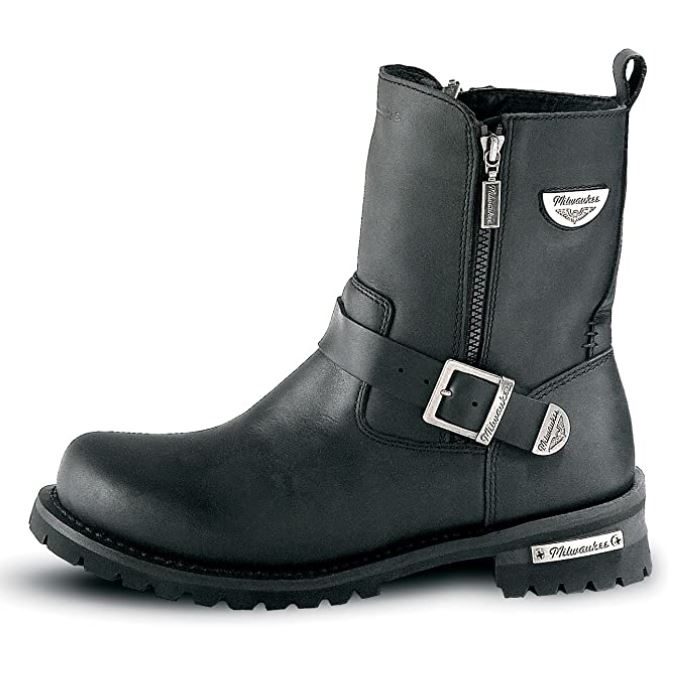 Looking for a more aggressive, cruiser-style boot? Milwaukee Leather has that covered with their Afterburner cruising boots.
These have a leather upper, a twin zip closure with an adjustable strap, a highly flexible/oil-resistant sole fabrication, a bright orange reflection panel under the sole, and a style that most cruiser riders would approve of.
Kind of like the BILT boots we first mentioned, these are easy to get on and off with dual zip closures. On top of that, you can adjust the boot how you see fit with the buckle strap.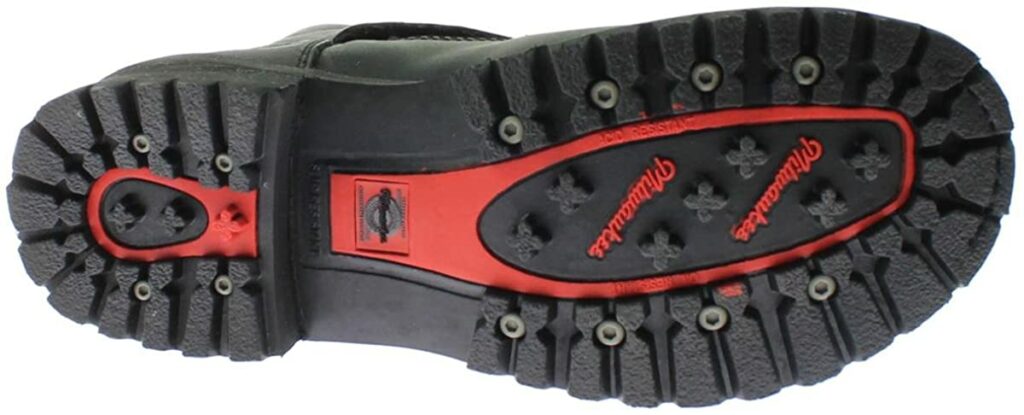 However, it is good to note that some riders have described that the button closure isn't the best. Some have replaced the button whereas some others have simply not unbuttoned it while getting the boot on and off. Figured that was worth mentioning… You'll want to be careful with the button snap.
As for comfortability – they're constructed with total comfort in mind. Although a bit on the heavier side due to the leathers used, they are just as easy to ride with as they are to walk around in. A flexible boot is always a nice touch – Milwaukee Leather did a good job at ensuring these are highly comfortable.
There is a bright orange reflection panel at the bottom of the sole which helps with folks seeing you as you're riding out and about. These types of reflections really do help and they matter, so it's nice to see that Milwaukee Leather included it.
Although the leather is thick, it would have been nice to see some extra protective padding included and it's unfortunate that the button snap hasn't stayed intact for every rider.
With that said, if you're in the market for an affordable cruiser style boot then it's hard to find others like these Afterburner boots for this kind of price point.
Pros
Flexible, comfortable construction
Thick, protective leather
Aggressive, true cruiser style
Dual zip closure – easy to get on and off
Cons
Button snap on the adjustable strap can be finicky
3. HEROBIKER Motorcycle Boots
---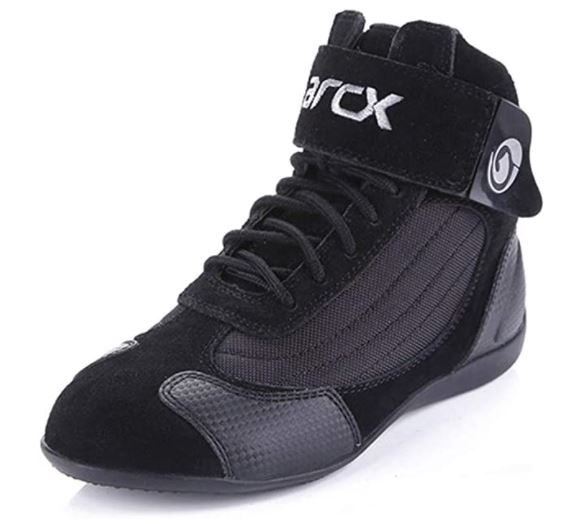 Interested in a budget-friendly, lightweight choice for a pair of boots? These boots from HEROBIKER are some of the most affordable boots when your focus is solely on ventilation and protection.
They're crafted with upper suede cow leather mixed with BK mesh, a ventilated mesh lining, a hook & loop closure system with laces, rubber soles, and carbon fiber reinforced padding.
This BK mesh is used with many different types of athletic wear. When it is combined with this type of leather material, it helps to strengthen the boot and keep it from wear and tear. It also helps to make them comfortable to wear. Nylon cloth is used on the outer portions of the boots.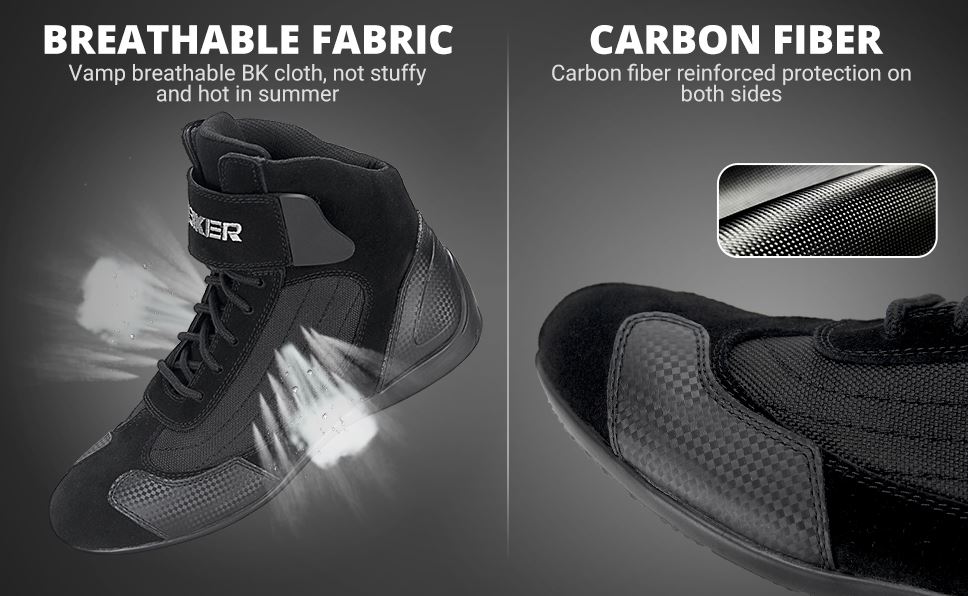 You don't really have to worry about a break-in period with these boots as they are naturally flexible. They easily form to your feet to maximize on comfort.
These materials are very lightweight, the lining is a thin layer that helps with the ventilation of the boots. This makes them mainly ideal for summertime rides.
The closure method is a hook & look system where you tie up the boots and then cover the laces and tighten up with the loop via velcro.
The soles are made out of a thinner rubber to make sure the boots are skid-resistant – the thinness of the rubber attributes to how lightweight they are. But they also have non-skid textures to help with control.
As for protective features – there are placements of carbon fiber-reinforced padding on the heel, ankle, and toe cap portions of the boot. This is awesome to see, wish there were more boots that focused on adding extra protective padding.
They come in black, red, and blue styles but it doesn't seem that they offer too many size options… However, you may be able to contact them about other sizing options as they've mentioned that on their product page.
It would have been nice to see more sizes and it'd be cool to have that padding all around the boot but then that would sacrifice the overall ventilation.
When it comes to lightweight riding boots that are easy on the wallet, these HEROBIKER boots fit the bill.
Pros
Carbon fiber reinforced padding
One of the lowest-priced boots on the market
Very comfortable, lightweight
Cons
Few sizing options
Only suitable for hot, summer rides
4. Xelement 1442 Motorcycle Boots
---
Need a pair of taller boots that stand the test of time? Xelement's 1442 classic motorcycle boots get the job done when it comes to a taller motorcycle boot.
These boots are made out of heavy-duty full-grain leather, they're skid-resistant with a neoprene sole, they have a cushioned insole/footbed, they're buckled with an o-ring harness, and they come in plenty of size options.
Full-grain leather is good when you want a boot that can take any kind of beating. It also helps with water resistance since it is a thick layer of full-grain leather.
Neoprene rubber is used at the bottom of these boots to ensure that you don't have to worry about skidding on oil or not having a good grip on your controls.
Cushioned insoles aren't something you see every day with budget-friendly boots but Xelement included extra cushioning with the insole and footbed. A high-density foam plug is used for extra support around the boot.
For a strap system, they opted to go for an o-ring buckle harness. That harness helps to protect your feet more from the exhaust or heat pipes.
There are a decent amount of sizes available with this boot and they also offer wide versions of several of the different sizes. We wish more companies would offer a wider variety of sizes like this.
With the variety of sizing options comes with some riders saying that the boot either runs small or big. It's difficult to really determine which size will be true because, even though Xelement describes some measurements, they don't provide a sizing chart for these boots.
Also with a full-grain leather boot like this, you'll have a more lengthy time of a break-in period. If you get these boots, ride or walk with them for a while before deciding to get a different size.
Pros
Heavy-duty, full-grain leather materials
Cushioned insoles and footbed
Plenty of sizing options
Cons
Due to the full-grain leather, breaking them in may take a while
No sizing chart available
5. Borleni XZ001 Motorcycle Boots
---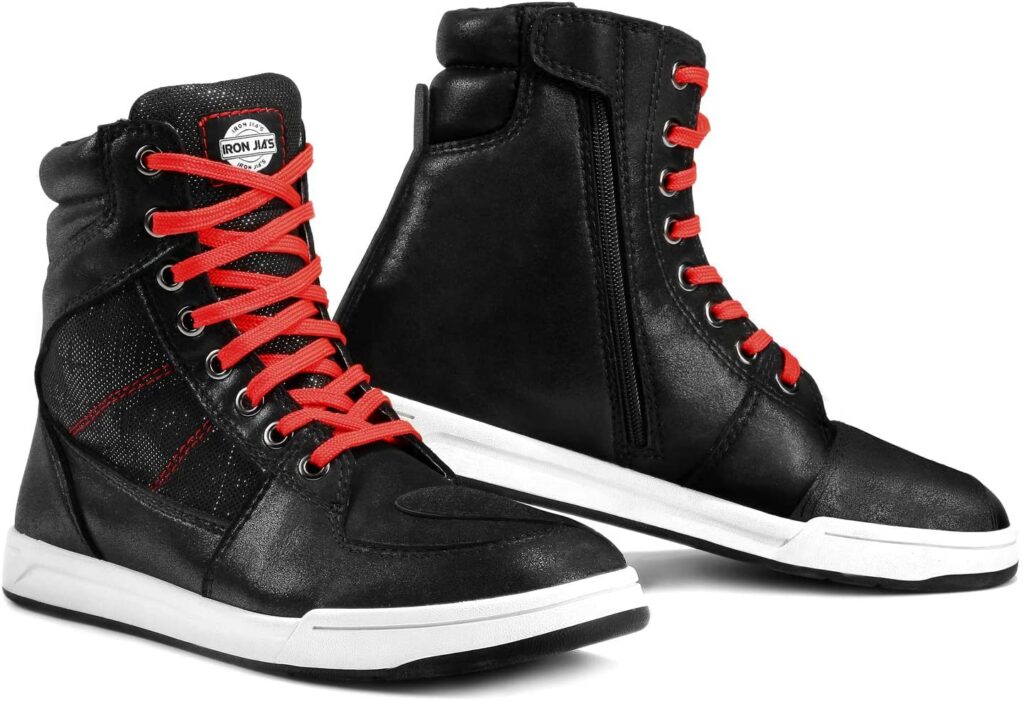 This next pair from Borleni focuses more on a "street" style of boot while not compromising the protective features and durability of the overall boot itself. It's a shoe style, but don't let that deter you from what these boots bring to the table.
These are made with a leather upper mixed with breathable fabric, a protective shell in the heel and ankles areas, an anti-slip sole made of rubber and they actually have a zip closure system rather than using laces.
Overall build quality has breathability in mind here with the boot mainly being made out of leather. Soft, breathable fabric is used on the sides of the boots to make sure that they are comfortable to wear when you're riding out in the heat.
Within that fabric is a protective padding shell to help with impact resistance at the heel and the ankle. The toe area is thickened to help with controls and also protect the front parts of your feet.
Although the closure system looks like you'll have to lace these up – it's all for looks! Sure, you can tighten the boot how you see fit with the laces but there is actually a zipper underneath a leather flap on the side which is the main method of getting these boots slipped on and off.
Speaking of the laces, Borleni also includes hi-viz yellow laces in the box. If you're not a fan of the red or want to add more reflective surface to the boot (only the heel has some reflection) then you could lace those ones up instead.
In all, these are hard to beat if you want a highly protective boot that keep an urban, shoe style. They are still easy to get on and off with the zip closure and they have all of the protective features you need in a good boot.
It would have been nice to see some other styles of this boot, but Borleni also offers somewhat similar boots in different styles so be on the lookout for those if you are wanting something close to these but in a different length/color.
Pros
Shoe style but keeps the important protective features
Comes with optional, hi-viz laces
Zip closure on the side
Cons
This specific boot only comes in this style
Not ideal for cooler weather conditions
6. Joe Rocket Big Bang 2.0 Motorcycle Boots
---
Joe Rocket is well-known across the board when it comes to affordable gear. With their Big Bang 2.0 boots, they created a hiking-style boot that is great for any type of rider.
These are constructed with full-grain leather, they're triple stitched in the areas with the most pressure, polymeric is used in the ankle protection, the ankle cuff has extra padding, it's fastened with a buckle and they come in three different styles.
Full-grain leather is best for cooler weather riding days and to have higher levels of impact/abrasion resistance. Leathers beat out textiles on all ends when it comes to maximizing protection while you're on the road so for those of you on the lookout for full leather boots – put these on your list of picks.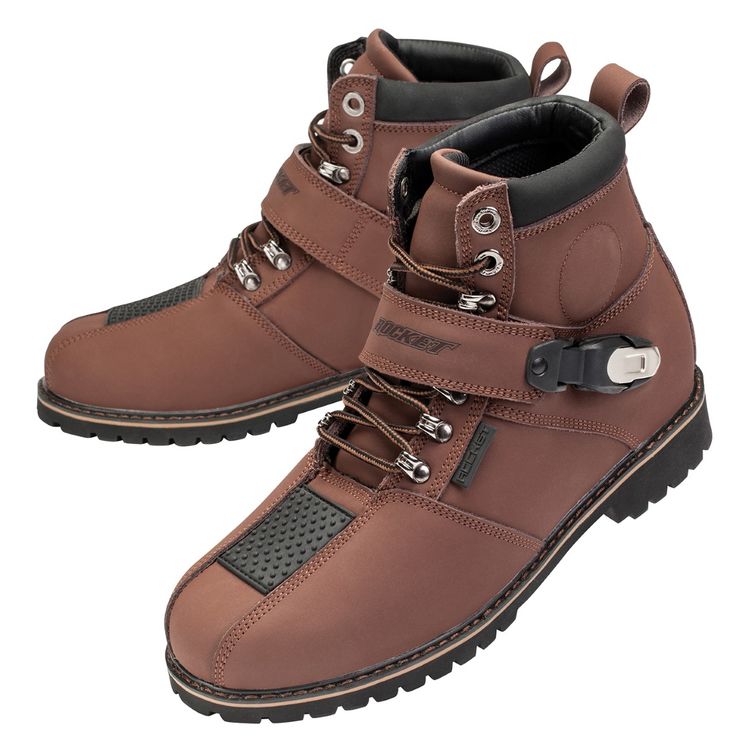 Stitching is something that is often looked over with most boots. Joe Rocket made sure to triple-stitch the most stressed areas to ensure that the boot optimizes durability.
Ankle protection is a necessity with almost any boot so having that polymeric material padding at the ankle is a huge plus. It also has all of that extra cuff padding to help with comfortability in that armored area.
It's fastened with a quick snap buckle and they come in black, grey, and brown color styles. It'd be cool to see more boot companies offering these types of variety when it comes to style.
We like to see the rubberized material at the toe area to help with the controls. It's hard to slip out of your clutch when you have a texturized, rubber-toe pad ready to go. This beats having to buy a separate shift pad.
Unfortunately, there is more than one rider that reported that these are pretty much only good for riding. If you're wanting to combine a hiking trail boot that you can ride with daily – these might be a pass.
When there is more than one rider opposing the comfortability of the boot… That means that they're optimized only for during the ride. Some have also mentioned that they run a bit large on sizing (about a half to full size larger than expected) so be sure to follow the sizing chart accordingly while knowing that.
With that said, if you're looking for this style of boot and don't see yourself using it as your daily footwear then these might be the boots to go for!
Pros
Full-grain leather construction
Polymeric ankle padding
Extra inner cushioning
Comes in a few styles
Cons
Not comfortable to have as daily footwear
No reflective surface
7. Sedici Podio Motorcycle Boots
---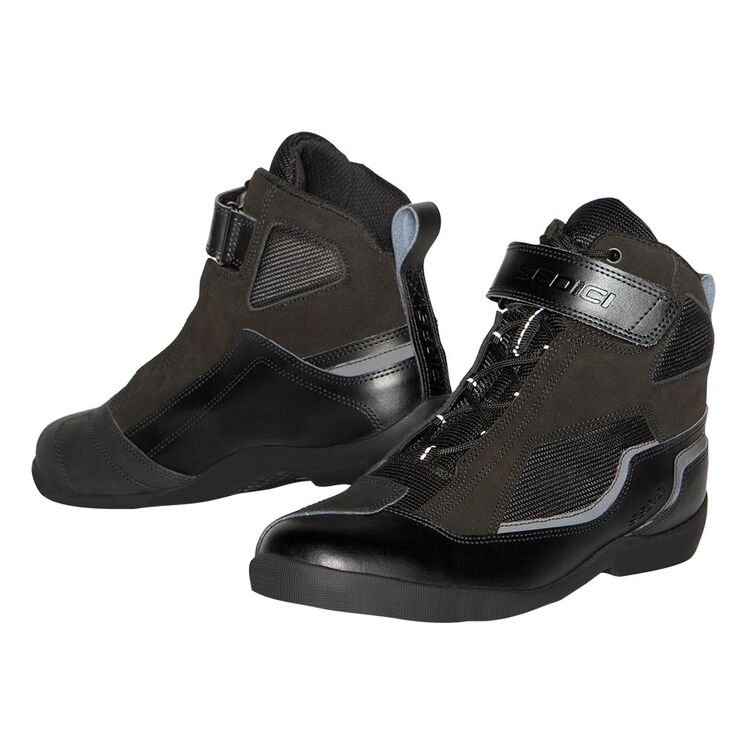 When it comes to a low-profile, casual-style riding boot then these Podio boots from Sedici definitely are a pair to keep on your radar.
These are constructed with suede leather combined with mesh fabrics, reinforced ankle cuffs with extra inner padding, a moisture-wicking inner liner, reflective panels on all sides, a shock-absorbing sole, and a velcro retention strap to keep the laces tucked in.
The mesh portions of the boot feature some protective padding right along with the ankles and the heel area which helps to provide a safer choice when it comes to a lightweight boot.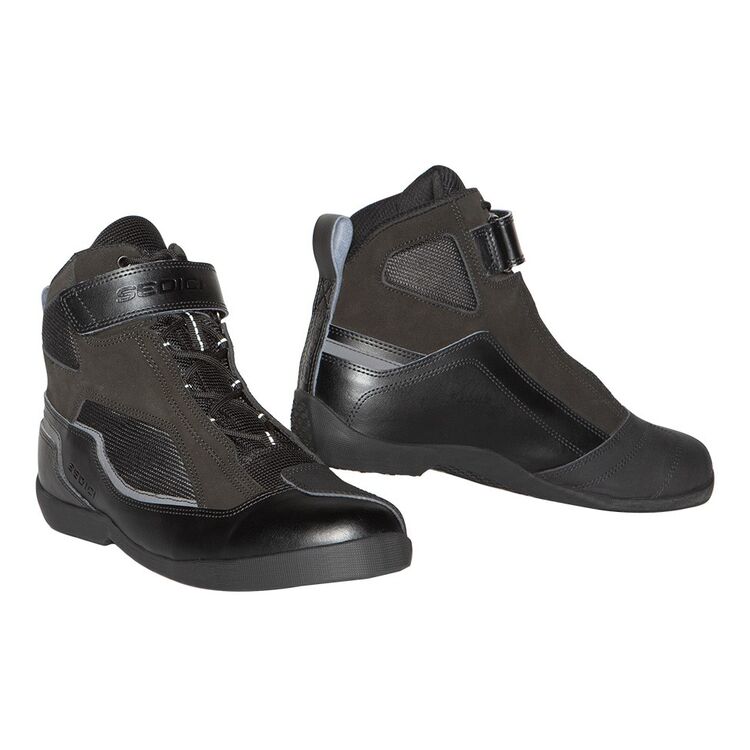 There is a layer of comfort padding underneath the protective padding to keep the boot as comfortable as it can be. There is also a removable shock-absorbing sole that helps with the overall level of comfort while walking with these.
Along with the mesh design is an inner liner that will be able to wick up most of any moisture that might collect on the boot during those hot, summer rides.
Slight reflectivity is along both sides of the boot. At the toe, there is a shifter pad and some reinforced padding for extra protection.
They're easy to lace up and tuck the laces away behind the velcro strap which makes them easy to get on and off. Sedici definitely designed these boots to be used on and off the bike.
The only real downside with these boots is that they stay stiff for a little too long – but as with any leather boot, they will eventually break in and form to your feet.
If you are looking for a pair of lightweight, protective boots that are highly affordable then it's hard not to go with the Podio riding boots.
Pros
Moisture-wicking liner and plenty of airflow
Comfortable to walk around in for long periods of time
Built-in shifter pad
Cons
Takes a good while to get fully broken in
Only comes in one style
8. Borleni MT016 Motorcycle Boots
---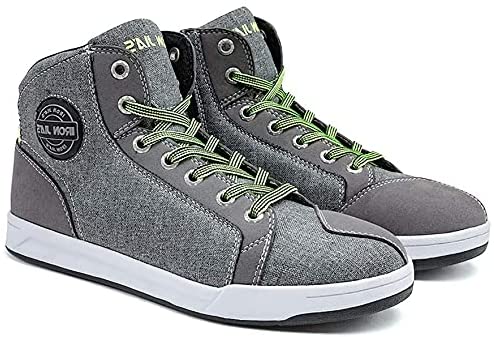 Another pair from Borleni – their MT016 model of boots are a casual street style of boot that closely resemble regular footwear… But they don't compromise on providing another protective boot!
These are made out of thick cotton with protective padding underneath, mesh fabrics are used all-around for breathability, they use another layer of protective padding all around the ankle, they're easy to get on and off with a side zip closure, and they're highly reflective.
Although leather is obviously more protective than a thick layer of cotton, the protective layer underneath combined with the extra protective shell at the ankle still provides a reasonable level of impact resistance.
Comparing these to the other Borleni pair we mentioned earlier – these sit lower on the ankle but they will still fully cover your ankle. That comes down to whether or not you'd prefer a true high-top boot/shoe in this type of style.
Other than these not using leather materials and not sitting as high up on the ankle, these are very close to the other pair that they have. All of the other features you'd need out of a good boot are here.
Air flows nicely through the cotton layer due to the mesh fabrics involved so they're great for warm rides. They included a thick shift pad at the toe that is made out of thick thermoplastic material.
Having the side zipper is a big plus when it comes to laced-up boots – it really does make a difference for being able to get the boot on and off. You can adjust the fit by tightening or loosening the laces, tucking them behind the tongue, and then zipping the side up to ensure they are snug.
There is a reflective panel at the heel and the laces themselves are a brighter color which makes them some of the most reflective boots that are featured here.
The overall style of the boots is what riders appreciate the most about these – a streetwear-style boot that still has a decent level of protection.
They do run a bit narrow so keep that in mind as you are measuring out your size with their sizing chart. If abrasion and impact resistance is your main concern then bear in mind that these aren't going to be as protective as a true leather boot.
Pros
Unique street style
Side zipper makes them easy to get on/off
Good breathability
Cons
Not as protective as a leather boot
They run a bit narrow on sizing
9. Joe Rocket Razor Motorcycle Boots
---
Joe Rocket's Razor boots are built for the sport, aggressive riders that want a pair of protective boots that are highly flexible.
These are made out of split-grain leather, they sport a dual hook & loop closure system, toe sliders are built-in, they're water-resistant, and the shift pad is reinforced.
Split-grain leather has a different looking aesthetic compared to some of the other full-grain boots listed here. Regardless, it still has high levels of abrasion resistance due to the overall leather material used in these boots.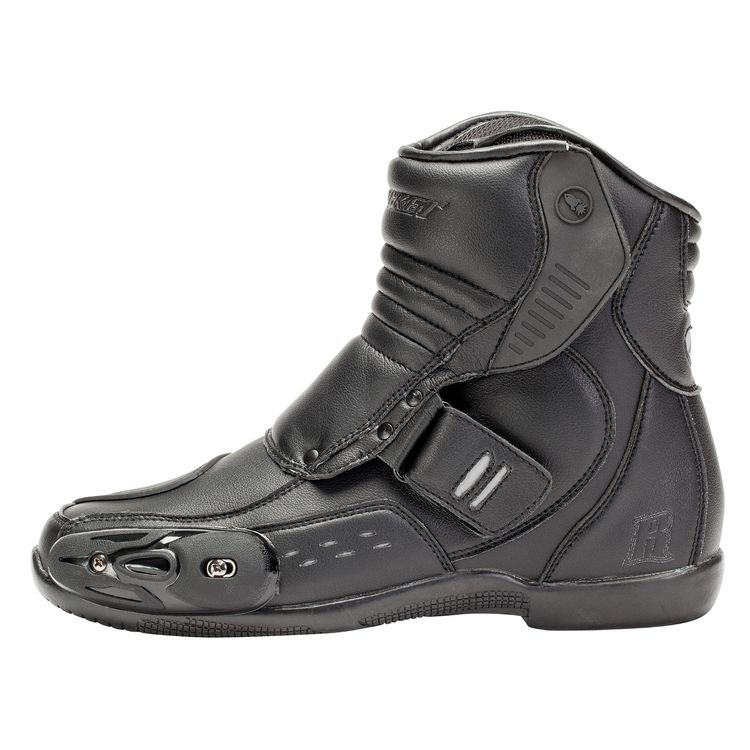 The dual hook & loop make these easier to slip on and off whenever you need to. They attach with a piece of velcro.
Built-in toe sliders are where these boots shine most – those are awesome to have for those of you that are getting a far lean on your turns.
A quick note about the toe sliders – you will likely have to tighten the screws to them once you get these. More than one rider has reported having to tighten the screws, otherwise, they easily come undone.
The shift pad is reinforced and, due to the materials used, these are slightly water-resistant. But you shouldn't bet on these being completely waterproof.
Some other riders have also noted that these aren't made for wide feet. They fit great for those of you that have more narrow feet… But since there aren't any wide sizing options, you'll be better off looking elsewhere.
All in all, if you're looking for a pair of boots that have toe sliders built-in, help with an aggressive riding style, and have a minimalistic style to them then you should consider getting a pair of these Razor boots!
Pros
Built-in toe sliders
Reinforced shift pad
With the right sizing, comfortable to walk in
Cons
No sizing options for wide feet
Will likely have to tighten the screws on the toe sliders right away
10. Joe Rocket Meteor FX Motorcycle Boots
---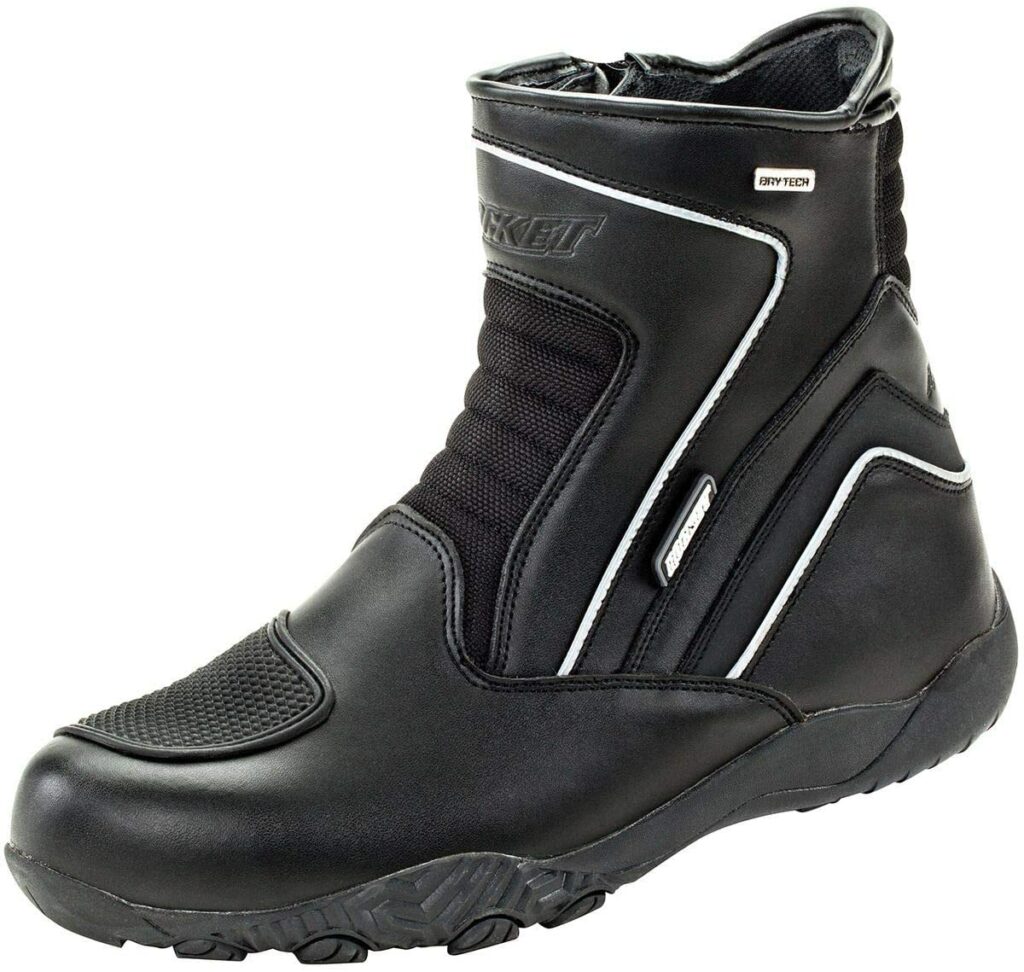 This last pair is yet another pair from Joe Rocket. Their Meteor FX boots are for those of you that are wanting to have a waterproof boot that is reinforced all around.
Split-grain leather construction, a waterproof membrane layer, overall double stitching, inner reinforcement in the ankle/toe/heel, zipper closure system, and a rubber gear shifter are the main features of these boots.
Combine the leather materials used with double stitching in every stress area and you've got a Meteor of a boot that will be able to keep its overall durability in check as you ride.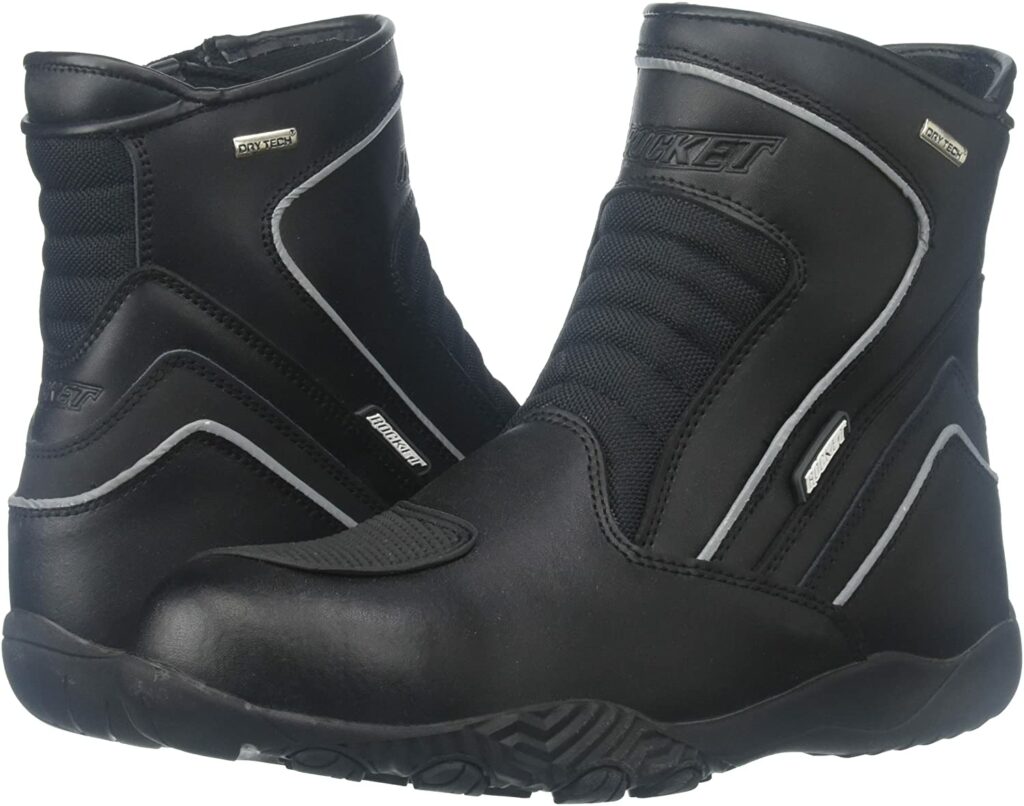 Under the waterproof membrane layer are some extra padding around the ankle, toe, and heel area to provide extra impact resistance in the case of a fall.
Zipping these boots on and off is as easy as it sounds. There is a zipper underneath the padding on the inner side of the boot which is easy to zip up/down.
The rubber gear shifter is texturized which will help with feeling the shifter as you ride. It also has some reinforced padding under the shift pad.
Unfortunately, there is more than one rider that has mentioned that these run big. You'll likely want to get a size up if you plan on getting these boots.
Also, with the added layering, there isn't much ventilation going on with these boots. They are a good choice for the cooler rides when you want to make sure that your feet don't get wet.
When it comes to a simple waterproof boot that is meant strictly for street riding, these would be a good pick!
Pros
Waterproof membrane layer
Reinforced ankle/toe/heel
Easy-to-use zipper closure
Cons
They run big on sizing
Not ideal for off-road riding
Cheap Motorcycle Boots: A Guideline
---
There are a plethora of ways to squander your money away when you're trying to buy moto boots. There are a lot of brands out there that promote low-quality, flimsy boots with hardly any protection.
As you read below, you'll see that we have gone over what you need to be looking for when you're looking for the best of the best when it comes to cheaper motorcycle riding boots.
Boots are extremely important – if you ever find yourself in the event of an accident and you don't have proper riding boots on then you're very likely to have high levels of impact and abrasion damage on your feet. At times, this damage can be fatal and/or permanent.
Follow along with this post and you'll be able to have a better idea of what's good and what's bad when it comes to budget-friendly moto boots!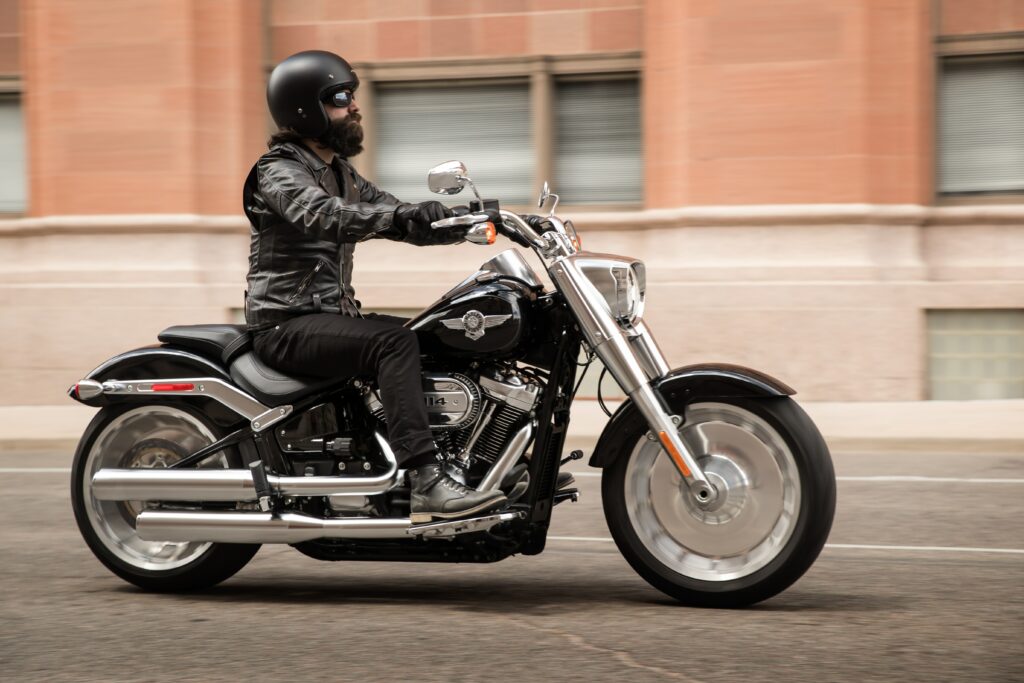 Are Budget Boots Worth It?
Low-cost boots VS high-cost boots…
You aren't going to find name brands selling boots for under $100 because they are using higher-quality materials and an overall better construction process to create a boot that completely stands the test of time
We went out to find some of the top picks when it comes to lower-cost boots in the hopes that you won't have to be replacing them before getting at least a couple of years worth of rides with them…
If you spend a higher amount of moolah on boots then you'll find more features such as dedicated air vents, better technology that improves structure, or more distinct styles that you can only find by spending more.
With that said, there are plenty of choices out there for low-cost boots that still don't compromise profits over protective features! That's the whole point of this guide – to help you find affordable boots that keep you safe at all times.
Getting The Right Size
Almost every single pair of boots shared here have a sizing chart on the product page that you will be able to follow to ensure that you have the correct size.
If there is a brand that is not sharing a sizing chart, you can likely read through rider's reviews to see how it compares to traditional shoe sizing.
At times, boots are created in a different way where simply using the same size of your everyday shoe size will not suffice.
Be on the lookout for a sizing chart, accurately measure your feet, and find the size that will fit you right. If they're too tight, you aren't going to be comfortable. If they're too big, you compromise your safety as you ride.
Which Materials Are Used?
Material choice from the manufacturer is important. We focused on featuring footwear that uses materials that are proven to help with impact and abrasion resistance.
Leather is the safest option when it comes to which material you want to have with your boots, especially when it's combined with reinforced padding.
Full-grain leather is best when it comes to optimizing resistance for protection. Split-grain leather or leather combined with high-quality fabrics work well as well – as long as the fabric is created specifically for safe riding.
There are some brands out there that are pushing extremely cheap footwear that simply will not get the job done if you ever get into an accident where your feet are vulnerable.
Do your own due diligence and make sure that the boots you're deciding to move forward with have materials in mind that are designed to actually keep you safe!
Reinforced Padding Is A Must
If the pair that you are looking at is a full-leather boot but does not have any extra padding – it will still be a much better choice than any other type of casual footwear.
However, we'd strongly encourage you to go with a pair that has reinforced padding included inside the boot. These reinforcements will almost always be added to the ankle, toe, and heel portions of your foot.
This padding is designed to help with impact if you ever go down. It also helps tremendously if your feet get caught up on the hot parts of your motorcycle.
Most padding is made out of a polyurethane filling compound which absorbs impact better than not having any sort of padding in a boot.
There have been studies on motorcycle boots that prove just how much better an official riding boot will help with any type of accident.
How To Choose Your Style
At the end of the day, you've simply got to go with the boots that you would like to see yourself wearing!
Sure, there are specific types of boots for specific types of riding… (such as dirt, riding in the rain, comfortable cruiser boots) But seriously, just go with the boots that match your ideal style.
There are some style differences and design differences when it comes to moto shoes VS moto boots but they are all almost as protective as anything else.
We focused mainly on boot styles with this guide but there were also some "shoe" styled boots that simply could not be ignored when you're talking about affordable footwear out there.
Go with your gut, get a pair that protect your feet, and enjoy every ride knowing that you're staying safe on your ride.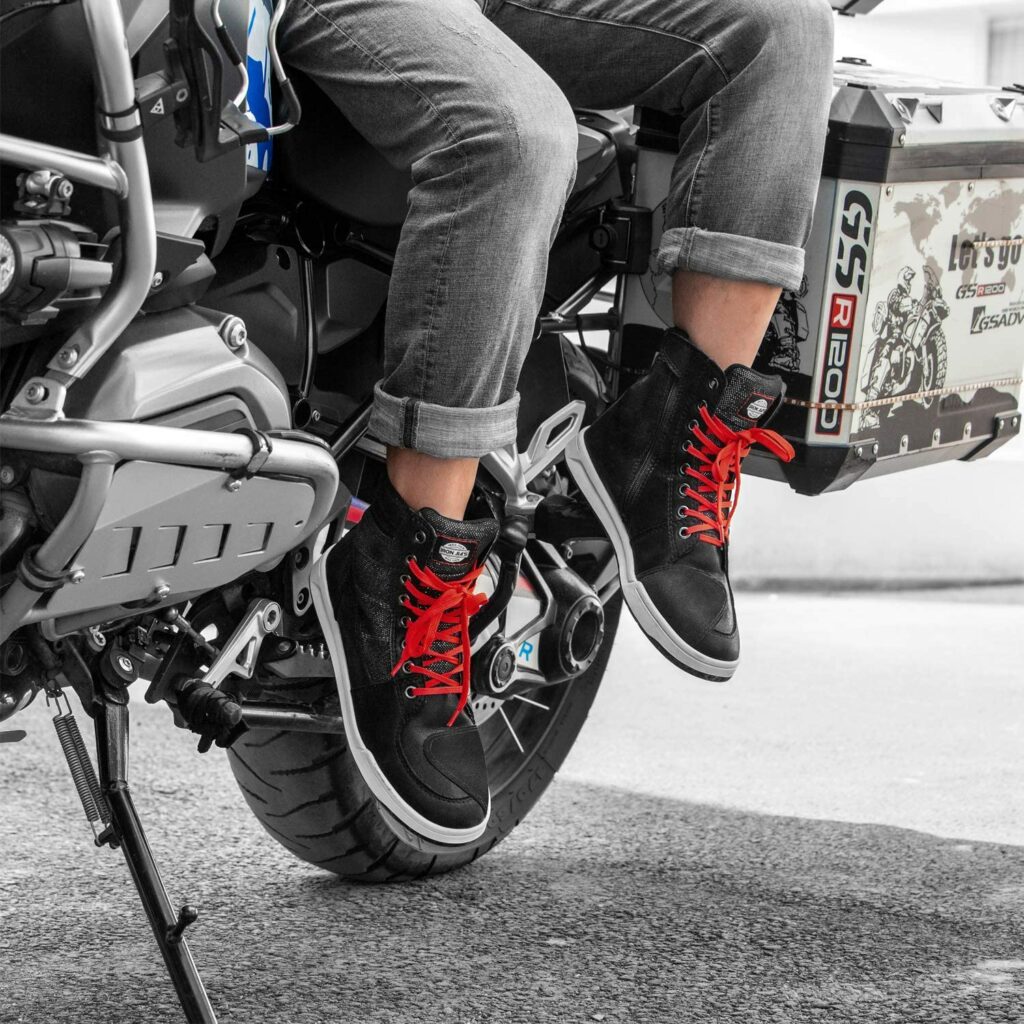 If You Like Having Feet, Wear Proper Boots
---
Don't learn the hard way – if you ever go down or get into an accident… Boots will resist a lot of the possible permanent damage that could be done to your feet.
If you enjoy having functional ankles… You can do yourself a huge favor and invest a bit into some good boots.
Hopefully, after following this guide, you can feel better about moving forward with a cheaper pair of motorcycle boots!
Are you going to be getting any of the boots that are featured here?
What is something in a motorcycle boot that you simply cannot live without?
Let us know in the comments below!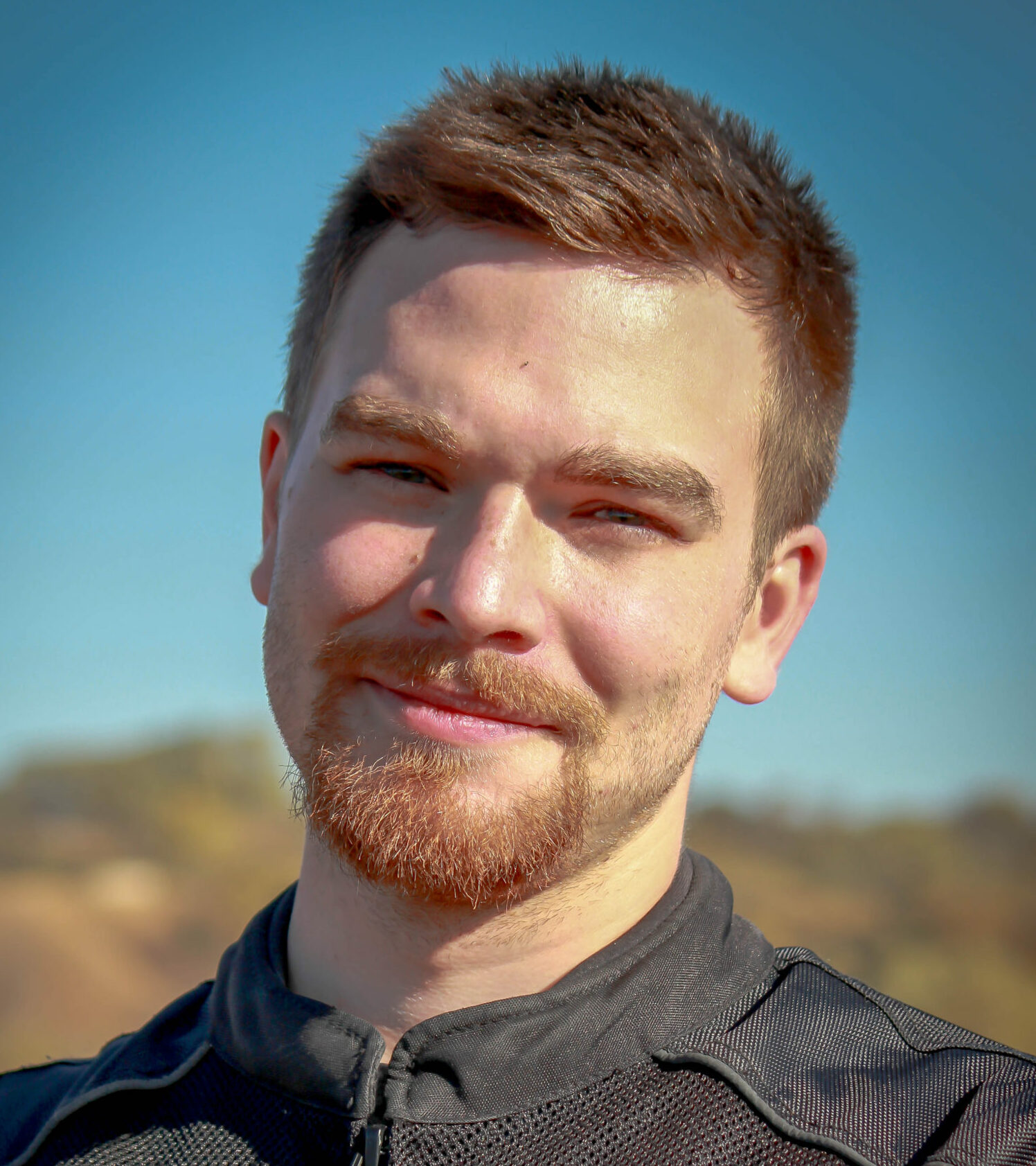 What's up! I'm Colton, the main guy behind Moto Gear Knowledge. Gear has always been my #1 priority when it comes to riding.
I share my experiences regarding gear and anything else moto related with you here. 👍