Last Updated on May 7, 2020
There are some similarities and differences when you're looking at comparing motorcycle boots vs riding shoes. Both work great for riding and both have their own unique style.
Riding shoes have become more favored over boots for a while now but that's not to say that boots are no longer viable when it comes to general riding.
Whether you're curious about the differences in regards to safety or if you're wondering if there are any benefits to using boots over shoes… we have got you covered.
Let's compare and contrast motorcycle boots vs shoes.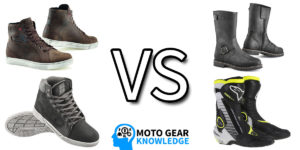 Motorcycle Boots vs. Shoes
---
Motorcycle boots have a more aggressive style and motorcycle shoes have the street shoe style. Both protect your feet very well, but what are the real differences?
Let's go in-depth about both types of motorcycle footwear and hopefully you'll have a better understanding of which type of footwear will better suit you while you're out there riding.
Motorcycle Shoes
---
Most riders choose to go with motorcycle shoes because of the style that most shoes tend to have. It's a style that looks great on and off the bike.
That's the main reason why some will go for riding shoes. They are comfortable enough to be used to everyday wear while still providing the protection and usability while riding a motorcycle.
Riding shoes look as if they have the laces out but most shoes have a lacing system where all of the lacing is underneath the tongue of the shoe and for good reason, you'd never want shoe laces getting caught in the moving parts of your bike.
Motorcycle shoes look like regular shoes such as Chuck Taylors or a nice b-ball shoe but they offer a lot more protection compared to those types of regular shoes.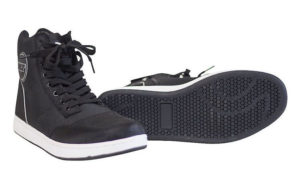 Key Features To Look For In Moto Shoes
Riding shoes have their uses in terms of riding and these are some of the key features to look out for when you're looking for some good moto shoes.
Key Features:
Extra padding protection around the ankles, toes and heel
Extra comfort whether you're on or off your motorcycle
Styling points – riding shoes look awesome
Extra padding for protecting your ankles, toes and heels is an obvious point to ensure with any riding shoe out there.
What would be the point in owning a shoe created specifically for riding compared to normal shoes without the extra protection?
That's just it, there wouldn't be any point. So make sure that your riding shoes have some tough padding going on to protect your feet in the event of a crash.
Comfort is the major selling point to owning a pair of riding shoes over boots – a good pair feel exactly like your normal street shoes.
You also get style points because most people probably aren't going to be able to tell the difference. They won't be able to point out that you're wearing riding shoes because they look like a pair of stylish street shoes.
Which Shoes Should You Buy?
I can't sit here and tell you exactly which shoes you should buy because it really comes down to your own personal taste.
However, I can absolutely recommend the Speed and Strength Black 9 moto shoes since I've personally been riding with them for a couple of years now.
They're comfortable, look awesome and feel a lot more protective than if I were to ride around in my normal street shoes.
RevZilla is one of the best websites to find any gear online and I also recommend checking out RevZilla's riding shoe selection if you're interested in browsing around for different shoes out there.
You know what to look for at this point – find some that fit your style, have proper protection and have comfort in mind for when you're not riding your bike.
Motorcycle Boots
---
Motorcycle boots are a popular choice for sport riders and for chopper riders.
This is both because of the general style that goes with sport riding or riding choppers and the extra protection that boots provide over riding shoes.
For sport riders, boots match well with the sport riding style. Especially with sport racing, you not only need the extra protection but the racing style is a must have.
For cruiser and chopper riders, you'd most likely want to go with a more classic, leather style boot. These not only maximize protection but they absolutely fit the part for those that want to cruise for the long haul.
Boots come in all shapes, sizes and styles. They differ from shoes in a few different ways and if you're looking to buy some boots then you need to know what to focus on when browsing different boots on the market.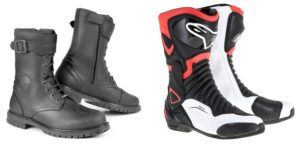 Key Features To Look For In Boots
Motorcycle boots are made to go the distance and manufacturers have tunnel vision when it comes to making sure that a boot provides both elevated levels of protection and great measures of comfort while riding.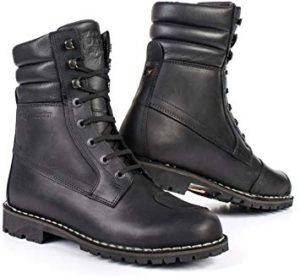 Key Features:
Almost all boots have a tighter seal compared to riding shoes
Boots last a long period of time due to the materials they're typically made out of
Extra safety properties are used with boots such as shin protection and toe sliders
Go well with sport race bikers and long distant cruiser riders
Having that tighter fit and seal creates the effect of having riding footwear that can be waterproof and feel like they'll never slip off.
Good shoes will also feel like it'd take a lot to get the shoe off but boots are going to be a better choice when you're thinking of wanting footwear that is waterproof.
This also provides more coverage in terms of how much of your leg is protected. Most shoes will go slightly above the ankle while some boots will also cover your shins.
Genuine leather is used with most boots all around the boot which is why they'll last a long period of time. It's not to say that riding shoes don't have leather included, but boots will usually have more leather involved in comparison to shoes.
For the sport riders out there you've got highly protective boots that are flashy with sport riding brands such as Alpinestars and Dainese.
For the cruisers you've got tough looking boot brands out there such as Stylmartin and TCX.
If you're going for the more aggressive boot style or if the best possible protection is what you're mostly looking for then you'll want to look into different motorcycle boots that suit you.
Which Boots Should You Buy?
Again, this post isn't focused on the best of the best out there and even if it was – you should still go with the boots that match up to your style the most.
With that said, I'll recommend RevZilla once again for boots as well since they have a large selection of different styles of boots where it's almost impossible not to find the right boot for you.
For some awesome sport racing boots you should check out their track and race boot selections – they've got all sorts of bold sport brands to pick from.
If you ride a cruiser then you have to take a look at their Harley and cruiser boots section because they have almost every kind of leather boot that's available.
It's hard not to find the right boots for you over on RevZilla. You know what to focus on when it comes to boots and I'm sure that you're bound to find the perfect ones for you.
Concluding Motorcycle Boots vs. Shoes
---
When it comes to motorcycle boots vs. riding shoes – the main differences come down to overall protection and the style of the footwear that you'd prefer.
Both motorcycle boots and shoes have adequate protection when it comes to riding and they both have a focus on how comfortable they feel while you're on the bike.
As for when you are off the bike, riding shoes are the obvious choice since they're just as comfortable as most normal street shoes. Although, maybe you prefer the comfort of leather boots over shoes for everyday use.
When the highest possible level of protection is what you're after then you should definitely go for some boots over shoes. They simply have more foot and leg coverage and usually have extra safety features included.
Have you found some boots or shoes that you think you'd want to get?
What are some other differences or similarities you can think of for motorcycle boots vs. shoes?
Let us know in the comments below!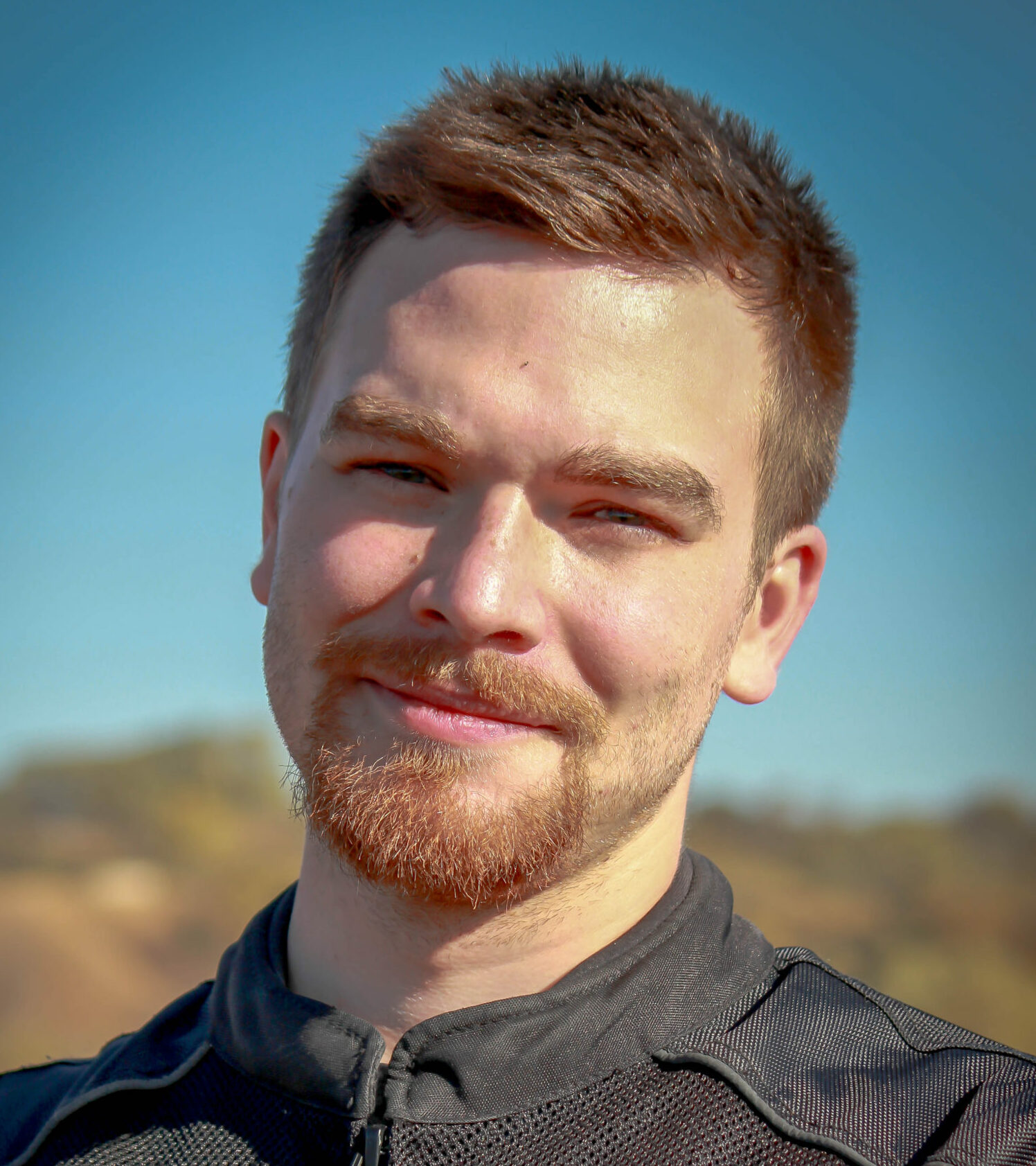 What's up! I'm Colton, the main guy behind Moto Gear Knowledge. Gear has always been my #1 priority when it comes to riding.
I share my experiences regarding gear and anything else moto related with you here. 👍