Last Updated on January 9, 2023
Whether you are new to riding and need to find the best affordable motorcycle gloves out there or if you're looking for another pair that does not break the bank… we have got you covered.
In this guide, we are going over the best cheap motorcycle gloves that aren't cheap in quality but sure are cheap in price.
We'll go over our guidelines for why we picked each glove listed here and where you can get yourself a pair. If you're in a hurry, we have listed our top picks first.
However, we encourage you to take a look at all of the gloves listed here as some are going to be a different type of glove, and depending on your riding style, you might want to read up on different gloves other than our top picks.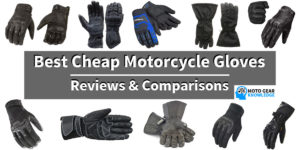 Cheap Riding Gloves – Our Guide & Overview
---
We don't want to pick a specific glove and call it the absolute best. We factor in real rider feedback, official specifications, and key features so that you can feel better about picking some low-priced gloves that work best for you.
Listed below are our findings for some of the best riding gloves on the market that are available for a lower price point. Think under $50, over $20 range for the most part with these picks.
We didn't want to include super low-quality gloves since safety is the #1 concern here, but obviously, we don't want to be spending too much. This guide will have gloves that will stand the test of time.
It was kind of hard to find good riding gloves that don't break the bank that aren't made in crap quality. There are a lot of extremely bland gloves on the market…
Right now, the ILM Goatskin Leather Gloves are the top-notch pick when it comes to low-cost, protective gloves.
If you aren't looking for a pair of lightweight gloves like those then you might want to look into the Joe Rocket Sub-Zero Gloves – they seem to be a good go-to pick for keeping your hands warm while riding. A great pick when it comes to cheaper winter motorcycle gloves.
Keep reading through if you want to see all of the other riding gloves that we found to be worthy of listing! There are quite a few hidden gems out there when it comes to affordable gloves.
Comparison Table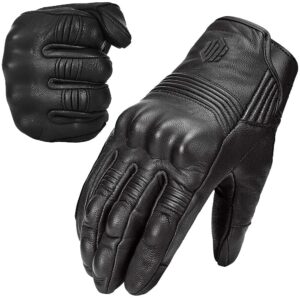 ILM Goatskin Leather Gloves
When it comes to getting a glove that maximizes affordability while keeping optimal protection and style in mind... It is hard not to go with these ILM goatskin leather gloves.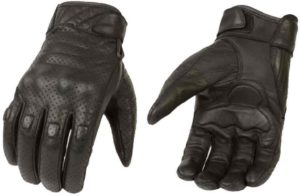 Milwaukee MG7500 Perforated Leather Gloves
If you want a pair of good, inexpensive gloves that have more of an urban design then the MG7500 gloves from Milwaukee Leather are the ones to go with. They have a ton of high ratings and are extremely comfortable for cruising.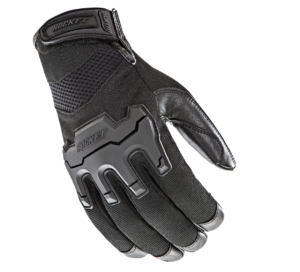 Joe Rocket Eclipse Gloves
Joe Rocket is a reputable brand when it comes to moto gear and their Eclipse gloves are some of the most affordable gloves on the market. They are ideal when it comes to having decent protection at the lowest cost possible.

There isn't going to be an all-time best riding glove that's suitable for every type of rider out there. That's why we have included a decent amount of different types of inexpensive gloves in this guide.
If you're looking for cheap winter motorcycle gloves, low-priced leather motorcycle gloves or track gloves that are on the more affordable side… we have them listed here!
You'll want to get gloves that have good impact and abrasion resistance features. Protection is the main reason why you should be wearing gloves in the first place so that's the key factor here.
Knuckle armor, high-quality materials for if you need to slide with the gloves, a comfortable fit, and that they will last you a long time.
You don't want to have to buy new gloves every couple of months and unfortunately, that is a common case when it comes to inexpensive gloves. However, there are some great gloves out there if you dig deep and do the hefty research which is why we have done that research for you!
These are some of the best of the best that we have found through finding features that make sense, the right kind of build quality you need in a glove, and real reports from riders that have used these gloves.
Top 10 Rated Cheap Motorcycle Gloves of 202

3
1. ILM Goatskin Leather Motorcycle Gloves
---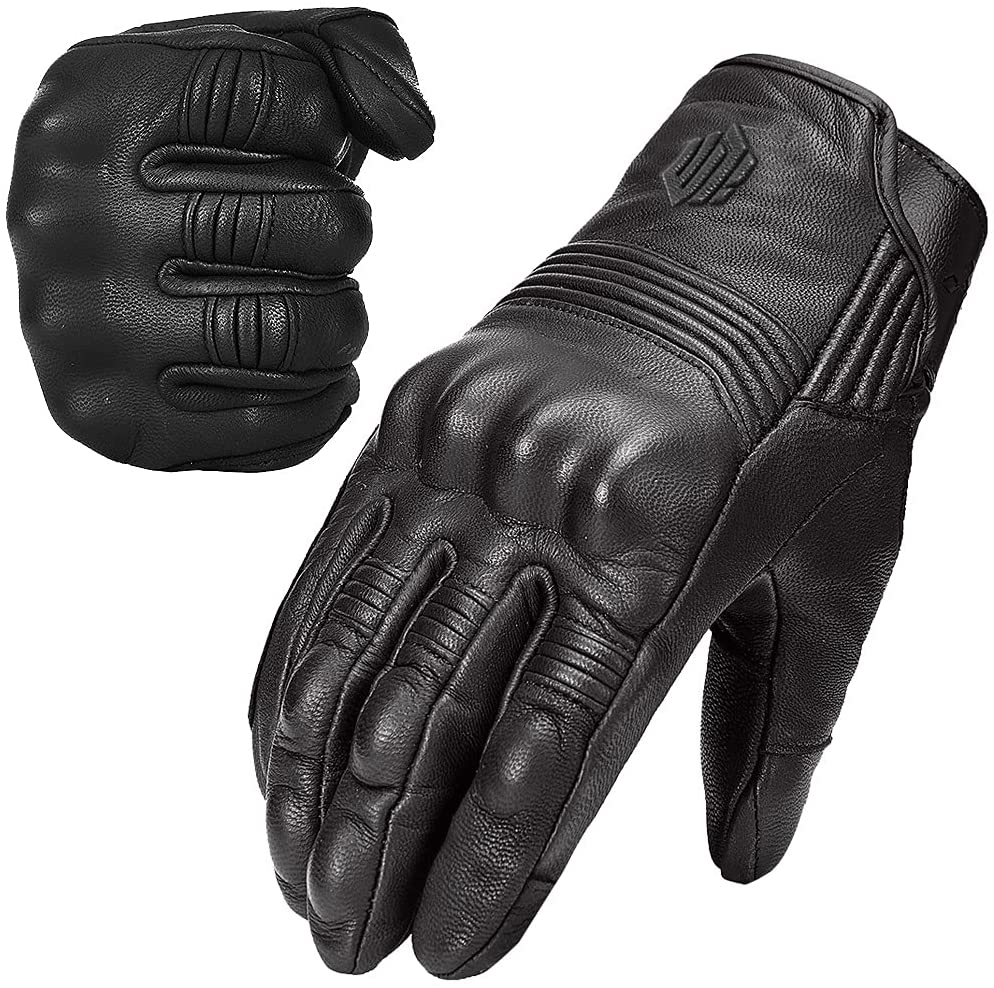 These ILM Goatskin Leather Gloves were the most sought-after pair of gloves as we were researching the picks for the guide. ILM uses high-grade goatskin leather which is pretty nice for a low-cost glove like this.
It's not the greatest type of leather out there, but it's absolutely good enough to help you out in the event of a wreck where you might be sliding on your palms.
Stretch lips at the finger and backhand will allow the gloves to form on your hand over time and it does exactly that.
Combine that with the elastic strap for your wrist and you have got yourself a nice way to make sure you have a comfortable fit.
We are showing the unperforated version here, but there is also a perforated version of the gloves available on their product page.
Go with unperforated if you want less airflow in the glove and go with perforated if you know you'll be wearing these during the warmer riding days.
For protection, you've got PVC padded knuckles, the goatskin leather layer, and an added palm protector. All of these protection features will help you further with impact and abrasion resistance.
For under the $50 mark you get extra protection features compared to other gloves out there, you get the leather styling and you can choose between unperforated and perforated versions… these are awesome!
The real only downfall we've noticed is that the touchscreen compatibility isn't the greatest, it doesn't work 100% of the time.
Pros
Goatskin leather material
Extra armor padding for knuckles and palms
Perforated and unperforated versions are available
Stretch lips help form to your hand
Cons
Touchscreen capabilities do not always work
2. Milwaukee Leather MG7500 Motorcycle Gloves
---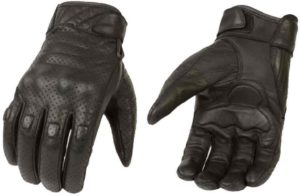 If you're more into an urban style of riding gloves then Milwaukee Leather's MG7500 gloves are the ones to go with. These are some leather cruising gloves that are easy on your wallet.
They only come in a perforated version for these gloves specifically, but Milwaukee Leather also makes some unperforated gloves that are similar to this style. If you'd like to see those then check out their MG7510 Motorcycle Gloves.
As far as protection features go, these have a gel palm and they have soft padded knuckles. The knuckle padding itself is still hard but it has a comfortable, soft material that will keep your knuckles from being uncomfortably roughed down while ripping the throttle.
The gel padding will help you with handlebar vibrations and hand fatigue. It's a nice feature that we did not see with any of the other gloves we found while finding gloves for the guide.
From rider feedback, the knuckles help out when it comes to rocks and debris possibly popping into your hands while you're riding. This is part of why knuckle padding is important and these will help you with rocks knocking into your hands.
Full-grain aniline cowhide leather is used here which means that quality control was in mind with Milwaukee Leather. Full-grain leather is not sanded or buffed down to keep the overall durability and strength of the fiber.
Cowhide is also known to be good for abrasion resistance, having a good stretch, and keep a smooth grain. Cowhide is softer as well, so your hands will be extremely comfortable.
You've also got an adjustable wrist strap that will connect via velcro. Milwaukee Leather was going for optimal comfort when it comes to these gloves.
Unfortunately, these aren't a good pick for being able to use your phone while wearing these and some feedback has shown that the fit can sometimes be a little odd. If the fit doesn't feel right, it'll be easy to return them to Amazon and get the right fit that fits your hands.
For right under the $30 price point, these are a great pick if you want urban gloves that do not sacrifice quality for cost.
Pros
Cowhide full grain leather material
Very comfortable on your hands
High-quality soft knuckle padding
Gel padded palms
Cons
These do not work well with touchscreens
Some riders have had some sizing issues
3. Joe Rocket Eclipse Motorcycle Gloves
---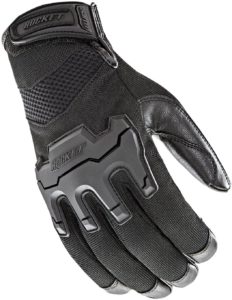 If you want the lowest price point possible while keeping your hands comfortable and protected then the Joe Rocket Eclipse Motorcycle Gloves will be right up your alley.
These are our value choice because they're under $20 but do not feel like they are under $20.
Joe Rocket uses a tough textile material for the glove overall with goatskin leather for the palm. For the knuckles, they use thermoplastic-reinforced rubber padding.
Thermoplastic-reinforced rubber is a great material for impact resistance. If rocks are flying toward your hands, this type of material will save your knuckles from serious damage.
There are plenty of riders that have shared their experience with debris hitting the knuckle padding and it works very well.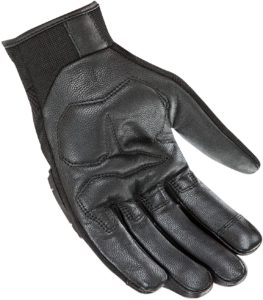 Your palms will be padded well with the goatskin leather padding. Some riders have actually slid going 20-30mph while wearing these and they held up nicely.
There is a rider review that slid going 70mph while wearing them as well and he was surprised that they stood to the test and saved his hands.
As for style points, these will look awesome while you're riding. They have a great design while keeping the protection alive and well.
Also, if you need gloves that will work well with your phone then these work great. The fingertips have good conductive materials.
Sizing, in general, has been spot-on for most folks. Go with what you usually wear for glove size and it should fit nice and snug. However, you may need to be using them for a while for them to conform to your hands.
Another downfall we noticed would be that if these get too wet then there's a good chance that the dye will bleed onto your hands which will stain your hands. It's definitely washable but it is worth noting.
If you are on a tight budget and need a pair of gloves that will still deal a quality hand in terms of keeping your hands protected while riding then these gloves are the absolute best pick for you.
Pros
A great low-budget price point
High-quality rubber knuckle padding
Awesome leather palm padding
Works great on touchscreens
Cons
If they get wet the dye might bleed into your hands
Might take a while for these to form to your true hand size
4. Cortech DX-3 Motorcycle Gloves
---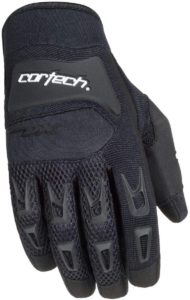 These Cortech DX-3 Motorcycle Gloves are all about styling. Sure, they still have great protection and comfort features but they come in many different color options to match up with the rest of your gear.
Putting the looks aside, these are made out of a tough textile material that's made by Cortech. Their main focus was on abrasion resistance with their textiles.
Thermoplastic reinforced padding is used with the knuckles here but they are placed a little differently than with most gloves which some of you may or may not like. They don't form to your knuckles but instead provide a tough layer welded over them.
A neoprene cuff is used for the wrist which helps a lot with your overall comfort. Cortech hit the spot when it comes to developing a super comfortable glove fit.
Two-way stretch spandex is used in the thumb, index finger, and the top of the hand to provide a stretchy yet cozy fit. It's also made out of the same tough textile that is used throughout the glove.
Because of the full textile construction, these breathe extremely well in warmer weather.
If a pair of riding gloves that work considerably well in hot weather is what you are mostly after then these are most likely the glove that you should go with. These have some of the best breathability out of all of the gloves listed here.
The DX-3 gloves are focused mainly on comfort and functionality while riding which is awesome. Comfort is combined with reasonable protection – that's the DX-3 gloves in a nutshell.
Again, if you are looking for multiple color options then these have a bunch of style options available. They come in black, white, blue, red, and yellow variations.
Some things to point out on the downside would be that they will not work at all while using your phone and sizing seems to be a bit off compared to the general idea of glove sizing. However, it's easy to soak them in water for a while and conform them to your hands for a true fit.
When it comes to having multiple style options, a very comfortable fit, and highly durable textiles that breathe well then Cortech has you covered with their DX-3 gloves.
Pros
Multiple color options
Highly durable textile materials
Very breathable in hot weather
Extremely comfortable fit
Cons
Will not work at all while using your phone
Might have to soak in water to help conform to your true hand fit
5. Joe Rocket Sub-Zero Motorcycle Gloves
---
Joe Rocket's Sub-Zero Motorcycle Gloves are the prime time when it comes to budget-friendly riding gloves that are effective during colder riding days.
Good cold weather riding gloves need to have windproof and waterproof properties and be able to last a long time through whatever weather might come at them.
These are able to last a very long time and they are one of the lowest-priced winter gloves on the market.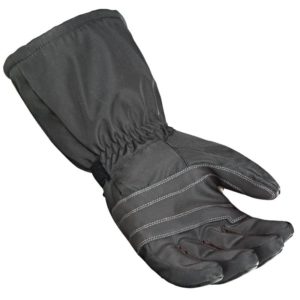 There is a decent amount of insulation with these which will allow you to ride in colder weather for a long period of time.
Some rider feedback has reported being able to ride continuously at 70mph in 30°F weather and not have their hands blasted with cold air.
They work great for when you are riding in the rain as well since you can get the fit pretty tight around your hands and the materials that Joe Rocket used keeps the water out.
Slip-resistant palms for when you are riding in wet weather will help you not slip off of your throttle and clutch lever.
Nevertheless, there is not too much going on when it comes to protection features. There is a small layer of knuckle padding but other than that… they are not the most protective glove out there.
When it comes to an entry-level winter riding glove that you don't have to pay an arm and a leg for, these Joe Rocket Sub-Zero gloves will get the job done.
Pros
High level of water and wind resistance
Will last a long time
One of the lowest-priced winter gloves
Comfortable for long rides
Cons
Not a whole lot of protective features
Can't use your phone at all while wearing them
6. A&H Apparel Motorcycle Gloves
---
t's usually only short cuff style gloves that are available when it comes to finding good, protective and useful motorcycle gloves. That is not the case with these A&H Apparel Motorcycle Gloves.
These go over more than just your wrist, they have a bunch of different protection features and they breathe exceedingly well.
It's surprising that these are priced at just over the $30 price range because they have some features packed in that you normally find in the more expensive gloves.
Cowhide leather is used through the entirety of the glove, there is some thick leather padding for knuckle defense and there is special padding in the front as well.
If you go down with these gloves on you will have a high chance of keeping your hands from being damaged from both abrasions and impact. It is nice to see a glove that focuses on both types of resistances at the same time.
They are also very comfortable due to having extra features to help you find the perfect fit. The wrist strap has two adjustable points and the extra coverage keeps your wrist and hands super snug.
It seems that if you get them wet either through riding in the rain or by sweating a lot in these gloves then there is a chance that the dye will bleed a little bit onto your hands. Other than that, there really isn't anything else to report on negatives for these gloves.
If you are in the market for a pair of gloves that cover more than just your wrist and you want all of the protective padding and leather you can get then these gloves are going to be your best bet.
Pros
Plenty of padding and coverage for protection
Minimalistic style
Purposely designed for high comfortability
Gauntlet style that breathes well
Cons
If they get wet the dye might bleed a bit
7. Scorpion Covert Tactical Motorcycle Gloves
---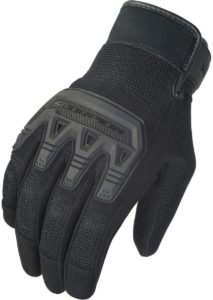 Yet another minimalistic glove, the Scorpion Covert Tactical Motorcycle Gloves are somewhat similar to the Cortech DX-3 gloves that we mentioned earlier but they feature a few different protective features.
These use thermoplastic-reinforced flex knuckle armor padding and the fingertips are reinforced with their tough textile materials.
Double stitching where it matters most, a nicely padded palm with extra grip for your throttle and a TPR-reinforced wrist strap. Scorpion definitely had durability in mind when they made these gloves.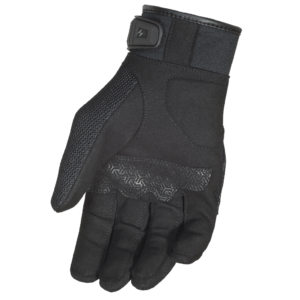 The mesh panels are also thick and provide airflow while keeping the protection qualities in check.
This is another great glove when you want something for warmer days that provide maximum comfort and good enough protection for you to know that your hands will be good to go no matter what.
They will purposely have a bit of a tight fit on your hands at first but they will form to your hands in no time. From rider feedback, they work great at keeping your hands cool even in some 100°F Arizona heat.
There do not seem to be any issues with sizing when you follow their sizing chart. It is nice to see a good mesh glove that follows true to traditional sizing.
For a minimalistic glove that focuses mostly on comfort while riding and ripping the throttle, you can't go wrong with these. An excellent choice if you need high-quality gloves for hot riding days. They also come with a full 1-year warranty.
Pros
Excellent, durable stitching
Extremely comfortable, especially for hot weather
Good armor reinforcements
Slick, minimalistic look
Cons
Will most likely be a tight fit for a short while
Not as protective as a leather palm would be
8. Joe Rocket GPX 2.0 Motorcycle Gloves
---
If you're on the hunt for a good cheap pair of gauntlet-style motorcycle gloves then Joe Rocket's GPX 2.0 gloves should be on your radar.
These are some of the best leather gauntlet motorcycle gloves that you'll be able to find at a lower price point. They're made out of high-quality goatskin leather, they have internally injected molded knuckle protection, they have a reinforced padded palm, and they are available in a few different styles.
They are fastened by a hook-and-loop velcro fastener at the cuff, so they're simple to get on and off your hands. Combined with the overall construction of these gloves, they're very comfortable to ride with.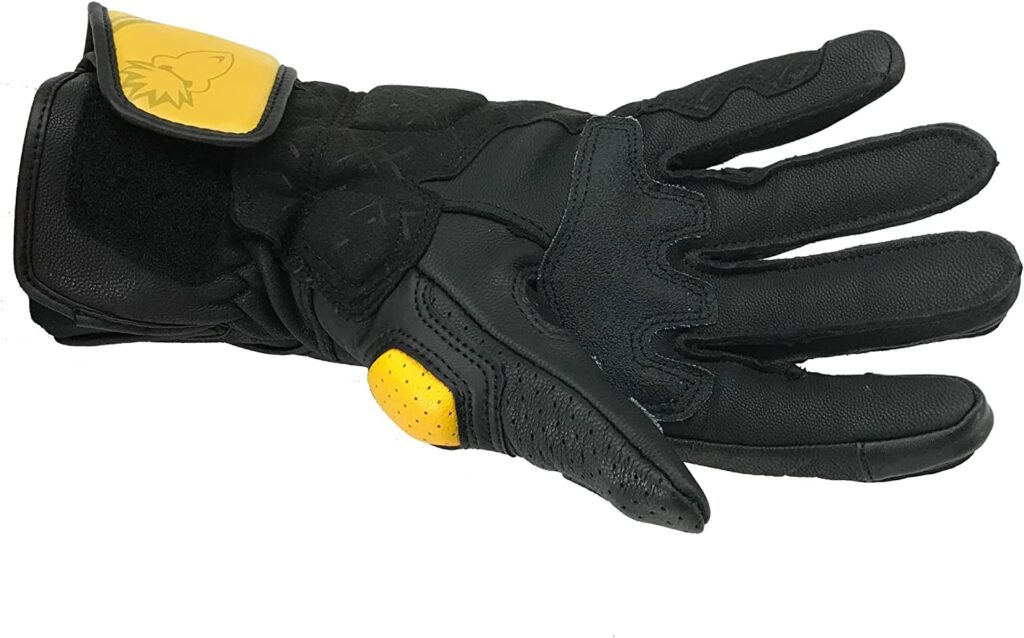 From riders using these in lower temperatures, these kept warm for about 45 minutes of cooler weather riding. They'd pair perfectly with some heated grips on your bike. Even in warmer weather, they have decent enough ventilation to be used all year round.
From the padded palm to the molded knuckle protection, they're a snug fit and have great protective features – especially for those of you that would be wearing these on the track.
They come in a few variations of black, red, white, and yellow. Unfortunately, at least at the time of this writing, not every style is widely available in different sizes and there aren't a ton of size options to choose from.
In all, if you're looking for a pair of street-style gauntlet leather riding gloves then Joe Rocket's GPX 2.0 gloves are going to be the ones to get, given that you're able to find your size in the style you want.
Pros
High level of protection
Gauntlet leather gloves that can be used all year round
Comes in a few different styles
Cons
Some styles aren't available in the sizes
Not many size options to choose from
Unable to operate your smartphone while wearing these
9. Blok-IT Leather Motorcycle Gloves
---
As you have probably guessed, these Blok-IT gloves are all about blocking the cold wind as you are out there riding and they do not disappoint in that regard.
They are made completely out of soft, supple cow leather. Overall construction is very well done with double stitching at all of the major points of the glove.
Comfort is the obvious main focus here and although they are made out of quality leather which provides some protection, they do not have armor padding. Only leather padding here for protecting your hands.
There are a ton of riders that have rated these high and provided feedback. For cold weather, these are great up until you start riding under 40°F.
If you are going to be riding under those types of temperatures then you should add in a pair of glove liners to keep your hands optimally warm.
They will form in your hands very quickly and the thickness of the materials is at a sweet spot where they aren't too thin but aren't too thick where you wouldn't be able to feel your controls.
You will not be able to operate your smartphone while wearing these and they only come in one style. It would be awesome to see Blok-IT go back to the drawing board and create a pair like this with conductive materials at the fingertips and provide other styles/color options.
If you are looking for a pair of good cheap winter gloves that actually work and provide you with high levels of comfort then you should absolutely consider getting these!
Pros
Soft, supple cow leather material
Easy to form to your hands
Very comfortable to wear
High-quality construction with plenty of double stitching
Cons
Will need liners if riding under 40°F
You will not be able to operate your phone with these
No armor padding
10. INBIKE 805 Motorcycle Gloves
---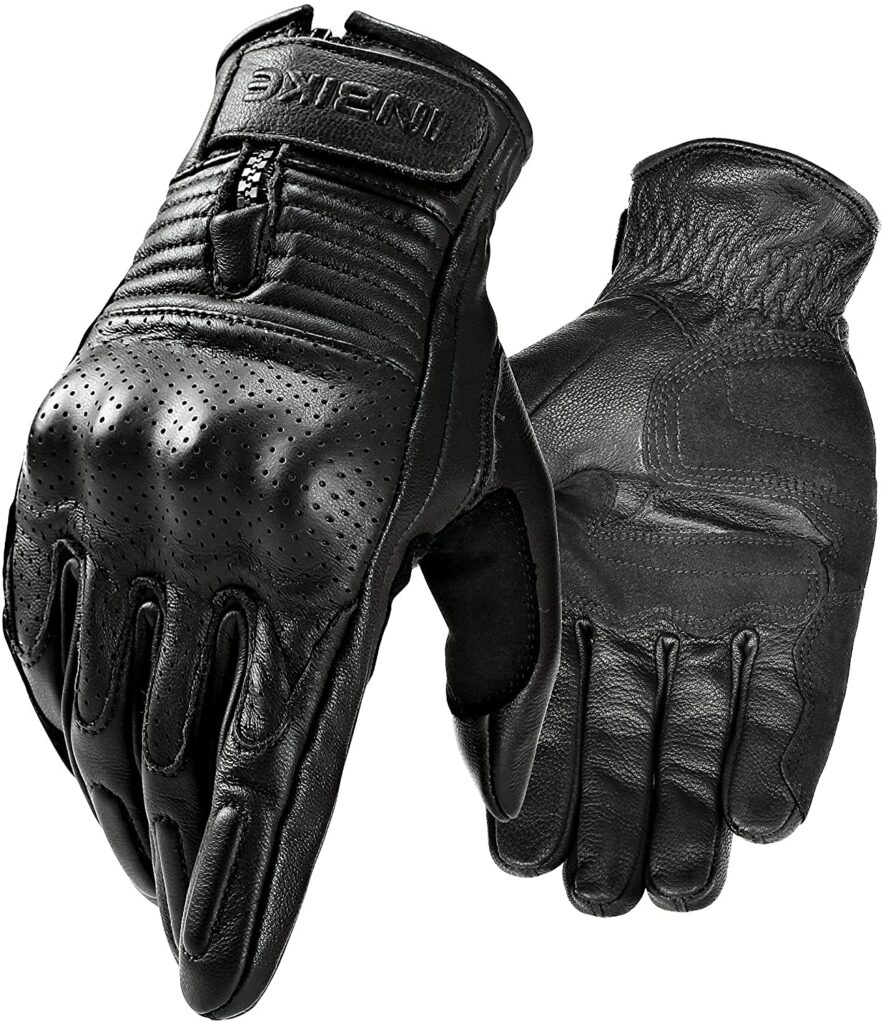 Last and certainly not least we have a pair of summer riding gloves from INBIKE. These gloves have quite the reputation with plenty of riders when it comes to having gloves that feel premium and last a long time.
These are made out of goatskin leather, the protective knuckle shell is made out of carbon fiber, the palm is thickened to help with anti-slip/durability, it has a zipper with hook/loop closure, and they come in black/brown styles.
Although these are going to be priced a little higher than the rest of the gloves featured here, they also have some of the best features when it comes to lower-cost choices.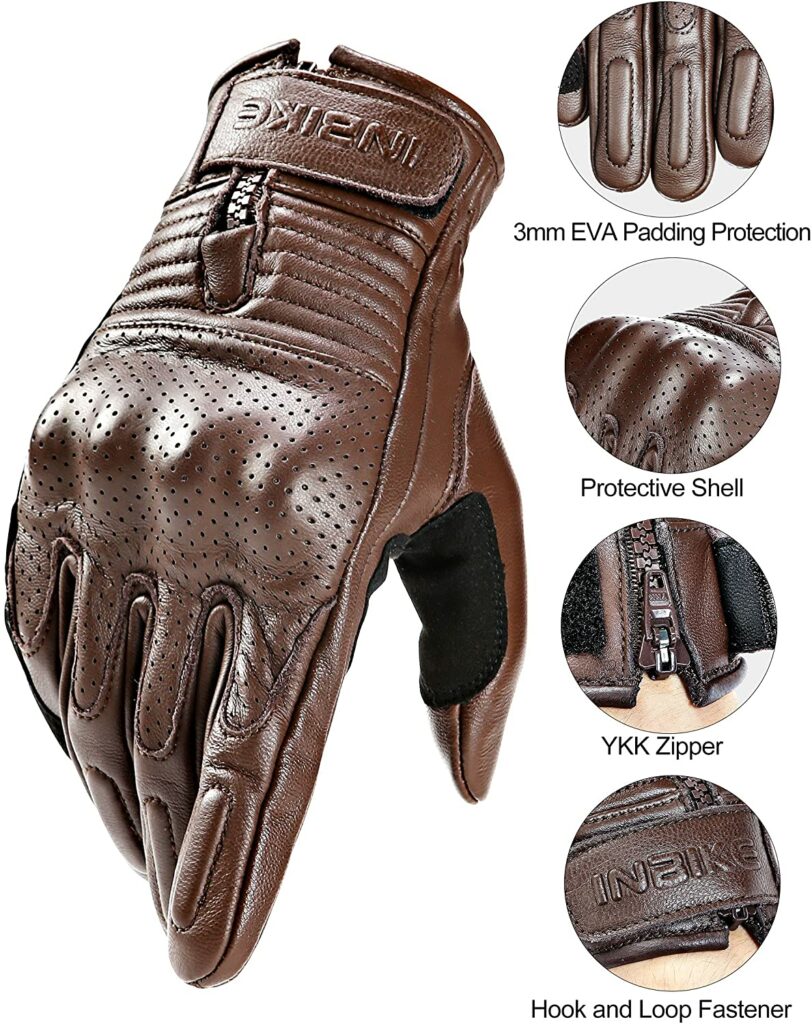 Goatskin leather is great for abrasion resistance, carbon fiber protective shell at the knuckles, and extra protective padding at the fingers… You can tell that INBIKE took their time in the overall design choices with these gloves.
The zipper combined with the hook and loop fastener is likely going to be one of the most attractive parts of these gloves for most of you that are looking for a well-fitted glove. They stay secure, can be adjusted for the right fit, and are easy to get on/off in a pinch.
At the palm, you've got a thickened padding that is not only effective for further impact/abrasion resistance but it also helps with vibrations while riding. Plenty of riders that use these gloves boast about the level of comfort while riding.
If you're alright with spending a little more and want a highly protective, lightweight leather glove that fits tight and is highly comfortable then you can't go wrong with these.
Pros
Goatskin leather material
Carbon fiber protective knuckle shell
Zipper hook and loop closure
Extra padding to dampen vibrations while riding
Cons
Only comes in a perforated version, meant for summer riding
Doesn't come in many sizes
Fingertips not conductive for phone use
Cheap Motorcycle Gloves: A Guideline
---
Many riders waste their money on gloves that will hardly help them at all with overall protection, usability, and comfortability.
You need to keep your hands well protected while riding, good gloves should allow you to control your motorcycle easily and there should not be anything within or on the glove that will irritate your hands while riding.
Below is some useful information we wanted to share with you in regards to the gloves we shared here and with any other inexpensive gloves you might stumble upon while browsing around at different shops.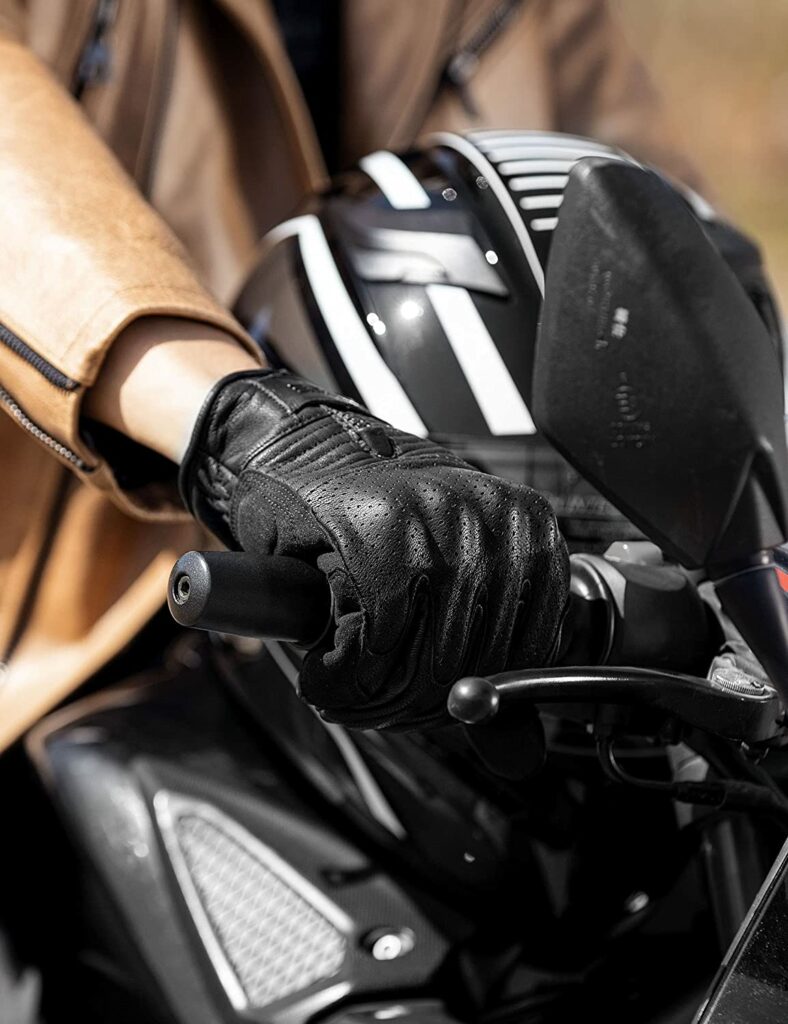 Are Cheap Gloves Worth Getting?
Short answer, yes AND no.
There are a TON of super cheap gloves available online and most of them are made of horrible quality in both functionality and materials used.
There is no point in buying an extremely cheap ($5-$15) pair of gloves because they will absolutely not help you in the event of a crash.
That is why we decided to create this guide. You need to know what to look for when it comes to low-cost riding gloves so that you don't waste your money. Hopefully, you can feel more comfortable about the choices out there after reading through this!
Cheap gloves are not worth getting if you get the wrong gloves. They will do little or next to nothing in protecting your hands during your rides.
Materials To Look Out For
Many of the gloves featured here have what you need to look for when you are searching around for low-priced, high-quality gloves.
Leather, either throughout the entire glove or on the palm, is very important. Not the fake, low-quality leather… You need to research the companies that make the gloves you are looking for and see what they are using and how they apply it to their gloves.
Leather is tough when it comes to rocks kicking up into your hands and they have a hard time getting torn apart when you have to slide on your hands.
Cowhide and goatskin leathers are the most common types of leather used in cheaper gloves because it's easy to use and it is cheaper for the manufacturers to get their hands on.
Textiles can be great as well when they are made right. Double-stitching where it counts, mesh panels for breathability, and a decent stretch… textiles in gloves are great.
Leather will hold up longer than textiles would in a wreck but that is why you also need to factor in the overall armor of the glove as well.
Armor Padding
Thermoplastic reinforced (TPR) rubber paddings are the most commonly used material in knuckle armor with lower-cost gloves. It resists impact very well and is comfortable on your knuckles.
Sometimes manufacturers will use hard plastics for knuckle armor which also works nicely but rubber padding is going to be more comfortable while riding.
Some companies will use a form of padding on the palm to help with hand fatigue and handlebar vibrations but it also helps with impact resistance.
We highly recommend making sure that you get a glove that has some form of armor padding going on so that you can feel confident that your knuckles will not get banged up by possible debris that can pop up.
Low-Cost VS High-Cost
More expensive gloves will use different materials that cost a lot more during manufacturing but some riders can't live without them so they will go for the more expensive gloves.
Any glove is better than no glove and you don't need to put a huge dent in your wallet for good protection when choosing motorcycle gloves. Carbon fibers, higher-quality leathers, and higher-quality textiles will be used in the higher-priced gloves.
Some gloves are also highly-priced because of the brand that is carried with them. Alpinestars is one of the most popular brands when it comes to motorcycle gloves and they have some higher prices because of the brand and the quality that Alpinestars carries with them.
If you are careful and know what to look for, you will not be sacrificing too much when you decide to go with a cheaper glove. Obviously, you will find better materials, armor, and more features with higher-cost gloves but when it comes down to having your hands protected in general – cheaper gloves can also get the job done.
Deciding On A Type of Glove
You need to consider your riding style and the style of glove that you prefer before you go ahead and get yourself a pair. If you are an aggressive, sport rider then you need gloves that will be comfortable while ripping on your throttle and are lightweight.
Be sure to take the general weather into account otherwise your hands are going to be sweating up a storm with gloves that don't breathe well during hot days and they will feel stuck from the windchill freezing your hands up if they aren't built for colder weather.
A huge benefit to getting yourself some more affordable gloves is that you can usually get two pairs for the price of one expensive pair of gloves. One pair for the warmer days and another pair for when things get chilly. You can easily spend less than $60 on two pairs that work for both riding types.
Always Protect Your Hands
---
Even with a cheaper pair of motorcycle gloves, you can save yourself a lot of hurt by wearing gloves while you ride. Any accident, big or small, can severely damage your hands if you are not wearing the proper riding gloves.
Get a pair that features high-quality materials, tough construction, and armor padding and you will have a much better time if you were to ever find yourself in an accident.
We hope that you are more confident in looking around for cheaper motorcycle gloves after reading through our guide. We are here for any questions!
Are you going to be getting any of the pairs featured in our list?
Which pair of gloves featured here are your favorite(s)? Why?
Let us know in the comments below!
Sources: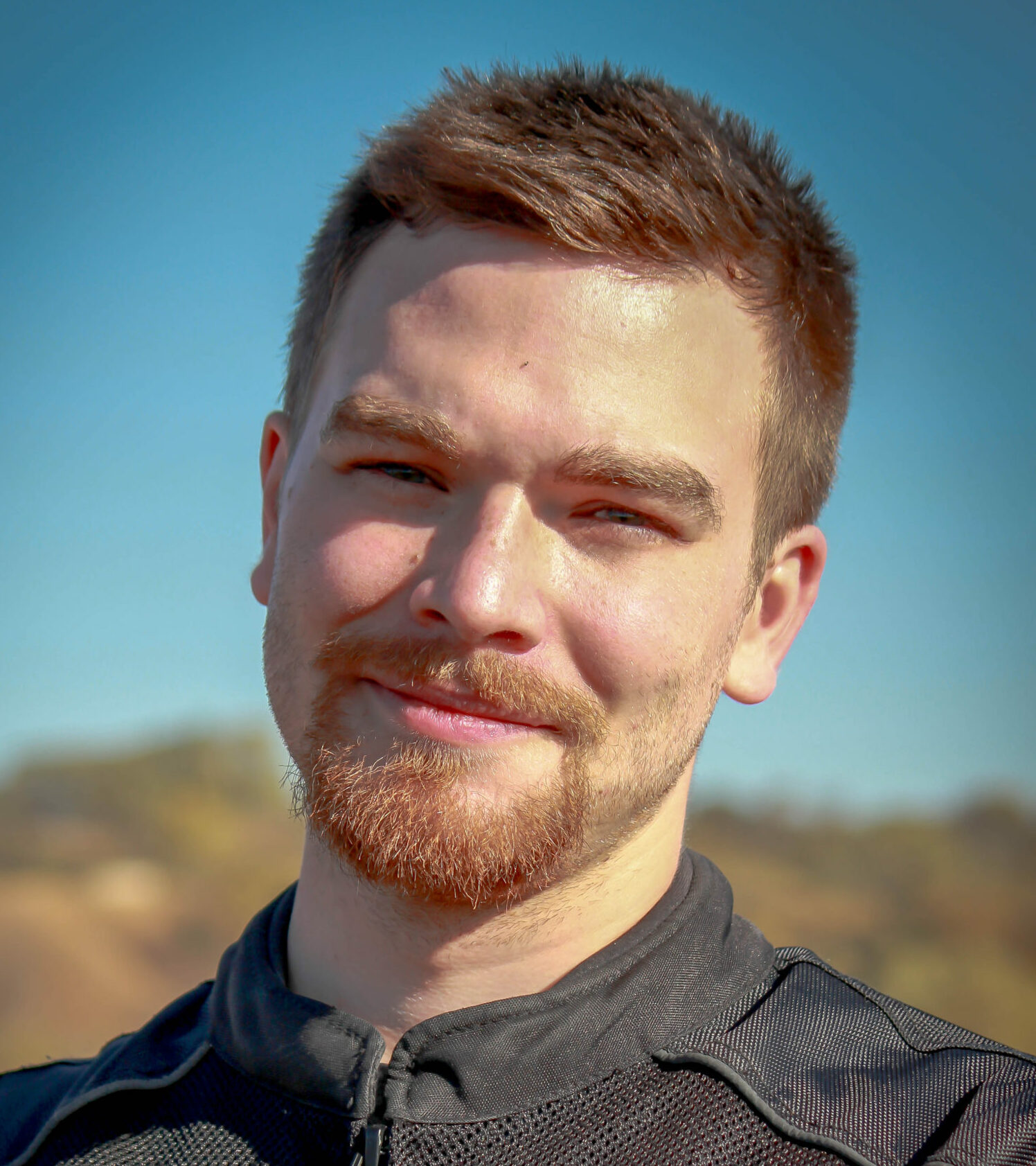 What's up! I'm Colton, the main guy behind Moto Gear Knowledge. Gear has always been my #1 priority when it comes to riding.
I share my experiences regarding gear and anything else moto related with you here. 👍