Last Updated on January 9, 2023
It doesn't matter if you're a new rider looking for the absolute best low-budget motorcycle jacket or if you're a riding veteran that is looking for a cheaper alternative when it comes to moto jackets – we've got you covered.
In this guide, we are going over the best budget motorcycle jackets with high-quality protection, fit, and styles that are still available at an affordable price.
We'll go over our suggestions for why we picked each jacket listed here and where you can get it. If you're in a rush, we have listed our top picks right off the bat.
However, we hope you take a look at all of the jackets listed here as some are going to be different types of jackets, and depending on your desired motorcycling style, you might want to read up on some of the different jackets other than only our top picks.
Cheap Moto Jackets – Our Guide & Overview
---
We don't want to pick a definite jacket and call it the utter best. We factor in official specifications, the most important features, and real rider feedback so that you can feel better about choosing a budget-friendly riding jacket that works best for you and your approach to riding.
Listed below are our findings for some of the best moto riding jackets on the market that are obtainable for a lower price range. Think under $100, over $60 range for most of these jacket picks.
We didn't want to include any low-quality, flimsy jackets since safety is the #1 concern here… but obviously, at the same token, we don't want to be spending a whole lot. This guide has reasonably priced jackets that will stand the test of time and keep you safe on every ride.
It was kind of hard to find good riding jackets that don't break the bank that aren't made with rubbish materials. There are a lot of extremely dull jackets on the market…
Right now, the Borleni D-020 Motorcycle Jacket is the top-level pick when it comes to a low-cost, protective motorcycle jacket. Whether you're wanting to have a good air-flowing jacket for the summertime or a nice warm jacket for the colder days… that jacket is the jack of all trades.
If you're more so interested in spending the least amount of money possible while also not sacrificing safety for cost then you'll want to take a look at the HWK T1 Motorcycle Jacket – it has everything you need when it comes to saving the most money possible while staying safe on your rides.
Keep reading through if you want to see all of the other moto jackets that we found to be worthy of listing! There are quite a few golden picks out there when it comes to inexpensive riding jackets.
Comparison Table
Borleni 0-020 Motorcycle Jacket 
When it comes to having an affordable jacket that comes with all of the bells and whistles... this Borleni jacket is a great pick. This jacket is the best pick if you want to have a jacket for every season that has all of the protective features you need to stay safe on the road.

ILM JK41 Motorcycle Jacket
ILM has always been a great brand to go with when it comes to inexpensive riding gear. This jacket has high quality external armor as well as great airflow with a minimal amount of branding. When it comes to minimalizm, this is a good pick.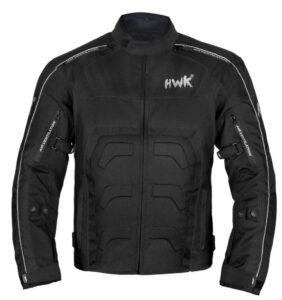 HWK gear is some of the lowest priced gear on the market but they do an excellent job of not sacrificing essential features for profit. Their T1 jacket is available for right around $60 and is one of, if not the best choice if you are looking to spend the least amount possible on a safe riding jacket.
There is not going to be an all-time best moto jacket that's suitable for every type of motorcyclist out there. That's why we have included a fair amount of different types of cheap jackets in this guide.
If you're looking for a low-cost winter motorcycle jacket, an inexpensive leather motorcycle jacket, or a sport jacket that is more so on the affordable side… we have them listed here!
You will want to get a jacket that has a good level of impact and abrasion resistance features. There are plenty of features to look for in a moto jacket that you need to be aware of.
Armor padding, high-quality build materials for if you need to bail out and slide, a comfortable fit overall, and confidence to know that it will last you for a long time.
You don't want to have to buy a new jacket every few months and unfortunately, that is a common case when it comes to inexpensive, low-quality brand jackets. However, there are some great jackets out there if you dig deep and do the solid research which is why we have done most of the investigating for you!
These are some of the best of the best that we have found through finding features that make sense, the right kind of build quality you need in a jacket, and real information from riders that have used these jackets.
Top 10 Rated Cheap Motorcycle Jackets of 2023
1. Borleni D-020 Motorcycle Jacket
---
This jacket from Borleni is one of the top-selling budget motorcycle jackets on Amazon right now and for good reason. It's a great all-around, any-season jacket to ride comfortably with.
It's great because it has CE-certified armor padding with the elbows, shoulders, and back as well as including a removable liner. You get 360° protection whether it's a hot day or a cold day.
How it's different from many of the other jackets that provide something similar is that it has adjustable areas to help you find your perfect fit, the areas with the removable armor pads are made in a specific way to deter wear and tear over time and (from most rider feedback) is made of materials that are comparable to professional jackets which cost upwards of $200+.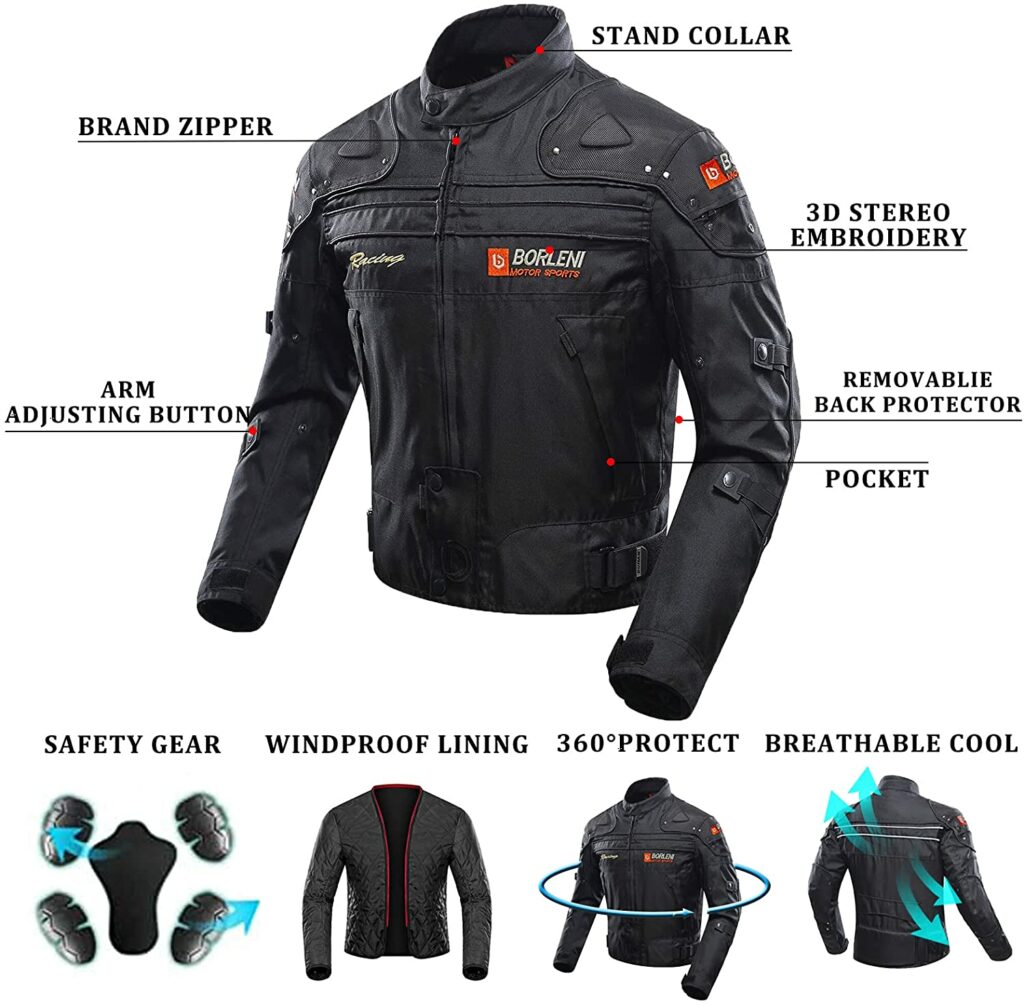 600D polyester is used as the main material here.
600D is the measurement used to show how thick the polyester material is and it is used widely in budget gear as it's cheaper to manufacture while also still being tough enough to handle any abrasions or impacts (with the proper armor included, which this jacket has).
There is an example situation from a rider that actually got into a wreck while riding with this jacket and only had abrasion burns on his wrists from the jacket sliding up as he was sliding on the street.
But his shoulders, elbows, and forearms were protected very well in that accident.
It goes to show that as long as the polyester material is backed with some kind of CE-approved armor that it'll help tremendously in a situation like that!
As for the jacket being able to handle any season, the liner is extremely warm. Then during the summer rides when you need that extra airflow, you can simply remove the liner which will uncover some ventilation.
Combine the style, armor padding, and the added liner to this jacket and you've got one of the best bang for your buck options that are available right now. It also comes in grey and red variants if you'd rather have more visibility or want to match up with your bike.
The only downfalls to this jacket are that the pockets are on the smaller side and the zipper is also a little too small. It also would have also been nice to see some internal pockets for extra random storage.
When it comes to having a stylish, protective jacket that is good for all year round right around the $90 range, you can't go wrong with this pick!
Pros
Plenty of armor padding
Good for any season
Adjustable cuff, collar, and hem
Cons
Lacks internal pockets
External pockets and zipper are on the small side
2. ILM JK41 Motorcycle Jacket
---
ILM has always been a great brand when it comes to high-quality, entry-level riding gear. Their JK41 jacket is best for extra air ventilation and having protective features where it matters.
There are ventilation zippers on the sleeves, front, and back portions of the vest which provides a lot of ventilation for the hot rides. A liner is also included to keep the jacket warm during fall and spring rides.
It comes with CE-approved internal armor in the spine & elbows and then there are external armor spots for the shoulders, back, and chest.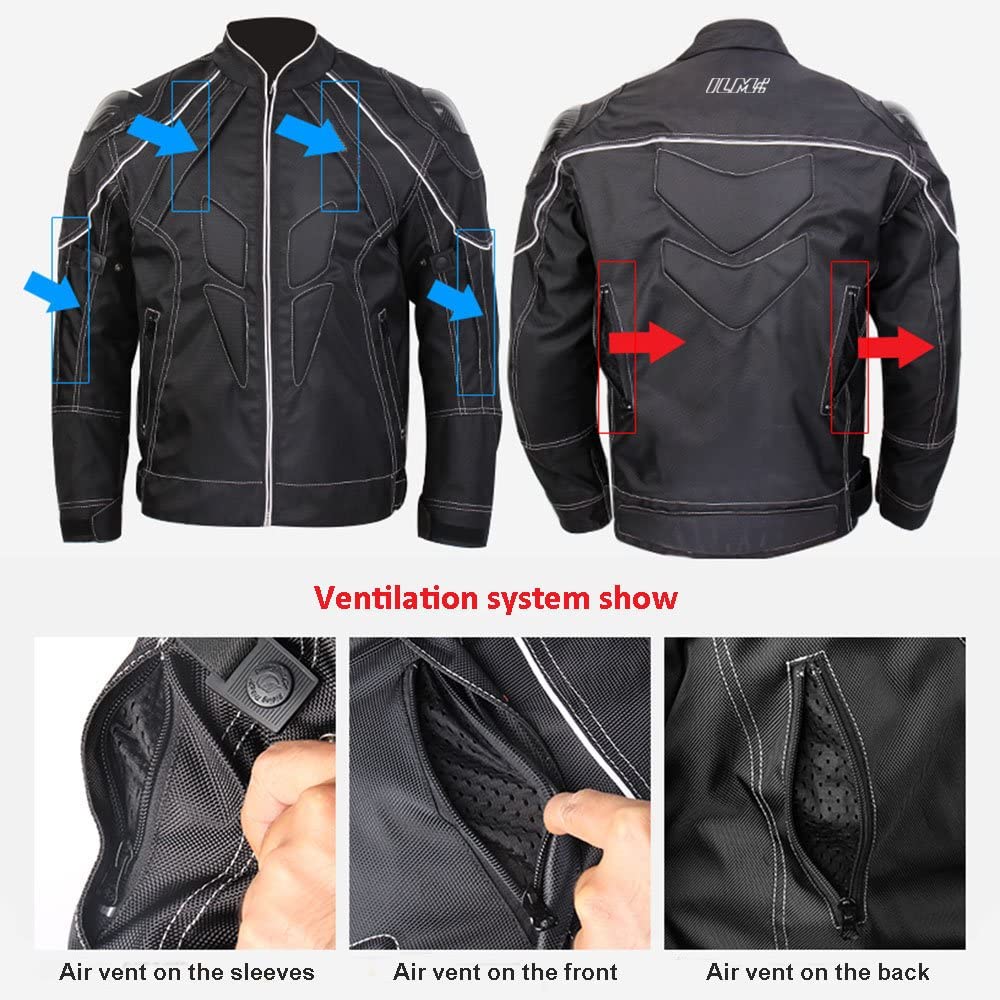 As for the style, this is more minimalistic than the previous jacket with the only branding being on the top of the back. This style fits with almost any type of riding style you'd be doing.
Some of the piping has reflective white tape on them which is always good for increasing overall visibility. Although some other styles. to choose from for extra visibility options would have been nice to see.
The outer shell is claimed to be waterproof and from seeing real riders' experiences while riding in the rain, it holds up very well in the rain.
In heavy rain it won't be able to have as much "waterproofness" but that's where dedicated rain gear comes into play.
There is a rider that had a slide while wearing this jacket and reported that only one of the air ventilation zippers got torn off from the stitching, otherwise all of the armor and main protective areas stayed intact and kept him from getting severely injured.
This jacket has some visibility with the reflective tape, strong external armor, decent internal armor, and a ton of ventilation to keep you cool with summer rides…
It would have been nice to see deeper pockets and maybe some more adjustable areas to help with the overall fit, but it has almost everything else you'd need in a jacket when it comes to the essentials.
If you're looking for something a bit more on the minimalistic side, want some reflective features, want something for the different seasons, and spend around $90 then this should definitely be on your radar.
Pros
Tons of ventilation
Protective external armor
Mostly waterproof
Minimalistic style
Cons
Pockets aren't very deep
Not many adjustable features for fit
Doesn't come in other styles
3. HWK T1 Motorcycle Jacket
---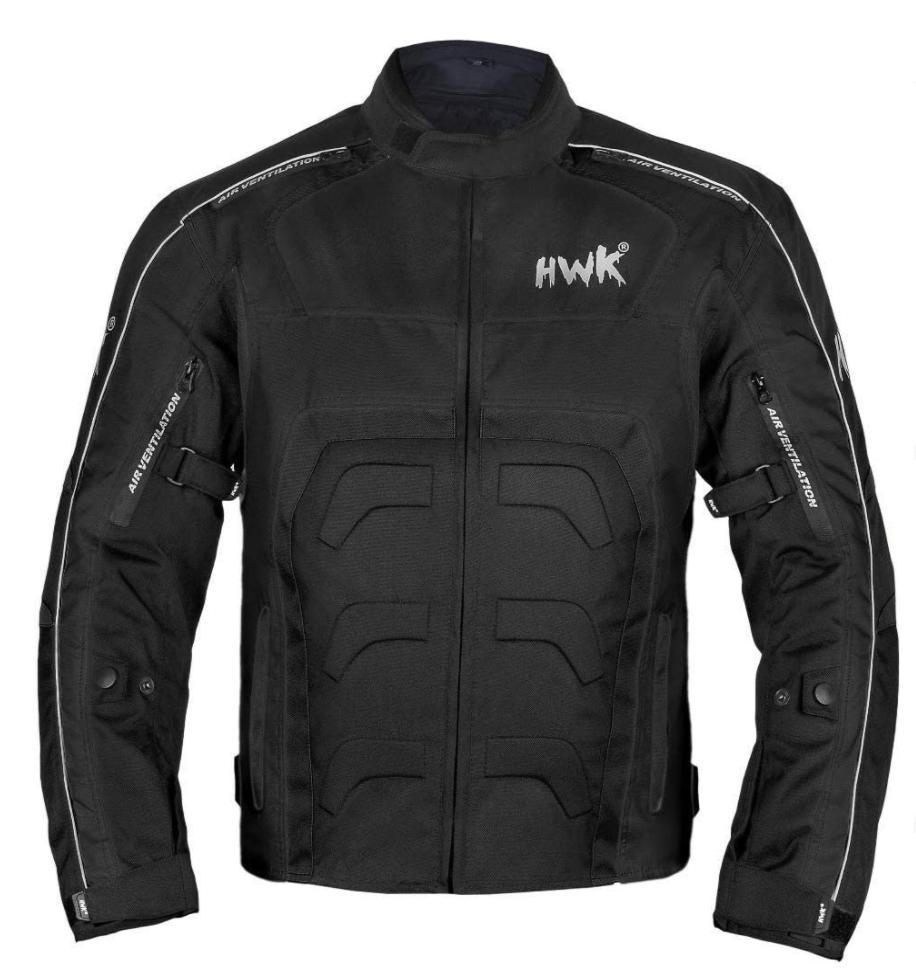 This jacket from HWK is the lowest-priced jacket that we have featured here in this guide. They're well known for having some of the lowest-priced gear on the market.
For right around the $60 mark, this jacket maybe doesn't have the highest quality when it comes to materials used but it still gets the job done when it comes to having something to protect you on your rides.
It's made out of 600D Cordura fabrics all around with different armor paddings in the jacket. The CE-approved armor is placed on the back, elbows, and shoulders. Then there is some padding in the stomach/chest area.
From other riders' experience, the inner liner isn't very thick but it still does a decent job at keeping the wind out. However, there are a few riders that have reported that the ventilation isn't the best when you take the liner out due to the jacket itself blocking the zippered ventilation areas.
On the flip side, some others also say that it does have some airflow going on… It seems that it may be dependent on how hot of an area you're riding in. If you're in an extremely warm area, this might not be the most optimal jacket to go with.
Riding in the rain isn't an issue, there are plenty of riders that disclose that they were happy with being completely dry from riding in the rain on their commute.
You can make adjustments on the arm and waist to help with the overall fit which is always a big plus. There are plenty of internal pockets and the external pockets are deep enough for almost everything you'd need to store in them.
The branding is highly reflective as well as the piping that goes down the arms.
This jacket packs a whole lot of features for the price point with the real big downfalls only being that the material isn't going to be as strong as some of the higher-priced options and that it isn't very ideal for the hotter summer rides.
To top it off there are a few other styles to pick from – blue, red, and grey variations are also available with the HWK T1 jacket.
If you're looking to spend the least amount possible on a jacket that will minimize damage in an accident, has plenty of pocket space and you aren't mostly riding in a very hot climate then this would be the one to go with.
Pros
Extremely low price
Plenty of pocket storage
Water/wind resistant
Cons
Not ideal for riding in super hot weather, not the best ventilation
Some armor is not able to be removed
4. Vance Leather VL1624B Motorcycle Jacket
---
This next jacket from Vance Leather has different price ranges depending on the size that you get and it dips a little over the $100 range but it's still one to consider if you are looking for a mesh jacket with minimal branding.
It's a mixture of mesh and 500D textile for the overall materials used. CE-rated protectors are located in the shoulders and elbows. There is also a back protector that is removable.
There are 4 total pockets – two waist pockets, one smaller internal pocket, and a bigger internal pocket.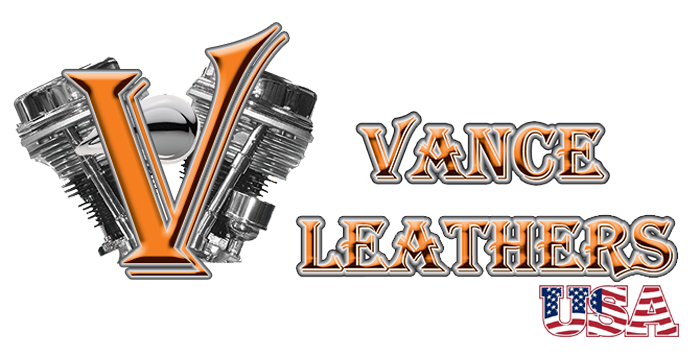 Some folks have shared that the waist pockets aren't able to fit their full hand into them so keep that in mind… but seeing internal pockets kind of counterbalances that.
Arm and waist adjustments are there for your custom fit… but there are some reports of the jacket running a little small so be sure to follow the chest measurements accurately.
For when you don't want all of the ventilation there is a liner included which helps with blocking wind when you're riding at night or on cooler days in general. But more than one rider tells of the zipper for the liner not being the best… it's sort of a hassle to attach and detach.
In short, Vance Leather definitely cut some corners with the zippers and the waist pockets but they did it to be able to create a straightforward, affordable mesh jacket.
This weighs only around 4-5 lbs. which makes it one of the lighter jackets that are featured here which is great when comfortability is what is most important to you.
All in all, this Vance Leather favors simplicity and ease of use. When it comes to a mesh jacket with minimal branding, being a lighter weighted jacket, and having plenty of ventilation then it might be the one to become your regular riding jacket.
Pros
Lightweight and comfortable
Plenty of ventilation with the mesh design
Next to no branding
Cons
Cuts corners on zipper quality
Waist pockets aren't very deep
Runs a little small on sizing
5. Viking Cycle Ironborn Motorcycle Jacket
---
Viking Cycle has always made high-quality, budget-friendly jackets. I've personally used a previous version of their Viking Cycle Warlock jacket and it has served me well for years.
Their Ironborn jacket sports a 600D polyester material, multiple pockets, an airflow system with several zipper vents, armor where it matters, different styles to choose from and it's very adjustable.
Having used a Viking Cycle jacket for some time now, I can say that the materials used and the overall build quality is well done. It feels sturdy, the material ripping or tearing over time hasn't been an issue.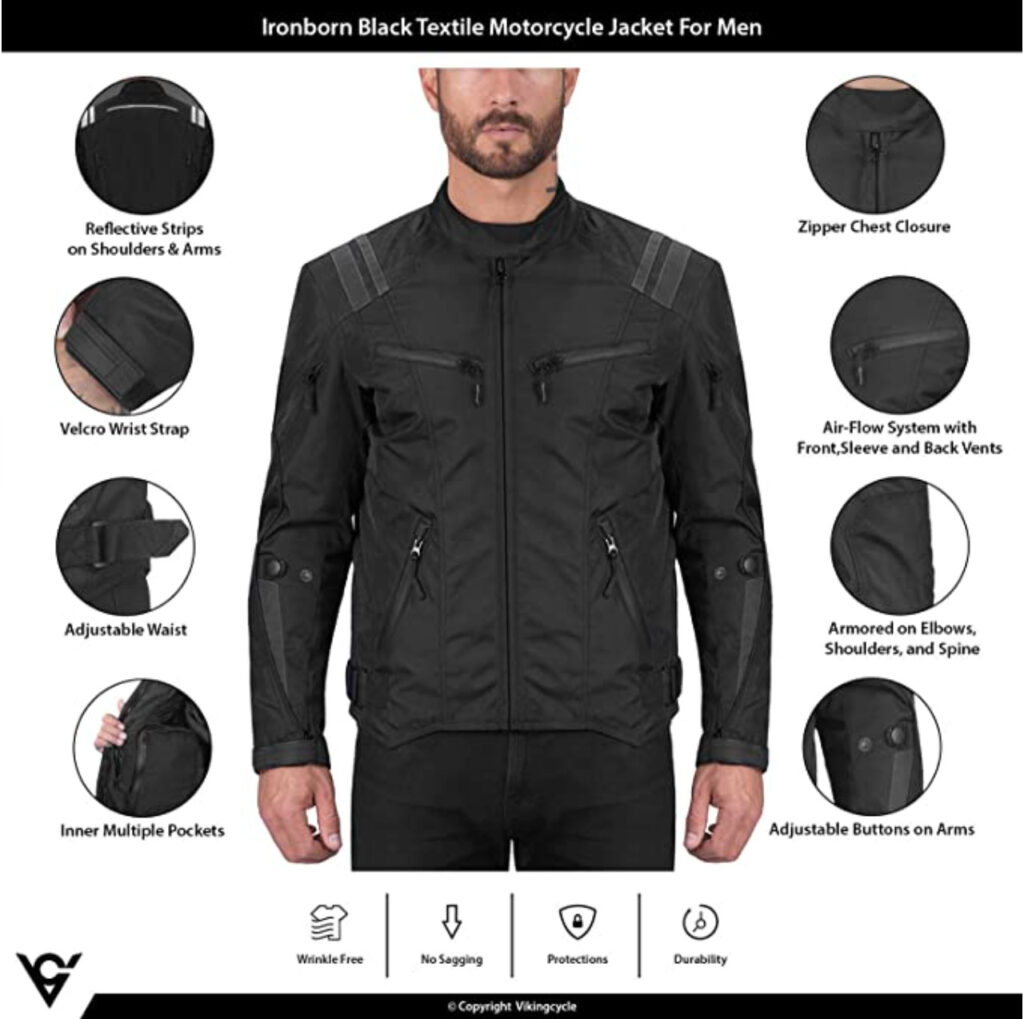 My only real gripe with mine is that it doesn't do too well with blocking rain. Wearing undergarments or some rain gear is needed for longer rides in the rain.
There are several pockets on the inside of the jacket and the waist pockets have plenty of room. You will be able to store really anything you deem necessary to take on your rides that'll fit in a pocket.
The zippered vents are located on the chest, sleeves, and back. This provides more than enough airflow throughout the jacket.
CE-approved armor is on the elbows, shoulders, and spine area. They're thick and durable enough to handle impact and abrasion, they feel like they cover a good amount of area as well.
In total, there are 9 different styles to choose from. There are black, grey, high-vis yellow, red, blue, orange, khaki, military tan, and white variants. Having this many styles to pick from makes choosing the one that matches up with your bike and style extremely easy to do.
Fit adjustments are located on the collar, the arms, and the waist which allows you to fine-tune the fit that'll best suit you and your body type. The sizing chart is also very accurate and easy to follow.
Most of the adjustments are with velcro which some folks don't really like… the velcro can feel uncomfortable at times if it gets in the way. There's also a liner that comes with but I had some trouble removing and putting it back in, sort of an annoyance but that is easily dealt with.
Viking Cycle is a great brand and I've personally used one of their jackets as my main jacket for a long time now. Although the velcro can sometimes be annoying and the liner can be a little irritating, everything else about the jacket is near perfect for the price you pay which is right around the $70 range depending on the size and style.
Pros
A plethora of styles to choose from
More than enough ventilation
Several pockets for anything
Cons
Most adjustable areas are with velcro
Not ideal for riding in the rain
6. Cuber C-1 Motorcycle Jacket
---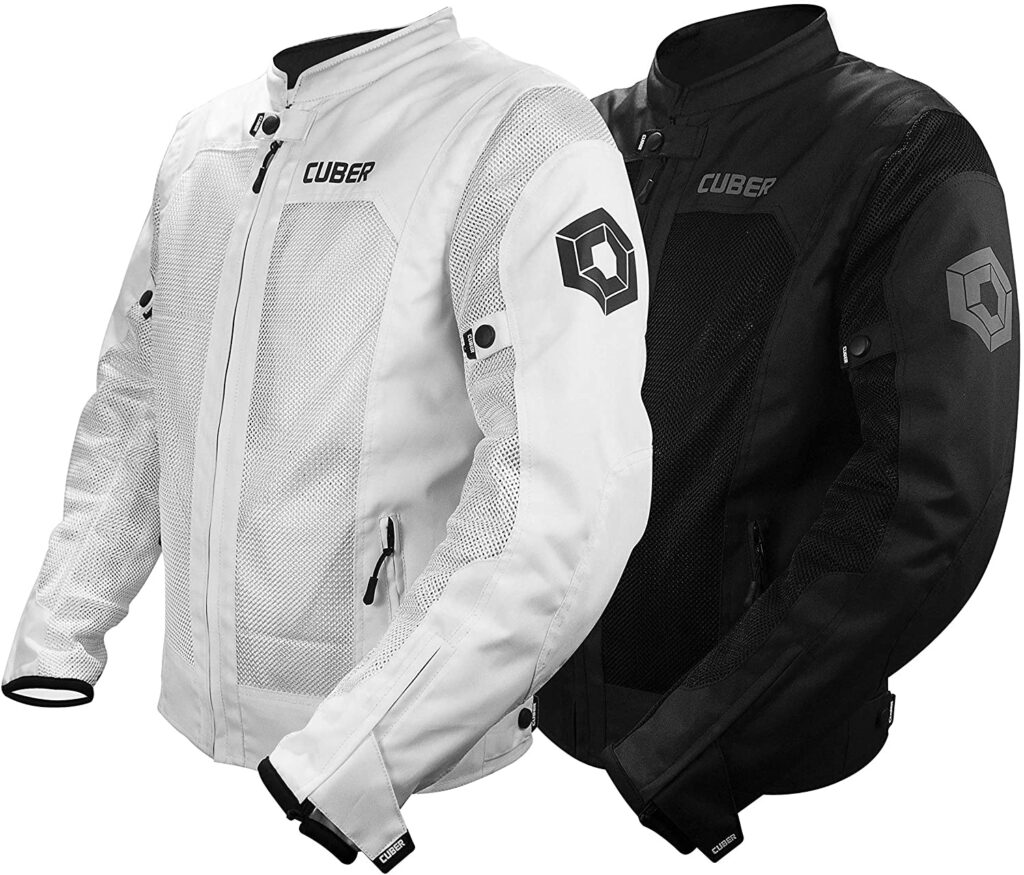 Here is another mesh jacket from Cuber that you may want to think about picking up if you are mainly riding during the summer or live in a hotter area.
This jacket's main features are that it's made out of 600D polyester, it has a mesh design all around the jacket, all of the CE armor is removable, it has fit adjustments in the important areas, and has reflective panels with the branding.
By now you've seen that almost all of the lower-cost jackets are made out of at least a 500D type of material so it's no surprise that 600D polyester is used here. One of the main differences though is that the collar is a neoprene collar like most of the other jackets but it is softer, it is edged with neoprene.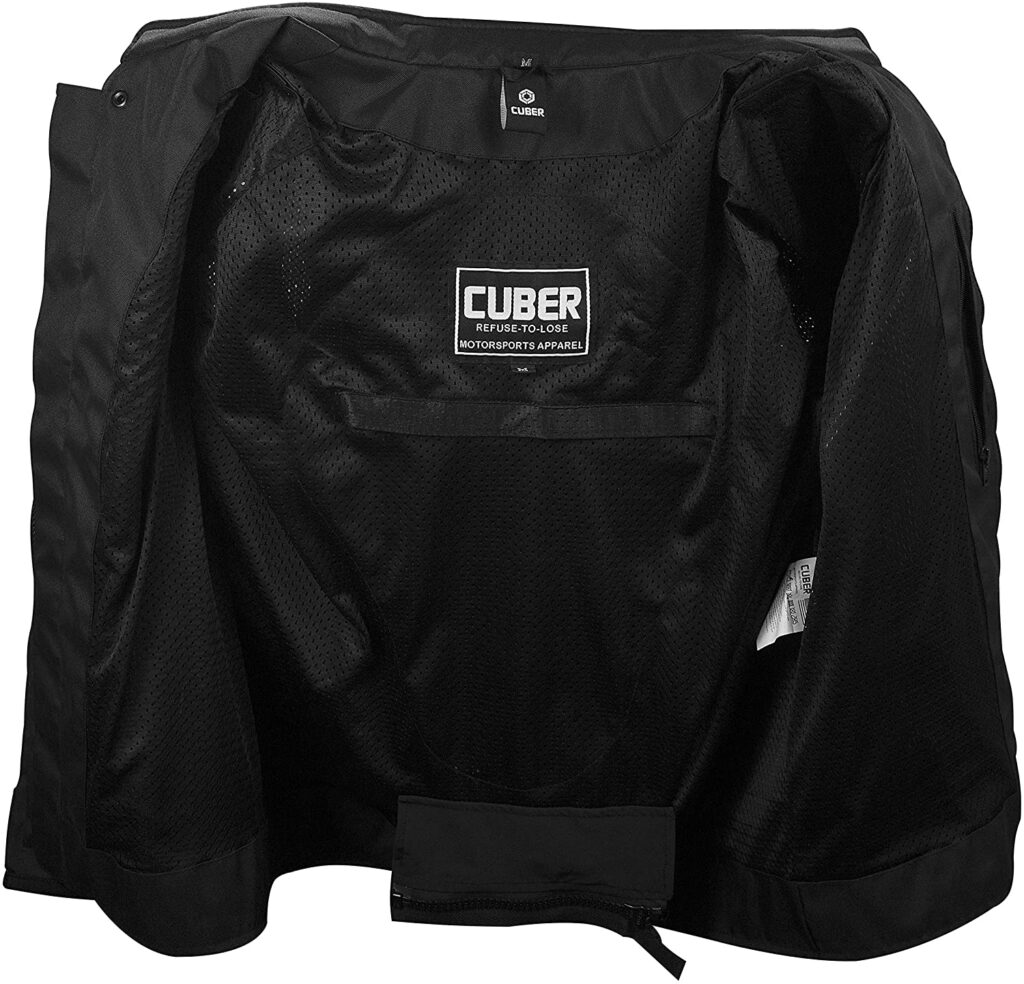 This makes the collar area way more comfortable compared to how other collars are designed yet it still doesn't sacrifice safety for it to be more comfortable.
It's nice to see that every piece of armor padding is removable with this one. The CE armor is located on the shoulders and elbows. Then there is a back padding that is also removable.
Fitting adjustments can be made on the arms, wrists, and waist. Only the wrists are with velcro adjustments otherwise everything else is with a solid button.
Reflective aspects are on the branding of the jacket which is always a major plus to have included with any jacket. And although this is a personal opinion, I think the branding with this one is pretty cool. It's not too much but it's nice-looking.
The only real major downside is that it doesn't come with a liner and is really only meant for summer riding. So if you plan on getting this jacket, just know that the reason to have it is for good airflow while it's hot out there.
It comes in black, gray, and white variations and costs right around the $80 range. The complete mesh design is the main selling point with this one.
If you're looking for a jacket solely for the hot and humid rides and need optimal airflow then you can't go wrong with this one from Cuber.
Pros
Mesh design all around
Every piece of armor is removable
Very comfortable collar
Easy to adjust fit
Cons
Does not come with a liner, only meant for hot/summer rides
Only comes in two styles
7. Xelement CF505 Motorcycle Jacket
---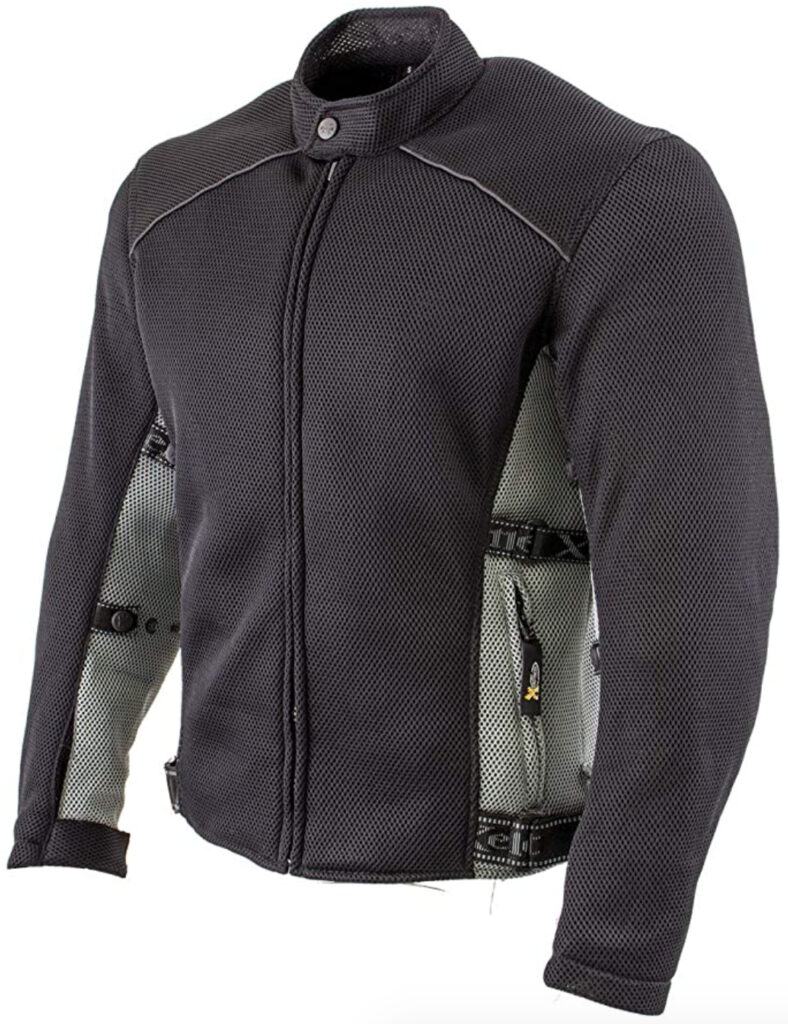 Xelement's CF505 jacket is the lightest jacket featured here. The XL size only weighs around 2 lbs. It's also the only jacket listed that has a complete mesh design.
With a complete mesh design, you might ask yourself something along the lines of…
"But what about protective features? "
"Wouldn't a full mesh design hinder overall protection?"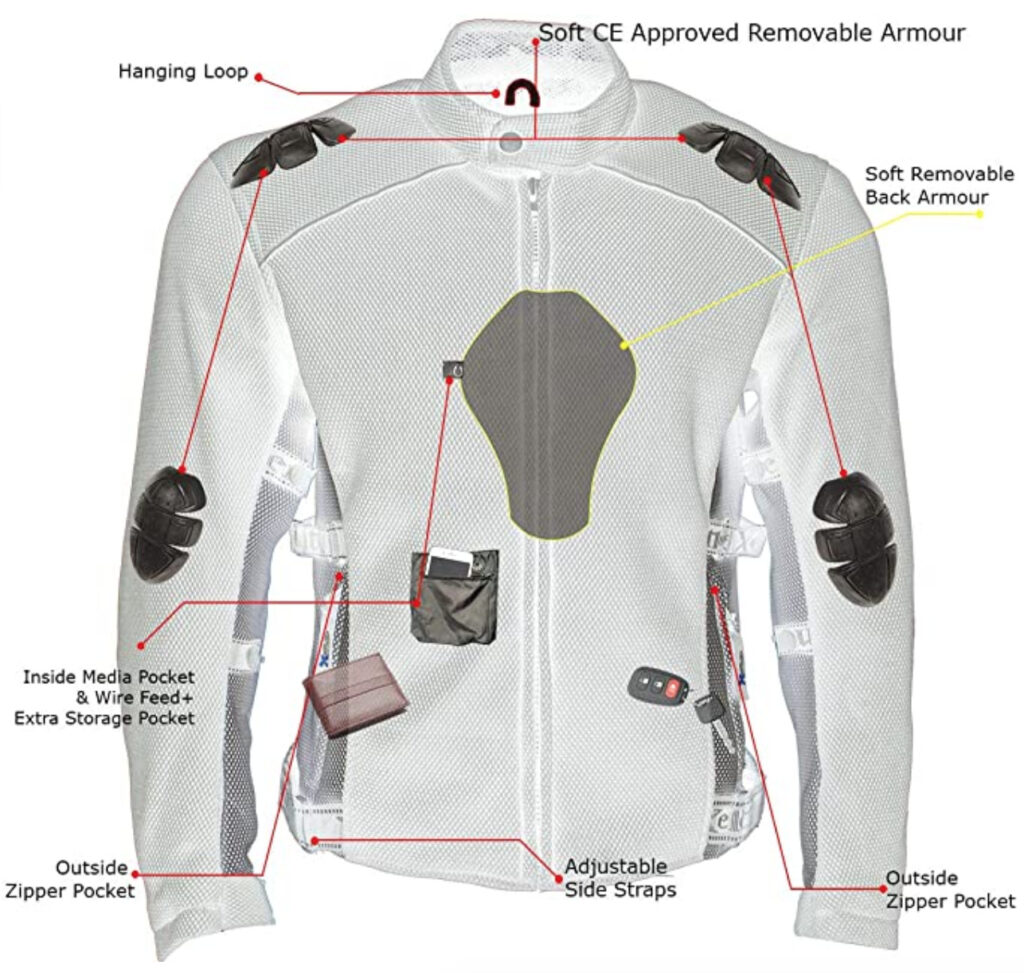 There are CE-approved armor paddings in the elbows, shoulders, and the back as well as a light material layer under the mesh to where it will have a hard time getting torn apart.
Xelement calls their tri-tex material "X-Armor" which is their own mix of fabrics and materials that are tough all around.
As far as safety concerns go, it's actually a decently protective jacket and it's definitely one of the most breathable.
There is no liner included so keep in mind that this jacket is 100% meant for riding in hotter climates.
With this super-light construction, it makes moving your arms around with it a breeze.
Two waist pockets and a smaller internal pocket provide enough storage for what you need. The inner pocket has a wire feed that lets you wire your earbuds up through the jacket.
The waist, upper front area, arms, and cuffs are able to be adjusted however you need them to be fitted. Xelement certainly focused on comfortability with this one.
But with comfortability comes at a small price – these materials are on the thinner side to sacrifice abrasion resistance for comfort. This is obviously much safer than wearing a t-shirt or a tank top while riding, but it doesn't maximize overall safety features.
For around $80 – if you're in the market for a super lightweight jacket for the summer rides then this will be one to snag up for yourself!
Pros
Extremely lightweight
Very breathable
Plenty of fit adjustment areas
Cons
Not good for colder weather
Might be too thin of a material for some
8. HWK Vintage Leather Motorcycle Jacket
---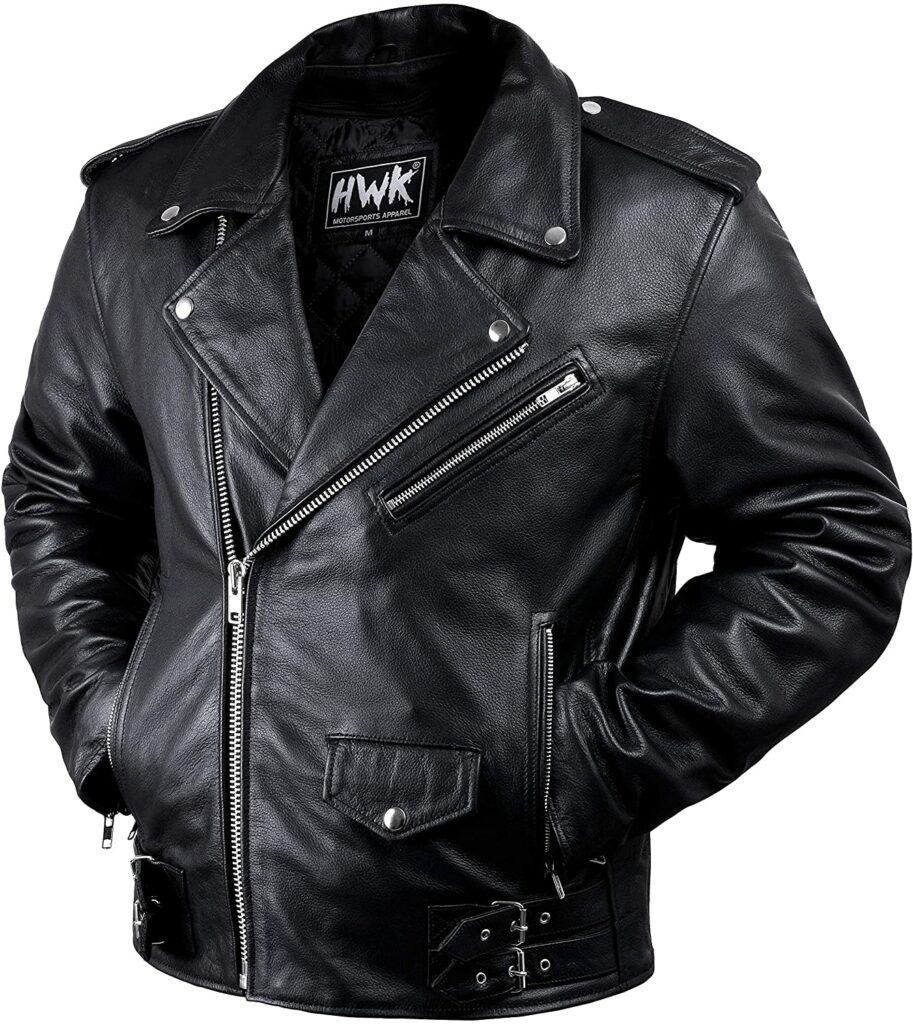 When it comes to affordable leather motorcycle jackets, HWK comes in clutch with this vintage-style jacket! It has quite a bit going on to ensure that you have a safe ride.
Although it's hard to believe that a leather riding jacket at around the $80 price point would be made with genuine leather – this one is! It's made out of 100% genuine buffalo hide.
Both from HWK themselves as well as from real riders that are using this jacket, it's genuine leather combined with armor padding to keep you safe.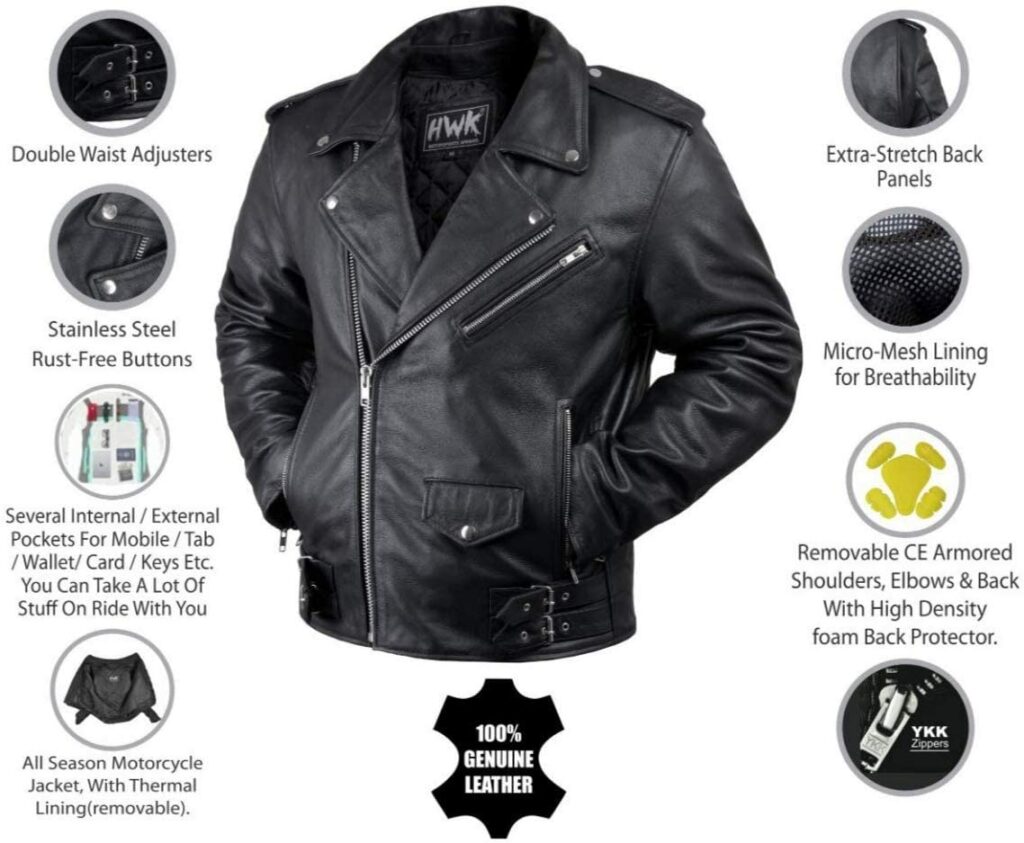 It may take a little bit for the leather to be broken in and to get the real fit for you but when it comes to having an inexpensive leather moto jacket that actually keeps you safe and is real… this one is hard to beat.
There is CE-approved armor padding on the shoulders, back, and elbows.
All of them are also removable if you ever wanted to switch them out for something else. There is also foam padding on the front and back for extra impact and abrasion resistance.
It has several internal pockets as well as two waist pockets. It comes with a liner that you are able to remove and there is a micro-mesh layer underneath the leather to help with the airflow.
With that, there are riders saying that the liner isn't even needed because of how much airflow is blocked from the jacket… it might not be ideal to use it if you're only riding during the summer heat.
Plenty of adjustment options are on the jacket as well so even though it'll take a little while for you to break the jacket in for the true fit… you'll at least be able to adjust it on the fly.
If you're in the market for this type of classically styled motorcycle jacket but don't want to pay a bunch for the name brands out there then this is absolutely going to be the leather jacket to go with!
Pros
100% genuine buffalo leather jacket for cheap
Removable CE armor pads
Liner included for cooler weather
Cons
May take a little while to break in
Heavy construction, could be too hot for summer rides
9. Xelement CF751 Motorcycle Jacket
---
Xelement has another featured jacket here with their CF751 jacket. This is a textile jacket that is also made out of the X-Armor tri-tex tech that they use with their jackets.
This one sports quite a bit of external armor, adjustability, and more than one option zip-out liners. The main focus with this one is having impact and abrasion resistance that is comfortable to use.
The back, shoulders, and elbow armors are the only ones that are able to be removed. All of the exterior armor is made of polycarbonate padding.
Something that is pretty unique to this jacket is that there are two layers of zip-out lining in the jacket.
There is the base inner liner as well as a sleeve liner – they're both able to be zipped out for the riding sessions you'll have in the heat.
Along with the optional liners is the ability to adjust multiple areas of the jacket to find the perfect fit. You can adjust the waist, upper arms, lower arms, and wrist cuffs.
For pockets, there are two waist pockets and a smaller inner pocket so there is plenty of room to keep your essentials.
There have been some reports of the external armor not being made out of the toughest material out there… it's plainly better than nothing but it's worth keeping note of if you're considering this jacket.
If you're looking for something that has more options when it comes to having an inner liner and you're a fan of external armor then this will be the one to go with.
Pros
Two zip-out liners for the base layer and sleeves
Plenty of external and internal armor padding
Lightweight
Cons
External armor padding isn't very tough
Sleeve liners are kind of difficult to remove/attach
10. HWK Cafe Racer Leather Motorcycle Jacket
---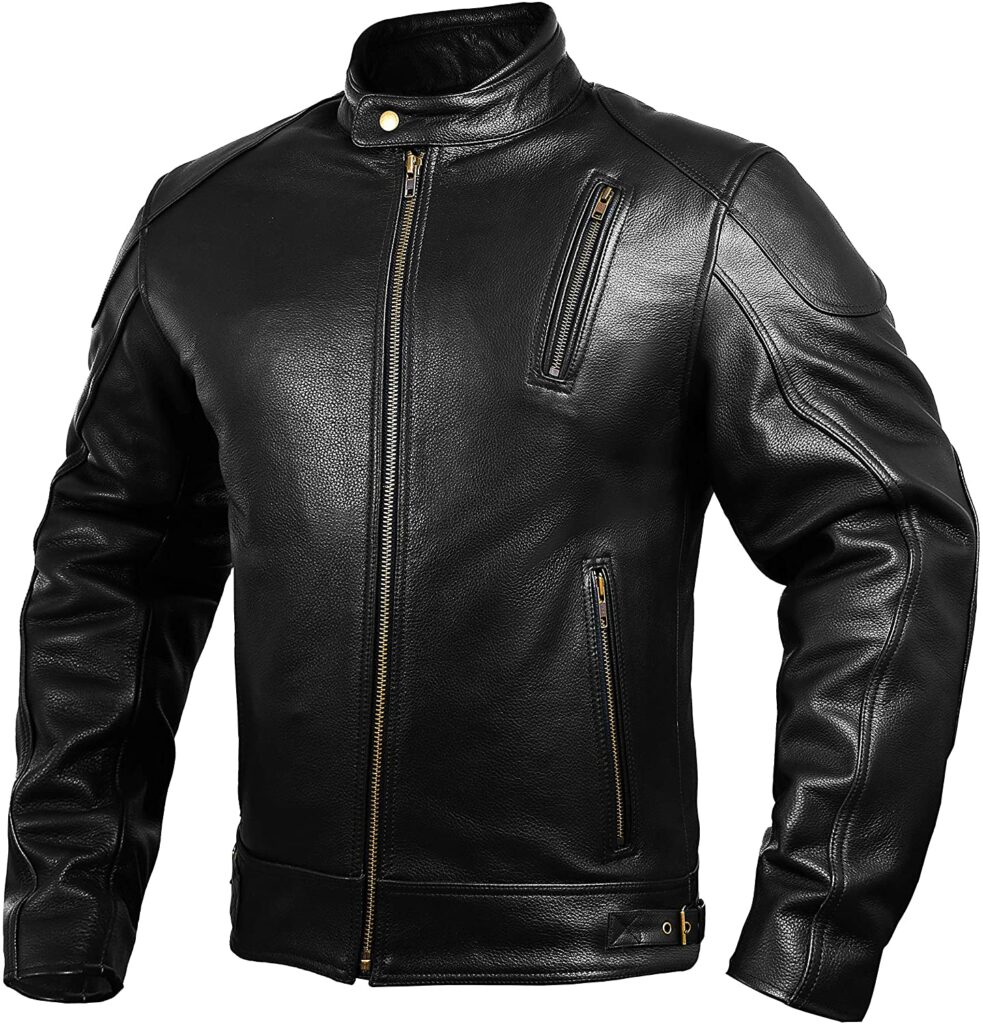 Last but not least, we have another 100% genuine buffalo leather jacket from HWK. This time it's a cafe racer style that still has all of the protective features that you'd need for all of your rides.
This one has all of the same protective features as their vintage jacket has. CE approved armor padding on the shoulders and elbows as well as a back pad for extra impact and abrasion protection.
The same zip-out liner is still included with this one and there is a mesh layer underneath the leather to increase breathability. But this one still isn't ideal for riding on a super hot day.
Three external pockets are on the exterior of the jacket and there is a smaller internal pocket as well. There are two waist pockets and one chest pocket on the outside. The waist and the wrist cuffs are able to be adjusted for figuring out your best fit.
As with other leather jackets like this, it may take some time for it to be fully broken in and have the true fit that'll work best for you.
A couple of riders have reported that the sizing chart available on the page should be followed precisely otherwise the jacket may fit on the smaller side.
Overall, this is a comfortable cafe racing-style leather jacket that is also priced at around the $80 range. If you're called to this type of style then this is absolutely one of the best cheap leather moto jackets on the market.
Pros
Affordable, 100% genuine buffalo leather
CE armor is able to be removed
Includes a liner
Cons
Heavyweight leather isn't best for hotter days
Leather will take a bit to be broken in
Cheap Moto Jackets: A Guideline
---
There are plenty of ways to waste money on low-quality, weak moto jackets that aren't very protective. You've got to know what to look for when it comes to protective features, especially with cheaper jackets.
Below we touch up on what exactly you need to be on the lookout for when it comes to finding good protective features as well as how to ensure that you can get a size that'll fit you just right.
Jackets are an integral piece of gear to wear while you're riding. When it comes to the options that are budget-friendly, we've got your back as long as you follow these guidelines!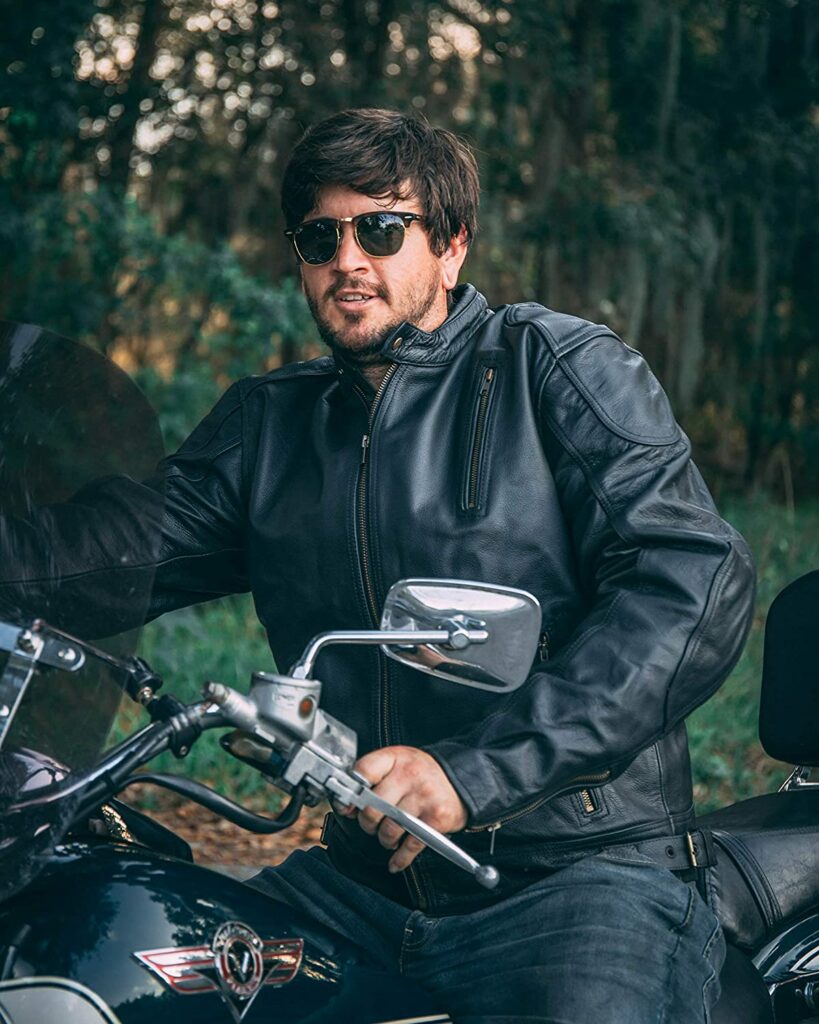 Follow The Sizing Charts
There are plenty of times when a rider finds a nice jacket and assumes that the jacket size correlates with whatever their shirt size is… but this isn't the case for some jackets.
Manufacturers at times will have a custom fitting build where the size will not follow directly into whatever your usual jacket or shirt size is.
Almost any jacket sold online will have a sizing chart included and you should absolutely follow it accurately. Sure, there is going to be a window of time where you can exchange it in case it doesn't fit but sometimes that will cost a small bit of cash and the process can be annoying.
If you come across a jacket that doesn't have the sizing chart included then you should be able to Google the company and/or the jacket itself along with the sizing chart and find an official one somewhere. You can also contact the company directly if you're having a hard time finding one.
Are Budget Jackets Worth Getting?
They are, but only if you get a jacket that has everything you need.
This is going to vary from rider to rider. Some of you don't mind if there aren't a bunch of extra pockets involved or if the jacket has all of the additional adjustment options.
As long as you aren't peeping over at the jackets that are under the $50 range… you'll be good to go. Especially if you're following along with the jackets that are featured here in this guide.
Jackets that are anything under $50 have a very high chance of being made out of fake materials. These jackets cost close to nothing for the manufacturers to create and profit is all that is on their minds with those fake, low-quality jackets.
A cheap jacket isn't worth getting if you simply move forward with the absolute cheapest jacket that is on the market. You get what you pay for so make sure you're paying in for something that will keep you safer on the road!
Materials To Keep In Mind
Leather is always the most protective jacket material you can ride with but they aren't very breathable and when it comes to affordable options, there aren't many out there.
Lower-budget textile jackets are usually made out of 600D polyester fabrics which is thick enough to where if you were sliding for a while they'll keep intact and won't be torn up.
Materials are extremely important in this case because road rash is a painful price to pay if you don't get something that is made up of something that's durable enough to handle the road…
Almost all of the jackets featured here are made up of 600D polyester materials, or at least something very similar. Some jackets have proprietary stitching involved that helps to increase overall durability so it's worth doing the extra research to see what a specific company might offer on the jacket that you're most interested in.
Armor Padding
Every single jacket listed here includes CE-approved armor padding. The armors could be made up of thermoplastics if it is external armor and the inner armor, as long as it's CE approved, will help tremendously with impact resistance.
If you get a jacket that has removable armor then you'll be able to add in some extra durable armor if you ever wanted to in the future – so simply making sure that the armor is removable is a huge plus!
That way if you aren't happy with the overall quality of a piece of armor, you'll be able to easily replace it with something that is extremely durable and protective.
Low-Price VS High-Price
If you start shopping around for more expensive options, upwards of $200+, you'll see more durable materials used such as kevlar, Cordura, or higher quality leathers.
These materials are very nice and they do a great job at resisting abrasions and impact but not everyone has the cash to dish out on a crazy expensive jacket.
If you have extra room in your budget then you might want to consider looking into more high-end jackets. Some of them include extra features as well that you simply won't find in jackets under the $100 range.
Deciding On A Type of Jacket
You need to keep your riding style in mind when you're looking around for a riding jacket. You likely won't be getting another jacket for a good while… making sure it's the right one for you is important.
If you're only riding during the summer then you'll definitely want to look at the options that have the most mesh material and/or an optional inner liner.
If you're a three seasons rider then you'll want to consider a leather jacket to block the airflow and you'll also want to figure out what type of inner liner is included. Even if the jacket is completely mesh, if the liner is thick enough… it'll be enough to keep the wind out.
Moto Jackets Save Lives
---
A riding jacket is absolutely better than wearing a t-shirt while you're out there riding. Even the cheaper options increase overall safety by an astronomical amount.
Get a jacket that has approved armor ratings, extra padding, and durable materials because that's what will help you keep yourself together if you see yourself get into a wreck.
We hope that reading through this guide helps you to be more self-assured about getting an inexpensive jacket. There are a bunch of choices out there and these jackets are definitely some of the best of the best when it comes to budget moto jackets!
Are you going to be getting any of the jackets that are featured here?
Which jacket(s) are your favorite? Why?
Let us know in the comments below!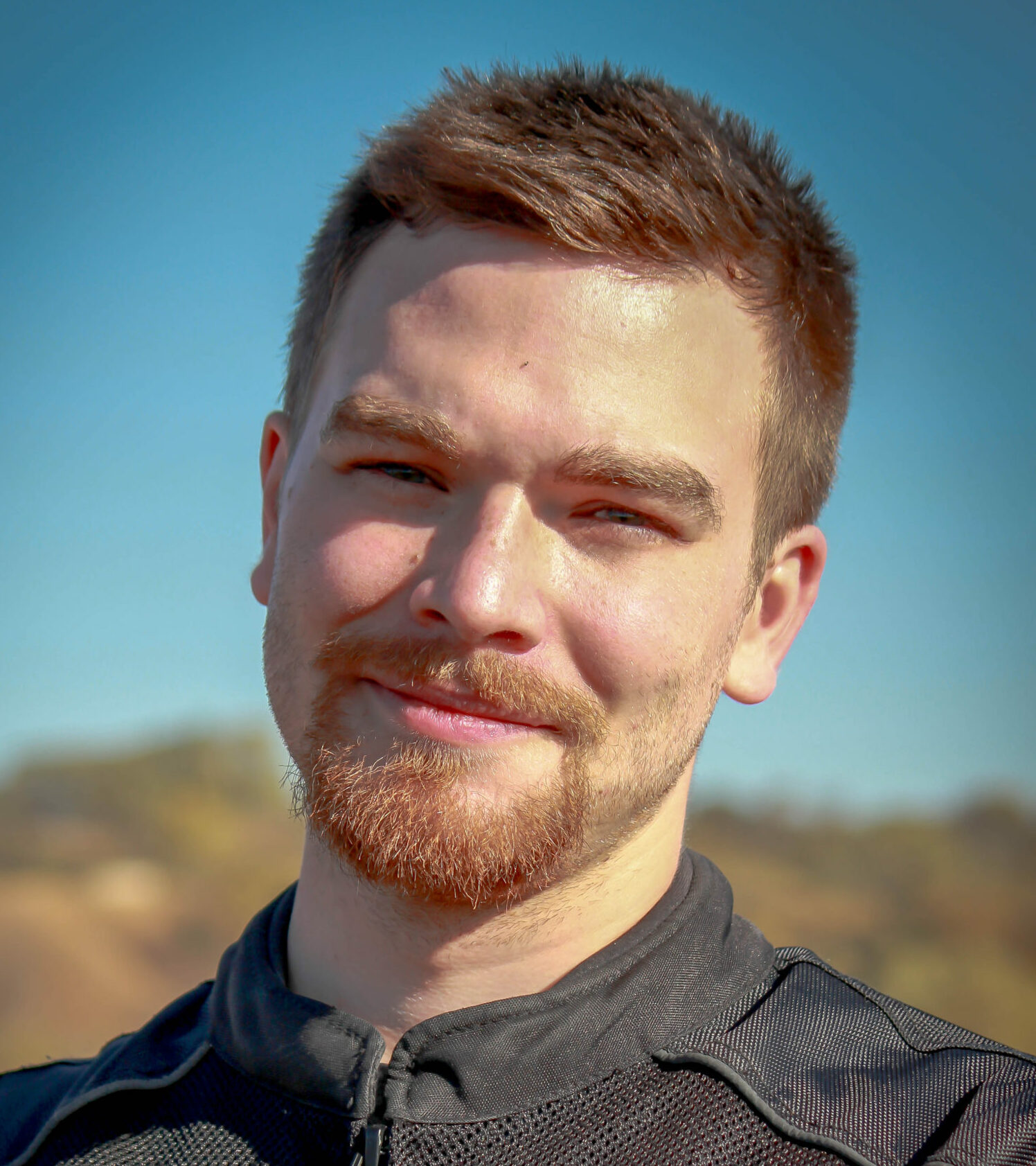 What's up! I'm Colton, the main guy behind Moto Gear Knowledge. Gear has always been my #1 priority when it comes to riding.
I share my experiences regarding gear and anything else moto related with you here. 👍