Last Updated on November 29, 2021
There are plenty of motorcycle gear styles that you can go for. Let's go over some moto gear style choices that you can have to go with your vibe AND your ride.
Any true rider knows that whatever kind of style you want to go with, it's YOUR style. Really, you should go with what you think looks and feels the best for you and your style of riding!
Obviously you should also factor in the safety measures of each piece of gear while you're looking around for the ideal riding gloves to go with your Alien vs Predator full-face helmet… or whichever other type of helmet style that suits you the best.
That's what we are going to go over in this post.
Let's discuss motorcycle gear styling while keeping safety in mind to help us all out in finding the perfect style of gear!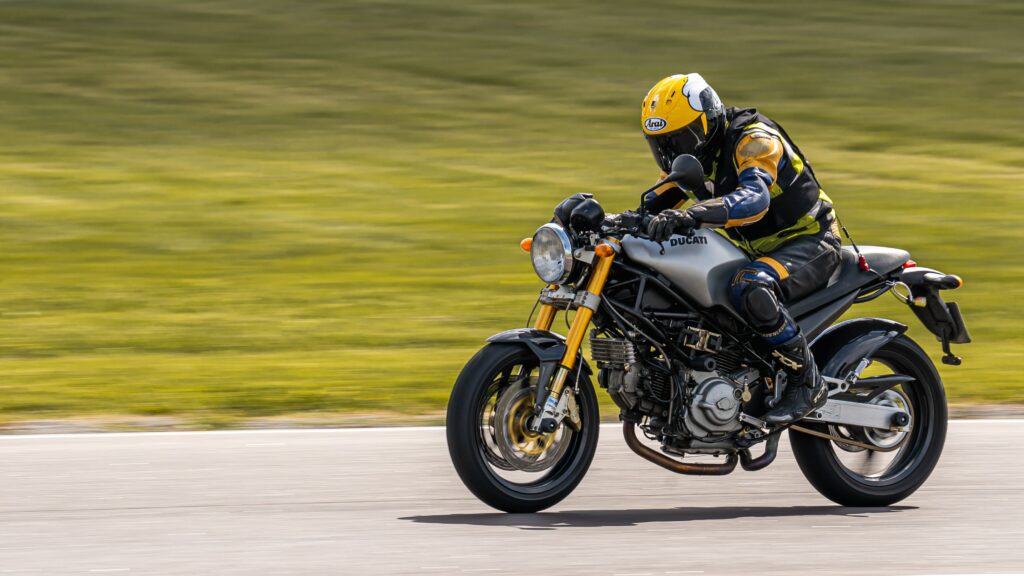 Fine Tuning Your Moto Gear Style
---
All in all, it doesn't really matter what you end up wearing as long as it's some good protective gear that you enjoy wearing.
Who cares what anyone else thinks of your gear…
As long as it keeps you safe and you dig the looks of it, that's all that matters!
With that said, we wanted to go over some things we've found to help us find gear that we enjoy using as well as some things to keep in mind if you want help in finding your ideal style of gear.
It comes down to what kind of a rider you are as well as the type of style that you appreciate the most.
So let's get into the different types of popular gear styles and from there maybe you can fine tune your gear picks as you browse around for your riding gear.
Types of Moto Gear Styles
---
There are all sorts of different styles that you could go with and there isn't any wrong style.
Sure, most riders probably wouldn't be wearing a dirt bike helmet as their main go-to while commuting around on their Ninja… But who's to say that you can't do that?
Whatever gear your like the looks of that helps keep you safe on the road… from there, it's simply all about what you like to have.
Cruiser Gear Style
Cruising gear can be viewed as a more rugged style or it can be seen as the most comfortable type of gear for those that are on their favorite cruiser commuting around town.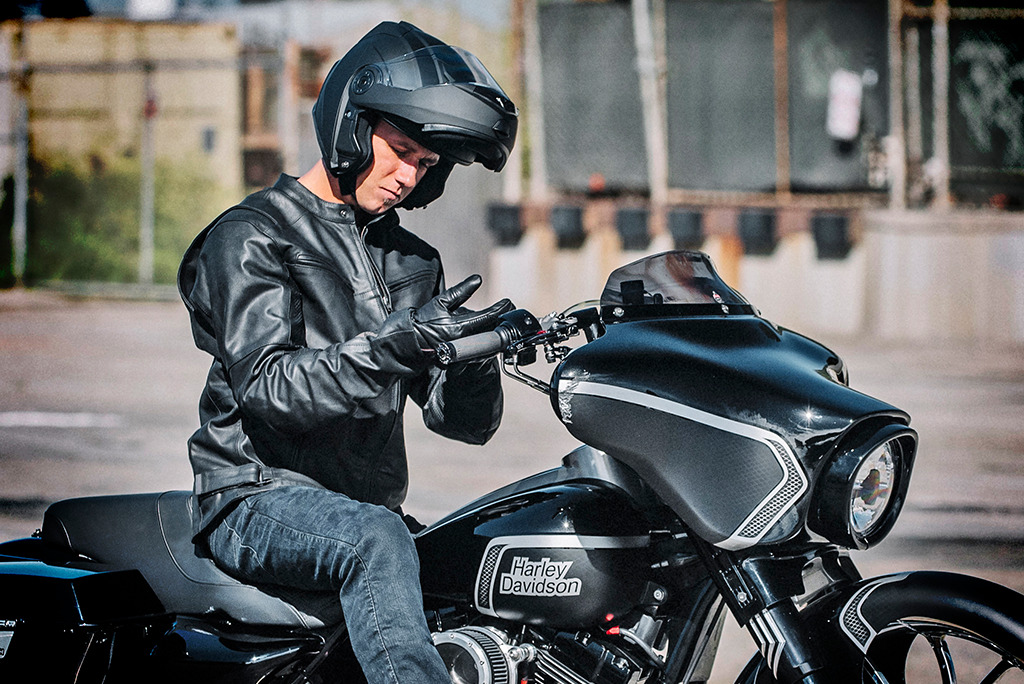 You'll usually see folks with this style wearing a leather jacket and gloves, thick riding boots and a well ventilated helmet or even an open-face helmet (or modular full-face helmet).
You're always safest with a full-face helmet but if you're wanting to have the most airflow possible while cruising around then we can't stop you from wearing an open face helmet. It's better than nothing and it definitely follows along with the cruising style of open road freedom.
For the more casual riders, you'll see them using an armored plaid riding hoodie to keep up with their own style as well as staying safe on the road.
Sport Gear Style
If you're riding a sport bike then odds are that you'll be wanting to rep up some of the most well-known sport gear as well as having gear that really helps your bike stand out.
Matching accents, visible armor and sweet helmet visors – a sportier style almost always follows along with a sport bike rider.
You'll want plenty of ventilation while riding your sport bike and you'll absolutely want to make sure you're wearing a full-face helmet to help with the bugs as you're zipping around town on your Ninja or R1.
Almost all sport riders want to accent their bike with their gear purely because it looks great. Sure, you can accent your bike with any type of gear style or from making a style of your own… It's just that sport bikes are more likely to come with those flashier color options.
Adventure Gear Style
If you are adventuring around on your V-Strom, Africa Twin or a Versys then you're going to want to have gear that compliments that type of lifestyle.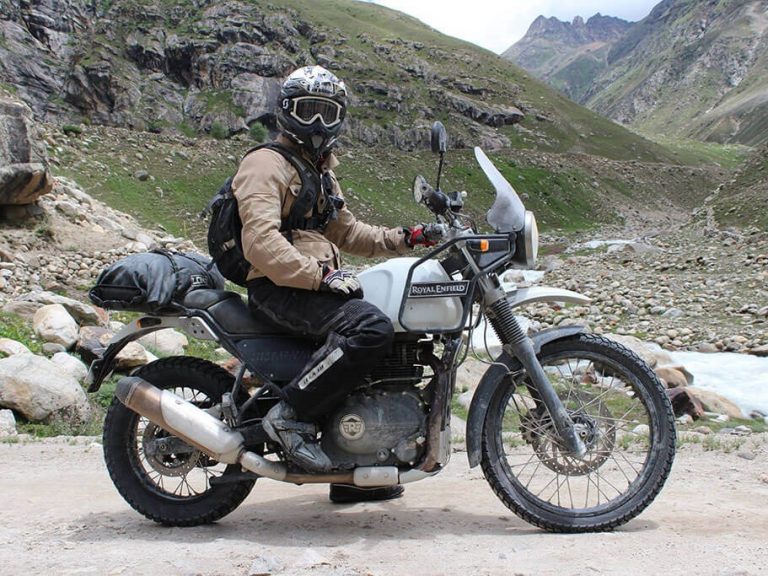 Adventure bikes are meant for both the highway and the dirt. Adventure bikers will usually opt for a modular full-face helmet or sometimes even a dual sport helmet – depending on what type of riding they do the most often.
You'll also want to ensure full comfortability and longevity with the gloves and boots. Riding around on an adventure bike means that you're going to be beating the crap out of the gear set.
Adventurers need boots that will stand the test of time and gloves that will keep them warm for the longer, colder rides and gloves that have plenty of impact resistance for when those pesky rocks come flying into your knuckles as you hit the trails.
Street Gear Style
What about the standard naked bikes? They have their own style, right?
Personally, I'd say it's right in-between the cruiser and sport styles. Some standard bikes are sportier and some are more on the classic side so might as well have the gear be somewhere in-between.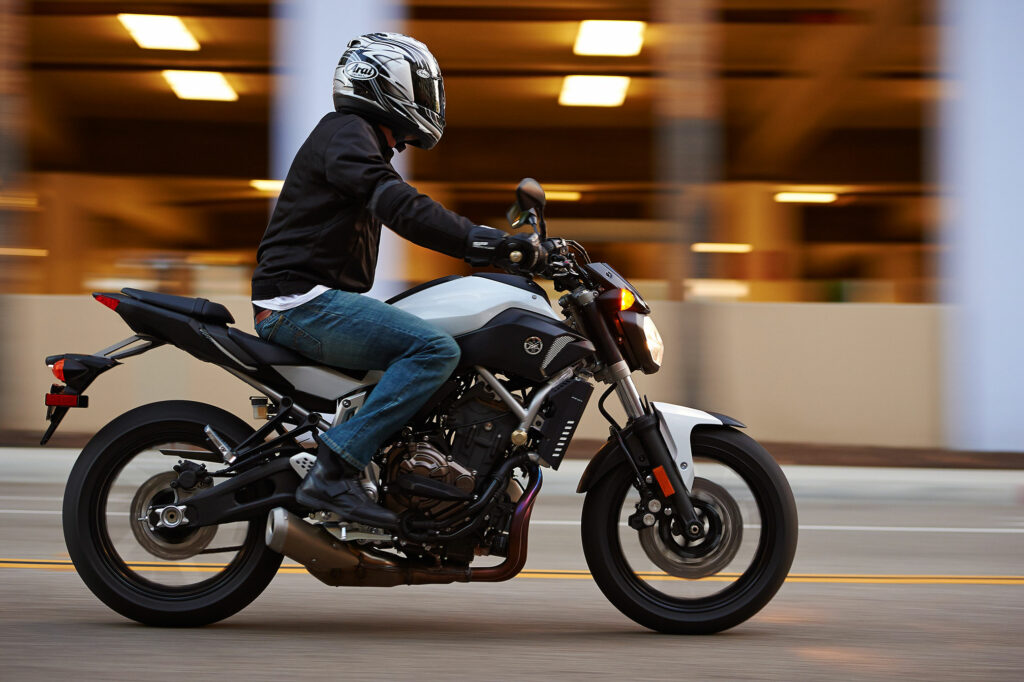 See what I mean by a mixture of the two? Not every single piece is going to accent the bike… While simultaneously having a classic cruiser style combined.
If you're riding a street style then odds are that you're constantly on the lookout for good motorcycle riding shoes that fit that same style. You'd rather your protective footwear not be noticeable but to be part of your style as a whole.
Dirt Gear Style
You'll see some dual sport riders also opt-in for a set of dirt bike riding gear because they love to hop on and off the road into some random trail.
For the most part, dirt gear styling is for those that are constantly on dirt tracks trying out awesome stunts with their dirt bike or if they're into MX.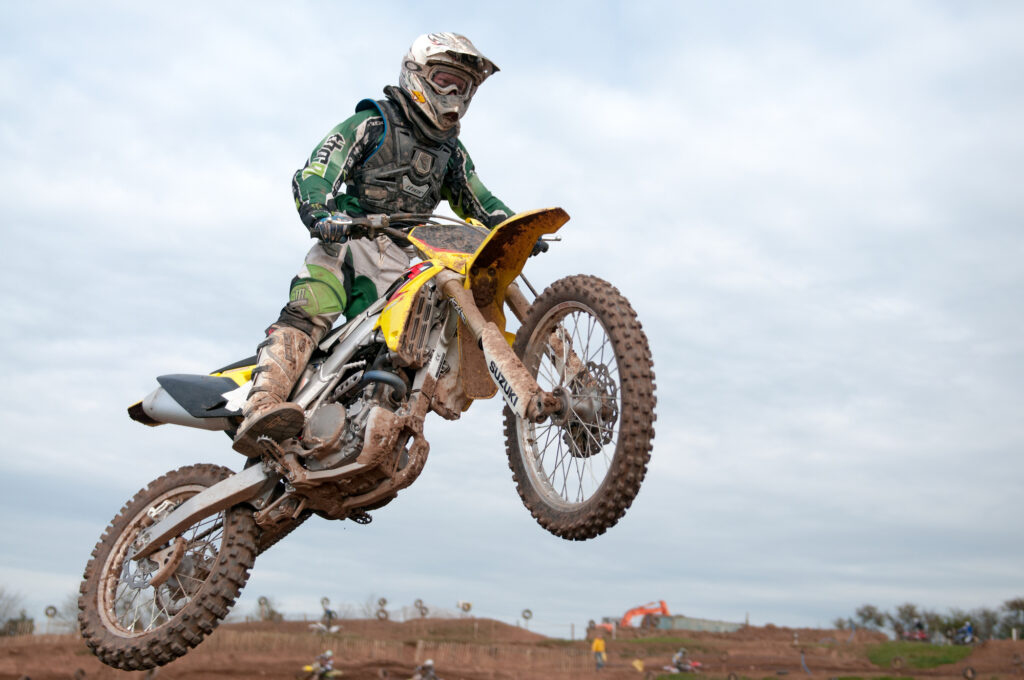 Whether it's full-time riding on the dirt or mixing up some dirt bike gear while you're on your dual sport rides – dirt gear is meant to take a hit, keep you highly visible and accent your bike very well.
You'll see most riders that use a dirt gear style have gear that heavily accents the color of their dirt bike. Or you'll see dual sport riders simply wanting to continue to use a traditional dirt bike helmet either because it's what they're used to or they love the helmet!
How To Choose Your Moto Gear Style
---
When it comes to understanding which type of style is good for you and your riding style – don't overcomplicate it for yourself.
For real, wear the gear that keeps you safe and that YOU think looks great!
Don't worry about someone judging you on you and your gear. There isn't a motorcycle gear style "rulebook" that details the exact pieces of gear that you HAVE to wear.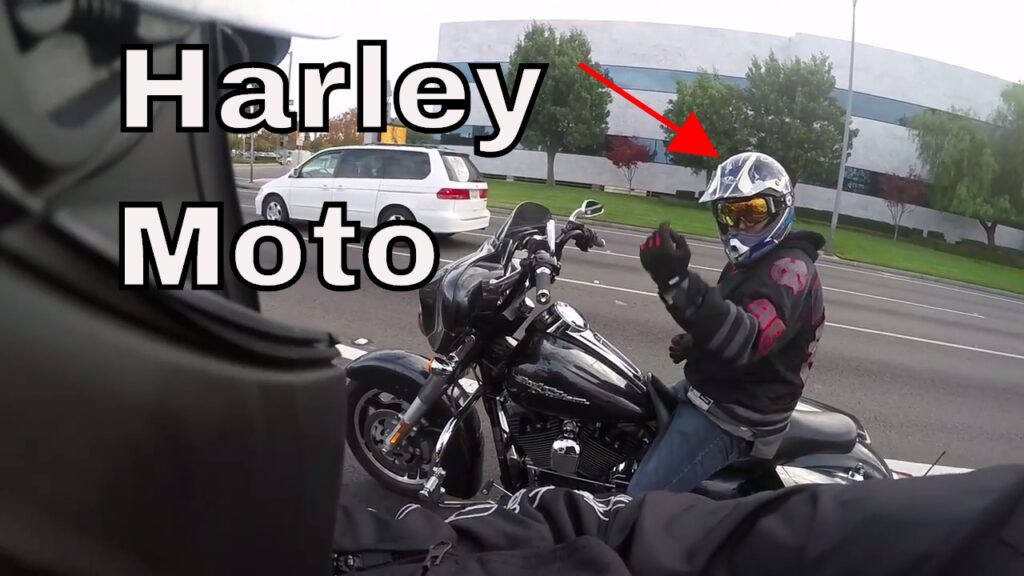 Enjoy the design of a colorful and wildly designed helmet but you're riding a Harley?
Go ahead and snag it! You don't have to be on a sport bike in order to enjoy cool graphic helmets.
Same goes for modular helmets and cruising helmets…
If you genuinely enjoy the design of a piece of gear and want to wear it… WEAR IT.
Just because you're on a sport bike doesn't mean you're locked only into the choices of sport style helmets.
Sure, you might get some flack if you're wearing a MX dirt bike helmet on your Harley…
Really I'm not sure if anyone would actually decide to use one on a cruiser because of the different use case but screw it man, let a rider wear the gear that they want to wear!
Now with all of that said, let's go over a few things that you can go over with yourself to help you better understand the style that you'll appreciate the most.
What Is Your Riding Style?
The quickest and easiest way to get going on finding gear that suits your style is to know what your riding style is.
From there you can look for gear that will match up with your style for both what you like the look of as well as for the usage of the piece of gear.
It's simple – if you're riding a dirt bike then dirt bike riding gear will suit you best. It's made for the rugged terrain.
If you're cruising around town commuting back and forth from work and the like then you'll want to look into cruiser gear or street gear as that'll be a more comfortable type of gear to go with for that type of riding.
Gear Materials Used
Whether it's deerskin gloves or any other types of leather used in a glove – you should deep dive into your own research and check what type of material is used for any piece of gear.
Want to maximize abrasion resistance? Leather motorcycle jackets and high quality full-face helmets will be the best things to look for.
Is comfortability more important to you? Check for ventilation features, perforations and other key features that makes the gear more comfortable to ride in.
You can follow along the gear knowledge that we post here if you want more clarity on what to look for when you're shopping around for gear – that's why we made this website!
Be sure to check out the buy guides as well if you want lists of gear where almost all of the research has been done for you.
Accenting Your Motorcycle
At the end of the day, it comes down to what you would want to wear while riding around. Something that you think looks great while also keeping you safe.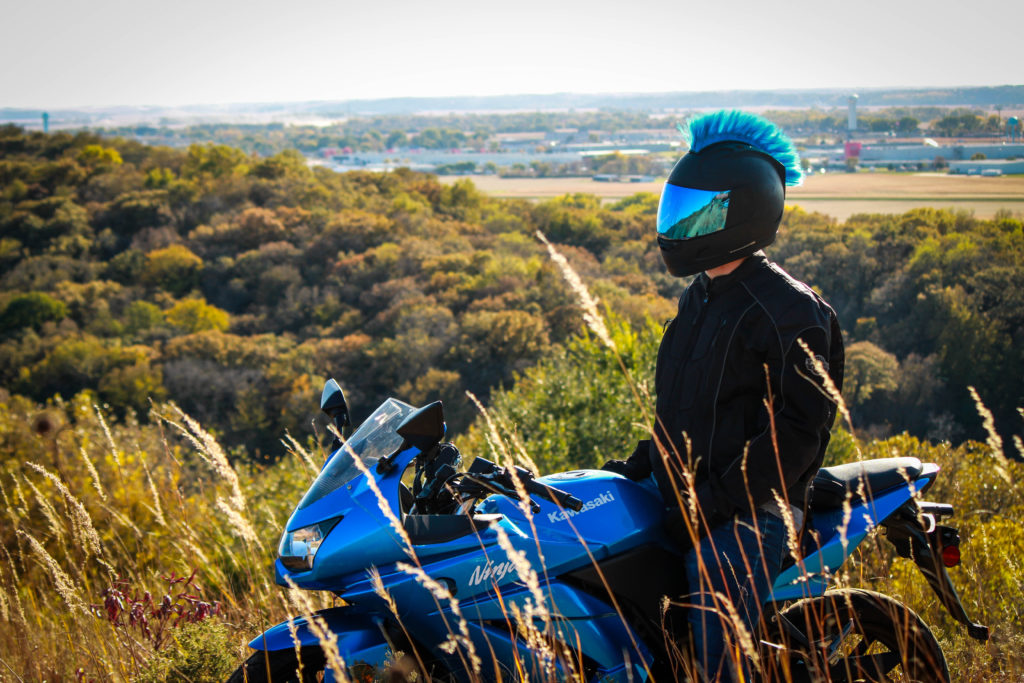 Accenting the color(s) of your riding gear with your bike is a popular thing when it comes to gear styling because it looks cool to match it with your bike!
It also screams that you took your time to pick gear that looks great which in turn shows how much you really, truly, absolutely and completely love your motorcycle. ♥
There are all sorts of color trim options for plenty of different helmets, jackets and gloves. Depending on the type of footwear you want to wear, you can find footwear that shares the same color accents.
As you saw just above, I put a mohawk at the top of my helmet to accent the blue on one of my bikes. That's just another example of accenting your bike!
After going through all of the different styles out there, you should be able to come up with your own unique style combination as well.
Go With The Gear Styles That You Like Best
---
It doesn't matter what anyone else thinks – it's YOUR motorcycle and YOUR gear.
Go with your gut, pick out some stellar gear and combine them into a motorcycle gear style that suits you best.
Hopefully after reading through this post you'll have a better understanding of the different ways you can choose your motorcycle gear styles and come up with something that is a great fit for you and your own style of riding.
So, do you think we covered the styles of gear the right way?
Are there any other gear styles you think should be added to the list?
What type of style do you ride with?
Let us know in the comments below!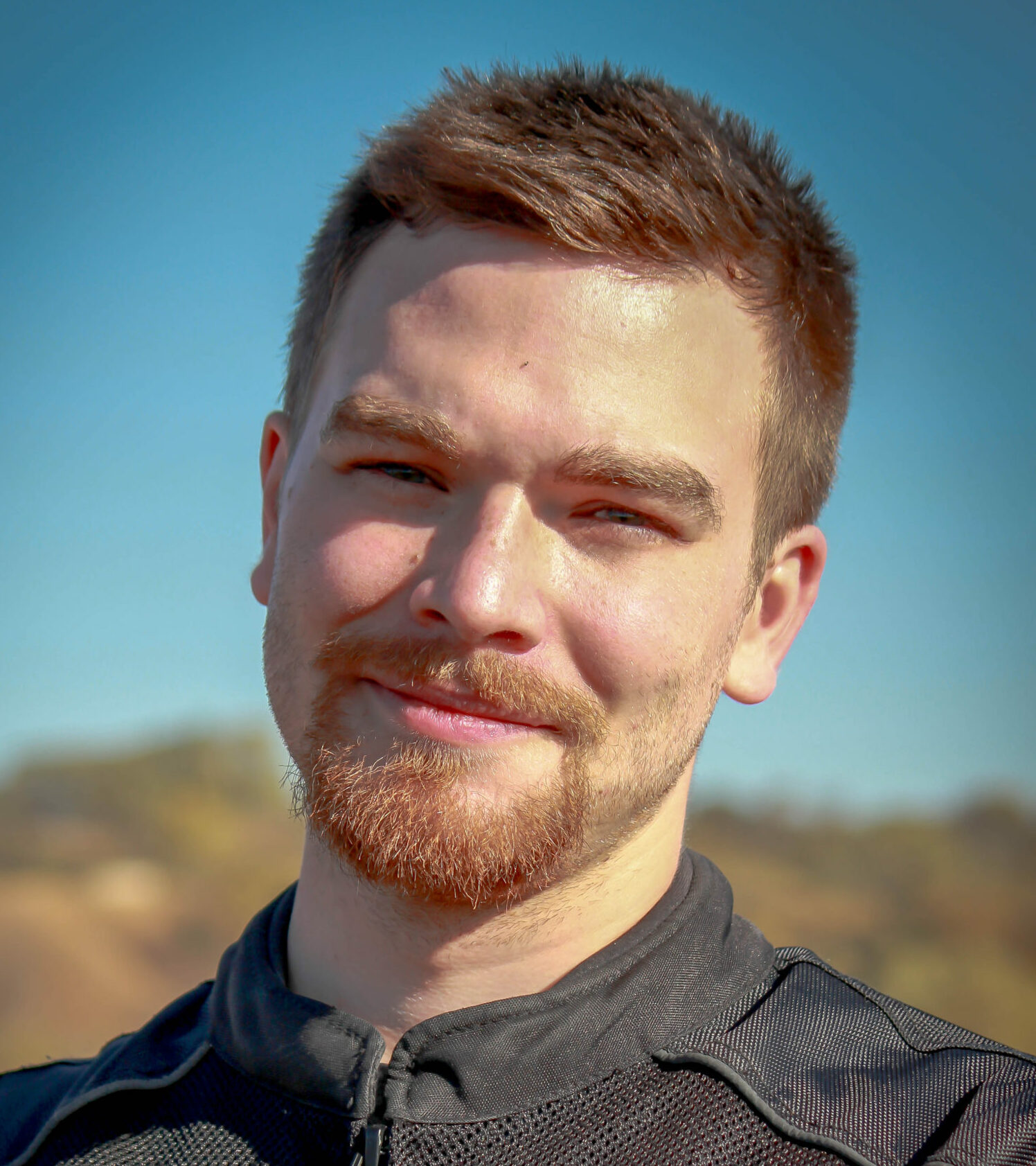 What's up! I'm Colton, the main guy behind Moto Gear Knowledge. Gear has always been my #1 priority when it comes to riding.
I share my experiences regarding gear and anything else moto related with you here. 👍