Last Updated on March 22, 2022
I don't know about you guys – but I can't help but research a bunch of bikes, new and old, to ponder what the next bike in the garage might be.
From sport bikes like a Kawasaki Ninja 250 to different cruiser motorcycles… we all have our preferred style of bike.
Well, today I'd like to touch up on some reasons why to ride a touring motorcycle.
There are different types of touring bikes which is what makes them awesome. There's basically a touring motorcycle type for every style of rider.
Or maybe you've never been on or looked into touring bikes… nevertheless, let's dive into what makes touring bikes kick ass and the best reasons why to ride them.
Touring The Wide Open Roads
---
Touring motorcycles are all about owning the wide open road with a bike that is best for going the distance.
When it comes to scenic riding routes, riding with someone else for a long time or even touring across the country… Touring motorcycles are the best types of bikes to use to maximize the long distance experience.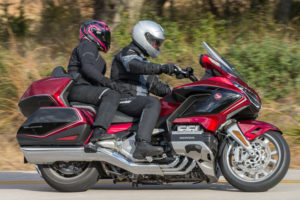 Of course, you can use different cruisers to own the road and, believe it or not, some folks out there have no problem riding for those longer periods of time on a sport bike.
As far as cruisers vs touring bikes – it comes down to personal preference in terms of the overall features of the bike and/or the riding style that you'd prefer.
Most touring bikes have a similar seating position and riding style compared to cruisers but they usually have more features to make riding across country more convenient.
This means having a dash with speakers, bluetooth connection to your smart phone and plenty of other controls readily available to you.
Not every touring bike has those types of features. That's mainly with the full-dress touring bikes and some sport touring bikes.
Again, it simply comes down to what you're looking to do with any kind of touring bike.
With that, let's get on to the different types of touring motorcycles.
Full-Dress Touring Bikes
---
A full-dress touring motorcycle is a bike that has all of the bells and whistles in terms of features of convenience and comfortability for the long haul.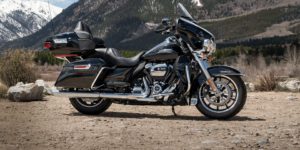 These are features that you aren't going to see on many other types of touring bikes. Full on stereo systems, GPS navigation, bluetooth compatibilities, heated grips, heated seats and air bags.
Full-dress bikes usually have very large fairings, size-able bodywork and an up-right riding position that provides a very comfortable ride.
There is plenty of space for luggage and there's almost always a very comfortable passenger seat with these types of bikes.
Some of the most popular full-dress touring bikes include the Honda Goldwing, Harley-Davidson Electra Glide, Indian Roadmaster and Kawasaki Voyager.
When it comes to maximizing comfort and convenience on the pavement, full-dress tourers are top-notch.
Adventure Touring Bikes
---
Adventure tourers are usually for the ones out there that want to explore beyond the pavement.
The ones that want to discover a new and adventurous spot where discovering the new view or spot was just as fun as the ride there.
Adventure touring motorcycles are best suited for helping you get to some unexplored areas off-road while also providing high levels of comfort and plenty of space for luggage.
Many adventure touring riders gear up with a bunch of camping gear and go on overnight escapades to come across areas they otherwise wouldn't have seen but also to enjoy a fun ride.
They are higher up off the ground than other touring bikes and usually have skid plates to protect the engine and other portions of the bike while riding off-road.
Some of them have a GPS system installed and might come with metal panniers for durable storage.
Popular adventure bikes include the Suzuki V-Strom, BMW R GS series, Kawasaki Versys, Honda Africa Twin and the Yamaha Super Tenere.
Sport Touring Bikes
---
Sport tourers are a hybrid bike of having the power of a sport bike while having the comfortability of a proper motorcycle to ride long distances.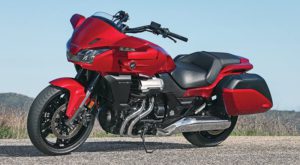 These bikes are a niche choice and most manufacturers usually have the one "sport tourer" through all of their models.
The main purpose of sport tourers is to have the handling and power of a sport bike without sacrificing all of the comfort. Traditional sport bikes have you at an angled seating position whereas sport touring bikes keep the up-right position.
Plenty of storage is able to be used with these and they've almost always have a much more comfortable passenger seat compared to conventional sport bikes.
Popular sport tourers include the Kawasaki H2 SX, BMW K 1600 series, Honda CTX series and the Yamaha FJR series.
Which Touring Motorcycle Best Suits You?
---
Whether you're traveling across states, wanting to explore the unknown or even wanting to have the hard and fast performance while having the option of riding for as long as you'd like – there's a touring bike type out there for almost any rider.
Personally, I can see myself having an adventure tourer. I love the idea of gathering up some camping gear and discovering new areas, new views and routes while enjoying the ride.
Which touring bike style do you like the most?
What are some other touring motorcycles that are on your radar?
Let us know in the comments below!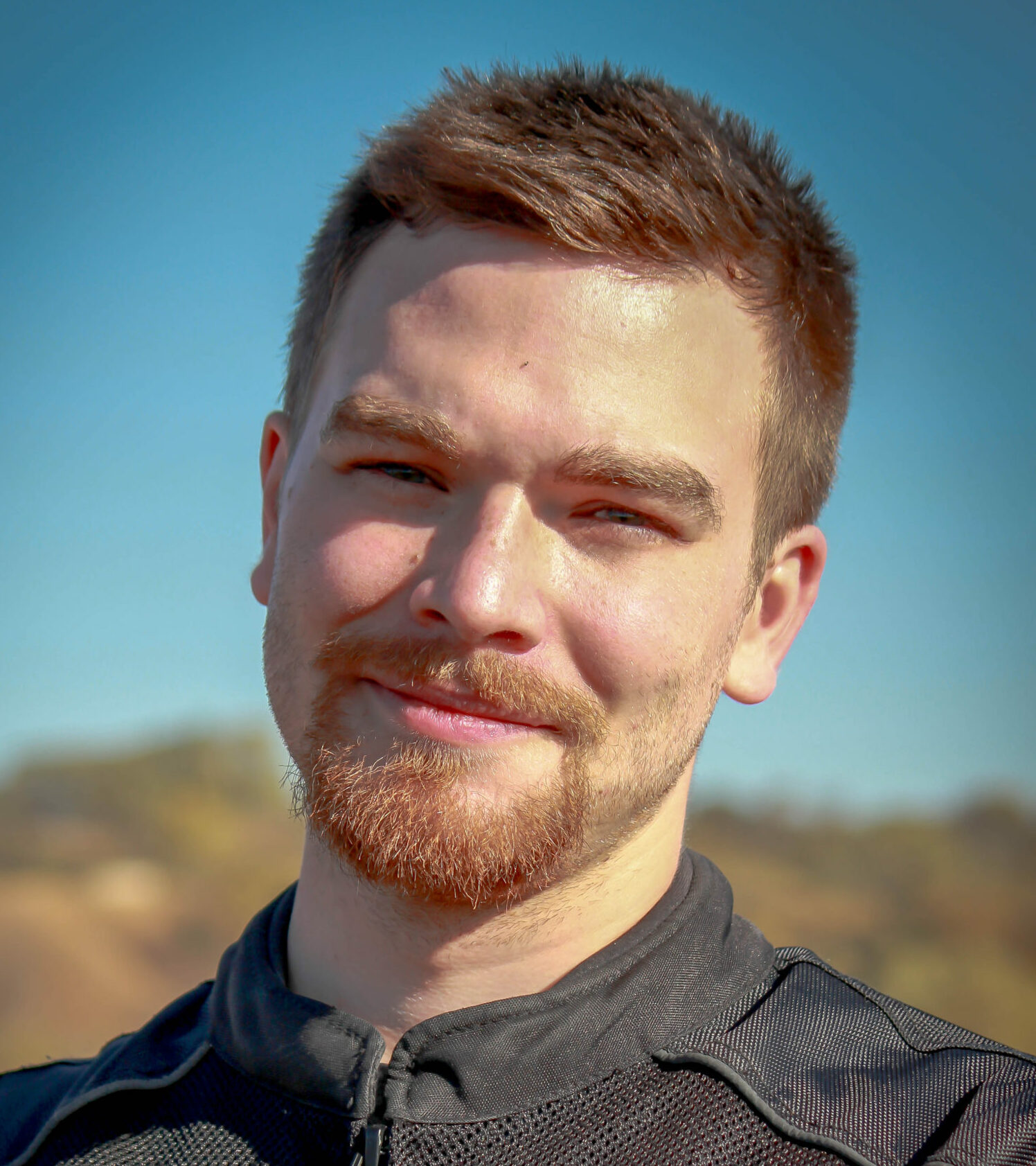 What's up! I'm Colton, the main guy behind Moto Gear Knowledge. Gear has always been my #1 priority when it comes to riding.
I share my experiences regarding gear and anything else moto related with you here. 👍