Last Updated on January 9, 2023
Whether you're going for the top-rated tall motorcycle boots on the market for the most protection possible or if you're a new rider that's interested in getting the best possible protective tall boots… You're at the right place.
In this guide, we're going over the best tall motorcycle boots that are available today that are considered to be in the top-notch domain by the moto community.
We'll go over our recommendations for why we featured each pair of boots listed here and the best place that you can get them. If you're in a rush, we've listed the top picks right off the bat.
With that said, we hope that you'll read through all of the different boot picks that are posted here. You might find a specific boot that aligns with your riding style more than the first few picks would.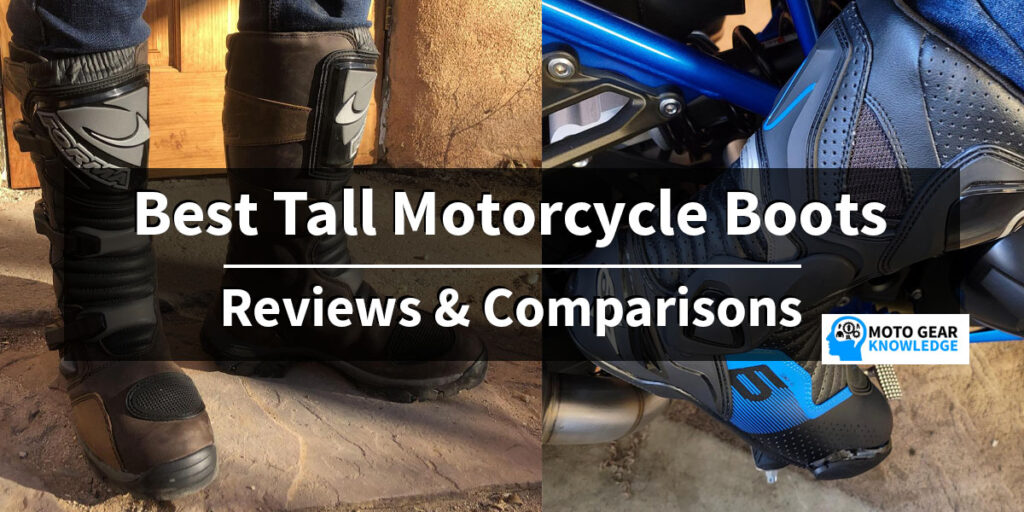 Tall Moto Boots – Our Guide & Overview
---
We aren't going to feature a particular boot and claim that it's the universally best boot. We're going over official specs, real rider reports, and the most important features of each pair of boots so that you can be more assured of the boots that will work best for you.
Listed below are our top picks for tall motorcycle riding boots. The pricing of most of these boots is going to vary around the $150-$300 territory.
Safety features are our #1 priority when it comes to sharing gear on these guides. You aren't going to see any crud-quality boots listed here.
On the market as a whole, there were fewer options that we were able to cover than we initially thought. If you enjoy this guide, let us know if you'd like us to elaborate more on the tall boots that are out there.
Nevertheless, we've found some options that we deemed worthy of sharing as the cream of the crop when it comes to tall riding boots.
Right now, the Forma Adventure Motorcycle Boots are a top snag because they deliver a completely waterproof boot that focuses on protective features and ease of use when you're doing on or off-road riding.
If you're looking for summer boots that focus on dexterity and functionality, then you should consider the Alpinestars SMX v2 Motorcycle Boots.
They are highly ventilated, have TPU protection everywhere, and are designed to maximize your control while riding. They also have a Drystar SMX v2 version if you are looking for a pair that are water-resistant.
Carry on with the rest of this guide to view all of the different alternatives. Boots vary greatly in use case and overall design, so be sure to take your time to narrow down which ones will be best for all of your rides.
Comparison Table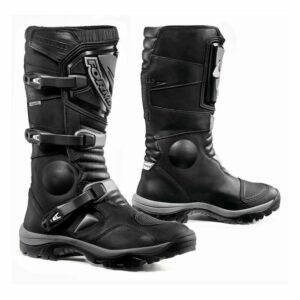 Forma Adventure Motorcycle Boots
When it comes to tall waterproof boots that are comfortable and highly protective for ADV riding then the Forma Adventure boots are the way to go. The Forma ADV boots are perfect for on and off-road riding.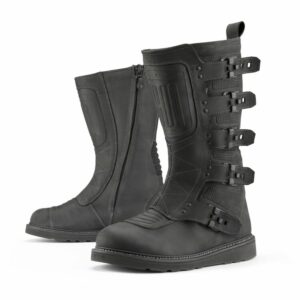 Icon Elsinore 2 Motorcycle Boots 

Classic styling with modern functionality - the Elsinore 2 boots from Icon are a great choice if you want a pair of vintage cruising boots that are protective yet flexible.
Tour Master Solution 2.0 Motorcycle Boots

Want to spend a lesser amount on a pair of tall summer riding boots? The Tour Master Solution 2.0 boots are a pair of highly affordable summer riding boots that flow a ton of air and are comfortable to wear on and off the bike.
Top 5 Rated Tall Motorcycle Riding Boots
1. Forma Adventure Motorcycle Boots
---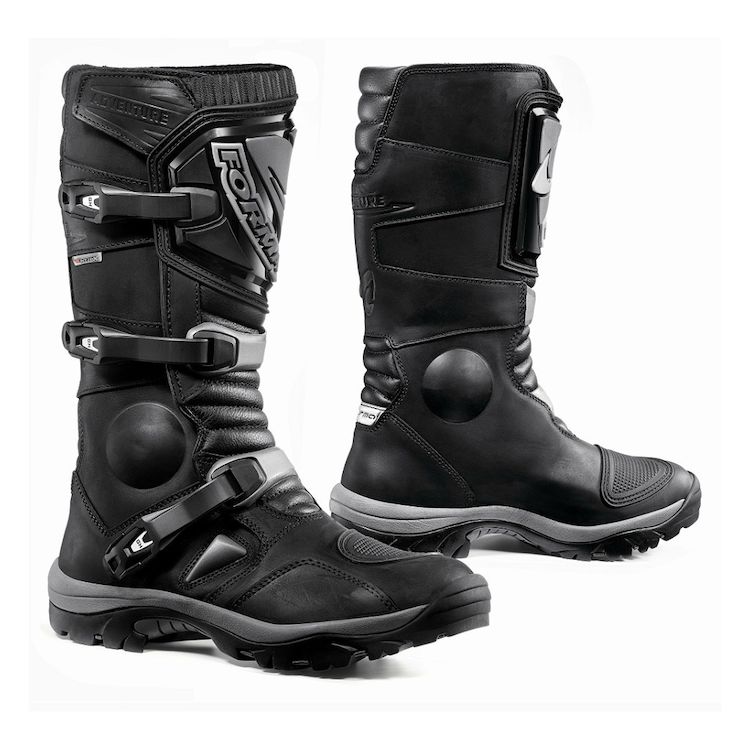 If your main goal with tall riding boots is to have a waterproof option that prioritizes comfort and protective features for the adventuring and/or touring that you do then these Forma ADV boots are the way to go.
These are made with a full-grain oiled leather upper, they have an extremely effective waterproof inner liner that is breathable, they have thermoplastic polyurethane (TPU) plastic protection/reinforcement where it matters most, they have a double density sole, they come in brown/black, and they come in plenty of sizes.
Full-grain leather is going to give you some of the best abrasion resistance that you can get when it comes to any materials used on a motorcycle boot. It's constructed with plenty of extra reinforcements that combine very well for impact absorption.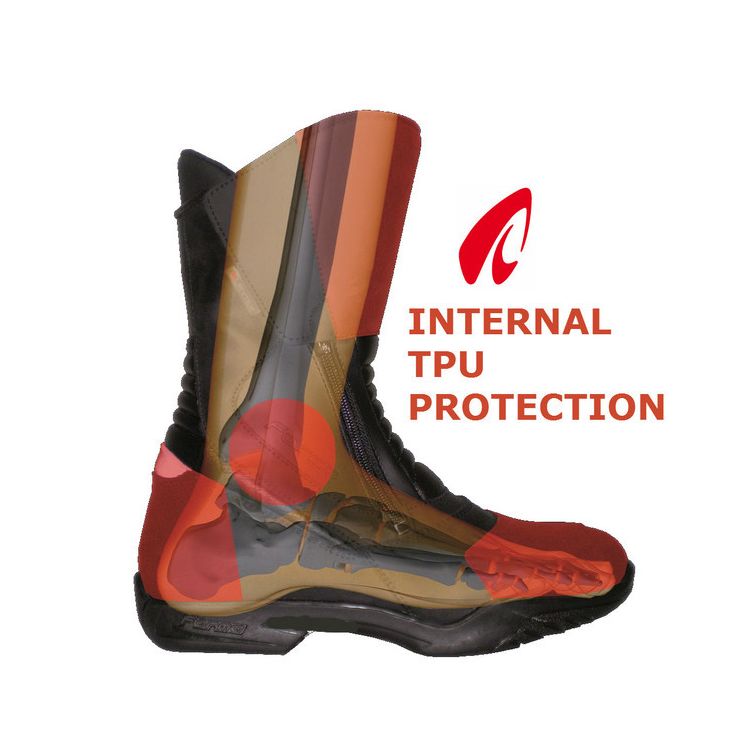 The TPU reinforcements are located at the back of the heel, the shin, and the toes. Every protection panel is dual-stitched which means that these boots will definitely stand the test of time, these aren't going to wear out easily.
These are completely waterproof thanks to the Drytex liner inside. This liner goes up to the second buckle of the boot, so you'll want to ensure that your pants go over at least that second buckle to keep everything dry at all times.
The double-density sole has a rugged design that's going to easily be able to dig into mud or dirt, it is also designed to have a great grip while you're riding.
This also helps to make the boot comfortable both on and off your ride, there is quite a bit of flexibility with this which boosts overall comfort.
There are a bunch of sizing options available and they have a brown style if that better suits you. If you're a touring rider or tend to go off-road and want one of the most comfortable waterproof boots out there, these are it.
Pros
100% waterproof Drytex liner, keeps your feet dry and warm
Full-grain leather construction with high-quality CE level 2 reinforcement
Available in many sizes
Cons
Buckles are not made of metal
Not completely ideal for super hot weather riding
2. Icon Elsinore 2 Motorcycle Boots
---
This next pair from Icon features a vintage style with modern-day construction. The Elsinore 2 boots are packed with protection when it comes to a rugged style boot.
These are made with cowhide leather, they have D3O ankle armor inserts, they're easy to get on/off with how they're made for fit, reinforcements at the toe/shin areas, mesh inner lining for extra breathability, a comfortable EVA sole, and the style is heavily inspired from the 60s/70s riding style.
Cowhide leather is great for abrasion resistance and it doesn't take long to break them in after regular riding use. Combined with the reinforcements that Icon added, there is plenty of protection for daily riding.
D3O ankle armor inserts come with these boots along with TPU reinforcements at the toe and shin areas. Reinforcements in these areas provide plenty of coverage for general impact resistance.
Going into the fitment of the boots, there is a full-length zipper on the inside of the boots which makes these simple to slip on and off. With how flexible this fitment is, these wouldn't be ideal for heavy off-road riders but more so for daily riding and commutes.
That flexibility makes these boots comfortable for all-day riding, especially with how the sole is designed with ethylene-vinyl acetate (EVA) which is a polymer that is soft and supple. Compounded by the mesh inner lining, they breathe pretty well and are snug across the board.
The main drawback with these boots is that the buckles are made out of plastic. Although they do a good job of keeping a good fit and staying buckled, it would have been nice to see better materials used for the buckle straps. You'll want to be careful when constantly adjusting them.
Also, if you have high arches, these aren't going to be the most comfortable pair to go with. The way the inside is designed, you'll be feeling a bit more pressure at the top of the boots with high arches.
These also come in a lighter brown option and are inspired by the 60s/70s style. If you're looking for a pair of boots that are comfortable, have a classic style, and have good coverage with protective reinforcements – then the Icon Elisnore 2 boots are right up your alley.
Pros
Good TPU/D3O coverage for impact resistance
Constructed with cowhide leather
Easy to adjust for a snug fit
Cons
Buckles are made out of plastic
Due to the flexibility of the boots, not a good choice for ADV riding
If you have high arches, you'll feel extra pressure at the top of the boots
3. Tour Master Solution 2.0 Motorcycle Boots
---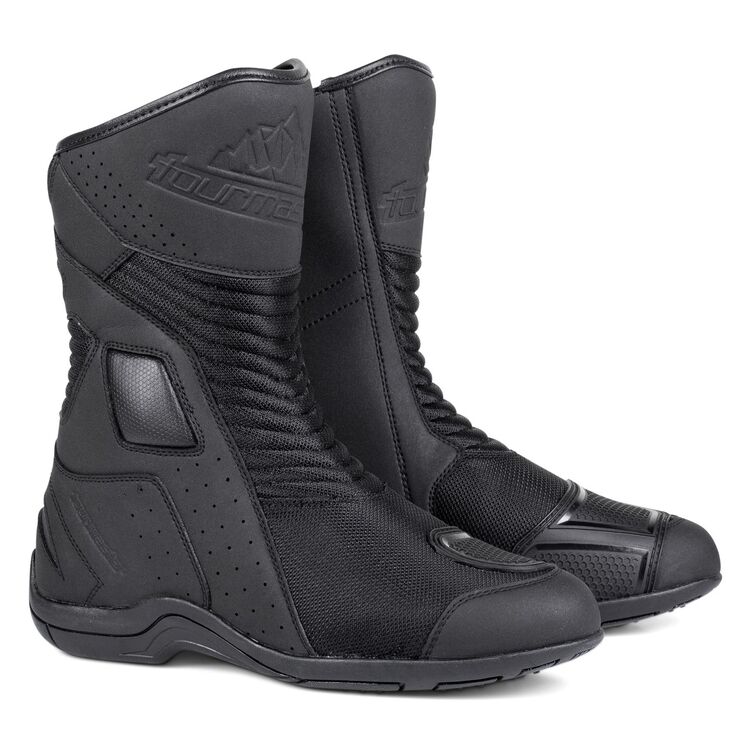 In need of a pair of affordable boots that focus on ventilation for those long summer touring rides? Tour Master provides an awesome solution with their Solution 2.0 Air boots.
These are made out of PU leather, they are designed to maximize breathability with perforations/mesh panels, reinforcements in the most important areas, they're comfortable to ride/walk in, and they come in a variety of size options.
Polyurethane (PU) leather is synthetic leather that is used with many pairs of lower-cost boots. Although it's not as durable as genuine leather, it's more cost-effective and does a good job of providing enough abrasion resistance.
The PU leather construction is combined with microfiber upper and perforations around the boot to make it a highly breathable option for those that are looking for something that has a ton of airflow while riding.
TPU reinforcements are placed at the toes, shins, and heels of these boots. The toe padding folds down to the side which is an area that tends to get more wear and tear as you ride with them. It's nice to see that Tour Master took note of that and designed the toe pad to fold to the side like this.
There are plenty of sizing options to choose from to get the right fit. The boots themselves are relatively easy to slip on and off with the large zipper on the side that is covered by a large velcro tab. Inside the boot is a full mesh layer which again helps more with the breathability of the boots.
When it comes to an affordable, protective, and highly breathable pair of summer riding boots then these Solution 2.0 Air boots from Tour Master are going to be hard to beat!
Pros
Great deal of ventilation/airflow
Many sizes to choose from
TPU reinforcements that don't compromise the breathability
Cons
Only good for warm weather rides
Only comes in one style
4. TCX Fuel Motorcycle Boots
---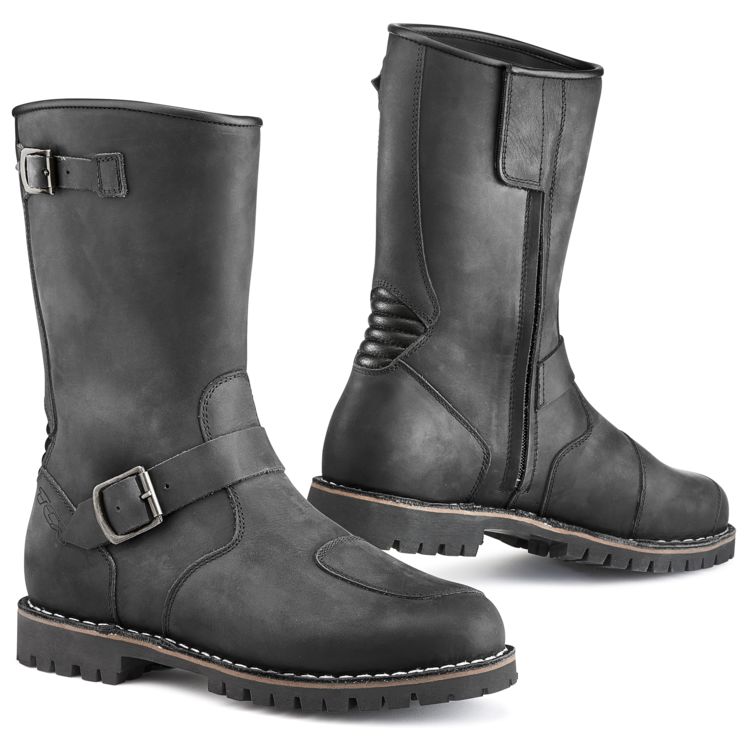 Looking for another classic cruising style boot? TCX's Fuel moto boots are their vintage style waterproof boots that are made with full-grain leather that pack a serious punch with modern features.
These are made out of full-grain leather, they have high-end reinforcements built-in, they're completely waterproof, the soles provide plenty of grip, the adjustable buckles are made of steel, and they come in two different styles.
The rough, oiled full-grain leather upper is backed with a complete waterproof liner that repels any grime and water that the elements might throw at you. Merge the reinforcements with the abrasion-resistant full-grain upper and you've got a highly protective boot that's ready for anything.
Reinforced shift pads, pads at the rear, and side ankle inserts with TCX's comfort fit system… These boots definitely have you covered with impact protections for those long, prolonged ride sessions.
Speaking of the fit, it's nice to see that the adjustable buckles are made of steel instead of plastic. In general, these boots are made to stand the test of time and stay comfortable at all times.
Long zip entry on the side that is still covered with the waterproof liner and bellows in the back makes them easy to get on/off while not compromising the amount of comfort while you're off your bike. They almost feel like they're broken in the first time you slip them on with how supple the leather is.
If you're looking for a beefy pair of cruiser-style boots that will keep you dry in any sort of wet climate riding then you should be rockin' these TCX Fuel riding boots.
Pros
Constructed with full-grain leather with a thick waterproof inner liner
Covered with high-quality CE level 2 padding
Adjustable buckles made out of steel
Cons
Not ideal for the summer riding season
Not widely available in different sizes
5. Alpinestars SMX 6 v2 Motorcycle Boots
---
Alpinestars, as a brand, doesn't need much of an introduction. They've been making high-end boots for a long time now – their SMX 6 v2 boots are incredible for performance and riding defense altogether.
These are made out of microfiber leathers, they're highly flexible with good stretch panels, ergonomic soles that are purposely designed for optimal control, many areas of embedded TPU protection, more than enough perforation for airflow, and they come in multiple styles.
Microfibers are a PU leather that provides good abrasion resistance and it's combined with all sorts of flexibility and protective padding throughout the whole boot.
The front mesh elasticated panels go down pretty far on the boot which helps with flexibility/comfort while riding or walking around with them on. Flexibility is important both on and off the bike and these have a great range of motion in that realm.
Alpinestars designed the soles of these to maximize control while you ride – treading is designed right where they'd be placed on the footpegs where you'll get a better tactile feel while riding. The treads aren't uncomfortable for when you're off the bike but still provide an extra sense of feel with riding control.
TPU protectors are everywhere with these – injected shin guards, calf protectors, shift pads, toe sliders, ankle padding… These have the whole nine yards when it comes to TPU protection.
Perforations are all along the stretch panels and the sides of the boots which flow a ton of air to stay comfortable during warmer weather rides.
Although there is a small stretch panel right on the side of the zipper to help with getting these on and off, they fit pretty snug and aren't necessarily seamless to put on/remove. The zipper isn't full length but is covered with the velcro pad.
If you're looking for dexterity and performance in a vented boot then these should be on your radar. They also have a Drystar SMX v2 version of these boots that don't have the perforations that include a water-resistant panel if you'd rather have a version that keeps the rain away.
Pros
Extremely comfortable both on and off the bike
Embedded with high-quality TPU everywhere
This version flows a ton of air, also comes in a water-resistant variant
Comes in multiple colors
Cons
Some styles don't come in every size
They fit snug, not the easiest to get on/off
Tall Motorcycle Boots: A Guideline
---
You're going through this guide because you understand that motorcycle boots are a necessity if you want to protect your feet from possible impact damage and abrasions.
Plenty of studies have been done on how good riding boots protect from inversions, the elements, and damage in general.
Tall riding boots provide the most coverage when it comes to ensuring that your feet are protected while riding and there are different ways to go about choosing the pair that's right for you.
Below are some guidelines that will help you to narrow down the perfect pair of moto boots for your riding style. It's important to understand what to look for and what to avoid in riding boots before you move forward with a specific set of boots.
Ensure You Have The Right Fit/Sizing
Fitment and sizing are often overlooked as one of the most important things to factor in while shopping for riding boots.
Each of these boots has a sizing chart that you absolutely have to follow – some sizing charts are based on European sizing but are converted to U.S. sizing so that you can accurately get the right size.
You'll need to ensure that there aren't other things to take note of when you're looking into the size charts such as footbed length. You can also go through rider reviews on each page where they mention how different sizes added up for their size.
Material Quality To Look Out For
Full-grain leather is the best material for riding boots when it comes to maximizing abrasion resistance.
However, synthetic leathers such as polyurethane leather still do a great job of protecting your feet against abrasions.
A good pair of tall moto boots will use high-quality PU such as microfiber or full-grain leather that is combined with proper padding.
When it comes to the best of the best, manufacturers will make it very clear what the boots are constructed with and how it merges with the impact-resistant features of the boot.
Protective Features Are A Must
Thermoplastic polyurethane (TPU) is often used and embedded into a pair of boots to provide plenty of coverage from impact damage while you ride.
Impact protection is an absolute must. Debris, rocks, going down and hitting the road… Protective padding should be covering high-impact areas such as the heel, ankle, and shin.
Tall boots cover that whole area and should include padding in those areas as well to maximize full coverage while you ride.
That's why when it comes to moto shoes vs moto boots – tall boots are the clear winner when you want to avoid damage to your feet.
Comfort & Functionality Is Important
Not only should you snag a pair that include high levels of impact and abrasion resistance – but you also need to ensure your levels of comfort and functionality both on and off the bike.
Comfort will come from the flexibility of the boot and how thick the inner padding is inside. Sure, if you're getting boots for warm weather riding, then you'll be on the lookout for perforations and thinner, mesh liners. Thick inner padding won't breathe as much air, but they're highly comfortable to wear all day long.
The design of the sole on the boots should also keep in mind not only for being able to feel for the pegs and controls but also for walking around after you're done riding.
It's up to you to narrow down how much flexibility you need in your boots which you can narrow down on your style of riding.
ADV boots are best for off-road and avoiding aversions whereas cruiser boots provide extra comfort and range of motion while riding. Take note of how and what you ride in and move forward with boots that are designed best for that.
How To Choose The Right Style
Picking out the right style comes down to what you ride, when you ride, and how you ride.
For the summer riding season you'll need a lightweight boot that flows a bunch of air and wicks away moisture. If you're in a climate where you're riding during every season then you'll want to consider getting different pairs for those different riding conditions.
Obviously, you want a style of boot that you enjoy wearing not just based on the features of the boot but the style as well.
You likely understand your gear style and what you like best – after following these guidelines and seeing all of the different choices featured here hopefully you'll be able to fine-tune the exact style of boots that you're after!
Tall Moto Boots = Maximum Protection
---
Tall motorcycle boots are the way to go if safety is your #1 priority when it comes to footwear for riding.
It doesn't make sense to learn the hard way what not having any proper riding footwear would do in the event of an accident… Might as well start out with the highest level of foot protection that's out there!
Hopefully, after reading through this guide, you've gained more knowledge and feel better equipped when it comes to finding tall motorcycle boots.
Are you planning on getting any of the boots that are featured here?
What are some other tall boots that you think should be shared in this guide?
Let us know in the comments below!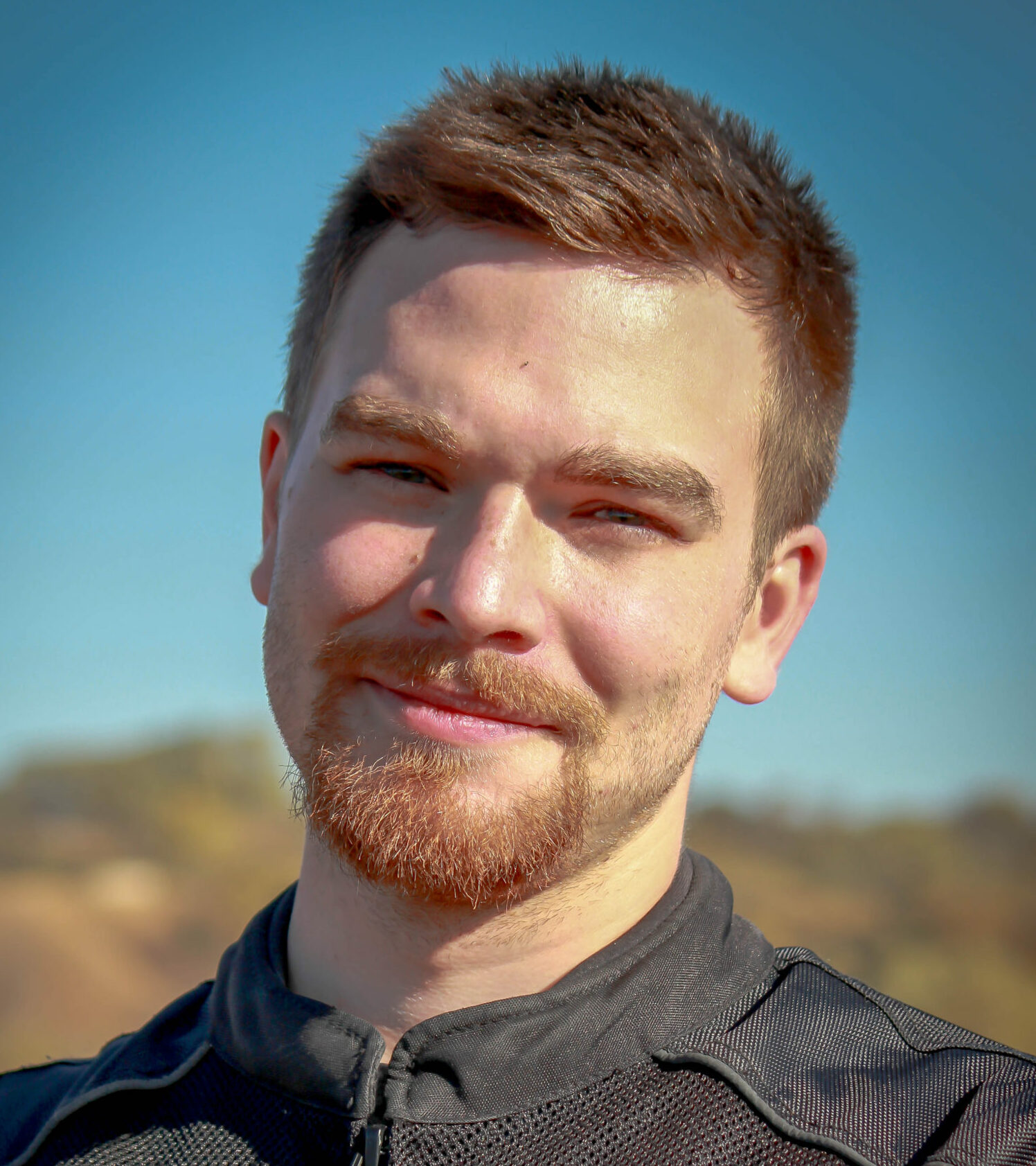 What's up! I'm Colton, the main guy behind Moto Gear Knowledge. Gear has always been my #1 priority when it comes to riding.
I share my experiences regarding gear and anything else moto related with you here. 👍